As an Amazon Associate, I earn from qualifying purchases. There is no extra cost to you. Thank you if you use our links; we appreciate it! Learn More.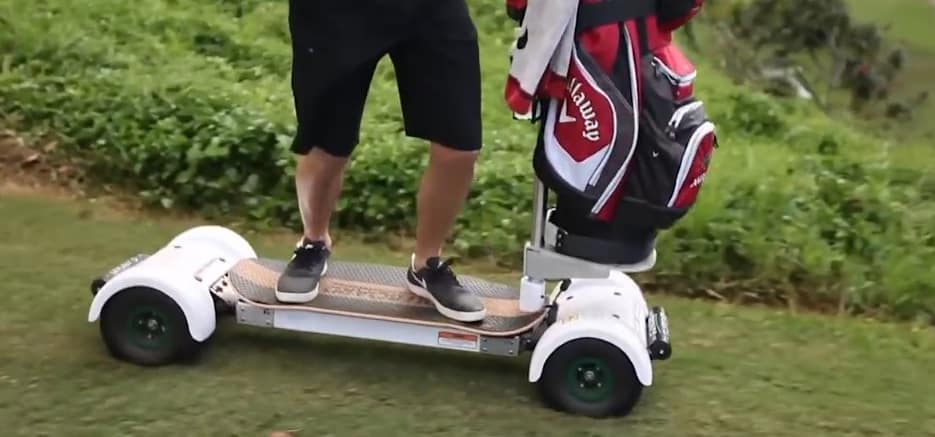 In my opinion, golf courses with Golf Boards are a new exciting era in Golf! Did you try these golfboards yet? I spent a vacation almost a year ago where I had the good fortune to experience these beauties with my families.
At first, I was skeptical too… my little girl (Who almost hate Golf!!!) was too doubtful to even try! But finally, we crossed our fingers and… WOW!!! Believe me… for the first time in her life my little Sophie enjoyed GOLF!!!
On a trip with family our main focus is to enjoy with the whole family… right? But if there is a non-golfer or a child who likes more excitement or a member who doesn't like golf much or think it is a slow game… then it becomes a bit unfortunate for golfers like us… especially if you maintain Golf as a main part of your life like me! That's why in a family vacation golfboard is a great way of fun!
Golf boarding has become an entirely new kind of sport like skating. Besides playing golf one can now experience a different level of fun.
Golf board has made as an alternative to golf carts and pushcarts. But it gives a fun experience like skating and the experience you get from it is called surfing on the earth. In a golf course besides playing golf one can also enjoy their time with a golf board now. As golf boards are motorized/electric it speeds up the game and makes golf more fun besides giving a riding experience. 
What Are Golf Boards?
Golfboard is a single rider electric/motorized skateboard inspired vehicle for surfing on a golf course. It was made as an alternative to a golf cart for transportation on a golf course. As golf boards give a similar experience to skateboarding besides using it as transport at the golf course it is also used for surfing as well. Golfboards have introduced a new sport that gives a similar experience to skating.
I think golf cart skateboard is more appropriate term. Although many prefer to call it golf cart surfboard too!
Golf Board Specs
Electronic/ motorized vehicle
Lightweight lithium batteries
High and low-speed modes for operation
4 wheel posi-traction feature
Smooth intuitive control
LED Battery level indicator
Highest quality industrial strength motors
4″× 11″ tires
Why Should You Try This Golf Cart Surfboards?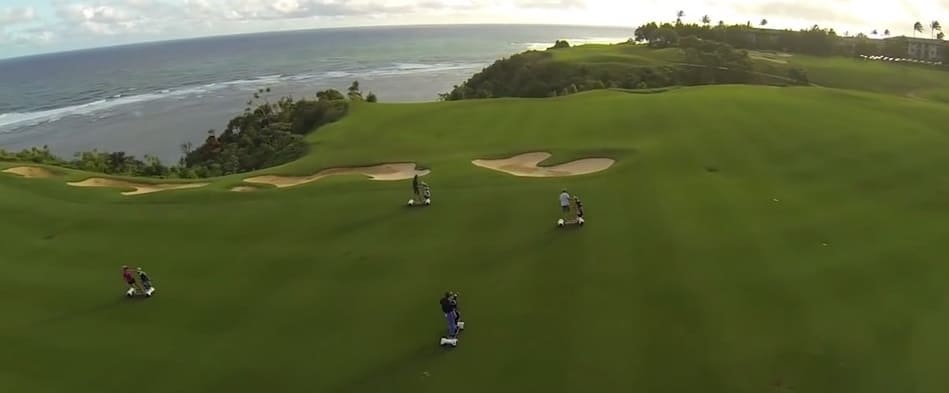 A golf board gives a fun experience and also takes less time to roam around on a golf course. You can roam the whole course in less time if you use a golf board instead of a golf cart.
Moreover, while surfing you will have the same experience as skateboarding. GolfBoarding adds a new level of fun to golf. So, if you want to experience a different level of fun and experience two sports at the same time then you should try GolfBoarding. If you experience the fun and get used to GolfBoarding you will never use a golf cart or pushcart anymore.
Even if you get bored playing golf you will not get bored doing GolfBoarding.
Pros and Cons of Golf Boards
Golf boards are easier to use than golf carts.
Four-wheel drive posi-traction allows climbing incredibly steep inclines.
Speeds up the game time.
Very stable and grounded.
Solid and comfortable board.
Environment friendly.
Expensive than golf carts.
Some might face problem to control.
Top 10 List of Golf Courses with Golf Boards

Here is a list of 10 Golf Courses:
Alpine Country Club, Highland, Utah
Avery Ranch Golf Club, Austin, Texas
Black Butte Ranch, Oregon
Boyne Highlands, Harbor Springs, Michigan
Chimera Golf Club, Henderson, Nevada
Lake Havasu Golf Club, Lake Havasu, AZ
The Links at Union Vale, Lagrangeville, NY
Mauna Kea Golf Course, Waimea, Hawaii
Monarch Beach Golf Links, Dana Point, CA
Raccoon Creek, Littleton, Colorado
For more place, visit here.
How Does this Golf Cart Skateboard Make Golf More Fun?
Golfboard adds more fun and excitement to golf as besides playing golf you can have a different level of fun surfing on the course. Moreover, as golfboards are motorized it helps to speed up the game. The transportation of going one point to another on golf courses with golf boards gets easier. A golfer enjoys both golf and surfing the course at the same time. So even though he is playing one game he enjoys two different things.
If the golfer gets bored playing golf he can always take a break and ride a golfboard for surfing the golf course only. Golfboarding with friends or family will always give you a fun experience like skateboarding. Many golfers have given golf board reviews and said that golfboards really made golf more fun and interesting than before.
FAQs
Do Golf Boards Harm The Grasses?
Yes, golfboards do harm the grasses but it's less than the harm that is caused by golf carts. Golfboards are way lighter in weight than a golf cart. Moreover, it has a higher speed and distributes the power evenly thus the damage to the grass minimizes.
Can A Non-Skater Use It?
Yes, a non- skater can definitely use a golfboard. It is easy enough to use so it can be used by anyone. But a non-skater might face some problems to handle and control it in the first place. A skater in this case will have some advantages as golfboarding has some similarity with skating. However, after surfing on golf courses with golf boards for some time one will surely get used to it.
Is Golfboards Legal?
Yes, golfboards are legal and nearly 3000 golf boards are being used on over 270 golf courses daily. Even though it is expensive many golf courses are replacing golf carts with golfboards because of its numerous advantages. Soon every golf course will replace push carts and golf carts with golfboards.
If you haven't used a Golfboard yet try it today and introduce it to your family and friends. You will start to enjoy golf more than before after using a golf board on a golf course. Two fun experiences in one course sound fun right! I can assure after using a golf board you will never look back to a pushcart or a golf cart.
For once don't travel with your pushcart or rent one and try this experience.
So don't think it is tough to ride and give it a try to experience a new level of fun!
Amazon and the Amazon logo are trademarks of Amazon.com, Inc, or its affiliates.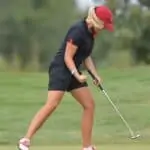 Daisy is the Founder and Editor in Chief of Golfs Hub. She is associated with Golf for more than 20 years. She got the inspiration from her father. She is a very private person & doesn't like to be photographed. She's worked in nearly every job in the golf industry from club fitting to instruction to writing and speaking. Now she is enjoying her retirement from day job... but not from Golf! Daisy lives in southeasternmost part of New York state with her family.