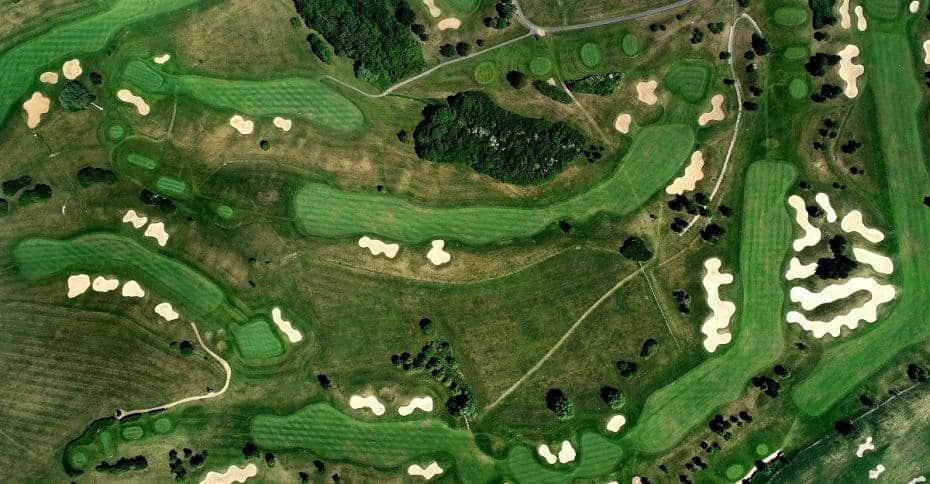 Tee up your imagination, step onto the fairway of the future, and see how golfing innovation slices through the norms of golf course design.
There, each putt rolls true, maintenance is a hassle of the past, and the greenery is as consistent as your swing. This convergence promises to improve your game and redefine the essence of the course.
So let's explain a hole-in-one concept – golf courses with artificial greenery.
Will this be a game-changing addition or a whiff?
Why Use Artificial Greenery on Golf Courses?
Although golf has been around since before the 1500s and is rooted in tradition, it has been embracing technological advancements. This way, the sport will propel itself into the future and cement itself as a staple in the future American's life.
As a response to sustainability demands and year-round playability, many have begun plugging artificial greenery. So, course owners have been seeking ways to optimize operations and minimize environmental impact.
As a result, faux greenery becomes a pivotal step, as it melds the love for a natural course with the practicality of modern technology. This way, golf and its millions of players, young and old, can bridge the gap between tradition and innovation.
What Artificial Greenery Is Best for Golf Courses?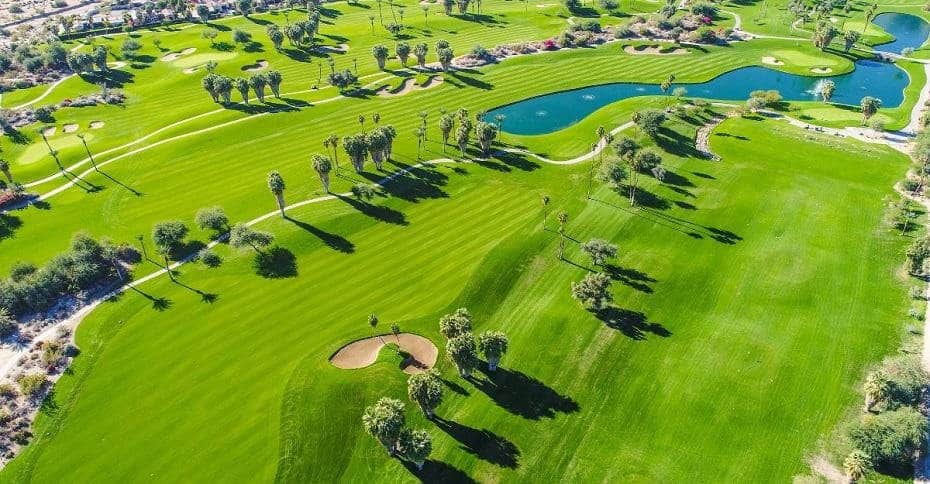 Artificial greenery offers a versatile toolbox of options for golf course design. Each of these serves a distinct purpose and elevates the golfing experience.
But do you know where to start when it comes to using the best types of artificial greenery?
Artificial Turf
Artificial turf is the most well-known and widely adopted type of artificial greenery for golf courses. It draws people in thanks to its ability to provide a consistent playing surface year-round.
An artificial turf ensures a pristine, green carpet that withstands heavy foot traffic and severe weather conditions. And since golf hinges on a reliable, smooth surface, fake grass removes unpredictability and facilitates the game.
What's more, this product is also eco-friendly, but we'll talk about that below.
Fake Hedges
An ingenious artificial greenery product that can serve numerous purposes on the golf course is a high-quality fake hedge. Artificial hedges define the boundaries of the course and enhance the privacy around the amenities i.e. clubhouses and patios.
Since artificial hedges are a pleasing, evergreen solution, they're ideal for delineating areas within the golf course. Even when exposed to adverse weather, fake hedges can last for at least 5 years and easily prove their resistance to environmental factors.
Faux Green Walls
Last but not least, artificial green walls and vertical gardens are rising stars in golf course design. These products enliven blank walls, adorn exteriors, and create backdrops for outdoor dining areas.
Thanks to lush fake vertical gardens, approaching and applying natural beauty has never been easier. Since the golfing environment is already rooted in nature, adding a faux green wall into the mix will ensure the course doesn't hurt for visual appeal.
Benefits of Using Faux Greenery for Golf Courses?
Is it time to delve into the key benefits already?
Below, we'll mention attributes that enhance playability, aesthetics, and environmental responsibility.
So let's uncover the advantages of faux greenery for golf courses:
It's Durable
Artificial greenery, whether in the form of turf, hedges, or green walls, is surprisingly durable. Namely, it holds the line against wear and tear from foot traffic, golf carts, and equipment without showing signs of damage. And unlike natural plants that become patchy, fake greenery will remain pristine.
It's Waterproof
The waterproof nature of artificial greenery is a remarkable quality that enables playing in wet conditions. While natural plants absorb water and form muddy or waterlogged areas after rain, their artificial counterparts push back on these faults. As a result, they reduce the need for course closures and schedule disruptions.
It's Sustainable
Focusing on sustainability in golf course management leads to a reduction in water consumption and conservation of our natural resources. Golf courses with artificial plants minimize the environmental impact, contributing to sustainable practices. Plus, many pieces of artificial greenery are 100% recyclable, further aiding sustainability efforts.
It's Customizable
Artificial green walls and hedges offer a high degree of customization. In turn, this allows course designers to create tailored landscapes that match their vision. Whether it's selecting shades of green or choosing shapes and patterns, the possibilities for decorating are almost endless.
It's Low-Maintenance
In the end, the main reason why artificial greenery has the upper hand is due to its low maintenance. By using fauxliege, golf courses can reduce time, labor, and cost associated with tasks like mowing, watering, and pest control. As a result, course managers can better divide resources and focus on more important aspects like improving player experiences and building up course amenities.
Finishing Thoughts…
Nowadays, artificial greenery stands as a beacon of progress and innovation.
As many begin to embrace the fusion of nature and technology in the pursuit of practicality, we'll see a push for sustainability in golf worldwide. These advancements mean that golfers can expect better playing experiences and a greener, more responsible future for their favorite sport.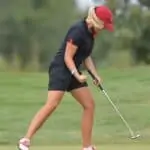 Daisy is the Founder and Editor in Chief of Golfs Hub. She is associated with Golf for more than 20 years. She got the inspiration from her father. She is a very private person & doesn't like to be photographed. She's worked in nearly every job in the golf industry from club fitting to instruction to writing and speaking. Now she is enjoying her retirement from day job... but not from Golf! Daisy lives in southeasternmost part of New York state with her family.