Rules! Rules!! Rules!!!
It can be hectic sometimes…Right?
But, what are the basic rules of golf?
But it is very important to know about golf rules. You know a lot about golf (Like when to use which shots, which club is the best for you, what type of ball should you use, should you use a cart bag or stand bag or carry bag, what type of shoe you are comfortable with and many more) but if you do not know exactly what the rules of the game will be, you will have to face many ridiculous situations while playing.
It's not good.
Today Golfs Hub will talk about 15 most common rules in golf that will help you. About the basic golf rules for beginners, it's not really difficult as you think, it is very easy. You just read this article, that's enough!
15 Basic Golf Rules for Beginners you Need to Know
So you've taken the decision to take the 'Gentleman's Game' seriously! 'Gentleman's game'- that's what they call Golfing nowadays. Why? It's the only game which is meant for the riches who love to be formal and premium.
It is mostly known as a game for successful people who hold high statuses in society. You'll not see Hollywood stars playing football or cricket, but you'll definitely see them Golfing.
As you're a beginner, you should know that in this game, people have to follow some strict rules. Unlike any other game, Golf involves a lot of discipline, focus, dedication and one's adherence towards its rules. So if you're up for learning the do's and don'ts of this game, you're in the right place. We're about to show you 15 basic rules of golf for beginners.
I am sure you know- recently there have been some changes in some rules of Golf. Read New Golf Rules 2019 here.
Here is an infographic for you: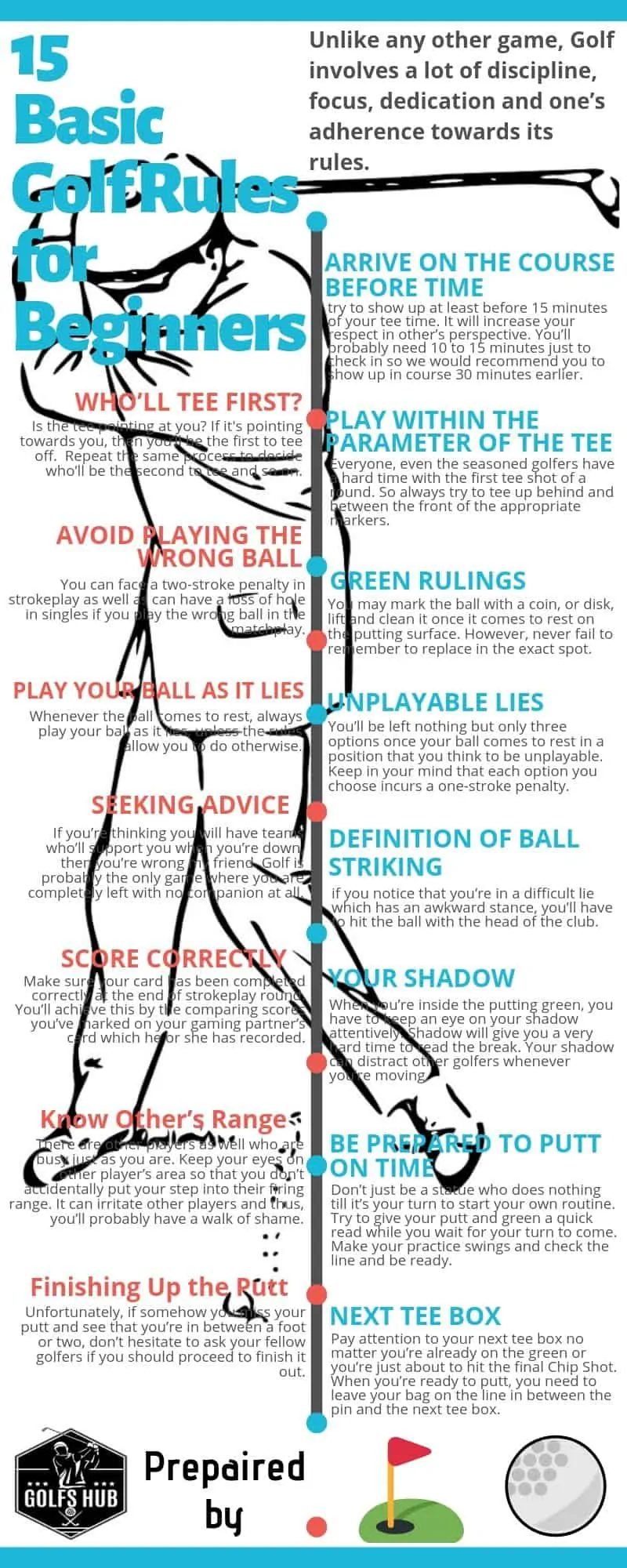 Arrive on the Course Before Time
Like we said, Golfing is a Gentleman's game and maintaining punctuality is always a good manner. It doesn't matter if you're playing the game with your father, your best friend, or colleague, try to show up at least before 15 minutes of your tee time. It will increase your respect in other's perspective. You'll probably need 10 to 15 minutes just to check in so we would recommend you to show up in course 30 minutes earlier.
Plus, you don't want to rush in the game, right? Golfing is all about calmness and relaxation. So try to reach the course early, check in, and spend a few moments on the green while you feel its soothing touch. Take your favorite putter and hit some range of the ball.
Read: Best Blade Putters & Best Mallet Putters
Who'll Tee First?
Everyone feels a bit awkward to tee off at first. But, in golfing, everyone has to come to a decision on who's going to tee off first. You'll see everyone gathering and standing in the round. One of you will take a tee and will spin it in the air and will let the tee fall in the ground. Is the tee pointing at you? If it's pointing towards you, then you'll be the first to tee off. Repeat the same process to decide who'll be the second to tee and so on.
Play Within the Parameter of the Tee
Everyone, even the seasoned golfers have a hard time with the first tee shot of a round. So always try to tee up behind and between the front of the appropriate markers.
Don't be too surprised if you forget about these basic parameters, usually, an average player thinks too much about swings, so it is a very easy and common case for him to forget about these basic parameters.
Read: Golf Swing Techniques
Avoid Playing the Wrong Ball
One of the most common problems a beginner may face: losing his ball. With other players' ball around, it's obvious that unless you mark your ball before you start golfing, you may mistake your ball for another player's as so many golf balls are similarly stamped.
You can face a two-stroke penalty in strokeplay as well as can have a loss of hole in singles if you play the wrong ball in the matchplay. You can avoid this unfortunate situation by marking your ball more clearly with distinctive personalized symbols.
However, if somehow you do step in the trap, that is, you mix your ball with someone else, then notify your golfing partners.
Read: How to Build a Mini Golf Course in Your Backyard
Green Rulings
You need to maintain a couple of rules once you're in the green field of Golf. You may mark the ball with a coin, or disk, lift and clean it once it comes to rest on the putting surface. However, never fail to remember to replace in the exact spot.
You may repair any pitch-mark, but remember, do not repair any pitch-mark or any damage such as spike marks attached to the green, or a partner's putt before the completion of a hole.
Don't strike the flagship even if it is attended at all times.
Read: Golf Club Decorating Ideas
Play Your Ball as It Lies
Whenever the ball comes to rest, always play your ball as it lies, unless the rules allow you to do otherwise.
The effect of 'loose impediments' is one of the most common exemptions-you can remove leaves, litter, you can lose twigs if you want, or 'obstructions', such as man-made paths, drainage, sprinklers, etc. From these, you'll be able to receive free relief. Furthermore, you'll be able to point the nearest point of relief and can drop your ball over there within one club length.
Unplayable Lies
You'll be left nothing but only three options once your ball comes to rest in a position that you think to be unplayable.
From the point of your previous shot, you can hit another ball. On the other hand, you may have to drop a ball behind the unplayable lie, or your ball needs to be dropped within the two club lengths either side of the unplayable lie,
Keep in your mind that each option you choose incurs a one-stroke penalty.
Seeking Advice
If you're thinking you will have teams who'll support you when you're down, then you're wrong my friend. Golf is probably the only game where you are completely left with no companion at all. Other than your teammate (if you're playing fourball for example), you cannot ask advice on club selection to anyone.
Also, there's no room for you to offer advice to your opponents in competition. However, if you want to know anything regarding the information on the rules, distances or positions of the hazards or the flagstick, only then, you can ask someone about these.
Definition of Ball Striking
You may think it is all about techniques when it comes to striking the ball. Well, you'll be surprised to know that it also has followed a set of rules.
For instance, if you notice that you're in a difficult lie which has an awkward stance, you'll have to hit the ball with the head of the club.
You cannot perform any kind of move like a spoon, flick it in a style or scrape that cannot be described as a 'stroke'. If you do such thing, all you'll be end up having is a two-shot penalty in strokeplay along with loss of hole in singles match play.
Score Correctly
Make sure your card has been completed correctly at the end of strokeplay round. You'll achieve this by the comparing scores you've marked on your gaming partner's card which he or she has recorded.
The card must be signed by both parties as a document of correct record of each hole, once you agree. Though the addition doesn't have to be accurate necessarily, however, make sure the individual hole scores do tally. Unsigned and incorrect scorecards(if lower scores are included)will lead to disqualification.
Your Shadow
When you're inside the putting green, you have to keep an eye on your shadow attentively. Shadow will give you a very hard time to read the break. Your shadow can distract other golfers whenever you're moving. This often happens when the shadow gets closer to the cup. You don't want to put yourself in such an awkward situation, do you?
So always be aware of where you're casting your shadow when other golfers are hitting and trying to score. This will not only save the other players from distraction but also save you from being a medium of disturbance.
Know Other's Range
You should bear in mind that the golf field doesn't only belong to you. This is one of the basic golf rules you should remember. There are other players as well who are busy just as you are. Keep your eyes on other player's area so that you don't accidentally put your step into their firing range. It can irritate other players and thus, you'll probably have a walk of shame. Furthermore, try to be nice and slow when you're driving a golf cart. Make sure you don't run over other players or get inside their ranges.
Be Prepared to Putt on Time
Every player has their own unique routines on the green such as there are different numbers of practice swings, the way the golfers read the putt, line up, etc. Don't just be a statue who does nothing till it's your turn to start your own routine. Try to give your putt and green a quick read while you wait for your turn to come. Make your practice swings and check the line and be ready.
Finishing Up the Putt
Unfortunately, if somehow you miss your putt and see that you're in between a foot or two, don't hesitate to ask your fellow golfers if you should proceed to finish it out. If you miss your putt, you really don't need to wait for everyone else' putt. However, if you do think you need some time to regroup and read your new putt, you can simply do so.
Next Tee Box
Pay attention to your next tee box no matter you're already on the green or you're just about to hit the final Chip Shot. When you're ready to putt, you need to leave your bag on the line in between the pin and the next tee box. Everyone can walk forward to their next hole while picking their bags, once the group is done with putting.
Read: Best Golf Chipping Tips
Final Words…
Golf can be a Gentleman's Game but it is not an easy one. Remember, the rules we discussed above are the basic rules of Golf for beginners. So you always have to remember these golfing rules and later you can have your own variation. Give your best effort to take control of the game.
---
See also: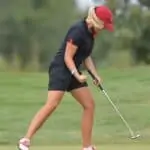 Daisy is the Founder and Editor in Chief of Golfs Hub. She is associated with Golf for more than 20 years. She got the inspiration from her father. She is a very private person & doesn't like to be photographed. She's worked in nearly every job in the golf industry from club fitting to instruction to writing and speaking. Now she is enjoying her retirement from day job... but not from Golf! Daisy lives in southeasternmost part of New York state with her family.