As an Amazon Associate, I earn from qualifying purchases. There is no extra cost to you. Thank you if you use our links; we appreciate it! Learn More.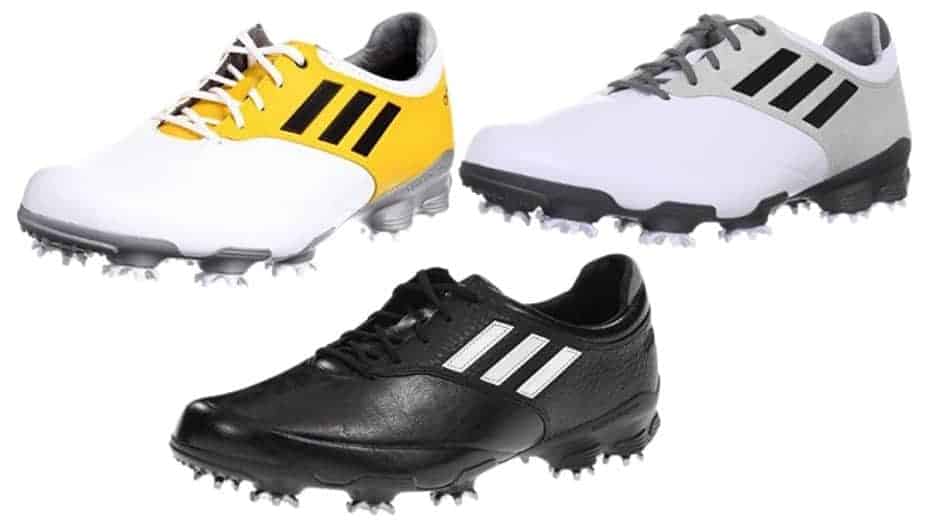 Golf shoes are not just any other sports accessories anymore, rather they are considered as fashion accessories as well. But still, comfort is the number one factor any golf players might look into their shoes for the sport. For many, style is a big issue but they will want comfort and durability more than anything.
Golf as a game is much more popular which came a long way from the royal courts of Europe. But with the increasing popularity, demand for good quality golf shoes at an affordable price has also increased as well. So this is why we are featuring the Adidas Adizero Tour Golf Shoes review in this guide and let you know why we think its awesome. So let's dive in!
First Impression
One of the best things and the first thing you will notice about these Adidas Adizero Tour Golf Shoes that they are designed specifically keeping women's comfort in mind and the weight is exceptionally light. It is one of the top rated golf shoes for women.
These shoes are quite well made from any other shoes in the price range as the manufacturers have claimed that they wanted to combine with both price and quality. It had been a challenge for them, but they seemed to be done well in this regard as this shoe has excellent features and quite good reviews on Amazon as well.
Adidas Adizero Tour Golf Shoes Review: Features and Benefits
Material
Good material means a good fit. A well-fitted shoe can take better swings, twist, and turns. The shoe is made of 100% synthetic materials, and the soles are made of the same breathable material as well.
Its upper part is made of microfiber leather sprint skin. The internal body is made of SPRINT WEB TPU leather. The outsole has a good SPRINT frame. Its sole will make sure you have better mobility and control of your body while taking a swing at the course.
These shoes come with removable insoles so they can be fitted according to the size of your feet. Also, if you have sweaty legs, you won't have to worry as it's made of breathable materials.
Sole

Both insole and outsole of Adizero Sport Golf Shoes are made of SPRINT fabric. It is why these shoes will give you maximum comfort as these are considered top grade fabric and your feet will fit quite snugly into the frame.
Size
Adizero Golf Shoes for women's are not like other typical golf shoes you might have seen so far. It is comparatively narrower than the other shoe, but the fit is quite good as mentioned earlier.
Whether you have large feet or not the shoes come in different sizes, so size is not a problem either. But if you are buying it from online, you have to make sure about the size otherwise it can be a hassle as you might have to return them. So give it a trial before buying this shoe.
Weight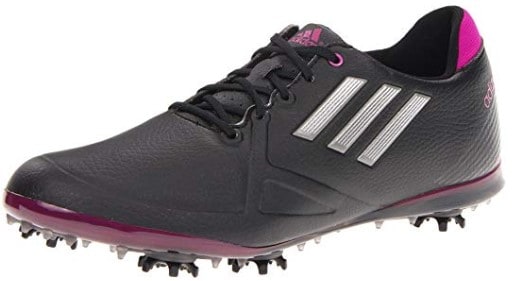 Shoes should be comfortable if we are running or walking for a long time. Adizero Sport Golf Shoes are the best lightweight shoes available for women in the market as they are 40% lighter than any other shoes that are made for women. You will certainly notice how light it feels it once it comes in your hands. You will feel like you are wearing nothing. It is one of the most comfortable shoes for walking 18 holes.
The weight is one the best feature of these shoes. It weighs only 310 grams, so your feet will suffer a lot less fatigue. You can put on it all day long if you want.
Comfort
Don't be afraid of the raised spikes under it. Spikes may look scary, but they are comfortable. You will be amazed to see its traction.
The spikes have a very strong cushioning. As told before, materials those are used are user-friendly and are very high-quality stuff. They are made your feet feel the comfort. You will feel like you are wearing parkland sleepers.
These shoes will not let your feet feel the heat or sweat. So you will feel relaxed and comfortable when you are wearing it.
Durability
Adizero Sport Golf Shoes are made of strong synthetic materials, and the strong microfiber gives the shoe a particularly stronger built. These shoes have also got a synthetic made insole and outsole, and handmade fabrics enhance its durability even further.
Stability and Breathability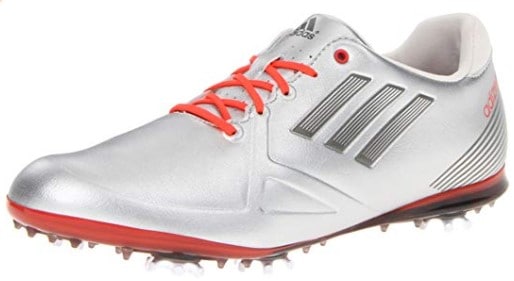 It is quite natural to wonder whether there is a lack of stability whenever you see an ultra light-weight shoes. But this Adidas Adizero does not fall into this category as these shoes have a solid frame which can give your feet excellent support. There are tiny pores in each shoe which will allow your feet to breathe properly in the outside heat. You can twist your feet without worrying about ruining your shoe frame.
Performance of Adidas Adizero Tour Golf Shoes
The sprint skin microfiber leather is very new in the market, but they have made a name for their performance quite fast. You can use them for a few rounds, and your feet wouldn't even feel any fatigues. Thin TPU provides excellent performance. You can easily twist and turn and also you can swing comfortably too.
These Adidas Sport Golf Shoes are very easy to maintain as well as you can quickly clean your shoes with a wet cloth. Though your shoe's performance depends on the brand and quality of the product you have to take care of them as well. The more you take care of your shoes, the more they will last.
Water Resistance
Water resistance feature is something a golfer looks for in their shoes before asking any other question. These shoes are water-proof. You can wear them during monsoon and even in the morning wet dues. No matter what is the weather in outside, your feet will not have to feel any of that and will keep you dry.
Price
As mentioned earlier, Adidas has made these shoes so that everyone can afford a good pair of golf shoes no matter what their budget or affordability might be. So, you do not have to compromise with quality for price with the Adidas Adizero Golf Shoes, and it will cost you only $54-$59.
Warranty
It comes with two years of warranty though many Adizero golf shoes review has reported that these warranty doesn't usually require to put in use.
Pros & cons of Adidas Adizero Golf Shoes
PROS
They are extremely lightweight.
The shoes have excellent stability. You can wear them both on grounds and home.
These shoes have good breathability as it prevents your feet from getting wet or sweaty. Your feet will never catch fungus or give odor.
Well designed soles give your feet flexibility and stability.
CONS
The narrower head of the shoe may not be fit for everyone. So if you have a larger foot then you should do a trial before purchasing.
My Personal Experience with this shoe
As I am an Adidas fan, I have brought it with a lot of expectation and these shoes did not put any doubts on my judgment. I am quite happy with the size and the fit as I always needed hard spongy insoles to fit into those other big golf shoes.
But this Adizero sport Golf Shoes is precisely what I have been looking for a long time. My other concern was the price, but it even did not cost me half of the price of other golf shoes.
My overall experience with this shoe is completely, and I will strongly recommend this shoe for any women who are looking for a great pair of sports shoes.
Who are the target users?
The Adizero Golf shoe women are designed for women with small and sweaty feet, and these shoes are mainly made for women who want to maintain both their comfort and fashion.
Is the product worth your money?
Absolutely and it will be certainly able to fulfill your expectations. It won't make you feel like you have wasted your money at all.
FAQs
Are the shoes comfortable?
Yes, the handmade and good quality fabrics make them quite comfortable.
Can I use it during monsoon?
The shoes are water-resistant, so you wear it during monsoon or foggy weather.
Do they have a removable insole?
Yes, the shoes come with removable insoles.
Do the spikes hurt?
The spikes may look like they are tough ones, but they have a strong cushioning and are designed to give your feet proper support.
Is it appropriate for every feet size?
If you have large feet, then shoes might not be for you because these shoes come in half of any regular Adidas shoe.
Final Verdict…
If you have been looking for a shoe that looks and performs as good as these fancy golf shoes but isn't too costly, then these shoes are your best choice. In this Adidas Adizero tour golf shoes review, we have tried to cover everything that makes Adizero sports Golf Shoes one of the best and affordable shoes for any women golfer out there.
Read More
Amazon and the Amazon logo are trademarks of Amazon.com, Inc, or its affiliates.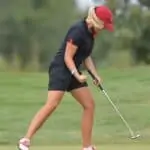 Daisy is the Founder and Editor in Chief of Golfs Hub. She is associated with Golf for more than 20 years. She got the inspiration from her father. She is a very private person & doesn't like to be photographed. She's worked in nearly every job in the golf industry from club fitting to instruction to writing and speaking. Now she is enjoying her retirement from day job... but not from Golf! Daisy lives in southeasternmost part of New York state with her family.