As an Amazon Associate, I earn from qualifying purchases. There is no extra cost to you. Thank you if you use our links; we appreciate it! Learn More.
Hello, people!
Today Golfs Hub is going to review one of the best golf shoes for diabetics. Hopefully, this Adidas Tour 360 boost Golf Shoes Review article will help to keep your feet safe!
A golfer always wants something that will support his feet properly. A shoe that can withstand the harshness that will be encountered during the entire session. So today I have come up with a pair of shoes which is going to deliver all the things a golfer wants. Also, this shoe is suitable and the best golf shoe for people who have diabetics. And as we said before, that is none other than the Adidas Tour 360 Boost Golf Shoes.
Below I have broken down all the features, advantages and drawbacks of this Adidas 360 boost golf shoes which is enough to give you a clear idea to decide whether to buy it or not.
So, let's dive into the review:
First Impression of Adidas Tour 360 Boost 2.0 Golf Shoes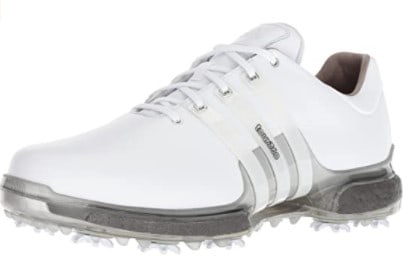 To be honest, I faced really a hard time taking my eyes off this shoe at the first time. I kept staring on this pair because of its luxurious design. From top to bottom they have given all the features that anyone would prefer in a golf shoe. It comes in a black and white combination, which looks outstanding and has black stripes. You'll also get black laces with this shoe. However, you can change it and get the one in your preferred color.
Adidas Tour 360 Boost Golf Shoes Review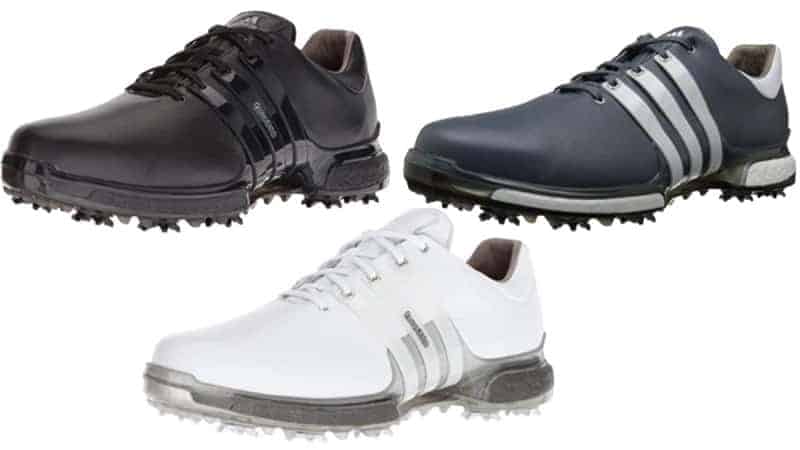 Boost technology
Adidas has introduced a new technology called "360 Boosts". The main motive of this technology is to offer the golfer optimum comfort while playing. It has a great shock absorption capability and offers plenty of energy in order to keep your feet away from fatigue. Adidas has this boost technology in all their running shoes which proved to be very successful.
Materials
The upper section of this Adidas tour 360 2.0 golf shoes is made of premium leather and that's highly durable. They feature cushion padded insole that delivers superior comfort and enables you to use them all day long. Moreover, it also features foam heel for added energy and TPU outsole (Thermoplastic polyurethane) for maximum durability.
Design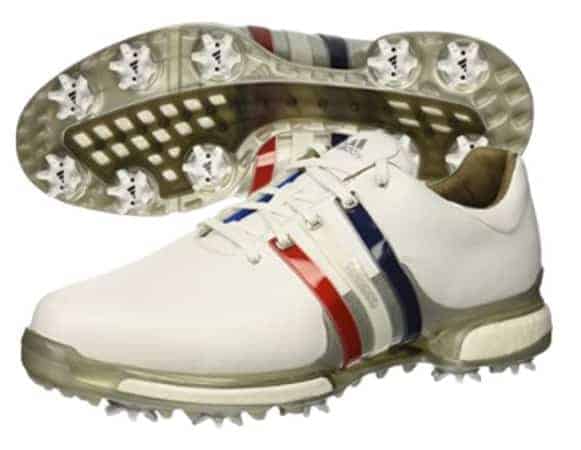 The Adidas men's tour 360 2.0 golf shoes come in a great design. The 360 stripe wrap surrounds from the middle which gives the feet great stability and looks. And as I said earlier, it comes in dozens of color, so you have the complete flexibility to choose the color you like.
Waterproof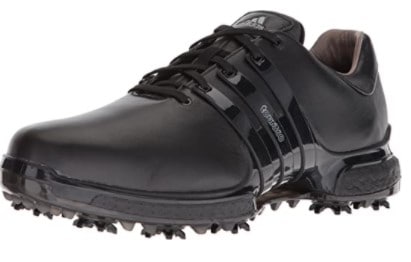 This Adidas golf shoes 360 boost can be a great catch for those players who often find themselves in rain. In the market right now, there are a bunch of golf shoes that are advertised to be waterproof but actually, they aren't.
However, unlike others, this Adidas 360 golf shoes actually has a waterproof body. The upper top of this shoes is made of premium leather which is completely waterproof. No matter how long you stay in rain, they will keep your feet dry for sure.
Spikes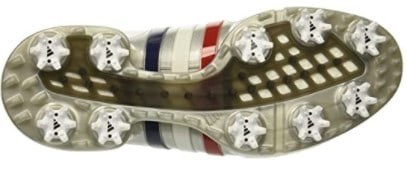 This shoe features 10 advanced dual-density spikes which look really aggressive. On the other hand, it has TPU outsole which is slip resistant. Both the spikes and the outsole give the golfer outstanding stability in any slippery surfaces.
Collar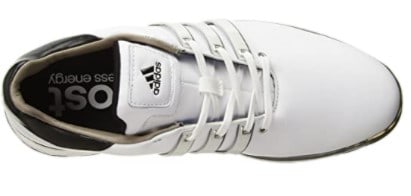 Unlike other models, the Adidas golf shoes tour 360 boost have an extra padded collar which allows the golfer to walk or run comfortably. There are some shoes with hard collars that leave scratch marks on the back of your ankle and they are both irritating and painful.
Warranty
The Adidas is one of the most trusted and reliable brands that has been on the market for a long time. Whenever they launch a newer shoe model, they ensure that it has the finest quality. Also, Adidas offers a warranty on almost all of their products so that you don't have to worry about the quality. The tour 360 Adidas boost golf shoes come with a 2-year warranty.
Best Golf Shoe for Diabetics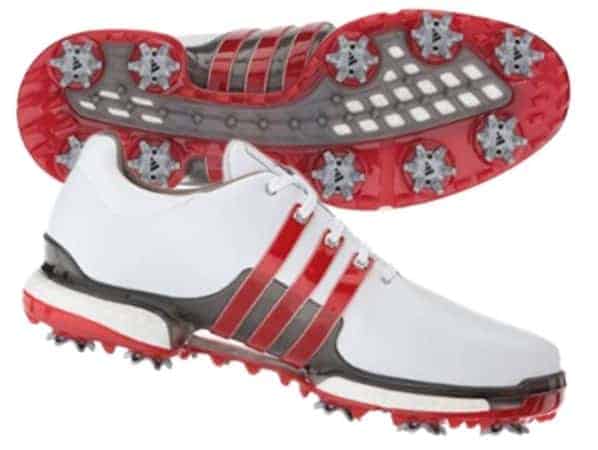 As I have said before, this shoe features soft cushioned insole that makes it best for people with diabetics. Furthermore, an aged person will be safe with this pair, as it has spikes in the bottom.
Because of diabetic neuropathy diabetic patients have the most liability of foot problem. If they don't use proper shoes, their blood circulation became hampered and that initiate foot injury such as blisters, foot ulcers, etc. Foot ulcers are the result of nerve-damaging due to the usage of uncomfortable shoes. Since diabetic patient doesn't recover early and they are very prone to golf injuries, they should use proper Golf Shoe for Diabetics.
Read More: Nike Flyknit Golf Shoes Review
Adidas 360 Tour Golf Shoes Price Range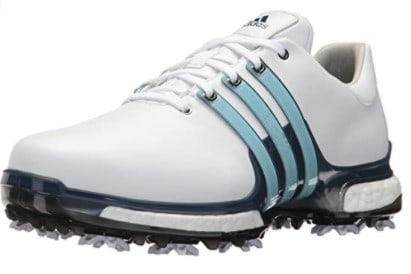 For most of us, the price range is the most crucial factor when buying anything. Always remember, good things cost money. If you are looking for something cheap, don't expect it to have first-class qualities.
My point is, you should not go after cheap stuff, remember they are cheap for some reasons. I am sure you have heard of this: you get what you pay for. Good things will cost you a little more.
The golf shoes adidas tour 360 boost is not cheap. It will cost more than a hundred bucks. I don't see it as a cost but as an investment. It delivers superb value for the money.
Pros & Cons Of Adidas Tour 360 Golf Shoes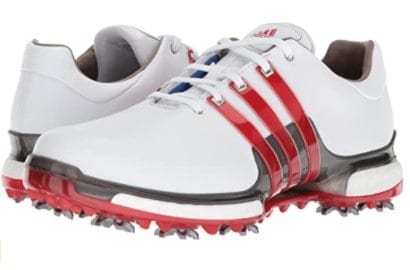 Pros
It features boost cushioning for offering the golfer optimum comfort.
The brand offers a two-year warranty with this Adidas shoes.
Can be used in all types of weather. It has a waterproof body which will keep your feet dry even in heavy rain.
It features 360 boost technology which gives the golfer extra energy.
Features another new technology called "Torsion tunnel technology".
It comes in 12 different colors.
Extra padded collar for avoiding irritations.
Extremely durable, has the ability to withstand rough usage.
Comes with an outstanding design.
Suitable for people with diabetics.
Even older people can wear it comfortably.
Cons
These shoes doesn't fit well in wider feet. It becomes very uncomfortable at the front. These shoes are designed for narrow feet, which is really disappointing.
It becomes very squeaky if your feet are wet. But that's not a big deal, just make sure you wear it when your feet are completely dry.
Adidas Tour 360 Boost 2.0 vs XT 20

The upper of the 360 boost 2.0 is premium microfiber leather, while the XT has a 100% leather upper.
The TPU Outsole of boost 2.0 is TPU with tactically placed CenTraxion, while XT has a X-shaped traction system. The x-traxion /X-shape escalate ground contact & Offer comfort on all surface.
Adidas tour 360 2.0 golf shoes has 10 cleat, while the Adidas Tour 360 XT has 8 cleat which provide more stability & grip.
Frequently Asked Questions
Is this shoe waterproof?
Yes, it is! With this Adidas Tour 360 Boost 2.0, you don't have to worry about your feet getting wet. You can even play in heavy rain for as long as you want. On the other hand, the manufacturer offers a two-year waterproof warranty with it!
Does this shoe come with the cleat tool?
Unfortunately, No! The Adidas 360 boost golf shoes doesn't come with any cleat tool. You have to purchase those separately.
What is meant by 10D?
D means the standard width size of the shoe. And if you see M, that would be for Male and F for Female.
How long will this shoe last?
Well, that depends on you! With gentle use, the Adidas Golf Tour360 shoe can last for years as they are extremely durable.
Can people with diabetics wear this shoe?
Absolutely! It is one of the best shoes for people with diabetics. Also, aged people can wear it easily.
Are they comfortable?
Once these shoes are broken in, it became very comfortable. It doesn't take long to break in though.
Do they run small or large?
We found no such issue. This shoes are true to size.
Do they provide support?
Yes, great support. Personally I used 3-pairs in a row! We observed the support on some golfers with diabetics, bunions, plantar fasciitis, etc. They all gave us positive feedback. And most of them ordered again!
How is the overall quality?
You can guess the quality from the rating I think! 4.9- it's not easy to grow that much reputation.
Are they lightweight?
Its only 0.75lb!
Let's watch a video…
Finally…
We have come to the end of this adidas tour 360 boost 2.0 review article. Overall, I haven't seen any major drawback of this shoe. Some might find the price expensive but I would say, according to the features it offers, the price is fair.
It provides great comfort for a diabetic golfer in his neuropathy, improves blood circulation, doesn't initiate blisters. So it is the best Golf Shoe for Diabetics.
With this Adidas 360 boost golf shoes, you'll get high durability as well as long-lasting performance. It also offers great comfort compared to other shoes in the market. So, if the price is not a big issue, I'll highly recommend you to give this shoe a try!
Read More
Amazon and the Amazon logo are trademarks of Amazon.com, Inc, or its affiliates.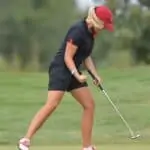 Daisy is the Founder and Editor in Chief of Golfs Hub. She is associated with Golf for more than 20 years. She got the inspiration from her father. She is a very private person & doesn't like to be photographed. She's worked in nearly every job in the golf industry from club fitting to instruction to writing and speaking. Now she is enjoying her retirement from day job... but not from Golf! Daisy lives in southeasternmost part of New York state with her family.