Planning to play 18 holes round of golf?
Well, then this article is for you. When playing 18 holes round of golf, you will be walking between 4 to 6 miles, which means that would definitely put some pressure on your feet.
Have you planned anything about that? Or thinking about to get on with just an ordinary pair??
A comfortable pair of shoe is highly important, whether you are running or just playing an outdoor game. And for playing 18 holes round of golf, it is mandatory.
However, as the market is flooded with thousands of different models, choosing the right one can be a daunting task. And that's why we have come up with a list of best golf shoes for walking 18 holes.
Plus, at the end of this article, we have designed a comprehensive buying guide for a more secure purchase.
So, let's get started!
What are The Best Golf Shoes for Walking 18 holes in 2023
Making the following list wasn't easy for us. We had to go through a lot of factors such as the price, quality, performance etc. We had to compare a lot of shoes and after hours of work, we have finally found the top 15.
Our experts gave priority to the quality, so you might find some pairs a little expensive but you'll thank us later.
We'll discuss it in 2 groups: for men and women.
The best walking golf shoes for Men
1. ECCO Biom Hybrid 2 Golf Shoes
Best Shoes For Golf To Improve Swing
Starting with the Ecco Biom Hybrid 2 Golf shoe which comes with a sleek and trendy design. The out of the box design is what impresses most people at first. It comes with a casual appearance which is perfect for regular use.
Once you slide your feet in it, you will feel an amazing comfort. After walking a few steps, you'll feel how lightweight it is and how comfortable you are with this pair. The cushioning and lightweight feature makes this pair one of the best walking golf shoes.
And even after coming without spikes, this pair has a good grip because of its sole. This Ecco men's biom offers good traction and stability. Overall it is surely a nice golf shoe for walking 18 holes.
2. Adidas Tech Response Golf Shoes
Best Golf Shoes For Beginners & Arch Support
This golf shoe pair is from the market leader, the Adidas. Adidas is no stranger to any of us. It is one of the most trusted and reliable brands that have been around for a very long time. This Adidas tech response golf shoes have a lot to offer to its owner. From comfort to stability, it offers everything a golfer needs.
The most amazing feature that took this pair to the next level is its spikes. Yes! Every sportsman knows that playing on grass requires cleated shoes and this Adidas Men's tech Response shoe offers that. This pair is one of the best golf shoes for men.
These shoes are made of textile and synthetic materials. As I said earlier, the quality of these shoes is really appreciable. This is one of the best golf shoes for bad knees.
3. Skechers Go Golf Fairway Shoes
Best Breathable Golf Shoes
These Skechers Go Golf Fairway Shoes are made of durable materials and they are heavily constructed. It features a smooth action leather at the top along with the mesh fabric. Mesh fabric increases the breathability of the shoes.
This golf shoe pair is very comfortable to wear. You can keep wearing it for hours with no irritation. This shoe is waterproof which enables you to golf without worries even in wet condition.
It comes with Goga matrix outsole which provided traction as well as improves the stability. On the other hand, it also features a Goga max insole, which provides comfort to your feet all day long.
One thing we really didn't expect is the design of this pair. It's not bad but could have been far much better. It looks like traditional shoes and the lacing system is also traditional.
Read: Skechers go golf max golf shoes
4. Footjoy Hyperflex Golf Shoes
Best Golf Shoes For Heel Pain, Bad Knees, Sweaty Foot & Maximum Grip
As the name suggests, with this best Footjoy Golf shoes for walking you are going to enjoy every step you make. Comfortability and design, this shoe has both of them. Let me start with the design first. Footjoy Hyperflex golf shoes come with a modern appearance with 5 different colors.
You can use these shoes for both playing golf and on casual occasions. The white sole is made of FTF (Fine tune foam) that not only looks good but also feels comfortable to wear. This sole also gives you energy when you push it down.
These Footjoy shoes are completely waterproof which allows you to play even in wet condition. The insole of these shoes is nicely padded so you can take long walks wearing this shoe without any irritation.
It is one of the best golf shoes for knee pain.
5. New Balance Golf Shoes NBG518
Best Spikeless Golf Shoes For Walking The Course
If you are looking for a simple pair of shoes for golfing at a cheap price, then this New Balance Golf Shoes NBG518 would be a good catch for you. This shoe is more suitable for occasional golf players.
The reason why this model became so popular is that of its price. It has almost all the features that a professional golfer would want in a shoe. It comes in three different colors: navy, lime, and white.
The spikeless rubber outsole offers nice stability and comfort. And the midsole is cushion padded which enables you to walk or run more comfortably. This shoe is made of durable material too.
It is the best spikeless golf shoes for walking the course.
6. Adidas 360 Traxion Golf Shoes
Best Fitting Golf Shoes
There is a misconception that the most comfortable spikeless golf shoe is expensive. The fact is here you will get to know about reliable, durable and affordable golf shoes for walking and the shoe is Adidas Men's 360 Traxion.
The design of this shoe makes it a unique shoe. The leather of the shoe comes in microfiber, and the upper textile is made with Climastorm protection. These features make the shoe durable, breathable and long-lasting.
The sole comes in synthetic material. And the midsole has full-length bounce foam that ensures energy return, comfort and cushioning.
You will like the rounded toe shape of this shoe and the wide forefoot, for this design the volume stays increased, the stability gets exceptional, and the comfort level stays super.
The outsole of the shoe is spikeless that works as traction to offer durability, multipurpose grip, and firmness.
You will find the sock liner cloud foam that boosts cushioning and support.
7. Nike Explorer 2 Golf Shoes
Best Easy On And Off Golf Shoes
To ensure the structure and stability of your golf game, Nike Men's Explorer 2 Golf Shoe is the best choice. This shoe offers super-comfortable features.
The upper structure of this shoe has a stamp like a pattern that improves the feel and support of the shoe. The upper part of the shoe is water repellent and long-lasting. Your feet will stay dry in any weather situation.
One thing I like about this shoe is the phylon cushioning of the mid-sole. The phylon comes in full length that gives a lightweight feeling, stability, and comfort while walking and swinging.
The shoe grip is made with strong integrated traction to help to grab any surface. Even the outsole is spikeless, the design is versatile. There are raised nodes in the outsole edge for increased stability and smooth shift while golf swing.
Though the shoe comes with synthetic and leather material, the sole is rubber made. For that, your feet will stay light and comfortable.
There is a pull tab on the shoe tongue that helps to put the shoe on and of easily.
8. Footjoy Pro SL Golf Shoes
Best Waterproof Golf Shoes For Walking
Thanks to FootJoy to give us a golf shoe that promises a flawless blend of traction, stability, and comfort.
The shoe comes with leather that is 100 % waterproof, durable and lightweight. The closure system of the shoe is lace up, so the shoe is best for a custom fit.
The outsole of the shoe is 3 in the piece and have a fine-tuned foam for stability and cushioning. For traction, the sole comes in TPU molded design. For this unique outsole design, with this shoe, you can play golf or have a long walk with ease.
The removable insoles are narrow and have a round toe character that helps a good fit with comfort. Both the soles control your swing and mobility with grace.
With a narrow heel, the instep and the forefoot get a standard fit.
9. FootJoy Athletics Golf Shoes
Best Durable Golf Shoes
With the FootJoy athletics golf shoes, the hitting course gets a high-level performance.
The upper part of the shoe comes in mesh material that provides lightweight and flexible feature promises to support and ventilation all day.
The fit-bed of the shoe is cushioned and lightweight. For the features the underfoot stays shocked absorption and stable throughout the golf game.
From instep to toe, there is enough wide space for the fully rounded design.
The outsole is made from Duramax rubber, that is why the gripping turf performance stays strong.
No worries for different terrain as the outsole come in joined traction element.
10. Callaway Balboa TRX Golf Shoe
Best Golf Shoe For Wide Feet
The last shoe in my favorite golf shoe in men's category is Callaway balboa TRX golf shoe. This shoe has all the features that you want. It is the most comfortable golf shoes wide feet.
The shoe material is leather made, and the sole is synthetic. The upper part of the shoe comes with microfiber that is Opti-repel and waterproof.
The outsole is dura-rubber made and has 7 spikes. The midsole comes with Opti-soft EVA material.
The sock liner is EVA, and the measurement is 5mm. All these features guarantee comfort and stability.
For Women's
11. New Balance Golf Shoes Womens
Best Womens Golf Shoes For Wide Feet
It's time to get started with the women shoes. The new balance golf shoes womens have successfully listed its name in one of the best golf shoes for women. This pair features a lower drop which makes you feel more connected with the ground and makes you more stable.
It features an innovating foam midsole which delivers optimum comfort and this shoe is way more light compared to a few similar models. The new balance minimus golf shoe comes cleated and spikeless. Also, they are available in different colors.
It comes with a cute design which will perfectly suit women of any age. Furthermore, this shoe is completely waterproofed.
12. PUMA Cleated Creeper Suede
Best Stylish Golf Shoes For Walking
PUMA is a well-known brand for their high-quality products. You'll find PUMA shoes on almost everywhere throughout the States. And this PUMA Cleated Creeper Suede is one of their best-selling & best womens golf shoes for walking. Most users are pleased with this pair as it is comfortable and stylish at the same time. Plus, it doesn't cost a fortune.
It comes in different colors so you can choose the one you like. This shoe has more height compared to other models because of its thick sole. The sole is cleated which ensures that you will remain stable even in slippery areas.
This PUMA Creepers also features creped midsole, which will start delivering a supreme feeling of comfort once you push the cushion in. The round toe makes the entire shoe look very classy.
Read also Puma ignite pwradapt golf shoes review in here.
13. DAWGS Golf Shoes
Best Golf Shoe For Arch Support
Women who are a little bit heavy and want more breathability in their shoes can try out this DAWGS Golf Shoes. These DAWGS golf shoes are unique in design and mostly open, which lets you keep the pair on for really a long period of time.
These shoes don't offer that much features as others do. But it satisfies most of the basic needs which is very important. This pair is the best choice for pregnant women too as they would be very comfortable with this pair.
Moreover, this shoe is highly adjustable. It has some hooks and loops which allows you to adjust it the way you want.
14. Adidas Adipure Sports Golf Shoes
Most Elegant Looking Golf Shoes
This Adidas Adipure Sports Golf Shoe comes in dozens of colors which gives you a full flexibility to choose your preferred one. It features a rubber outsole which is cleated that provides maximum traction. Grass or wet surface whatever it is, with these shoes you will be stable all the time.
The outer shell of this shoe features mesh fabric that keeps the inside of the shoe well-ventilated. The cushioned midsole delivers superb comfort which will keep you energized all day long. The design is also pretty impressive.
15. Skechers Go Golf Birdie Golf Shoe
Best Golf Shoe For Flat Feet
This is the last shoe of our best golf shoes reviews article. Also, this is our second selected shoe from the brand Skechers. This shoe has a smooth layer of breathable mesh fabric at the upper shell and lightweight 3D printed overlays for enhancing the stability.
This Skechers golf shoe is fully water resistant and highly durable. The responsive 5gen cushioned midsole gives a superior comfort. It features a TPU outsole which is spikeless but still provides a great traction.
How to Buy the Best Golf Shoes for Walking the Course?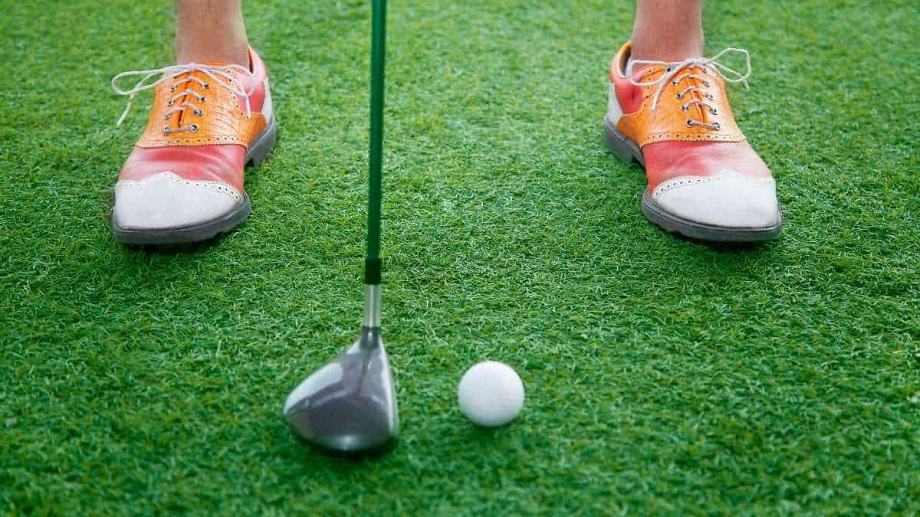 In order to get your hand on the right pair of golf shoes, there are some factors which should be considered, such as the type, material, lacing, fit, etc. Below we have broken down all the factors.
Have a look:
Which Types of Golf Shoes do you Need?
Golf shoes mainly come in four types: cleated, spikeless, sandal, and boots. Each type has its own set of characteristics, advantages, and disadvantages.
Cleated Golf Shoes
These are one of the most stable golf shoes. They provide good traction, breathability, design, and comfort. One major advantage of these shoes are, they feature spikes in the bottom which gives a player higher stability and traction on any surface. Plus, these shoes are lightweight.
Spikeless Shoes
These shoes are for those who want a stylish design without spikes. As these are spikeless, they are less stable than the cleated ones. Spikeless shoes feature flat sole and they are lightweight than the cleated shoes which make them one of the most comfortable golf shoes for walking.
Golfing boots
Golfing boots are very unique. These boots have a classy look and the design is similar to the hiking boots. One major advantage of these boots are, they provide high protection. These shoes are also considered to be one of the best golf shoes for wet weather. On the other hand, these shoes are a little heavy which might limit your movement.
Golfing Sandal
Golfing sandals are much different than the other types. They are only designed to be worn in the hot climate, as golfing boots can be very uncomfortable in hot weather. Golfing sandal looks nice and they are very comfortable. These sandals can be very comfy for heavy peoples. However, they are not suitable for long walks because the straps can cause a blister.
Materials Used in Golf Shoes
Materials for making golf shoes have developed over the years. Now manufacturers are bringing in their own choice of materials. However, here we'll talk about basic ones only.
Let's have a look:
Leather
The leather is one of the most common materials for any shoe. And they are equally popular for golf shoes too. Leather materials are stretch-resistant and offer a good fit. On the other hand, leathers are durable and look really appealing. But most of the time leather shoes come with an expensive price tag.
Waterproof lining
When looking for something that offers superb water resistant ability, many top manufacturers go after Gore-Tex, however, some use their very own customized fabric. These fabrics are thicker and have an amazing water resistant ability.
Synthetic fabric
These fabrics are popular for their cheap price. Probably, it is one of the cheapest material for golf shoes. These are very lightweight and thinner than others.
Different Types of Spike in Golf Shoes
Spikes are mandatory in every outdoor sports shoe. There are mainly two different kinds of spikes for golf shoes. They are:
Soft spikes
Soft spikes are also known as plastic spikes. These spikes are really popular among golfers because they tend to tear up less green. They are very lightweight and walking with them on a hard surface is really comfortable. Moreover, plastic spikes can be replaced easily.
Metal spikes
Metal spikes are also known as traditional spikes. Metal spikes are around us for a long time. Once they were really famous because they were the only option. But now they are not that appreciable to golfers because they easily tear the green and not very comfortable to wear.
How Important are Golf Shoes for Walking the Course?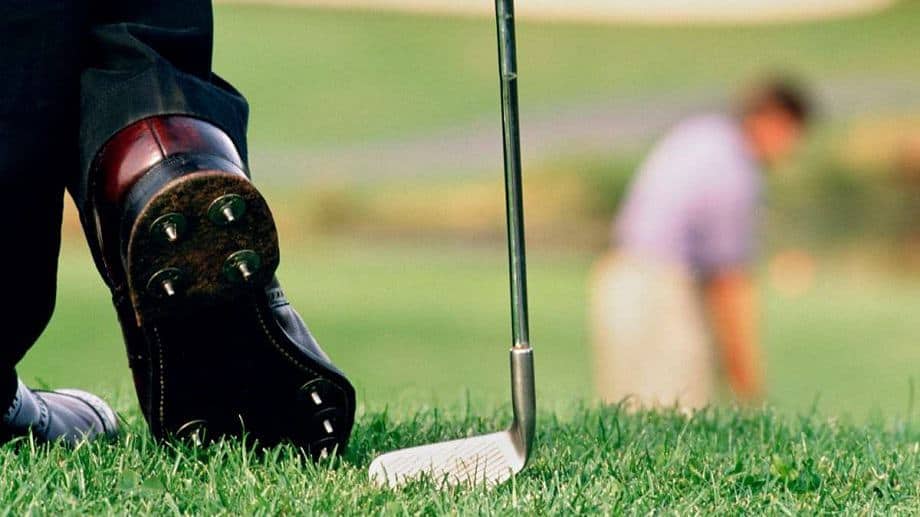 A good shoe has lots of benefits, however, as this article is all about walking 18 holes shoes, let me talk about the benefits of these shoes:
#Keeps the Feet and Body Happy
Along with the feet, a good walking shoe will keep your body happy too. Especially for an overweight person, they are really comfortable. Walking for long hours put a stain on the feet and an uncomfortable pair of walking shoe will make it even worse.
#Ideal Alignment
A good walking shoe will offer great arch support, which will help you to maintain an ideal body alignment. Our feet are the base of our whole body. So, comfortable walking shoes will distribute the body pressure evenly.
#Avoiding Injury
A pair of protective walking 18 holes shoe will keep you safe from all the harshness during your whole walking session.
Frequently Asked Question
Why do golf shoes have spikes?
Not only golf shoes but most sports shoe also contains spikes. Because spikes provide the needed traction which keeps the player stable on any surface.
Can I golf with tennis shoes?
If you want, you can. But it will be wise if you don't because golf shoes are designed to withstand all the harshness that can be encountered while golfing.
Check some other substitutes here.
What are the best men's golf shoes?
Well, that completely depends on your personal preference. Shoes that worked fine for me might not be the same for you. So you have to choose the one that suits you best.
How long do spikeless golf shoes last?
Spikeless golf shoes will last depending on your use and maintenance. If you use it regularly however, maintain it properly then it is most likely to last for at least 2 years. And if you don't take good care of it and use it regularly then it will not last for long. Sometimes spikeless golf shoes last for 3-4 years as well if it is not used regularly and taken good care of.
Can golf shoes affect your swing?
Yes, golf shoes definitely affect the swings. Golf shoes keep you stable and flexible throughout the game. Mostly when you do swings and rotate your body, golf shoes keep you flexible and balanced. In a wet and soggy course golf shoes play the most important role by providing stability which helps to make a better swing.
Final Words…
It's time to wrap up the article! I hope by now you have got a clear idea on the best golf shoes for walking 18 holes. You just need to find the pair that suits you best. We recommend choosing one from our list as all of them are thoroughly reviewed and checked for quality.
If you still have any question, don't hesitate to ask us in the comment box below. We'll try to get to you as soon as possible.
Read More