As an Amazon Associate, I earn from qualifying purchases. There is no extra cost to you. Thank you if you use our links; we appreciate it! Learn More.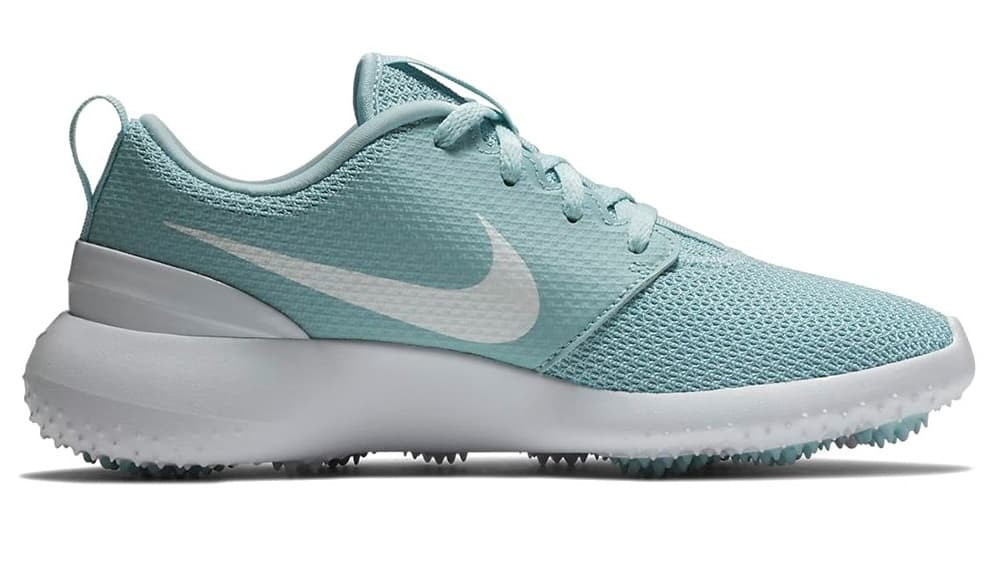 In this Nike Roshe G golf shoes review, you will get to know all about this stylish but cost effective Nike golf shoe.
Being a good golfer doesn't only mean you got to play hard, you got to look professional as well. Golfing is the only game meant for gentlemen and you just got to smash it.
I'm not just talking about style; a good golf shoe has its pros in functionality as well. Your feet will stay planted as you perform swings. Besides, you'll be able to navigate the up and down terrain very easily.
But golfing shoes are becoming less traditional over the years. I mean, yeah, you can find those mainstream shoes that come with spike, but people are more into casual stuff these days.
In fact, giants like G-Fore, Ecco and Nike Golf are more into making shoes with casual look these days.
Now, you and I both know why you're here. You're looking for a stylish yet functional golf shoe, right? My suggestion would be the new Nike Golf Roshe. It's cool, it's premium and above all it's affordable.
So, you don't have any idea about this? Well, here's the Nike Roshe Golf Shoes Review.
Nike Roshe Golf Shoes Review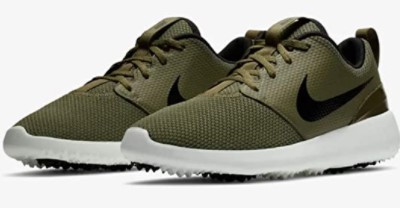 A stylish professional golf shoe from a giant like Nike, that's even under 100 bucks? This is something which will interest you.
But if you still think the price is too high, wait till you know the features. Under 100 bucks, this amazing beast will meet your demands.
Who's this for?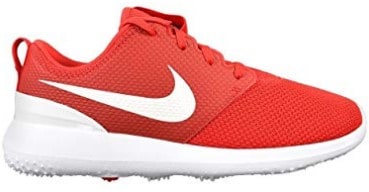 If you want ultimate comfort while walking and running uphill or through terrains, this shoe is for you.
You can have this as your best pick, if you want stability, cushioning, without compromising fashion.
First Impression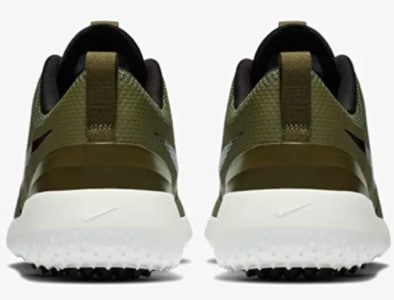 You're getting a complete full lace fastening, for which, you can run smoothly around the terrains. To increase your comfort zone and take it on heights, the shoe comes with cushioned insole. To make sure you get extra comfort towards your heel, the shoe comes with thick midsole as well.
It is made with high-quality materials that enhance its durability. So, you can expect this shoe to run for years while it takes a beating.
With the breathable mesh paneling around, your feet will get the perfect amount of air it needs. It will help your feet from sweating.
And the best thing about this shoe is, it looks pretty premium which will definitely make your mind boggle.
Features Of Nike Roshe G Golf Shoes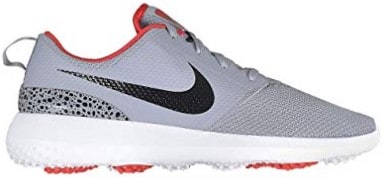 Full Lace Fastening
Ever bought those shoes that unfasten themselves while you're walking? This is what happens with bad-quality shoes. Their laces are not strong enough to stay locked with the shoe.
As a result, when you run or walk a bit fast, the knots become loose and cause you discomfort and hassle.
Try the Nike golf roshe g shoes instead. It has got full lace fastening that will hold on to your feet even if you run fast uphill or towards the terrains.
As the shoe keeps grabbing your feet all the time, you get the ultimate comfort zone as well. You don't get the feeling that your shoe will get loose any time soon.
Looks
As I've told you earlier, people these days like it more casual when it comes to golf shoes. However, when you're saying 'casual', it also means these shoes don't come with spikes.
Now, as a golfer, you know the importance of spikes. But if you're more on the side of looks, you'll be like 'okay cool, it doesn't matter if it doesn't come with spikes.'
But deep inside, you'll still be a bit disappointed. People want the looks and at the same time, they want the spikes. Unfortunately, at a cheap price, you cannot get both.
Well, turn the tables with Nike golf shoes Roshe. This one boasts a super casual look, as if, fashion was its ultimate concern.
Read More: Nike Flyknit Golf Shoes Review
But no, it has the functionality as well and the design talks about it. This shoe comes with spikes, unlike any other casual shoes.
That being said, the spikes are small mini spikes, unlike the big ones. They help you to grip the ground with their round bumps on the bottom.
And trust me when I say this, you can wear this golf shoe even when you're not golfing. Using this shoe as a running shoe will be pretty amazing for its users. The spikes are pretty hard to notice.
Cushioned Insole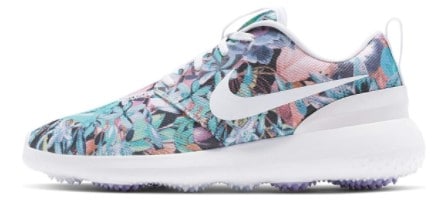 If your golf shoes do not provide you the comfort you want, you'll feel really bad as you walk or run. You see, your feet need to have the room to stay relaxed.
If your shoes don't provide the perfect cushion to your feet, your feet will end up getting hurt as you walk and run. You may also end up having blister anytime.
To make sure you don't go through such problems, the Nike Roshe G golf shoes come with a perfect insole that offers amazing cushioning.
As your feet make their way into the shoe, they'll eventually feel the soft embrace of the insole under them. As your feet stay on the insole, they'll get the squishy feedback even if you walk or run faster.
Thick Midsole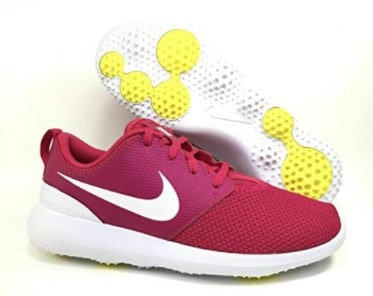 Do you know why the ladies get hurt on their heels? It's because their high heel shoes do not come with thick midsoles. This helps to damage the structure of their feet.
Just because you're a guy, it doesn't mean you can't go through this problem. If your golf shoes don't have the perfect midsole, as you walk or run, your heels will get the pressure.
As a result, getting blisters on your heel is not surprising. If the midsole of the shoe is not soft enough, you won't get a good amount of cushioning and shock absorption.
As you run or walk, the soft midsole will absorb all the shocks you get from bumpy grounds. Running shoes have the softest midsoles, which is quite rare in the case of golf shoes. But not anymore with the men's nike roshe golf shoes around.
The shoe has got a thick midsole which is specially designed to back your heel up with the ultimate comfort zone it deserves. Run, walk, jump, whatever you do, it won't be a problem from now on.
Breathable Mesh Paneling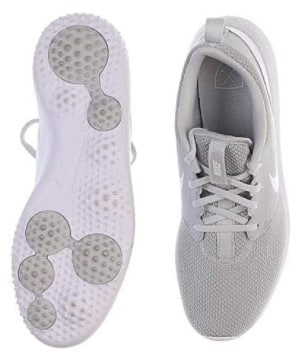 Don't be surprised when I tell you that your feet need air circulation as well. If your shoes do not let air pass inside, your feet will become sweaty very soon.
As a result, your golfing experience will be ruined. Your feet will feel oily and eventually will become sticky as well. If the situation gets worse, you can get a bad smell from it.
The Nike Roshe gives your feet enough room to stay cool with its breathable mesh paneling feature. With this feature around, the air passes very easily inside the shoe.
As a result, your feet stay cool all the time while the sweats stay out. This helps you perform better in games with ease and comfort.
Performance
If traction is your biggest concern, you'll be glad to know that the Nike mens Roshe G golf shoe provides everything you need. Golfing needs perfect traction and this shoe is the perfect catalyst.
With the fabrics it is made of, you'll find it more stable than running shoes. It will support you all the way around to take your golfing experience to its peak. It certainly is the best golf shoe under 100.
Key Specifications Of Nike Men's Roshe G Golf Shoes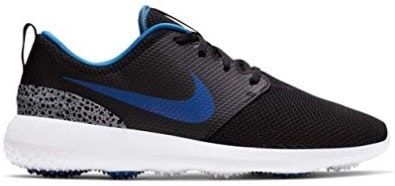 Product Dimensions: 16.5 × 5.2 × 10 inches
Padded and shaped ankle collar
Comfortable Insole
Thick Midsole
Upper: Textile/Synthetic
Inner: Textile
Sole: Synthetic
Breathable mesh paneling that has synthetic overlays.
Are Nike Men's 2020 Roshe G Golf Shoes Worth It?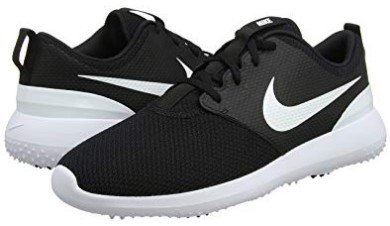 PROS
The full lace fastening holds on to your feet all the time.
The comfortable insole gives your feet the perfect cushioning as you walk and run.
The midsoles absorb all the shock and protect your heel from getting pressed.
Air circulates easily inside the shoe to make sure your feet stay cool.
Holds a very casual look and stylish design.
The fabric makes the shoe more stable than others.
CONS
Doesn't have any waterproof feature.
Attracts dirt very easily.
Frequently Asked Question
1. Does this shoe come with any warranty offer?
Well, to know about the details, you should talk to your seller.
2. Is this shoe durable?
It is made with heavy-duty fabric, only meant for professionals, so you can expect it to last for years.
3. What colors does it come with?
The product comes in Black, Game Royal, White, and Cement Gray.
4. Is this shoe unisex?
No, you'll find Nike Roshe golf shoes men's and Nike Roshe golf shoes women's separately in any sports stores.
There are not many differences between Men's Nike Roshe Golf Shoes & Women's Nike Roshe Golf Shoes except colors. Women's have more colorful options to choose from. But the user reviews are not good in case of women's Roshe Golf Shoes.
5. Are Nike Roshe golf shoes waterproof?
Yes, it has a waterproof upper.
6. Do Nike Roshes have good support?
It has just the basic support. You need to change shoes in case of long distance.
7. Do they still make Nike Roshe?
Yes, you can always find them on their website.
8. Are Nike Roshes comfortable?
This shoe just has a basic and minimal design. But it provides the most comfort to your feet.
9. Are they lightweight?
Yes, it only weighs 1.649 pounds.
Wrapping Up…
If you want to hit the game with a cheap, yet functional and stylish golf shoe, I don't see any option better than the Nike Roshe. If you have gone through the nike men's roshe golf shoes review, you should be able to know by now why it's different.
If you want you can ask your friends and fellow golf mates about this, and I'm sure you'll get positive reviews.
Read More
Amazon and the Amazon logo are trademarks of Amazon.com, Inc, or its affiliates.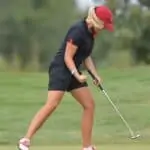 Daisy is the Founder and Editor in Chief of Golfs Hub. She is associated with Golf for more than 20 years. She got the inspiration from her father. She is a very private person & doesn't like to be photographed. She's worked in nearly every job in the golf industry from club fitting to instruction to writing and speaking. Now she is enjoying her retirement from day job... but not from Golf! Daisy lives in southeasternmost part of New York state with her family.