As an Amazon Associate, I earn from qualifying purchases. There is no extra cost to you. Thank you if you use our links; we appreciate it! Learn More.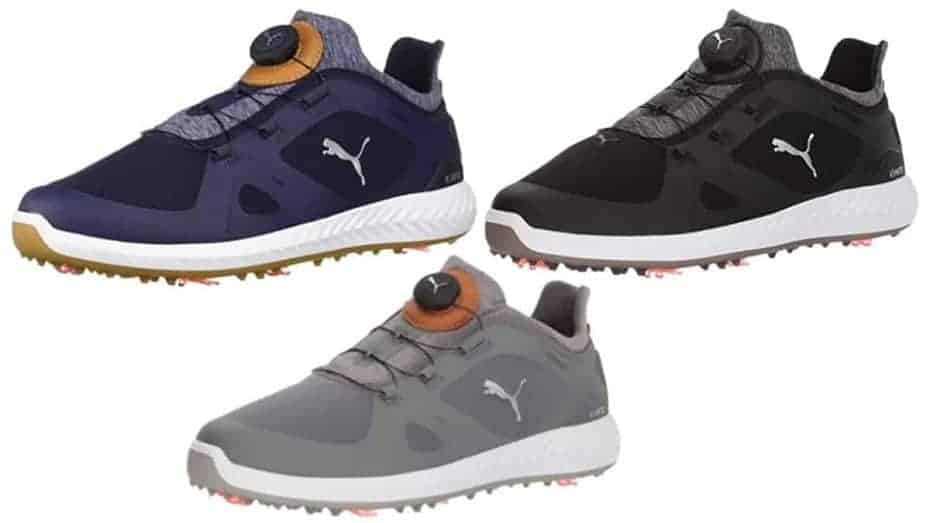 As a busy man, why do we choose golf other than a more sedentary yet similarly enjoyable sport?
Because it's comfortable yet challenging as well, see comfort is the most necessary thing for any human being to be good at whatever they do! For a very sophisticated game like golf where even the slightest change of angle can have a really dramatic effect, why take a chance with shoes!
And ever since Puma has introduced their super comfortable ignite soles with a unique combination of comfort with traction, these have gained quite a reputation for itself, and this is why we decided to feature this Puma Ignite Pwradapt golf shoes review to let you know why it's worth buying!
First Impression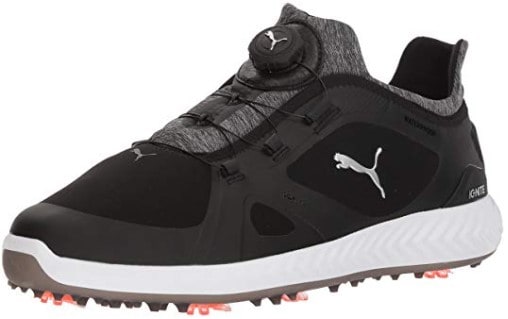 At first glance, you will be surprised to find out that this puma golf ignite shoe are quite breathable to wear, just like snickers. It gives your feet good support overall while you are playing on the ground. The adjustable micro-disk system is quite good as it makes the laces fit clicks away as binding and tying the lances are quite a hassle for most of the shoes, this disc closure system provides comfort like no other shoes.
Puma Ignite Pwradapt Review: Features and Benefits
Size
The disc system provides a custom fit to your feet. You will get 7 to 14 sizes available. But the customized fitting system makes the size game easier.
Sole
The sole is made of synthetic. The outer sole has spiked in it. And the red cleats in the outer area may seem like normal things. But you will see flex and pod tilts there. It makes better tractions and has a stronger pull. The more the friction the shoe can get you, the more stability you get while playing.
Stability & Flexibility
The Puma Ignite Pwradapt golf shoe is stable and flexible at the same time. It is like the box of things together that you want from your golf shoes. The mesh bootie eliminates the contemporary tongue system. It makes the shoes more comfortable and supportive. Grip zone traction is there to give you stability and grip for better playing experience.
The Comfort of Wear & Use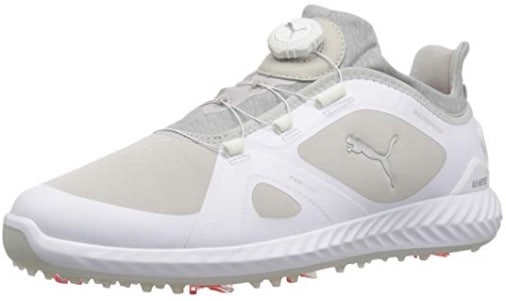 It often said Puma Ignites Pwradapt golf shoes is the best in the market considering comfort. It is not wrong. The Ignite Pwradapt technology is what makes the shoe this much comfortable. The back of the shoe there is a tall and wide tab which helps with the pulling of shoes.
To use the disc properly turn the disc clockwise. The system helps you to lock the shoe to your desired tightness. So you do not have to worry about the fitting at all.
Unlocking it also is smooth as a piece of cake. Just turn the disc anti-clockwise, and you are done Puma Ignites Pwradapt disc reviews are too good. People are so in love with the disc system.
Breathability
There is a bit of a problem with its breathability. But the problem is not that of a big deal. As the shoe is waterproof, you cannot want breathability to an extreme extent. Waterproof materials are not breathable.
Does it Come with or without Lace?
The shoe comes with lace. You do not have to worry about fit with the shoe. Lace is not very important as the disc is playing a role in fitting perfectly.
Performance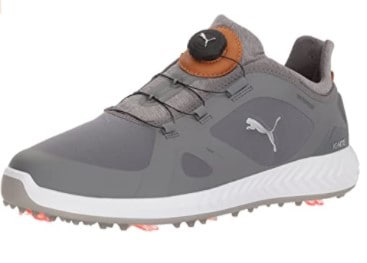 The PWRADAPT Pods are going to tilt and flex into the sole if you push it. It makes a strong connection to the ground. It is how you can keep a high balance while playing golf. PWRADAPT may seem like a fancy name given by puma, but no it's not just about the name. It works amazingly as well.
Thermoplastic polyurethane framework is sewn to the mesh to ensure the bonding well. The frame is tied with the wires of the disc system so that everything is put together and work as a group. So, performance-wise the shoe is fantastic.
Water Resistance & Water Proofing
The shoe is fully waterproof for two years. After that, you may have a problem with damp grounds, but mine are going quite well even after that period. Many Puma Ignite Pwradapt golf shoe reviews in Amazon says the waterproofing system worked flawlessly for them too s these shoes are wearable in the wet season. They did not have any issues on rainy days while playing.
Price & Quality
The shoe is a little bit high end. But the quality is also justified for the price point. You are getting a top quality product with the latest technology used. Every fabric and other technology used are the best.
Warranty
These shoes provide guarantee being waterproof two years at least as per the manufacturers.
Weight
Puma golf ignite shoe made lightweight. It is just 3 pounds that is great for playing golf.
Materials Used
The sole materials are made of synthetic.
Pros & Cons
PROS
It fits nicely for the disc system.
PWRADAPT is designed to keep in place of high-stress areas that make the shoe lightweight and stable.
The support of the shoe works as a game changer.
The grip of the shoe is great.
Lightweight for comfortable moving.
For traction, spikes come as the saver.
You can go sockless with the shoe.
The sole is made of synthetic.
CONS
The sock is built in which some may or may not understand.
Not enough room for toes which may hurt you.
The color scheme is limited.
Personal experience with Puma Ignite Pwradapt Golf Shoes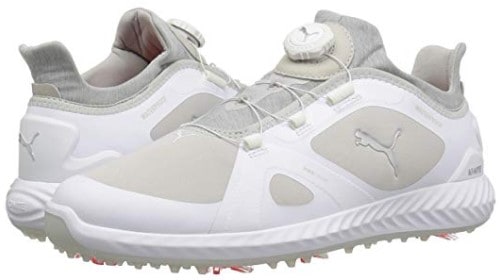 These shoes are hands down my most favorite one in the collection. The right amount of support while playing golf helps me with stability. I wish it was a little more breathable but cannot complain much as it is fully waterproof. With the disc system, the design becomes more appealing and sporty.
Is it user-friendly?
The product is user-friendly. It gives an ample amount of support that is most important while playing golf.
Is the product worth your money?
The real usefulness of a shoe can be seen when you are playing a big match with it. It is worth every penny as it is designed with the newest technology and those works amazingly as well in a game.
Let's watch a video:
FAQs
How do you release the wire tension to loosen the shoe's lace?
Just turn the disk in the shoes clockwise so it will loosen up itself.
Are the cleats in the shoe can be replaced?
Yes. It can be replaced if they are broken or worn out with the use.
Is that shoe completely waterproof?
Yes, it is waterproof. You can walk into the morning or even nighttime dew.
Alternative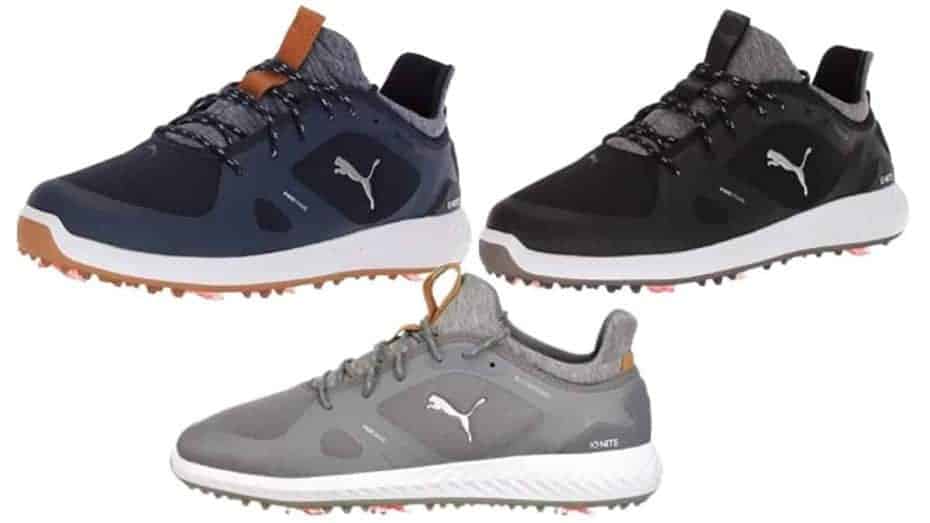 Puma Women's Golf Tech Shorts is a fantastic golf shoe hat is almost identical to this Puma Ignite Pwradapt Disc golf shoe.
The only difference is it has a Lace-Up closure system instead of Disc Closure System.
Final Verdict…
Golf players have to choose shoes for themselves considering every aspect from comfort to the durability. If you have to think about including just one thing in your golf shoes, then look for comfortable shoes like this Puma Ignte Pwrdapt. Because a right golf shoe can help do better and stay comfortable at the same time.
The flexibility and lightweight add extra comfort that will support you very much during the matches. So give it a try if you haven't before now!
Read More
Amazon and the Amazon logo are trademarks of Amazon.com, Inc, or its affiliates.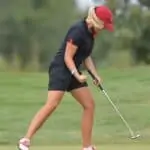 Daisy is the Founder and Editor in Chief of Golfs Hub. She is associated with Golf for more than 20 years. She got the inspiration from her father. She is a very private person & doesn't like to be photographed. She's worked in nearly every job in the golf industry from club fitting to instruction to writing and speaking. Now she is enjoying her retirement from day job... but not from Golf! Daisy lives in southeasternmost part of New York state with her family.