As an Amazon Associate, I earn from qualifying purchases. There is no extra cost to you. Thank you if you use our links; we appreciate it! Learn More.
Do I need golf shoes? Do such an expensive pair worth the price I pay for it?
Pretty naturally, these kinds of questions keep popping up in the minds of several golfing people, or more specifically, beginner golfers who're trying to get themselves through the ins and outs of the game. After all, golf isn't much of readily accessible a sport that you can start playing with a minimal investment like that in baseball, basketball, or soccer.
So why do you need golf shoes to play golf after all?
Let's dig through some crucial aspects and find out the answer.
Benefits of Golf Shoes
If you wonder why you should be wearing an expensive pair of shoes in the course that you can only use for golfing, here are some reasons why investing in the best golf shoes is essential.
Sturdiness
The rubberized wide-track soles are one of the main advantages of golf shoes that tend to be sturdier than standard shoes. Also, the sharp blades help limit your slidings on the grass field. The shoes are made from robust yet lightweight materials that provide firmer and denser arch support. These features are hardly found in footwear used for other purposes.
Balance and Comfort
The additional paddings in the golf footwears help support your midfoot while absorbing the impacts as well. The midfoot relief becomes absolutely instrumental when attempting to drive the ball since the golfers tend to finish their strokes by maneuvering the balls of the feet. Besides, the leather used for making these shoes are convenient and flexible for walking throughout the course.
Breathability
Most of the golf shoes are composed of materials that boost the overall breathability of your feet. More specifically, the golf shoes with Gore-Tex linings are more capable of consuming moisture by which they limit sweaty feet, allowing them to breathe.
A few models come with footbeds, combined with charcoal and polyurethane, that can also absorb a significant amount of foot moisture. Warming and cooling consistently is another feature of this combo that is undoubtedly ideal for a game like a golf.
Read: How To Prevent Blisters On Foot & Hand From Golf Shoes?
Advantages of Spiked Golf Shoes
Without a doubt, the main benefit of wearing spiked golf shoes is that it increases the grasp as you walk through the greens. New modernized technologies are also used for making these spikes that keep the golfers active throughout the games. While striking the ball, they assist them in making sharper turns. The detachable twist-spiked outsoles of some shoes help golfers balance their tractions on a variety of course surfaces.
Advantages of Spikeless Golf Shoes
Spikeless golf shoes are intended more for the benefit of the grass than the golfer. They come with a design that can by no means damage the course, yet they tend to be similarly stable, comfortable, and assistive like traditionally spiked shoes. Makers deploy specialized schemes in these shoes to evenly distribute the body weight and improve flexibility.
As far as cost is concerned, the prices of spikeless shoes are much less than that of a typical spiked golf shoe. Besides, many golf courses insist on the players using spikeless golf shoes.
Do You Need Golf Shoes To Play Golf?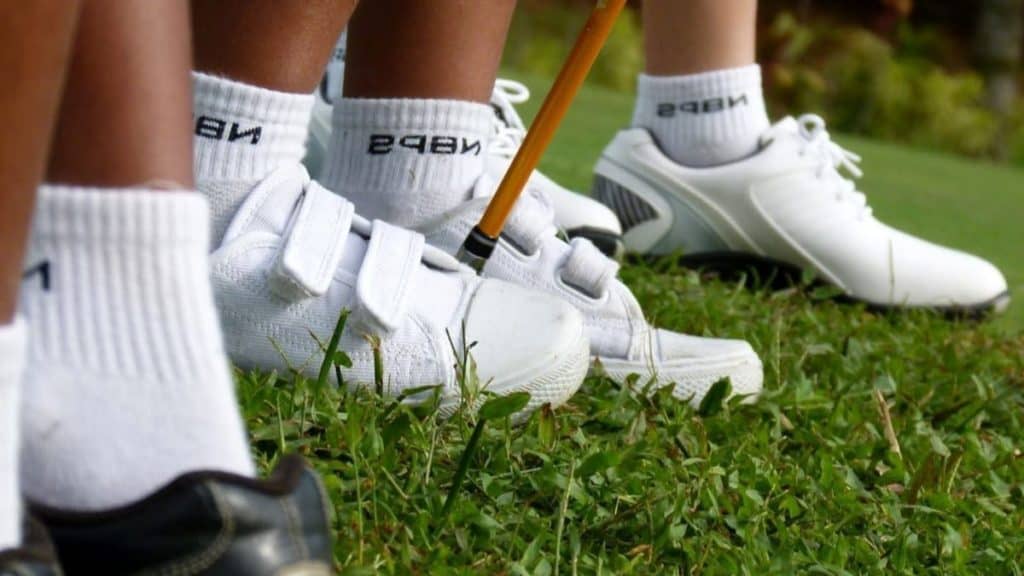 Now, if the question still arises in your mind- "Do I really need golf shoes?", the answer should be "Yes, you do need a pair of competent golf shoes for the sake of the game." Here's why.
The game of golf is mostly about the turn of motions. It requires you to turn back, followed by turning forward with each shot.
If you imagine yourself driving your car and suddenly you're required to take a sharp turn around a bend that has a sloped cliff on its one side, which is your wrong side, how disastrous can it be for you if the road is wet and your tires have got no tread at all?
The same goes for golf shoes and the swings you make. Turning your body backwards to hopefully transfer the weight to the inner side of your rear foot needs something for holding onto that position. If you're wearing your sneakers, that's not supposed to work at all. You need golf shoes with sward-gripping outsoles on the bottom that will support the weight transfer along with the body rotation.
Moreover, a good pair of golf shoes make the big difference when you are at the top of your swings and begin swinging downward with forwarding rotations of your torso. As the body starts rotating forward with the weight beginning to shift, a proper base is needed for starting the motions within your swings.
And that's precisely how an impact is made. During impacts, you'll again use the front foot as the base for turning forward throughout the swings. The pressure exerted on your front leg in this kind of situation follows through the golf swings to even cause knee injuries. Now, if you imagine wearing your worn out runner shoes or sneakers instead, you can well guess the possible worst-case scenario.
With that said, you can clearly see the importance of a good pair of golf shoes and how they facilitate your swings and all the necessary forces, rotations, and pulls that go along.
Frequently Asked Questions (FAQ)
Q: Do golf shoes make a difference?
Ans: Absolutely. They make a huge difference in your game, be it the swings and rotations, or the turns and tractions. They'll provide you with the grasp of the surface necessary in the course that a regular pair of shoes won't.
Q: What is the point of golf shoes?
Ans: From the discussion we had above, the crucial points of wearing golf shoes in the course become evident. And flexibility, comfort, or tractions aside, they make you look elegant in the course.
Q: What can I use if I don't have golf shoes?
Ans: Well, as far as the best substitute for golf shoes is concerned, there aren't many. But you can bring out your casual running shoes if they have soles with the most gripping capability and lots of rubber bumps, textures, and ridges on them, at least until you buy a pair of golf shoes.
Q: Do pros wear spikeless golf shoes?
Ans: While the majority of professional players still prefer spiked golf shoes, the number of pros regularly wearing spikeless shoes has increased over the past few years. And the transition hardly had any impact on their performance in golf's biggest stage as well.
Final Thoughts…
Golf Shoes, with a more robust foundation, more adaptability, and flexibility across the varieties of golf course surfaces, can really help improve your game. Where the likes of sneakers or running shoes might sound fine during casual trips to the field, you can't actually help wearing a competent pair of golf shoes when hitting the course for real golfing.
Sea also:
Amazon and the Amazon logo are trademarks of Amazon.com, Inc, or its affiliates.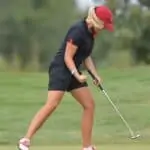 Daisy is the Founder and Editor in Chief of Golfs Hub. She is associated with Golf for more than 20 years. She got the inspiration from her father. She is a very private person & doesn't like to be photographed. She's worked in nearly every job in the golf industry from club fitting to instruction to writing and speaking. Now she is enjoying her retirement from day job... but not from Golf! Daisy lives in southeasternmost part of New York state with her family.