As an Amazon Associate, I earn from qualifying purchases. There is no extra cost to you. Thank you if you use our links; we appreciate it! Learn More.
Although it may seem absurd, most pro golfers check their golf shoes as closely as they check their clubs before any game. Good footwork and footing are the keys to a solid and fruitful golf swing to gain the right momentum.
Thus, the Skechers Go Golf Max shoes can be a great investment for golfers who want to win games and score big in the tournaments. The shoes are lightweight, waterproof, and comfortable. In today's Skechers Go Golf Max review, I will go deep into its practical benefits, along with pros and cons, to find which golfer should get this incredible pair of golf shoes.
If you want comfort and durability for your shoes, let's get on with it.
Skechers Go Golf Max Review

Skechers Go Golf Max golf shoes will increase the comfort of your feet and prevent blisters. So, instead of focusing on your feet ache, you can put your attention to your golf for better scores. It includes outstanding grip and soles for durability.
Mesh Fabric For Breathability:
The Go Golf Max shoes are made using breathable woven fabric. The woven fabric is soft, and its upper sole features synthetic materials. Thus, you will enjoy great breathability during the hot scorching days.
Plus, the synthetic upper ensures a lasting performance that is worth the money.
Cushioned Comfort: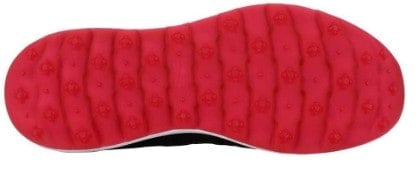 The interior of the shoe has a soft and comfy insole. Its design is based on the famous GoWalk Max shoe, rated high as a comfortable walking shoe. So, this cushioning ensures comfortable golf shoes for walking the course that you can't ignore. It will benefit larger courses where you have to walk yards after yards to reach the holes.
Prevents Blister:
Blisters from shoes aren't uncommon. And it can cause serious inconvenience and distract you from hitting the ball with the right swing speed. Luckily, the humanized design of the shoe, especially around the ankle, prevents blisters.
Also, you won't have to soften the shoe, as is the case with ordinary ones. So, you can use it right out of the box.
Water-Repellent:
The Go Max shoes are water-repellant. Although it is not 100% waterproof, it keeps water away if you accidentally put your feet on water holes or under the sinks. However, Skechers has written the water repellent feature on the shoe top, reducing its look.
Lightweight Design:
The inner and outer sole, along with the synthetic upper of the shoe, is lightweight. So, you won't face any fatigue at all. You can comfortably walk through the 18-holes with this pair of shoes on, and you won't feel any pain.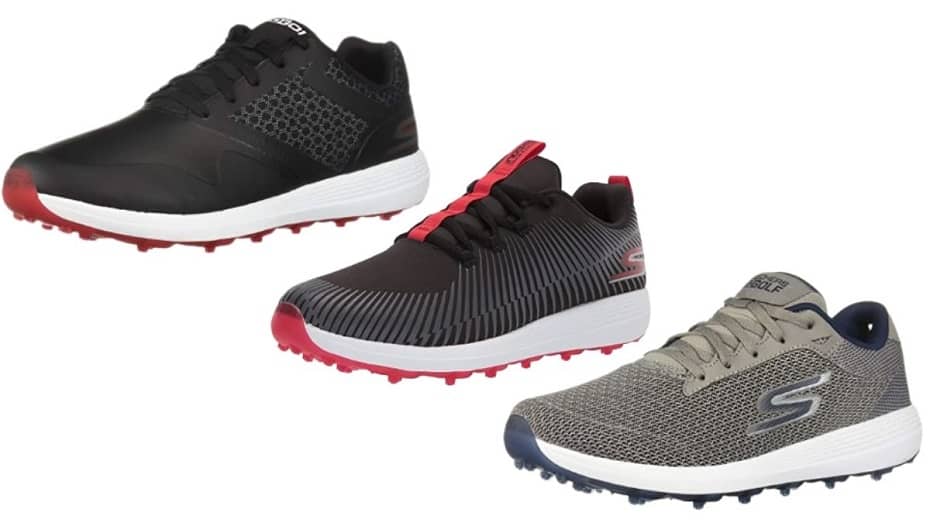 PROS
Excellent grip on any conditions, including the damp ones.
Softest and comfortable insole prevents blisters.
Lightweight shoes prevent fatigue and pain after long use.
The durable synthetic upper sole is worth the investment.
CONS
Lacks 100% waterproof facility.
Too much text on the shoe.
Why Should You Choose This One?
If you want comfort and walking convenience throughout the entire golf course, you must get this pair of golf shoes. You will love the durability and lightweight design that permits you to focus more on the golf swing than any ache and pain in your feet.
Target Users
Those who experience blisters and fatigue during their golf games will be benefitted from this shoe. It has the softest insole I have ever worn and lets you walk through 18-holes with ease and comfort.
My Experience With This Shoe
I found the shoe pair truly outstanding. If you ask, "Is golf shoe essential?" I recommend you wear these shoes. I could walk the entire golf course comfortably with it. Plus, I found it quite breathable, although it won't match the ventilation, likewise the leather shoes.
I once stepped in a puddle; the shoe repelled the water quite well. But, don't expect it to offer you a 100% waterproof facility.
Conclusion
The Skechers Go Golf Max shoes are built for gofers to improve their footing and footwork on any greens. Once you wear the shoe, you will find how lightweight and comfortable the pair of shoes is for golfers.
Its humanized design and soft insole also make sure you can use them right out of the box. So, there's no waiting time with the Golf Mag shoes. And lastly, with reasonable pricing, the shoe won't break your bank for sure.
Read More:
Amazon and the Amazon logo are trademarks of Amazon.com, Inc, or its affiliates.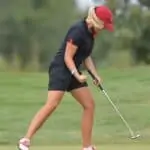 Daisy is the Founder and Editor in Chief of Golfs Hub. She is associated with Golf for more than 20 years. She got the inspiration from her father. She is a very private person & doesn't like to be photographed. She's worked in nearly every job in the golf industry from club fitting to instruction to writing and speaking. Now she is enjoying her retirement from day job... but not from Golf! Daisy lives in southeasternmost part of New York state with her family.