As an Amazon Associate, I earn from qualifying purchases. There is no extra cost to you. Thank you if you use our links; we appreciate it! Learn More.
I am missing Golf in this perilous situation very badly! It's not safe outside. But I thought why waste this time? I can easily play some shots in my dining room! But after nearly breaking my window I decided to shift on the backyard. But first I had to arrange some backyard golf practice equipment. If you have enough space you can use the same setup in indoor or in your garden too!
And it's pretty fun with the kids too.
We all know, Golf is mostly a field game and probably one of the most equipped games. Accordingly, there are lots of arrangements needed for playing golf. Besides, golf playing areas need to keep up special care every time. So, it is quite difficult.
However, there is an easy way to playing golf without having a big field. Golf is not only an outdoor game but also an indoor game. If you don't have enough time to spend with golf clubs, then you can play golf in your backyard or even at home!
Not many of us have a good backyard to practice golf but you can practice your golf in any size garden or yard… even at home!
No matter what the outdoors' weather is. You can play golf at any time- at daylight or at night.
You can spend hours in home and practice golf at a small space.
There are many indoor golf practice equipment available in the market.
For indoor and backyard golf practice here is some best golf equipment you must need.
Backyard & Indoor Golf Practice Equipment That You Must Need
These best golf practice equipment can transform your home and backyard or garden into a golf practice area.
In this article, we will discuss all these backyard golf practice equipment point by point.
1. Hitting Mats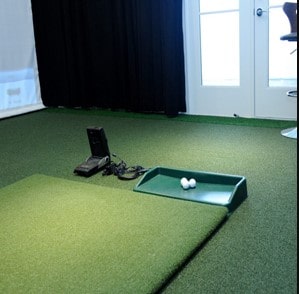 In indoor golf playing, you cannot have grass. So, you have to hit the ball from mats into hit the nets. Golf hitting mats are made of special fiber fabric. It is designed with a dark mark that you can place the ball and strikes. You don't need any guessing. You just can see hitting mats left a mark and start your swing.
You can see the mark clearly and it will help to correct swing path. The hitting mat quality you use will have impact on the accuracy of each shots.
If the hitting mat is of bad quality it will perform poorly. So, it is important to pay attention to the quality before buying. Good quality hitting mats also necessary to improve your playing.
This mat will enable you to swing without the use of a simulator. Golf hitting mats also help in swing training.
2. Hitting Nets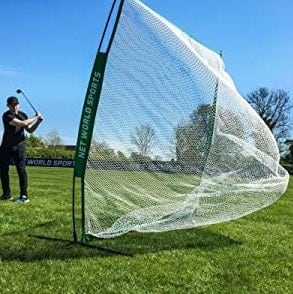 If you want to build your own place for indoor golf practice, hitting nets is essential equipment. It's a great addition for playing golf. Golf hitting nets are flat hanging nets. Golf hitting nets will stop your ball and will aid to return it. Besides, while the ball is returning back you can also observe the hook of your shoots.
There are different types, sizes and shapes of hitting nets. Some of the hitting nets built with weather resistant materials. These are suitable for outdoors such as backyard golf practice.
The material of construction and design make large differences.
For indoor practice, you can use portable hitting nets depending on your space. You can set up these portable hitting net in home or backyard anywhere you want.
Hitting nets can protect your site. So, you don't have to worry about damaging anything in your room.
Check Out the full review of Galileo Golf 7×8FT Hitting Net
3. Putting Mats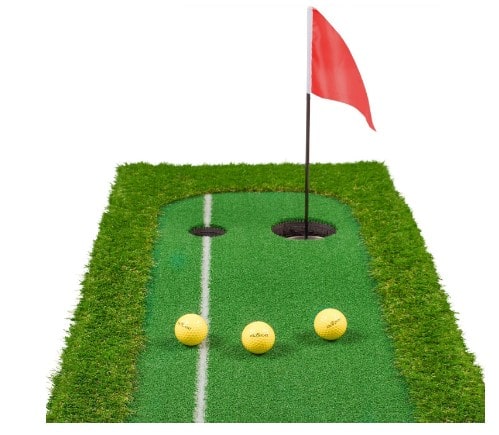 Putting mats can give you natural feel and simulate green conditions for golf practice.
They are coated with turf surface and simulate greens. It is stylish with diverse size and shape. Plus, you can easily fix it at home. Overall, it gives real green experience.
These mats have tufts for practicing stance. The printed alignment line and pace target can help you to setting goal. For putting mats, you don't need lots of energy. They will also improve your putting skills.
There are many putting mats available in the market. Some mats made of wooden and rubber tees. They are sun resistant, fade easily and durable. They bounce both long and short shots.
The printed alignment line and pace target help you to set goal. You can use these in both directions.
Whatever, choosing the right putting mats is not an easy task. So, you have to select proper and suitable putting mats.
4. Strength Trainers
We all know, Golf is such a full body approach game. Therefore, you have to work for bone and muscle strength. As a result, you can swing consistently.
All the same, golfers put lot emphasis on strength training programs. Players need to be ready for the season. And for this, they start to build up their strength. While you want to play Golf in your backyard, you have to go through strength training program as well.
To get power in hitting, golfers need to train up well. For instance, as a golfer, you need to meet gluten strength, hip stability, and anterior core strength. Moreover, you need to go through some special exercises as well. Namely, pall of presses, lateral band walking, and forearm rollouts, side planks and so on. Plus, you can exercise planks with arm marches, bowler's squats, hip thrusters, and deadlifts.
All the above exercises will be fruitful for playing golf.
5. Swing Trainers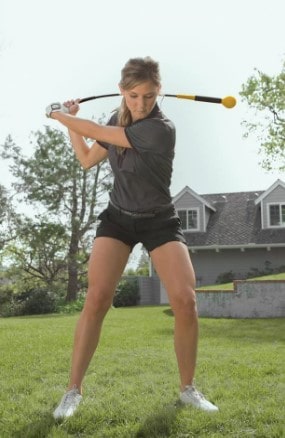 Sometimes, golfers become confused about correct wrist position. Swing Trainers can improve wrist movement and arm-hand coordination. It is suitable for both right and left-handed and any aged people.
Swing trainers having consistent swing and gives flexible body movement. So, it is a corrector tool that ensures consistent swing and all the necessary movement.
Swing trainers are one of the most effective, easiest and simplest golf practice gadgets. By using this, you can improve swing and get better score. Swing training can improve swing related flaws such as drive, pitch, putting and chip shot.
It is essential for getting better at balanced and right swing.
Basically, swing trainers work on consistency of swing, accuracy and distance. They can continuously improve your golfing skills as well.
Your core fitness will increase by using swing trainers. Also your flexibility will improve and you get better consistency in speed and balance. You can use proper swing trainers in your home, backyard or even in office.
6. Training Putters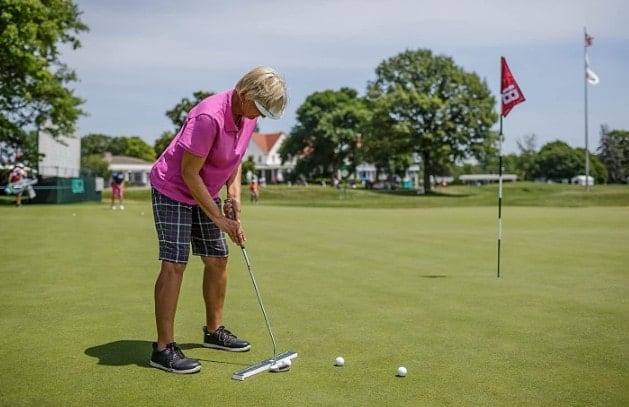 Training Putters is a hole simulator. It is designed to put anything into a real hole. You can set it up on your putting mats. When you hit your ball it will return if it misses the destination.
Every ball that you miss can return into the same distance.
The role of putter is to put the ball perfectly in its hole. So, you get the proper distance.
Besides this, you will understand what shot is right and what shot is wrong. Training Putters are foldable and easy to carry out. It lasts for a long time because it is made of long-lasting material.
So, it makes indoor golf is easier for you. If you want more putting, use a perfect training putters.
7. Golf Simulators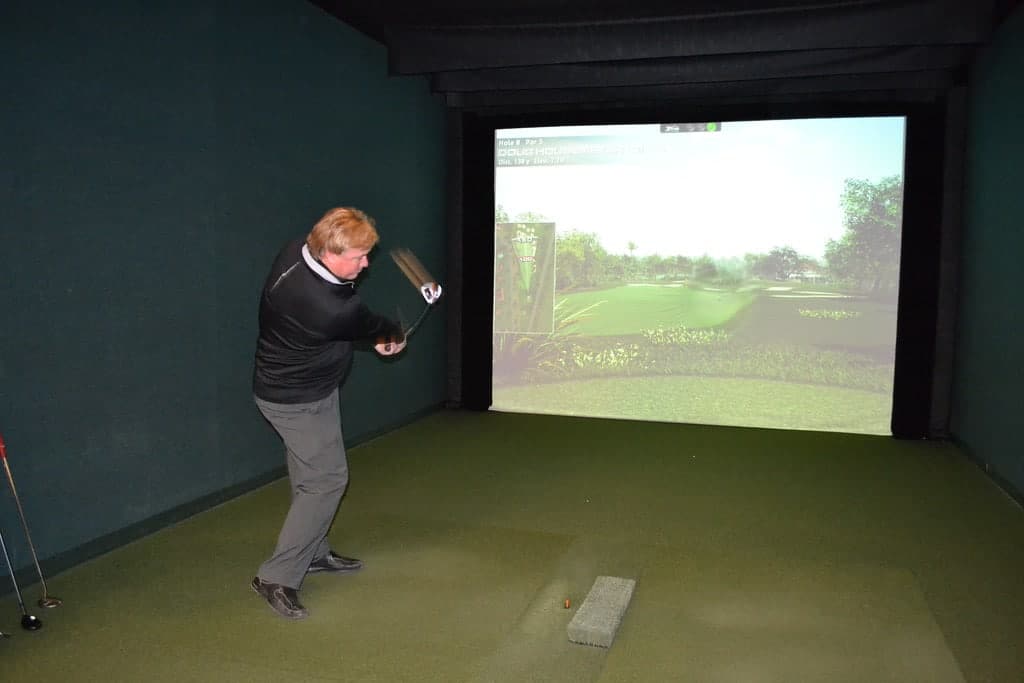 Indoor golf simulators are feedback devices. Most probably it is one of the best golf gadgets for practice ever. It can give quick feedback and analysis of each of your shots. It also has accuracy and a clear photo view. So, you can see your shot and find your lacking and make improvements.
Golf simulators are easy to install and gives a professional tool. You can change the setting on this. So you can play any types of golf course you want.
In fact, you can adjust the wind speed, humidity. You can also change the altitude. Another cool thing about this device is that there is a shot optimizer. It brings up the last shot, showing the largest high fly time and shows the graph of the ball in different curve points.
So, this device gives you huge and exotic golf experience at home.
8. Golf Trap & Base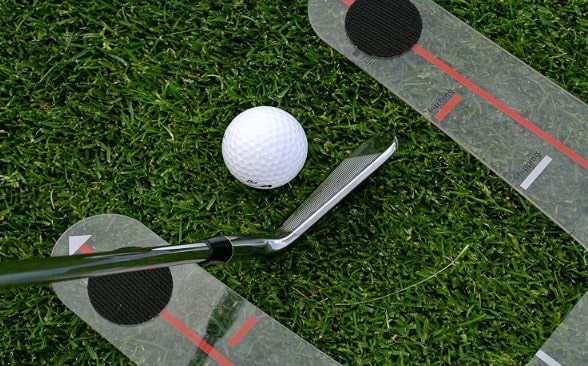 In indoor or backyard golf practice, the golf trap helps to hit longer and straighter shots. This works by catching the ball and swing on a plane. The golf trap base is used for chipping and pitching and full swing.
Golf trap and base can bring significant changes to your indoor golf practice. You can play fast and improve your game.
It is also very easy to use and understand as well.
9. Smash/Impact Bag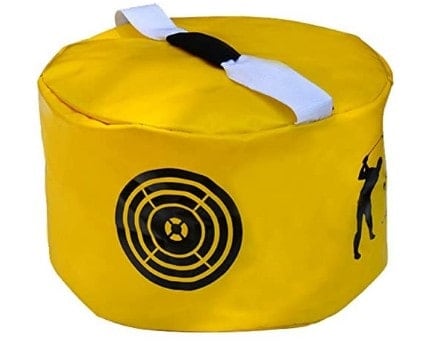 You can stand opposite the impact bag and hit the ball. You can hit several times and this bag will improve your swing.
It is solid, heavy-duty material, waterproof, and easy to use. You can fill the bags with pillows, towels, pillows, or even sand. Moreover, the Impact bag increases your attention during swing with your angle and body rotation. You can even make an impact bag at home all by yourself.
The right impact bag keeps a great impact on the swing. Hitting in a smash bag will thin your shot and improve accuracy.
Wrapping Up…
After finishing the whole article, you already have known how to practice golf in your home or backyard with necessary indoor golf practice equipment. That is to say, all these equipment are essential for indoor and backyard golf practice.
When you are free at home, you can play golf by using these equipment. No doubt, you are going to get real golf experience and simulation. So, wait no more to bring a set up in your backyard. Take help with the equipment. And obviously, take the best opportunity to improve your indoor performance!
See also:
Amazon and the Amazon logo are trademarks of Amazon.com, Inc, or its affiliates.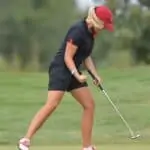 Daisy is the Founder and Editor in Chief of Golfs Hub. She is associated with Golf for more than 20 years. She got the inspiration from her father. She is a very private person & doesn't like to be photographed. She's worked in nearly every job in the golf industry from club fitting to instruction to writing and speaking. Now she is enjoying her retirement from day job... but not from Golf! Daisy lives in southeasternmost part of New York state with her family.