As an Amazon Associate, I earn from qualifying purchases. There is no extra cost to you. Thank you if you use our links; we appreciate it! Learn More.
The correct hand positioning is a pretty essential yet challenging task in golf. Many novices, intermediate, and even some professionals find it hard to place their hands rightly on the golf stick. Hence, they face problems like unwanted slices, hitting the ground instead of the ball, and inconsistency in swing speed. If you want to solve them, getting the Lock-in Golf Grip V3.0 could be a handy solution.
Hence, today in our review of the Lock-In Golf Grip, we will dissect it and bring out its best benefits along with the pros and cons. The golf grip training mechanism forcefully corrects hand positioning and helps you in proper golf wrist hinge placement.
Key Features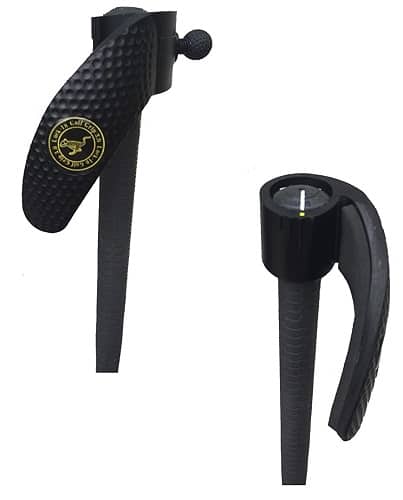 Available in S/Med and L/XL sizes for all players.
Suits both left and right-handed golfers' necessity.
It is made of premium polyurethane plastic.
It comes with a 1-year of manufacturing warranty.
Review Of the Lock-In Golf Grip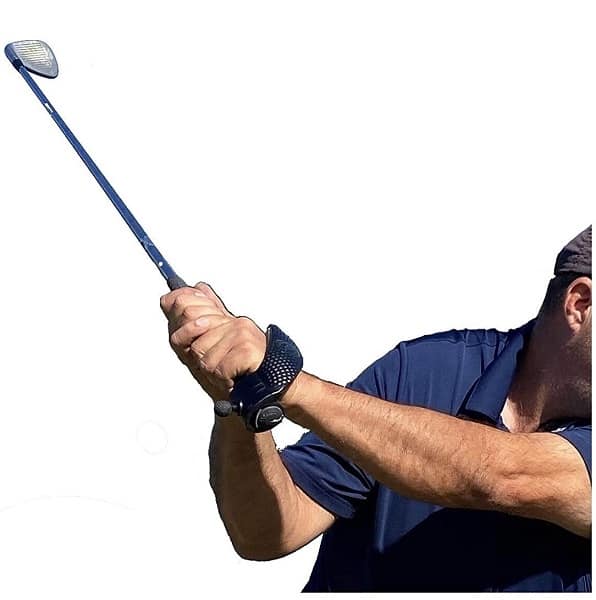 This golf practice gadget will be a pretty handy edition for backyard practice. The grip comes in two sizes with availability for both hand's orientation. Plus, it has high-quality manufacturing that makes it one of the best golf grip trainers in the market.
Perfect Grip Positioning
Are you worried about your hand placement on the golf stick and club? These golf training aids will help you quickly find the right grip and hand placement. It will force you to grip the club much like the professional PGA and LPGA golfers. So, you will find the right grip and a boosted confidence to get the perfect swing speed too.
Comfortable And Premium Design
Many golfers complain about the discomfort they feel with ordinary golf grip. But this is not the case with this golf practice gadget. It is made of soft yet durable polyurethane. It gives a firm feel around the hand but makes sure it doesn't overcompensate the pressure.
The inside has a soft padding. So, you feel relaxed as you hold the golf club and practice swing speed and hand positioning in practice indoor sessions.
Read: Strong grip vs weak grip in golf swing
6-Step Wrist Hinge Teaching
Golf wrist hinge positioning is crucial for maximum distance traveling and consistency in the shots. The hinge of the wrist needs to be natural and reflective. The wrist rotation and its force shouldn't affect the swing speed at all.
The Lock-In Golf Grip V.3 comes with a 6-step program. It will explain every detail of the wrist hinge movement. Hence, golf drills with this grip help the muscle create a memory. This muscle memory will quickly and appropriately guide the wrist for the best clubhead speed. Thus, you will quickly learn the art of wrist hinge movement.
Read: Oversized golf grips benefits
Corrects The Body Movement
The right swing speed and getting the desired lunch while hitting the golf ball isn't all about swing speed only. It is a combination of your body movement, hand placement, and wrist hinge. The lock-in golf grip luckily focuses on all these aspects.
Incorrect body movement during the ball hitting time is often caused by inappropriate hand position on the golf club. As this grip rectifies your wrist hinge and hand position, you will quickly find the right move too. It happens as the body adapts to the newly made changes of your natural wrist hinge and hand movement. So, you will be in a more comfortable position than ever to hit the ball.
Premium Manufacturing Quality
The golf grip can be a small golf practicing kit. Yet, it has been made with the utmost care. Its parts are made in America, and it's also assembled in the US. So, you can feel proud of its manufacturing and also rest assured about the quality.
It truly feels premium and special in hand. Plus, its comfort and durability have always impressed golfers of all kinds.
Pros
Corrects body movement and hand position swiftly.
Soft padding inside for comfy feel during a long session.
Durable and comfy grip design for several sessions.
Improves golf skills pretty quickly with proper orientation.
Cons
Only available in two colors.
It May seem a bit pricey for many golfers.
Why Should You Use This One?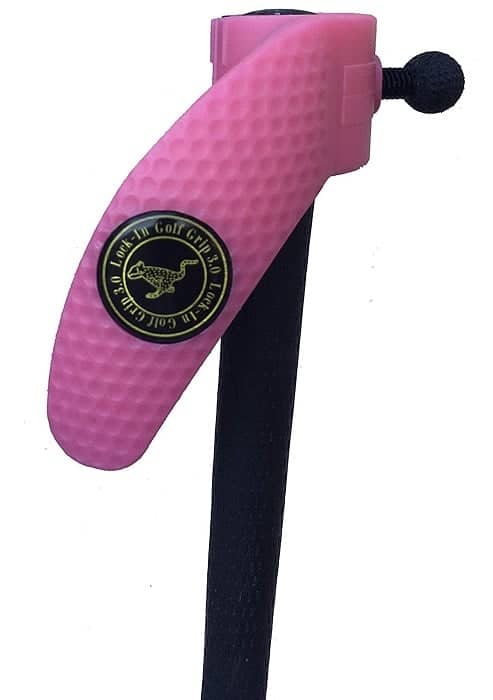 You should use the golf grip if you face problems with the natural wrist hinge and hand placement on the club. It tremendously improves the hinge movement. Plus, it rectifies the body movement to adapt with the new hinge and hand placement.
You will see the true difference with a few days with its muscle-memory development.
Target Users
This lock-in golf grip is targeted for novice and intermediate golfers. They will be able to fix the incorrect position of the hands-on club. Also, it gives them a chance to have a natural wrist hinge without forcing the swing speed.
Lock-In Golf Grip V2.0 Vs V3.0
The V.2 and V.3 of the golf grip are pretty similar. Both grips are made of polyurethane and ensure a comfy grip. You will love how this essential golf training aid improves your swing speed and skill. The pricing is similar too.
However, with the V.3, you will get a softer feel inside with the padding.
Let's Watch a Video:
Finally…
Inconsistent golf ball hitting, less distance traveling, and incorrect hand positions are common among golfers. It happens due to improper grip of the golf club. Our lock in golf grip reviews found that the grip kit truly solves these problems.
It builds muscle memory and teaches correct hand positioning for players. And it does so with relatively quick time and easiness too.
Read More
Amazon and the Amazon logo are trademarks of Amazon.com, Inc, or its affiliates.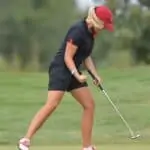 Daisy is the Founder and Editor in Chief of Golfs Hub. She is associated with Golf for more than 20 years. She got the inspiration from her father. She is a very private person & doesn't like to be photographed. She's worked in nearly every job in the golf industry from club fitting to instruction to writing and speaking. Now she is enjoying her retirement from day job... but not from Golf! Daisy lives in southeasternmost part of New York state with her family.