As an Amazon Associate, I earn from qualifying purchases. There is no extra cost to you. Thank you if you use our links; we appreciate it! Learn More.
When we begin our golf in-roads, we all want to increase our swing speed along with swinging accuracy. Thus, opting for the golf net is the most convenient way of practicing golf swing at home, including living rooms, lawns, and yards.
The Galileo Golf Hitting Net offers great potential in this scenario with its sturdy design and quick setup facility. Hence, it enjoys great hype and expectations among entry-level golfers, especially at home for indoor golf practices.
Today, in our Galileo Golf Hitting Net review, we will find the true worthiness of this golf practicing net and comment on its quality and features. Thus, your purchasing decision of the net will become easier and convenient.
Best Features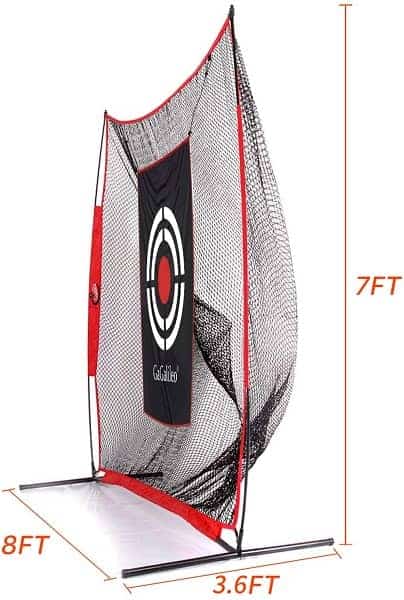 Size: 7ft×8ft
Weight: 13.55 pounds
Packaging: 44.88 × 7.28 × 4.72 inches
Assembly: 2 minutes
Best for Entry-level and intermediate golfers
The Galileo Golf Hitting Net Review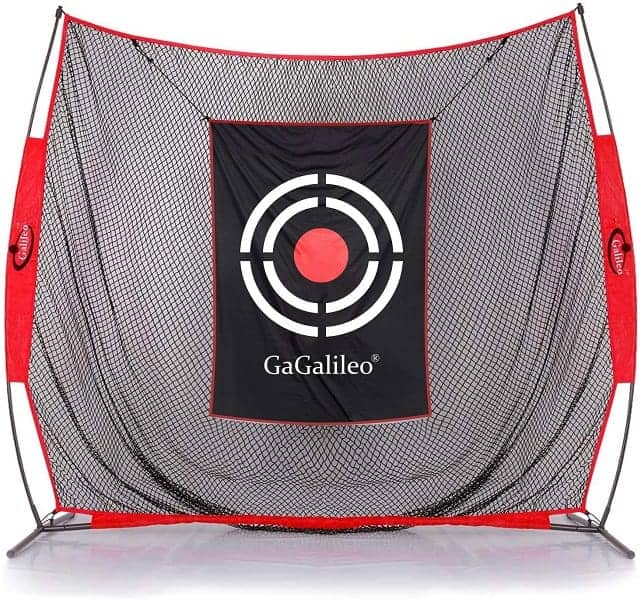 When you purchase the first golf practicing net, all you want is a durable, sturdy, and heavy-duty net that would withstand years of abuse. The Galileo golf net has features with promising benefits in this regard. But how worthy is the net to practice and improve your golf skills?
Let's dive deep into the facts-
Sturdy and Reliable Design
Every golfer dream about a golf practicing net that permits him to drill his golf swing without having to worry about any damage on home drywalls or neighbors. This wide and large net precisely provides you with such reliability for tension-free golf practice.
The net is extremely rugged and durable. Also, it comes in multiple sizes to offer golfers freedom to choose the right sized net for their golf drills for home. The standard 7ft by 8ft size is large enough to protect the wall at the front side.
Great Performance and High-Protection
This golf-hitting net comes with a target at the front and the netting behind it. In most cases, the flexible target net would catch the balls irrespective of how hard you hit the golf ball. Even if you miss the target and the ball flies away, don't worry.
The net will surely get hold of the ball without letting it go past and damage the wall behind it. So, you can plan golf practice at home freely. Its anti-heat material design with high ball impact assures that your drywalls and outdoor spaces remain safe and sound.
Also, the large target enables you to practice a varied range of shots. Therefore, you can quickly improve your golfing and swinging skills for an exemplary show at neighborhood tournaments.
The Construction You Can Trust
We found it the best golf hitting practice net for several reasons. To begin with, the weighted base is made of premium steel. It ensures that the net remains unaffected by the hitting impact.
Next, the poles are made of fiberglass. It makes the entire setup lightweight and mobile. So, you can carry the net for quick backyard golf drills without thinking twice about your back pain. The net itself has impact resistance to soak the energy and prevent damage at the back.
On top of it, the ground stakes and bottom is made of anodized iron and steel. This feature ensures that the setup doesn't catch rust and corrosion. Therefore, the golf practice net is ready to withstand years of extreme use. You will love how the practice net helps you improve the swing speed and accuracy in no time.
Easy-Setup and Mobility
At times you may prefer to practice indoor in your living room. The other time backyard space will be a more suitable space for practicing the golf skills. The Galileo golf net seems to understand these different needs of golfers quickly.
Henceforth, they have made this hitting net lightweight. It enables you to quickly carry the net anywhere, even for outdoor practice sessions. Last but not least, you will find its setup super easy and convenient. The assembly or folding of the net only needs 2 minutes.
PROS
A nice-looking golf net.
Ideal for outdoor and indoor practicing.
Reduces shock and noise generation.
Remains undamaged even with high-velocity impact.
The target sheet is suitable for swing accuracy.
Lifetime warranty for different parts.
Quick and easy portability and assembly.
CONS
Teeing mat isn't included in the package.
The ball return system needs improvement.
Not meant for use in tight space.
Why Should You Choose This One?
The Galileo Golf Hitting Net is a great alternative both for beginners and intermediate golfers to practice and enhance their skills. The construction is sturdy with a weighted base and rust-proof materials. It even has a target mat to improve the swing accuracy.
Above all, the net comes in affordable pricing for all golfers. Also, you can quickly set up an indoor golf practice at home. You will love how it boosts your performance like a pro.
Conclusion…
When you begin your golf career, you would want a simple yet useful practice area. As going outdoor isn't a good solution, every time, you may want a hitting net for indoor practice sessions. We found in our Galileo Golf Hitting Net review that the practice net with sturdy construction and target section is an excellent solution for such indoor practices.
It will stand up confidently with the most balls that you heat with the driver, and only a minimal number of balls will actually hit the net. You will love how the hitting net improves your swing speed and accuracy with options to practice all kinds of golf striking techniques. And above all, its resilience and affordability make it the best golf hitting practice net by miles in the present market.
Read More
Amazon and the Amazon logo are trademarks of Amazon.com, Inc, or its affiliates.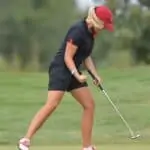 Daisy is the Founder and Editor in Chief of Golfs Hub. She is associated with Golf for more than 20 years. She got the inspiration from her father. She is a very private person & doesn't like to be photographed. She's worked in nearly every job in the golf industry from club fitting to instruction to writing and speaking. Now she is enjoying her retirement from day job... but not from Golf! Daisy lives in southeasternmost part of New York state with her family.