As an Amazon Associate, I earn from qualifying purchases. There is no extra cost to you. Thank you if you use our links; we appreciate it! Learn More.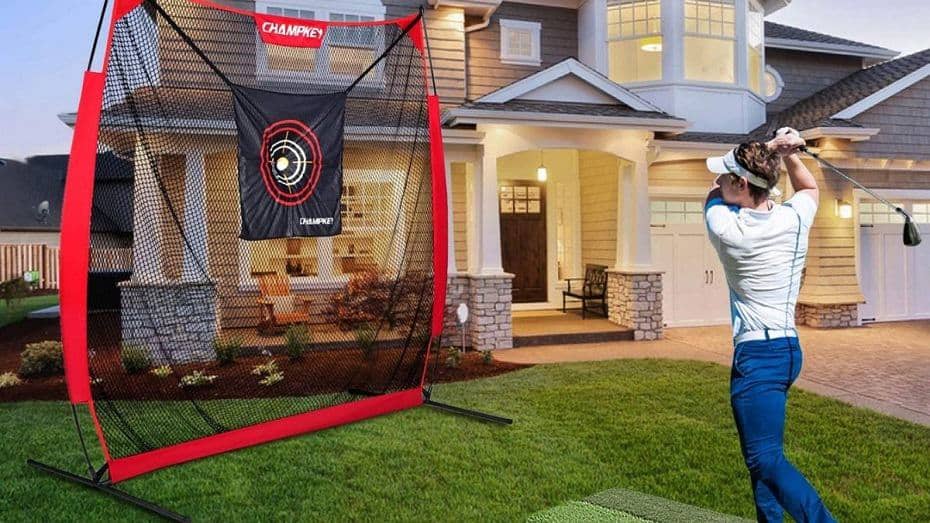 Golfers need intense practicing, and so, they also look for the right golf net. But how do you determine which net is appropriate and which is not? Well, most golfers will suggest that a heavy duty golf net is always the best option to go for practice.
These nets come with a brilliant ball returning facility, durable knotless connection, and allow you to practice swing speed, trajectory adjustment, and putting in both indoor and outdoor areas. Hence, as your prime golf partner, we will discuss the benefits of using a heavy duty golf practice net and, finally, suggestions on three golf nets for your golf drill to improve your skills.
What Is a Heavy Duty Golf Practice Net?
A heavy-duty practice net is a blurred category since it has no definite identification. Usually, a golf net is made using nylon or polyester with a knotless design. It comes with multiple layers of material. For instance, a golf net may come with a 3-ply, 4-ply, or 5-ply knotless thick design.
Thus, a heavy duty golf hitting net refers to a golf net with more construction layers. It permits the net to withstand extreme applications. Also, you can use real golf balls thanks to the golf net's reinforced construction.
Why Do You Need a Heavy Duty Golf Net?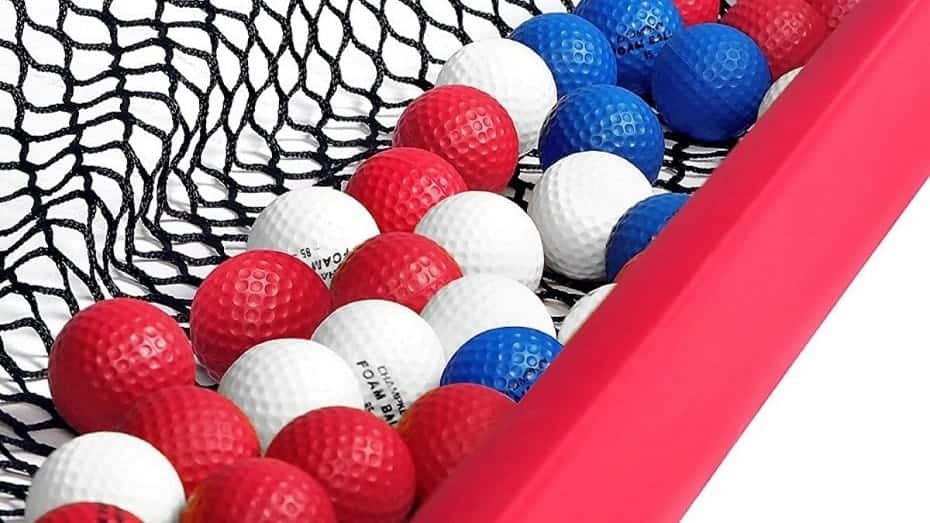 If you want to practice outdoor and with real golf balls instead of practice golf balls, owning a heavy-duty outdoor practice net is a must. It will enable you to play in extreme conditions. Plus, heavy-duty nets come with an excellent ball returning facility. So, you won't lose any balls either.
Plus, heavy-duty nets come with more layers of polyester or nylon. Thus, it will be more durable than regular golf nets. So, you can expect it to last for a few seasons. The heavy-duty nets are rust and weather-resistant mostly. It means you can use them in outdoor space confidently.
Review of The 3 Best Heavy Duty Hitting Nets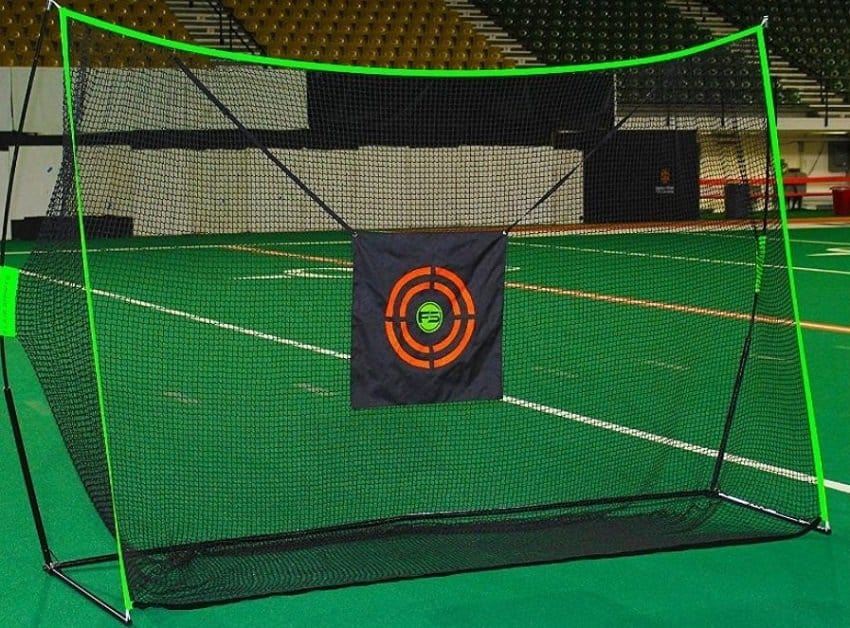 1. Hit Run Steal Heavy Duty Golf Net
The Hit Run golf swing training aid is made for both indoor and outdoor applications. It is made larger purposefully to allow you to drill all possible golf skills from swing to putting and what not! Its most amazing benefits include the following-
Large And Strong Construction
The net measures 10'X7'. Also, it comes with 7-ply knotless construction and is made of polyester. Plus, the steel frames are extremely strong. Hence, it will not only withstand high-winds in outdoor but also promises a long-lasting performance.
High-Impact Applications
When you plan for a swing drill, you may want to strike the ball with high velocity. Plus, also, you would like to practice with a real ball. Both situations need a high-impact net. Luckily, the fiberglass reinforced steel poles will offer you exactly the good impact resistance for the net. So, you can dill and improve all of your golfing skills with it.
Quick Assembly and Folding
Although the heavy-duty net is made with sturdy material, it pops up quite quickly. So, it won't take more than 2 minutes to assemble the net. On top of it, its collapsible feature enables you to fold, carry and store the bag conveniently and safely.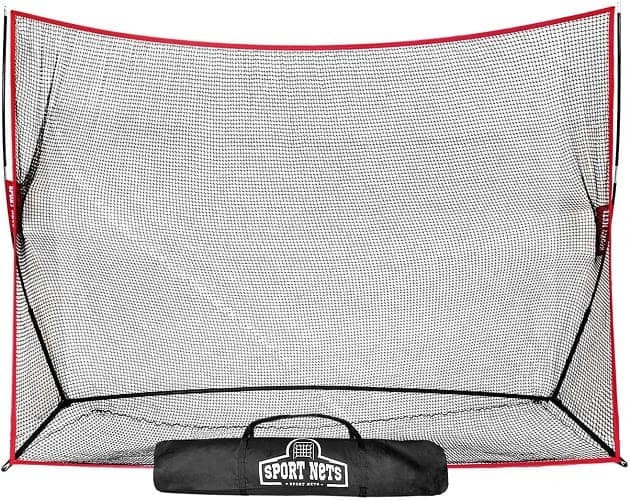 PROS
Made for a high-impact practice session.
The assembly instruction is clear.
Easy to transport as it's lightweight.
CONS
No accessory in the package.
Read: How to stop blading chip shots?
2. Flair Sports – Large Heavy Duty Golf Hitting Net
Our second pick for the heavy duty hitting net comes from Flair Sports, and it is no ordinary net. You can use it for putting drill, trajectory, and swing speed improvement all year-round. Its weatherproof design is ready to offer you supreme facilities.
Designed By Pro Golfers
The net is designed for professional golfers. Hence, it addresses the real issues of golfers and makes practice sessions convenient. Its target has neon that increases visibility. So, you can use it for chipping drills and short ball game skills improvement.
Made For All
Whether you are a professional or beginner and an adult or teenager, you can happily use the outdoor practice nets. It has 10'×7' measurement and facilitates easy ball collection. The reinforced frames will offer excellent retaining capacity for smooth practice.
Indoor And Outdoor Uses
You can set up the golf net in less than 2 minutes for use at home or outdoor space. Hence, it can also offer you nice family time. And during the winter or rainy season, it allows you to drill golf skills in a living or drawing room confidently.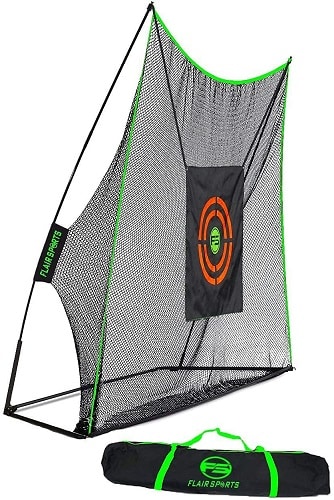 PROS
It has a neon target for high-visibility.
Premium fabric and poles for durability.
Convenient carrying with the includes bag.
CONS
Not suitable for high-wind conditions.
Confusing user-manual.
3. CHAMPKEY RTN 7′ × 7′ Golf Hitting Net
The ChampKey RTN net comes with incredible features that golfers will appreciate. It includes green turf to give you the feel of real golf courses. Plus, a bit smaller net is easy to use inside the home. It can serve both kids and adults with its heavy-duty construction.
Tri-Turf Golf Mats
The best benefit of this heavy-duty net is the inclusion of Tri-Turf golf putting mats. It has 3-piece mats with a resemblance to golf greens. Hence, your confidence will boost seriously during and after drilling sessions. Plus, these mats will help in correcting clubhead speed with real-time experience.
Stable And Strong Design
The net is made using 5-ply knotless fabric. Plus, its fiberglass poles are reinforced for extreme uses. You can easily use them during high wind and rough weather. Also, the tear-resistant net will help in intense drilling sessions.
Advance Target Practice
Most golfers find it hard to put their ball in the right direction. The golf net will help you eliminate such issues with the ball hitting. Its advanced target will allow you to improve swing drilling, ball trajectory, and distance. Hence, you will become a better player soon.
PROS
Supports high-impact practice sessions.
Tear and weather-resistant construction.
Advance target with neon made visibility.
CONS
The unit is a bit smaller than other nets.
Conclusion…
Heavy-duty golf nets are ideal for intense gold drilling. Hence, you can improve golf skills, including swing, hand correction, clubhead position with speed for professional tournaments. Our review included three top-tier golf nets with premium fabric and a reinforced pole for construction.
These golf nets will allow you to take your golf drilling sessions to the next level with both indoor and outdoor applications. These nets have the weatherproof capacity for several seasons of use too. Thus, no more wait; unpack your golf accessories, and let's jump into the practice.
Amazon and the Amazon logo are trademarks of Amazon.com, Inc, or its affiliates.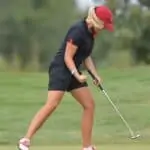 Daisy is the Founder and Editor in Chief of Golfs Hub. She is associated with Golf for more than 20 years. She got the inspiration from her father. She is a very private person & doesn't like to be photographed. She's worked in nearly every job in the golf industry from club fitting to instruction to writing and speaking. Now she is enjoying her retirement from day job... but not from Golf! Daisy lives in southeasternmost part of New York state with her family.