As an Amazon Associate, I earn from qualifying purchases. There is no extra cost to you. Thank you if you use our links; we appreciate it! Learn More.
Sports sunglasses are a funny thing. They're not quite goggles, they're not quite sunglasses, and they're certainly not made the same. They have to take more punishment than regular sunglasses yet still look stylish enough to wear on the street.
In my time wearing Rivbos Polarized Sports Sunglasses, a hot contender in the sports sunglasses market, I've learned that they are decent budget-friendly anti-glare sunglasses that can be used when playing sports and outdoor activities. That is great, but it still doesn't really answer the question of whether they are worth it.
Therefore, if you would like to better understand their features and find out if these are worth purchasing, you can check out their complete rundown based on my findings in this Rivbos Polarized Sports Sunglasses review.
Target Users
Rivbos rb831 Sports Sunglasses are polarized glasses that are made with the idea of making it a lot easier for you to play sports even during the times when the sun is at its peak, and there is a glare from everywhere. It's exclusively designed for people who do a lot of running, fishing, boating, cycling, playing tennis, baseball, golf, and games alike.
Besides polarization, these glasses also feature UV-absorbing properties, whereas their extensive coverage ensures you have the proper shielding against the wind and dust. These characteristics only indicate that the pair has a strong focus on providing athletes, in particular, with enhanced vision.
My Experience with the Rivobos RB831 Sports Sunglasses
As a golfer, I'm often on the hunt for a good pair of sunglasses that I can use for several hours while on the golf course. So after seeing all the rave reviews and buzz surrounding this pair, I couldn't hold back from purchasing it following my online search. And thank goodness, I can say with certainty that several months of use left me with little regret.
So, continuing my earlier promise, I'm now going to share my experience with these sunglasses.
Lens Quality
I always have to have black lenses on the golf course to keep my vision sharp, so in this case, as well I chose black from twenty available options. Double-layered with mirror coatings, they kept away not only the bright light from glaring my eyes but also the shiny contours around my peripheral vision.
Besides, my hot coffee breaks between rounds barely caused these lenses to fog up, which was entirely satisfying. The polycarbonate construction also proved to be tough, durable, and scratch-resistant.
However, I was a bit disappointed with its extremely reflective interior, which, despite blocking out everything shiny from my vision, couldn't keep out my face's reflection completely. Some may find its distractibility concerning, but I bet you won't notice it right away.
Read: What is the best color for lens in Golf?
Comfort
These sunglasses are very light and comfortable to wear. I have not had any issues with the frames themselves; they fit my face well and don't slide down, feel bulky, or do anything weird while I'm wearing them.
They fit the frame exceptionally well, so there's no movement at all even when I'm doing activities other than golf, such as riding a bike or running. It's all thanks to the hydrophilic rubber ear and nose pads.
Best of all, when I wore them on a hot, humid golf course, they kept moisture at bay like a champ. And while stickiness was nowhere near evident, the ridged pads even appeared to firm up as I sweated.
Frame Quality
Lightweight and remarkably flexible, these frames are made with TR90 plastic and rubber components. They also have easily adjustable plastic integrated standard-style hinges, which I found pretty robust during usual bending and flexing. They even held up to a few falls off my hand without breaking.
However, despite the sturdiness and the non-stretchy rubber hands, the frame isn't 100% scratch-proof like the lenses. You can easily scratch it with fingernails, keys, or even a needle, as I did.
Style and Versatility
Mirror lenses on these wraparound shades are a bit wider than average, which is something I like. Though they have a sporty look, the look is nowhere near awful, which I can safely state after casually using them during morning runs, everyday driving, road trips, and afternoon outings aside from the golf course.
Coverage
Even for a wraparound, the 2.52-inch wide lenses provide an adequate amount of peripheral coverage. Furthermore, they connect with the brows for good coverage at the top.
And despite a few users complaining about the somewhat gap-revealing bottom bend, I found them perfectly aligned with my upper cheeks. Moreover, the rubber patches did a decent job of helping them stay on throughout different activities.
Case Quality
The Rivbos polarized sports sunglasses came inside a zippered case, including a small plastic carabiner for safe mounting. So far, I haven't had any problems with them fitting into my golf bag. There's also a mini drawstring bag that you can use when carrying the pain in your slack's pockets and a leash for wearing around your neck.
Value
A simple pair of wraparound sunglasses that comes with lots of accessories and does an outstanding job on and off the golf course is an excellent purchase for me, especially when it costs less than twenty bucks.
Why Should You Use It?
Let's cut to the chase here. The best reason to get these sunglasses is that they're 100% polarized, not partially polarized, no polaroid-style. They are 100% polarized and UV-resistant, which means they can do a great job of cutting glare and eye strain when you're out in the sun.
Apart from that, here are some of the top reasons you'll want to pick this pair of sports sunglasses for your next purchase.
The homo polyamide nylon-made TR90 frame has an extraordinarily high break-proof bending ability.
No matter how dim or bright the light may be, these polycarbonate lenses offer the same level of clarity.
The proper balance between the brightness of the background and the targets improves the user's ability to pick flying balls, making it a brilliant sunglasses pair for golfers like me.
While skiing in the snow, I observed the pair has an anti-dew guard in addition to the anti-fog feature. Fishing and boating enthusiasts might appreciate this feature on a dewy winter morning.
Why You May Not Want to Use It
Although these sunglasses are excellent on many levels, the polarized lens also means these sunglasses may not be the best choice for some occasions. For example, when controlling your car's LCD dashboard, operating an industrial control panel, locating icy patches when skiing, enjoying some daytime screening, or any other activity where a little glare can benefit proper functioning.
Alternative Options
If this version doesn't appeal to you for some reason, but you are looking for the same protection and the other benefits it offers, here are two ideal alternatives from the Rivbos company you may consider.
While the first one makes a strong fashion statement for women, the latter emphasizes a more convenient driving experience.
If you want an option for your kids, then check this!
Verdict…
So, are Rivbos good sunglasses?
Yes, I'd say, and after reading this Rivbos sunglasses review, I hope you'd agree. For anyone looking for a quality pair of polarized sunglasses made from excellent materials and with a host of features that set it apart from the rest, we highly recommend checking them out.
And given the price and quality, these are hands down the best sunglasses for sports and exercise you can get for under $30.
Read more:
Amazon and the Amazon logo are trademarks of Amazon.com, Inc, or its affiliates.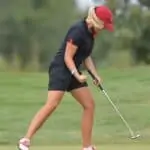 Daisy is the Founder and Editor in Chief of Golfs Hub. She is associated with Golf for more than 20 years. She got the inspiration from her father. She is a very private person & doesn't like to be photographed. She's worked in nearly every job in the golf industry from club fitting to instruction to writing and speaking. Now she is enjoying her retirement from day job... but not from Golf! Daisy lives in southeasternmost part of New York state with her family.