As an Amazon Associate, I earn from qualifying purchases. There is no extra cost to you. Thank you if you use our links; we appreciate it! Learn More.
Hi everyone! Daisy here.
Today I am going to put a full-stop on the eternal clanking sound of your clubs in the golf bag…!
So, be ready…!
One of the many complains of any golfers about their bag is the continuous rattling of clubs in the course. It is an irritating situation for me too. Another major problem occurs, if the bag has no locking system on club…or something like that…because, then the club can slip from the bag, if it fall or slide…Ughgh…Disgusting…Right??
That's why I was determined to find any solution for that…And yes as you might guess that already…I have solved the problem….!!
Yes…Today I am going to discuss about a wonderful bag from Ogio brand, named 'Ogio silencer cart golf bag'…Which will solve the club rattling problem at last.
In this Ogio Silencer Cart Bag Review article, You will find out why the naming is worthwhile for this bag.
Its time to lock and hold your clubs in your golf bags without clanking with each other!
First Impression
This Ogio Silencer Aquatech Cart Bag is a perfect bag for a golfer in every way possible. I would rather use this bag than some grumpy, old and bulky cart bag in the course. At first I was doubtful about its ability to silence the eternal clanking sound of clubs. Will it really silence the rattling of the clubs??
Then I tested it. I filled it with the whole set of club in the individual slots, then Put it upside down and shook it.
And, voila….!!!
Believe me… NO RATTLING!!! NO FALLING OF CLUBS!!!
This silencer golf bag is a blessing for any organized golfer.  You have 2 colors to choose from: Blue static & Cayenne Crosswalk. Both are amazing, simple & elegant!
Really It is one of the best Ogio golf bag for cart.
This Ogio Men's Chamber Cart Bag With Silencer Technology is the total package for any golfer, whether pro or beginner.

Golfs Hub
Ogio Silencer Cart Bag Review
Pockets
This Silencer cart bag has a total 8 zippered pockets which accommodated everything I needed in the course. The fleece-lined deep valuable pockets are the finest places to keep my iphone, as with other bags, I often had to find extra bags or pockets to keep it with me on the course.
The cooler pockets are perfect fit to carry multiple bottles and keep them cool for longer time than any other cart bags…as its very important on a summer day.
All of the pockets are accessible easily when the bag is on a cart or a buggy.
It includes a dual full-length apparel pocket, an exclusive golf ball pocket and plenty of other smaller accessory pockets.
The Silencer Technology
In this bag, The Silencer system has a molded top made from a top-quality polymer that hold the heads of your clubs firmly at the top. And in the bottom of the bag, has flex grab teeth to grasp and lock the grip ends in place. The bag is designed to make it trouble-free to get the clubs in and out the system holds them steadfastly enough so that the clubs will be noiseless as you walk.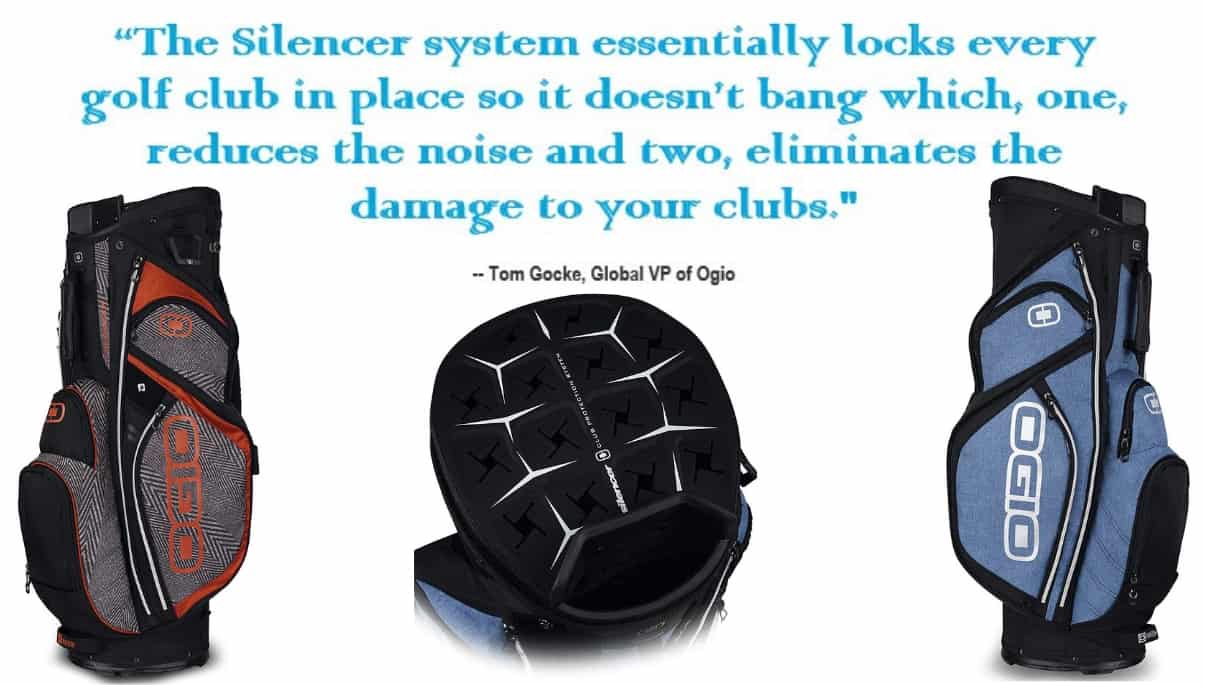 Handles
The bag has an integrated lift handles to lift it easily. It has also a single padded carry strap, so you can easily carry it too…! The only thing it can improve is to have a handle on the upper rim, so that it is easy to remove the bag from the cart.
Cart Strap Channel
This bag has a 'cart strap channel' which keeps the bag firmly in the place…even while driving. While riding with a driver, who hits the bumps a little fast this strap keeps the bag firmly in its place.
Dividers
This Ogio silencer cart bag 2019 comes with a 15-way full-length dividers that protect the clubs membrane with front dual putter well. So you can bring all your necessary putters in the course easily and without banging with each other. So fewer clanks and dings will keep your new clubs looking sparkly and spotless.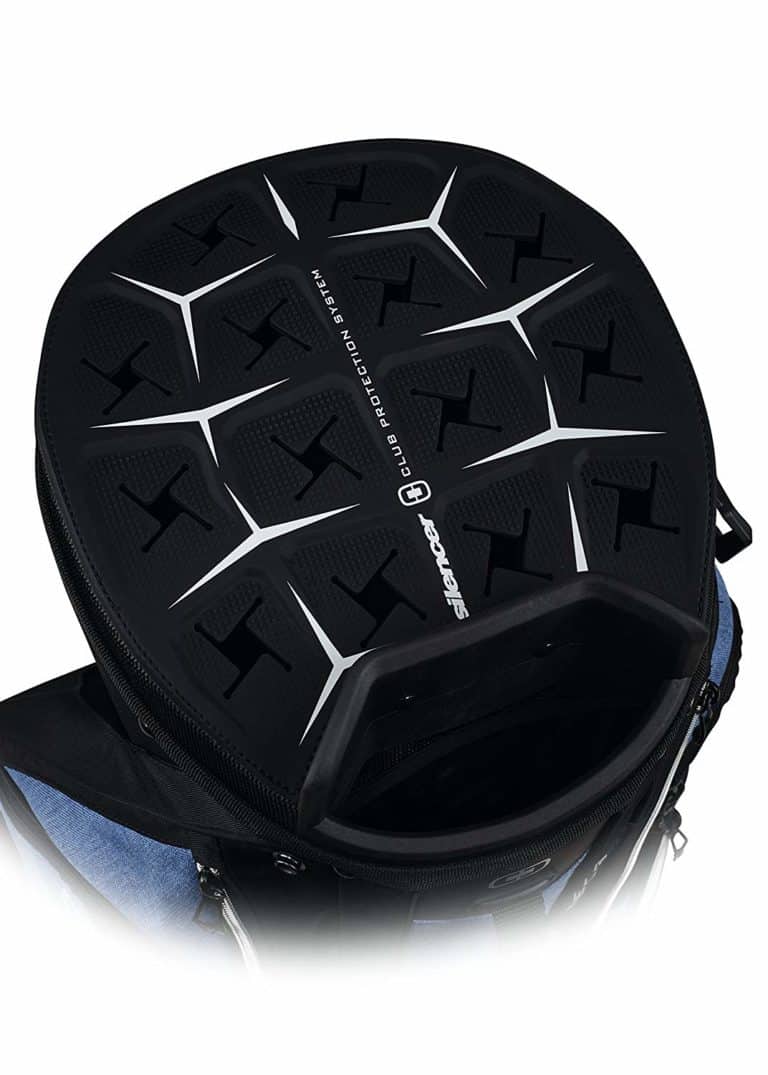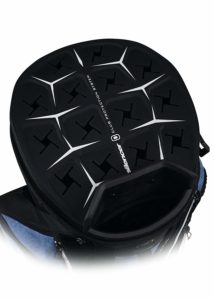 Rain Cover and Towel Ring
To protect this bag from rain it has a ran cover with it. You can easily use it to protect your bag from rain. There is a metal towel ring on the side of the golf bag.
Weight
It's a very light weighted cart bag in the market. Normally, cart bags are heavier than other bag to maintain its durability. But Ogio made this cart bag a different one. It is only 5 pound when empty. As this bag has a single padded carry strap to carry this bag- So, its lightweight makes it lot easier to carry too. Its extreme lightweight feature makes it easy to get in and out of the cart.
Key Features of Ogio Silencer Cart Bag
15-way 2X Barrel Silencer Club Management
Cart strap channel
Fleece-lined valuables pocket
Glove hook-and-loop fastener attachment patch
Insulated hydration pocket
Single shoulder strap
Easy grab trunk handle
Velcro glove attachment pack
Pen sleeve
8 zippered pockets
Product Dimension: 36 x 12 x 10 inches
Weight: 5 pounds
Custom logo: Detachable front pocket
Ball pocket
Rain hood included
Umbrella sleeve
Towel loop
Large apparel pockets
Removable & zipper less ball pocket for custom embroidery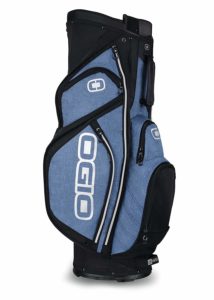 Pros & Cons of Ogio Silencer Cart Bag
Pros
It protects clubs from hitting one another
It's well built
The color shades are great
Cons
This bag needs to put handles on the upper edge so that it is simple to remove from the golf cart.
People Also Ask
Is it included a detachable top head cover?
Answer: Yes.
Can you have your club logo put on it so that it looks good?
Answer: Yes.
Does it have a carry strap?
Yes.
Do midsize grips fit in the bottom of the bag?
Yes.
Does this bag have the torq strap for fastening to the golf cart?
No. But it has Cart strap channel which do the work nicely.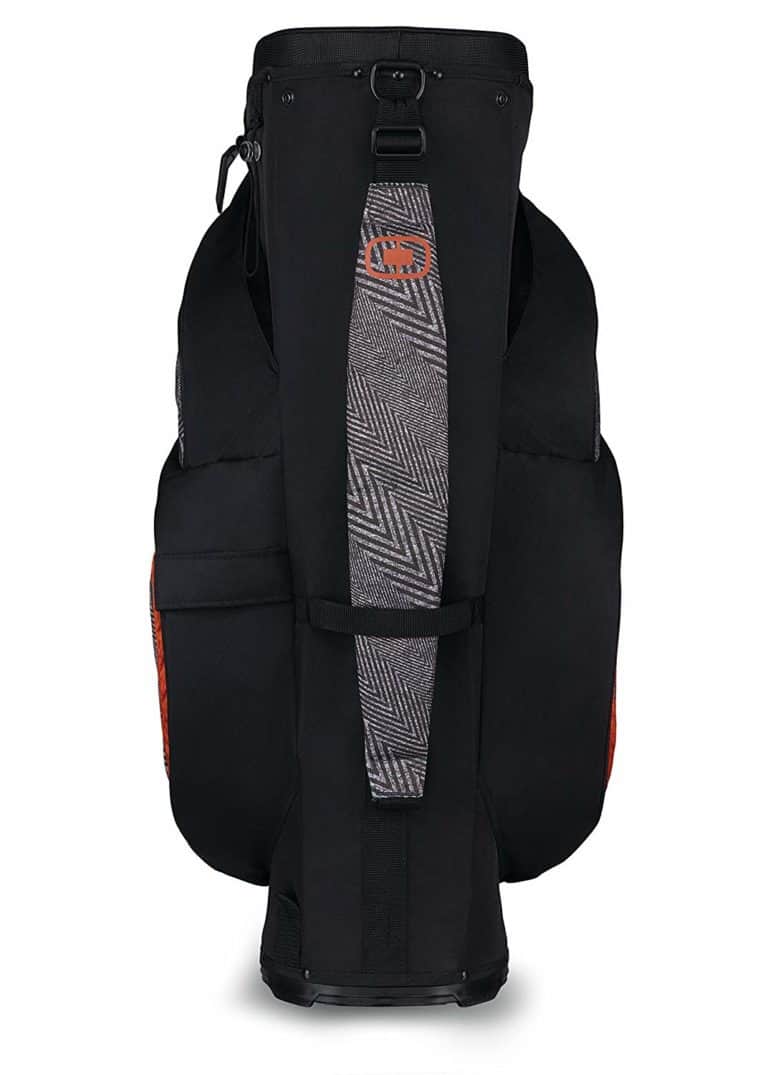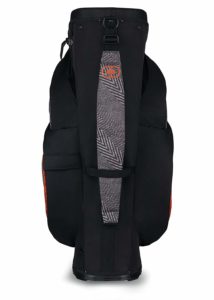 Final Verdict…
Ogio has been making inventive golf packs throughout recent years. In my opinion, their greatest advancement is known as the Silencer Club Protection System. Ogio comprehends that your golf clubs are a speculation. As a devoted golfer, you need to secure that venture. They chose the most ideal approach to broaden the life of your clubs was to limit contact. Consider each time you've strolled the course with your bag or tied your bag onto a cart. With each progression or knock in the path of the cart, you can hear your clubs rattle together, making contact and diverting commotion. That is the reason Ogio made the Silencer golf bag.
This the end of Ogio Silencer Cart Bag Review Article for you. The bag will lock and hold your clubs perfectly, so that without any banging your clubs will stay perfect for a long time. Moreover, no matter how much you be in motion, your clubs won't.…!!
In this Ogio chamber cart bag review, I tried to explain why you should try this bag. But if you want some more suggestion of cart bags, then, read my 'Best Golf Cart Bags Reviews' article.
Amazon and the Amazon logo are trademarks of Amazon.com, Inc, or its affiliates.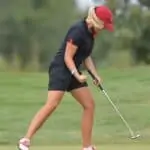 Daisy is the Founder and Editor in Chief of Golfs Hub. She is associated with Golf for more than 20 years. She got the inspiration from her father. She is a very private person & doesn't like to be photographed. She's worked in nearly every job in the golf industry from club fitting to instruction to writing and speaking. Now she is enjoying her retirement from day job... but not from Golf! Daisy lives in southeasternmost part of New York state with her family.