Who does not want a sleek bag whether he or she is learning or practicing golf? There are more reasons for buying cart bag such as one want to change his old bag; secondly a comfortable with less weight bag will not make someone exhausted, and a new stylish, sporty bag keeps the spirit up for the core purpose of golfing.
That's why people related to and passionate about golf, out of curiosity very often look for a cart bag, and not surprisingly, Datrek DG lite ii cart bag review article is one of the most popular categories of search in the web among the golfers.
Datrek DG Lite ii Cart Bag Reviews
Cart bags are those bags, created to be carried easily on carts with all the necessary accessories of golf. That's why those are usually spacious and comprise of lots of pockets and other useful things. The Datrek DG Lite II cart bag has the following features in a broader category:
Design
The Datrek Lite II Trolley Bag is nicely designed for riding golfers. It includes most important requirement which is individual full-length club top with 15 slots, which means every club has a unique slot and for this reason, you will quickly get clubs in and out of the bag.
Storage space capacity
Everybody wants a handy cart bag which will have enough space with ample no of pockets. These pockets help to keep the stuff organized stylishly. So, with the art of stylish and useful design, Datrek lite ii bag has all these features such as a total of seven additional storage pockets.
Pockets
The cart bag has two large apparel pockets, a big golf ball pocket. The bag also has a fleece-lined pocket where one can store valuables and an insulated cooler pocket to keep beverages. The bag having seven pockets keep everything starting from golf balls to accessories and drinks separate. Interestingly, the bag has some small pockets to store tees, gloves, towels, and other things.
Materials
The Datrek DG Lite ii golf bag is made up with long-lasting nylon fabric. The Cart Bag is expertly designed with a 15-way top with full-length club dividers.
Key Features of Datrek DG Lite ii Cart Bag
Comprise of 420 denier Nylon
Ultra-lightweight design
15 full-length dividers having space for each club
Lift assist handle with a soft grip to grab
Soft-Grip big putter integrated with the organizer top for specialized putter storage
Total Seven pockets out of which two are huge enough
Cooler pocket for beverage
Lift assist handles system, which enables the user to lift from the car to the golf cart easily and smoothly.
Weights: 4.25 pounds
Product dimension: 10.5 x 36.8 x 13.8 inches
Each club has own slot
Single padded shoulder strap
Rain-hood exists
Umbrella holder is there
Seven total pockets present sufficient storage options for accessories and gears
Pockets having a big size apparel pocket, large golf ball pocket, and fleece-lined valuables pocket
Insulated and waterproof cooler pocket
Loop glove patch, hook, tee holder, pen holder, and towel ring
Umbrella holder
Cart well-matched bottom with rubberized feet to stand upright
Cart strap pass through the loop for security while the bag is on the cart
See also: 15 Best golf cart Bag reviews
Pros & Cons of Datrek DG Lite ii Cart Bag
Pros
The bag is very much light weighted
Durable and easy to carry
No complexity in handling
Comes in three colors: Black, Charcoal, Lime
Well-functioning zipper
Easy to discharge
The bag stand straight up even after fully loaded
The look is sleek and sporty
Several grab handles, a sling-style carry strap and also rubberized cart base which, ensure a hassle-free ride.
Cons
The cooler pocket does not have a drain
Water resistant, not waterproof
Factors Influence Buying Decision
Importance
The first question comes to mind, do you need a bag? Do you want to carry all your stuff by hand? No? Correct you are. There are some of the benefits of a golf carry cart bag:
A golfer cannot think without the accessories of golf and carry those stuff there is no alternative other than a bag, this is the primary requirement for golfing.
A safe place to keep your stuff: This helps you keep your accessories organized in a single place
Brand
Golfing is very much related to Brand. The golfers want every accessory from the well-reputed Brand. In the case of cart bag brand Datrek is one of the most favorite choices for golfers.
Quality matters
Quality always prevails, and many golfers do not compromise with the quality. In this regard, Datrek has well reputation and legacy in the line of Golfing accessories especially Golf bag.
Look
Who does not want a bag with a gorgeous look? A stylish, sporty bag is always inspiring for an athlete.
Frequently Asked Questions
Is the putter holder in the front and can it hold a large grip?
Answer: Yes, comfortable to use also.
What is the weight of the bag?
Answer: 4.5 pounds only
Is there enough space in the valuable pocket for a set of keys, and iPhone and a glass case?
Answer: Yes, there is enough space
Does this bag has a shoulder strap?
Answer: yes, it has a shoulder strap
Are the dividers go from top to bottom like a sleeve?
Answer: Yes, it moves smoothly
Does the hood have a zipper?
Answer: Yes, it has a zipper
Is there a loop for a cart belt to fit through?
Answer: Yes, it has
Does it come with bag cover?
Answer: Yes, but a very lightweight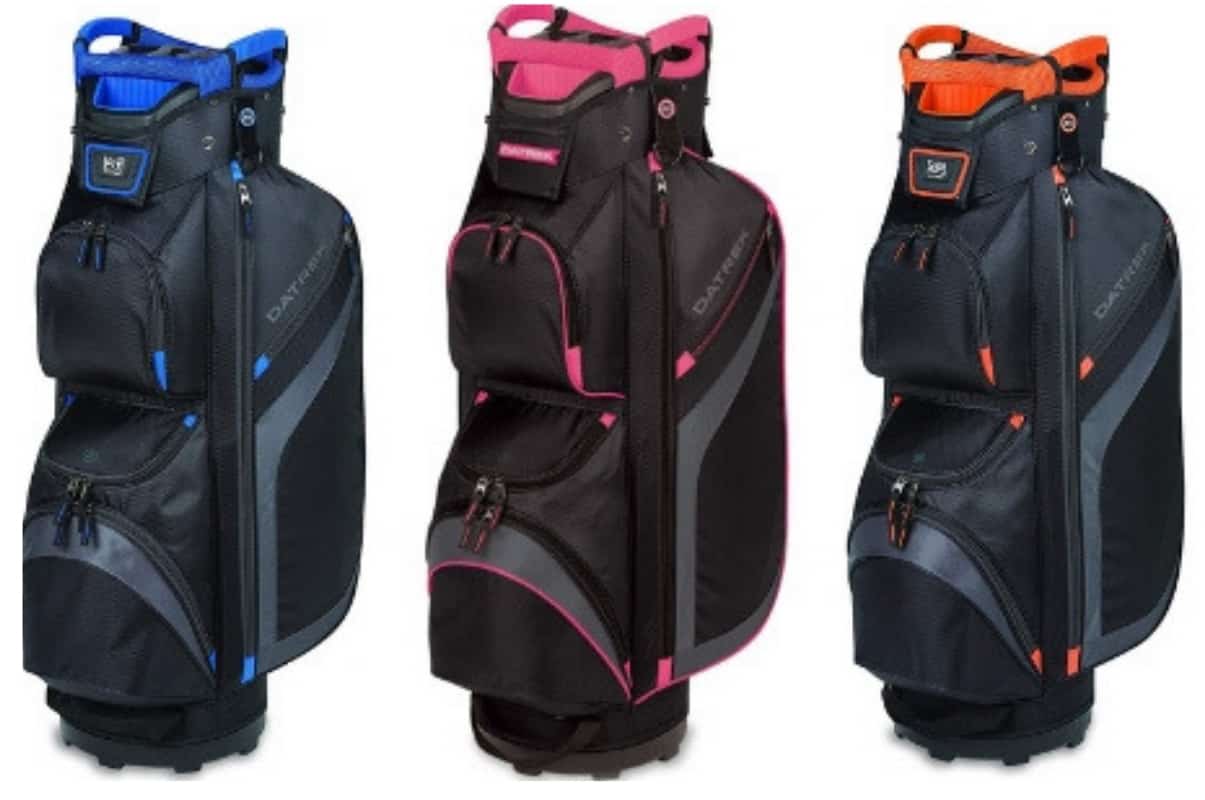 Final Verdict…
Hopefully, you will like this content, and you will be able to choose the best golf bag as per your budget. While doing the Datrek DG Lite ii Cart Bag reviews, the only small flaw has been identified that the bag is water resistant, not waterproof. However, since the bag is made up of nylon, so it supposes to shed water. Secondly, It does have a rain hood for the clubs and a light weighted bag cover to cover the entire bag.
So, product features, customer review, rating, branding from all aspects the bag is worthy to buy and you will love to use it because of all the requirements are designed under one umbrella with utmost easiness and simplicity.
---
You can Read about more golf cart bags in here.