As an Amazon Associate, I earn from qualifying purchases. There is no extra cost to you. Thank you if you use our links; we appreciate it! Learn More.
The benefits of drinking coffee whilst playing golf have long been debated. Some players believe it can help them with their game, whilst others will shun caffeine-based drinks during play.
Phil Mickelson is a big advocate of coffee, even mixing up his own special blend to help with wellness. SBNation explains how he added five shots of espresso to a concoction he made in order to improve his all-round fitness. Mickelson is one of only 12 players in the history of golf to win three of the four majors, which suggests he has an idea of what he is doing.
On the other hand, Brooks Koepka admitted he doesn't drink coffee or tea, turning down a hot beverage as he contested last year's US Open. Koepka finished as runner up in the tournament and bwin currently ranks him a joint-second favorite for the 2020 tournament. So it's intriguing that such a successful player doesn't need coffee to give him that extra jolt in the mornings. Whether 2019 US Open winner Gary Woodland drank caffeine or not is unclear and if he did, reports are still mixed as to the benefits.
But what does caffeine actually do to the body, in small doses?
Healthline suggests that it boosts mood, metabolism and mental and physical performance. Those sound like the perfect attributes that a golfer, eager to improve their performance, might want to enhance.
A report cited by Reuters claims that caffeine could shave two strokes off a golfer's score; not quite enough for Koepka to have overturned Woodland's three-stroke victory, but enough to make a significant difference to a player looking towards those small gains. They conducted a study that involved 12 male golfers, all with handicaps between three and 18, playing two 18-hole competitive rounds on consecutive days. Each took either a placebo or a 155-milligram caffeine supplement.
Read: Can You Play Golf Alone?
The golfers who took the supplement shot, on average, two strokes better than those who did not. The report also tells how those who took the supplement were more likely to hit the ball farther as well as landing more greens than those who took the placebo. So, that proves caffeine is good for golfers, right?
Wrong…!
An earlier report suggests the benefits of caffeine for not only golfers but all athletes, is varied and subject to the individual. Whilst the short-term boost it can give you is not questioned, whether that significantly improves performance is entirely down to the individual's metabolism and at what point they take the caffeine during their game.
The other danger is regulating the intake. A small amount may, or may not, boost performance, but for golfers taking too much, it could have a detrimental effect. Excessive intake can cause increased heart rate, anxiety, and high blood pressure, all things a committed golfer will not want when trying to play that crucial shot.
Read: How To Get Better At Golf Without Lessons?
Gary Woodland's US Open win was aided by breathing exercises, taken in between each shot and learned from basketball and baseball. That worked for him, whilst for Phil Mickelson, a special coffee blend helps. Each golfer will react differently to their own circumstances and although coffee might be of use to one golfer, it could have adverse effects on another.
Read: Improving Mobility with 7 Golf Mobility Exercises
Whilst the latest study suggests there could be benefits, experts will continue to debate the physical attributes caffeine intake has on improving performance on the golf course.
If you're a senior golfer looking to improve your game and don't want to rely on caffeine, why not check out our article on the Best Exercises for Senior Golfers?
---
Read More:
Amazon and the Amazon logo are trademarks of Amazon.com, Inc, or its affiliates.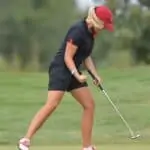 Daisy is the Founder and Editor in Chief of Golfs Hub. She is associated with Golf for more than 20 years. She got the inspiration from her father. She is a very private person & doesn't like to be photographed. She's worked in nearly every job in the golf industry from club fitting to instruction to writing and speaking. Now she is enjoying her retirement from day job... but not from Golf! Daisy lives in southeasternmost part of New York state with her family.