As an Amazon Associate, I earn from qualifying purchases. There is no extra cost to you. Thank you if you use our links; we appreciate it! Learn More.
We will be dissecting the Leupold PinCaddie 2 golf rangefinder here in this review. Leupold's entry-level series has earned quite a bit name for its performance within $200 range and this one is the latest addition to it. Although there might be quite a few other rangefinders in the market, quite frankly no different entry-level model is able to come even near to it.
Leupold got its first breakthrough into the entry-level golf rangefinder market with the pincaddie 1 and it was an instant success. Original PinCaddie didn't have all the fancy features that usually other higher end range finder may have, but that didn't prevent people from buying it. They found it pretty much satisfying within their budget.
After they have got their breakthrough in the entry-level rangefinder market, Leupold is continuing perusing this market with the latest addition in the PinCaddie line with the introduction of Leupold PinCaddie 2 and people are excited learning about it and so was I!
Key Features
Leupold rangefinder has a good reputation among golfers and the personnel who uses a rangefinder. It is often praised for its better quality and consistency of their products, here are key features of this device:
Dimension: 3.6 × 1.4 × 2.9 inches
It has 6x Magnification
Exclusive PinHunter Laser technology which reduces false readings due to some background hazards like trees.
One touch scan mode.
20 mm objective diameter
Yard Range: 6-300 to flag /6-650 reflective
Tournament Legal: Yes
Comes with a dual measuring System of Meters/Yards
Compact, durable body and weatherproof
Can lock the targets up to 300 yards away
Waterproof
Weighs only 6.3 oz
First Impression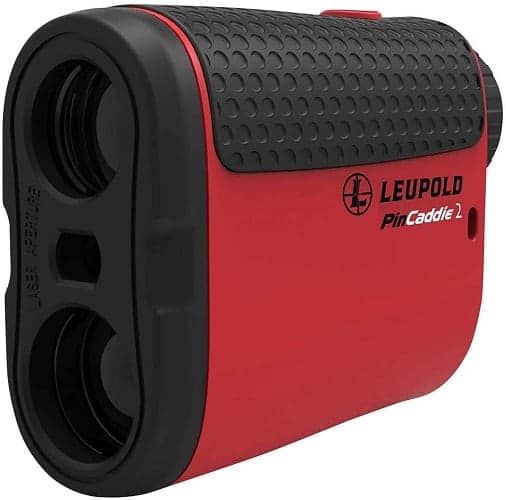 There are a very few rangefinders in golf which can provide any valuable input to the performance of the game within the $200 budget. Leupold pincaddie 2 rangefinder is a good exception to this. At first glance, you will notice that it has a durable built with very lightweight and a slick smith red finish.
Moreover, it is its tournament legal and you don't have to worry about local regulations. Also unlike the first PinCaddie 1, it comes with a two-year warranty. At first, I honestly thought that this rangefinder has not that much to offer but its 6X magnification, multi-coated optics, and it has Leupold's exclusive PinHunter2 Laser Technology has proved to very useful. The lack of features is rather boon here, and beginner golfers don't usually need all those fancy features.
Leupold PinCaddie 2 Rangefinder Reviews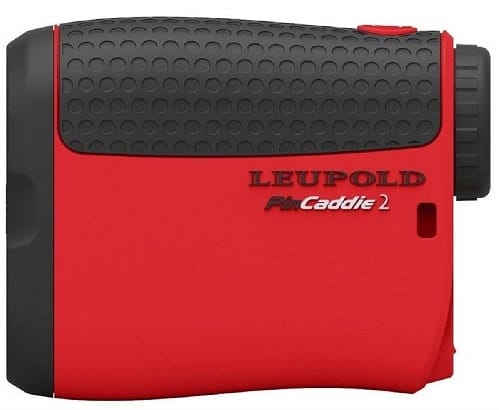 Design
Even though it is an entry-level model with a plastic coated design but don't let that fool you. You can drop the Leupold rangefinder anywhere you want and don't have to worry about it a single bit. Thick rubber coated design protects all the lenses and laser cover.
The mate finish on the top is very well designed and provides a better grip during the rain. The plastic-coated body is shockproof if it ever falls in the ground.
Performance
Leupold PinCaddie 2 rangefinders are compact, Rugged, and fully waterproof. It comes with the one-touch scanning mode, 6 x magnifications, a unique multi-layer lens system, a high-contrast LCD. Also, it provides measurements in yards and meters.
The pin hunter laser technology and ranging motor with reducing false readings too. It helps you to be confident about your target's position. Its simplicity of use makes it easy for you to take the proper measurement.
Precise measurement
Its high-quality laser distance meter is capable of measuring a long distance with an accuracy of +/- 1 yard. The lens screen shows the distance/speed, the horizontal distance, the angle, the vertical height.
You can measure the measurement of the target area quickly, and you can also add and subtract for measurement to be more precise. You can convert the unit, as you like unit: meter (m), yard, feet, inch, etc. also it includes easy compass reading with a glowing pointer, restore the general tape measure. So the measurement is more suitable for everyone.
Comfortable grip with
The dimension of this model is only 6 x 8 x 4 inches and weighing only 0.8 ounces. Its laser meter fits perfectly in your pocket with no extra weight. It's very much ideal for golf, hunting, surveying, mountaineering, sporting events, and outdoor adventures.
It is a useful device with proper structure and design. It is designed for the golfers to be able to comfortably hold the ergonomic grip and use it simply.
Ease of use
The simple one-button switch allows you to switch quickly between the meters/yards and the measurement model of distance/speed. This golf range is effortless to operate as it is designed for golfers to be able to use it very quickly.
The PinHunter laser technology allows you to switch between slope measurement and legal modes for the non-slope event effortlessly. It provides distances with the one-touch scan mode. You have to push a button and point at your target, and it will quickly show you the readings in its display.
High-quality images
It comes with a 6x magnification which is pretty unimaginable in an entry-level rangefinder. The multi-layered optics get a high-resolution image. The device manufacturers can brag about such higher resolution with the capability to show a clear view.
The eyepiece button is pretty hassle-free to adjust and sharpen the captured image. The user can use LCD even at night with the backlight. This rangefinder has a pretty accuracy of ± 1M.
Multi-measure Mode
This device can measure horizontal distance, vertical height, angle, and speed. With the One-Touch Scan mode button, you can switch between the unit of measurement (meters/yards) and the measurement mode (distance/speed) as well. The multi-measure Mode let the rangefinder work better when the weather is gloomy, or light is low.
Battery
It has a CR2 battery which can be charged from any device or computer with a USB port. Also, it has 30,000 hours of charge after being completely charged. The battery has an indicator which will notify users to charge the rangefinder in proper time.
Is it any Good?
PROS
It has a better light transmission, crisp and clear images than other rangefinders within the range.
This Golf Rangefinder is very cheap.
Waterproof design is to endure severe weather and rain.
It fits perfectly in your pocket.
Leupold Pincaddie 2 golf rangefinder is easy to use.
It is slick, waterproof and compactly designed.
The battery has longer lifetimes.
CONS
It is an entry-level rangefinder so you won't find the latest technologies that are being used in a high-end rangefinder.
A limited range.
Is LeupoldPinCaddie 2 Golf Rangefinder Worth Your Money?
Based on many positive feedbacks and our evaluations, we can say that this golf rangefinder is pretty good. Many customers have bought these and continue to use them without much complains. All though ratings don't always true reflects how good a product is.
Also having a few ratings do not mean that the golf rangefinder is terrible. It might not be just long enough on the market to be evaluated properly. But it is the whole package in one basket & that's why it took a very important place in our best golf rangefinders reviews.
My personal experience with Leupold PinCaddie 2 Golf Rangefinder
As we have used this product ourselves and made a thorough examination before providing you this review, we can safely say that this product is undoubtedly up to the marks and if you are looking for something won't break your bank this product undoubtedly worth a try!
Let's watch a video:
Is it user-friendly?
Funny thing is the less amount of features and options has made this rangefinder pretty simple to use. You need to take it out from the carry case and insert the battery then proceed to press the on button. Once it's on just point and your target.
About the company
Leupold as a company has a fascinating history of making military-grade equipment. They have been into the business since 1907, and since then, they have established themselves well among the industry leaders of scope, binocular and rangefinder industry.
You can read about more Leupold Rangefinders Models & Specs here.
FAQs
Can we use this rangefinder for hunting?
Yes, you can use it in hunting without any doubt.
What are the battery voltage requirements?
The voltage is about nine volt
How can I transform meters to yards?
First make power off, hold and push the power button about 10 seconds. It will show both meters and yards options.
Final Verdict…
If you want to buy a good quality laser rangefinder that checks both the cost and quality, you need to take heed to what we are saying in this Leupold Pincaddie 2 rangefinder reviews. Because naturally as you will be driven towards a lower-end product, it's often 'get as you pay.' Well, it's certainly not the case with Leopold golf rangefinders. They deliver what we call is going beyond the price range.
Take this particular model we have reviewed in detail in this guide; you won't get such a quality rangefinder within $200 that worth your money, not even for $400 in other brands. So make sure to pick the right one and don't regret it later.
Read More
Amazon and the Amazon logo are trademarks of Amazon.com, Inc, or its affiliates.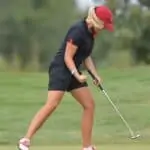 Daisy is the Founder and Editor in Chief of Golfs Hub. She is associated with Golf for more than 20 years. She got the inspiration from her father. She is a very private person & doesn't like to be photographed. She's worked in nearly every job in the golf industry from club fitting to instruction to writing and speaking. Now she is enjoying her retirement from day job... but not from Golf! Daisy lives in southeasternmost part of New York state with her family.