As an Amazon Associate, I earn from qualifying purchases. There is no extra cost to you. Thank you if you use our links; we appreciate it! Learn More.
You've already surfed a lot and your browser is flustered from rangefinder googling. No more searching and take a deep breath now. Because you will get to know an in-depth review of a new laser rangefinders for golf.
We appreciate you as you're dedicated to golf and need a rangefinder, which will be cost-effective, accurate, intuitive and user proof.
Apart from this, you should buy a rangefinder for multi-purpose use. The Gogogo golf laser rangefinder is absolutely for multi-purpose use, which integrates latest functions (range reading, ARC, pin seeking) along with flagpole-locking vibration and also you can measure the speed.
By the way, the measuring range is from 5 to 650 yards. If you think about the Laser rangefinder accuracy, I must say it has +/- 1m high accuracy along with 6x zooming. Gogogo golf laser rangefinder with slope switch technology is easy to move up and down and the built-in one device makes it convenient. The Golf Rangefinder with Slope mode helps to see the plays like yardage.
In a hurry?
Take a look why should you use it:
Gogogo Golf Has a Rangefinder to Fit Your Needs. 
How can you hit your target without knowing about the exact distance between you and the flag? That's why you need to choose the best one.
Keep in mind, guessing without rangefinder might lead to a wrong decision and one wrong decision will ruin the whole game. Again, using a poor rangefinder proves wrong in the case of accuracy. Hence, guessing is better than keeping a poor device. When you will fail to win, you can't pinpoint where your rangefinder went wrong, that's obvious.
So try to use Best Golf laser rangefinder, if you can afford. If you can't afford an expensive one, you need to analyze the cost-effective golf distance finders.
Now read between all the lines of Gogogo Golf Laser rangefinder review.    
Feedbacks from some real users
KTFlaSh96
u/KTFlaSh96
I bought this last year, works perfectly for me, friend used it and was hooked, bought it as well. Great beginner rangefinder. Slope on and off is super easy with it. Only issue is trying to shoot from inside of 50-60 yards, it won't pick up the distance so better be good at eyeballing those short pitch shots. Otherwise, great for everything else.
bourbonfairy
u/bourbonfairy
Bought this off of Amazon, been using it for the last week. Seems at least fairly accurate, has the slope adjustment. My only complaint would be that using it requires a little practice, turning on the slope adjustment can be confusing, at least to me. Sometimes I get reading I know to be wrong but after two ot three it usually picks up the right target. Inside of 150 yards I think it's really accurate.
RealFakeDoors
u/RealFakeDoors
I just got the $99 Gogogo from amazon, and it has been working amazing. Just as accurate and maybe slightly more consistent than my friends Nx7 and another buddies bushnell. If you play tournaments and need to be able to turn the slope calculation off there is another model for $120. The other bonus is that it uses 2 AAA batteries instead of the expensive cr2.
allrightallrighallri
u/allrightallrighallri
The ones in the $80 range have scan mode, slope, and flag lock. I personally have the GoGoGo sport and I use a garmin watch as well, the accuracy seems to be the same level of accuracy as $400 models. If you think about it, the tech inside these things isn't rocket science; no reason to pay more than 80-90 dollars. Rangefinders are pretty low-tech, why pay 400 bucks? Reminds me of when I used to pay Garmin $400 for a GPS and then Google Maps killed that business.
tastywaves407
u/tastywaves407
I have this exact model and for the price, I've been satisfied. While this is my first rangefinder and can't compare it to a Bushnell or other more expensive options, I think it's works fine and does the job. I also use a Garmin watch with golf functionality so I typically only use it when I'm 160 in or so to get an idea of where the flag is located. It's always in line with the front/middle/back readings on my watch and when I free scan to check trees and bunkers it seems accurate. Every now and then I get a random reading when locking on to a pin but it's usually when it grabs something in the background on accident and I just reshoot it. Likely user error and just the nature of the ones without built in stabilization being a little tougher to keep steady. I was close to buying a used Bushnell or precision pro, and while I'm sure they're better devices overall, I couldn't justify the price when a discrepancy of a yard or so won't matter for my average game.
| | | | | | | |
| --- | --- | --- | --- | --- | --- | --- |
| | | | | | | |
| | | | | | | |
| | | | | | | |
| | | | | | | |
| | | | | | | |
| | | | | | | |
| | | | | | | |
| | | | | | | |
| | AAA Battery (Not Included) | | | Built-in Rechargeable Lithium-ion 3.7V 900mAh | CR2 Battery (NOT Included) | |
| | | | | | | |
| Distance Measuring Accuracy | | | | | | |
| | | | | | | |
| | | | | | | |
| | | | | | | |
| Measurement Distance Range | | | | | | |
| | | | | | | |
| | | | | | | |
| | | | | | | |
| | | | | | | |
| | | | | | | |
| | | | | | | |
| | | | | | | |
| | | | | | | |
| | | | | | | |
Features of Gogogo Golf Laser Rangefinder with slope
The key specification we already have shared with you was just an introduction.
Now, we come up with some inside features which will pave the way for a better golfing. The objective lens diameter is 25mm along with 16mm eyepiece lens, which is good to go and other devices also have the same. Besides this, the eye pupil diameter is 3.9mm. Well, all of these provide you a good angle view.
They have employed AAA Battery (Not included), which will support you for the long run. When the device will be running out of power, the low battery indicator will tell you about that. With the scan mode enabled and the FlagPole lock enabled, it is exclusively water resistant as well.
Now the time comes up to introduce specific pros that you can't avoid at all (All including in Gogogo-Golf laser rangefinder)
A good rangefinder should be reliable, so does the Gogogo-Golf Rangefinder. Also, it helps to improve your gaming skill by making good decisions.
After using it on your game, you can not only feel comfortable to hold it but also get a premium feel. As soon as you press the button, it can simply let you know about the precise yardage. Again, 5 to 650 yards to measure will be perfect for gaming.
Read: Rinkmo golf rangefinder
Pulse Vibration Technology
Keeping your rangefinder on your hand in a steady mode is mandatory, we know that. So, you don't need to worry about unsteady or shaky hands. You can immediately lock your target once you discern the target from the surroundings.
Soon after, the pulse vibration technology will alert you by the vibrating pulse. This is a green signal for you and ensures you that you can go for a shot now.
A golfer should be comfortable with rangefinders, and it is a must. Keeping this in mind, the manufacturer brought it on the market. Simply point and press and afterward you can get an alert vibration pulse. The whole journey is comfortable and precise, so don't worry about that.
In addition, the company has included a user manual for you with the package. If you want to know more, you can go through it and use it more easily.
Identify the target in a jiffy and lock the flag in a quick mode as both are fast-paced. Additionally, the 6x magnification view will give you a clear view to see the distance yard reading. Whereas you can find it difficult to understand with other golf distance finder in foggy weather, but not with Gogogo golf at all.
Earlier, your body posture used to matter to get an accurate result. Today's devices equipped better technology so you don't have to assume any specific body posture at all. Same goes with Gogogo -Golf Laser Rangefinder. You just have to hold the rangefinder within your thumb and other four fingers and just press the button.
Like other golf rangefinders, you will find two buttons in Gogogo-Golf Rangefinder. One is the power button and another is mode button available here. An eyepiece, laser receiving lens, laser emission lens are available at the top.
Size and weight do matter for rangefinders while playing golf. With a view to making you feel comfortable at your game, the Go-Golf Laser Rangefinder maker designed and produced it. The shipment weight is 9.6 ounce and when you hold it on your hand it will be 184gm, this is a pretty good weight.
The range is a pretty basic requirement and a must for any rangefinders. Whenever you buy your rangefinder, always make sure whether it can support you with maximum range or average range. Also, it depends on your gameplay indeed.
Keep it in mind the Go-Golf Laser Rangefinder can cover up to 650, that's a pretty good range in comparison with others.
Quality comes first and the manufacturer of Go-Golf Laser Rangefinder makes sure of it in the first place. How do you believe this? Just think about one-year money back guarantee offer from them, which clearly indicate the better quality. After you use it, you also get to know about it in life.
Are Gogogo Golf Rangefinders Good?
FitSand Hard Case for Gogogo
It is a super cheap hard case to protect your Gogogo rangefinder from bumps/ dents/ stretches/ rain. Just add 5 more bucks extra and get the 100% protection for your precious device.
Earlier, golf game was a guessing game but not anymore today. When you are on the golf course, the whole time is precious for you. Hence, you need to utilize that time. Consequently, you can improve your golf skills too.
Although new in the field, the Gogogo laser rangefinder is an efficient solution in this regard to partner you through your pro-golfing adventure.


Amazon and the Amazon logo are trademarks of Amazon.com, Inc, or its affiliates.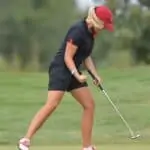 Daisy is the Founder and Editor in Chief of Golfs Hub. She is associated with Golf for more than 20 years. She got the inspiration from her father. She is a very private person & doesn't like to be photographed. She's worked in nearly every job in the golf industry from club fitting to instruction to writing and speaking. Now she is enjoying her retirement from day job... but not from Golf! Daisy lives in southeasternmost part of New York state with her family.