As an Amazon Associate, I earn from qualifying purchases. There is no extra cost to you. Thank you if you use our links; we appreciate it! Learn More.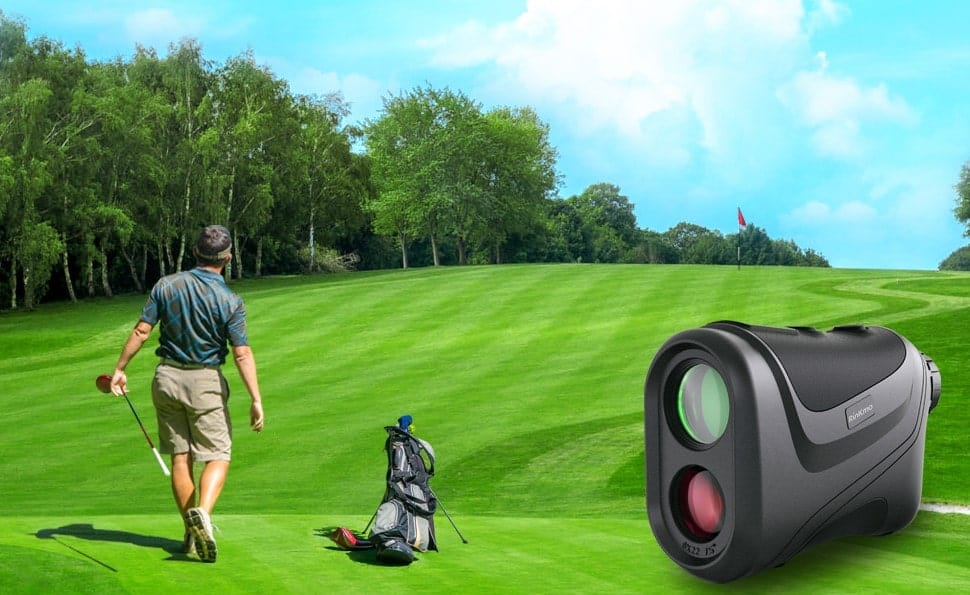 Yeah, Rinkmo is a new name in the market… maybe even you didn't hard before! But believe me, this rangefinder worth the risk. It has earned a well-deserved recognition already in such a short time with its unique 4 mode system!! And we are loving it!!!
Range finders come in handy whether you are into golfing or into hunting or both. They are quite good at measuring the distance of your game or the flags. But the problem is though there is quite a lot of rangefinder out there, not all of them are affordable.
The affordable ones don't usually cover all the features you might need. It is why you need something that has got a good blend of cost and quality, something like the Rinkmo Golf Rangefinder.
So to find exactly why so many veteran hunters and golfers recommend these rangefinders, do check out this Rinkmo Golf Rangefinder Review here!
In a Hurry?
Then look at the Reasons to use at a glance…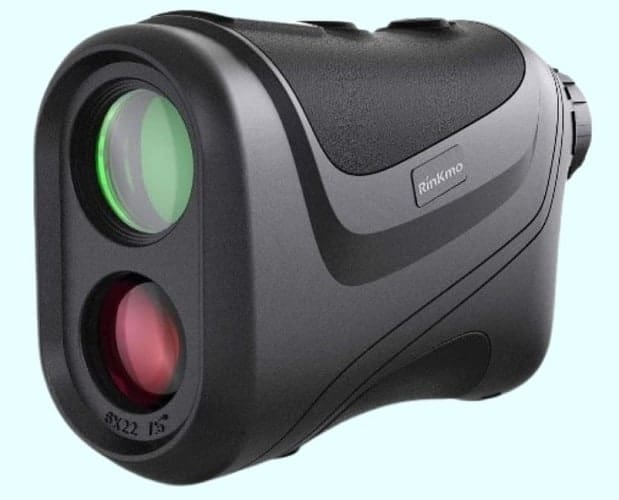 Why should you try it?
Locate long distance holes accurately.
It is much easier to aim the target with the perfect Angle measurement.
Uninterrupted scan.
Flag-lock with vibration.
Slope correction technology.
Range: 5-1100yd
Flag lock distance: 420yd
Measuring precision: +/- 1yd
Angle evaluating range: -60°~60°
Magnification: 6x
Field angle: 7.5°
Weight: 164g
HD FMC lens.
2-Years warranty & a lifetime maintenance support.
Comes with a CR2(3v) battery.
First Impression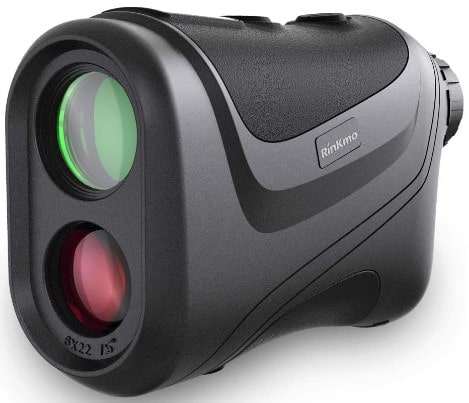 The very first thing you will notice about it is that Rinkmo Golf Rangefinder got an excellent magnetic opener inside its plastic case. The case feels nice and quite soft as well. There is a lens cloth that comes with the Rinkmo Golf Rangefinder. You will get a little string as well, which you can attach and use to carry the Rinkmo Golf Rangefinder on your wrist. This will come handy if you're going hunting.
There are two buttons on this device, one of them is the power button, and you've got the mode button as well. Overall the Rinkmo Golf Rangefinder got a nice sturdy feel on it and got lots of useful features as well, which I will let you know right here.
Features of the Rinkmo Golf Rangefinder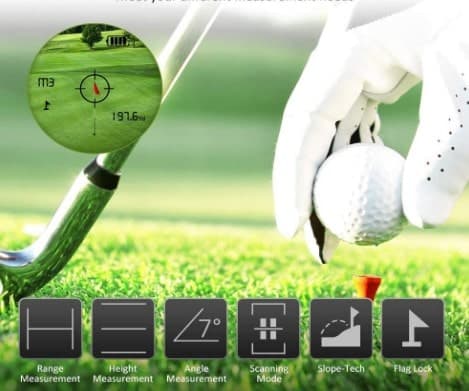 It Has Four Different Modes.
The mode one is just going to get your distance up to eleven hundred yards. It's going to give you some angle measurements as well.
Mode two is going to provide you with continuous scanning. So if you're looking through and you're, you can bounce it off multiple objects and get what those distances are.
You've also got mode three, which is going to give you that vibration.
Mode four is going to adjust for slope. So if it's not a tournament play, you can use mode four where you're getting both vibration and slope measurement.
You can adjust automatically based on the elevation of the hole. Also, it is quite easy to toggle through just by hitting the mode button.
Read: Aofar rangefinder for Golf and Hunting
Quite Comfortable To Use
You will love the way it feels in hand. The ergonomics of this Best quality golf rangefinder is very comfortable. Another cool little feature it has that it comes with a little screw so that you can mount this.
So if you're hunting or you're stuck in a hunting situation and need to mount this, you can do it with ease. It has a little screw, which makes it quite easy to mount.
Read: Visionking rangefinder for Golf & Hunting in Rain
It Is Quite A User-Friendly Rangefinder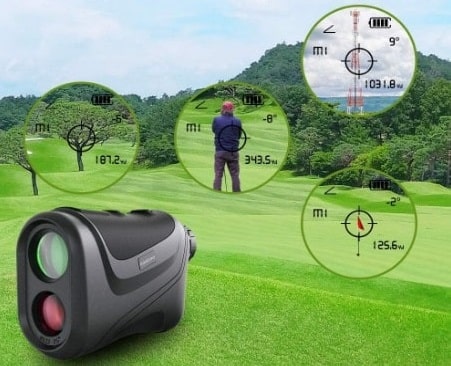 Rinkmo Golf Rangefinder is quite user-friendly, and even if you don't have any previous experience of using rangefinders, you can use it with ease. It tells you the adjusted as well as just the regular distance. So it gives you the measurements in the viewfinder, and it also lets you know with a little flag icon when this thing locks. You get that nice little vibration, and you get the visual cue as well.
Great Quality In An Affordable Price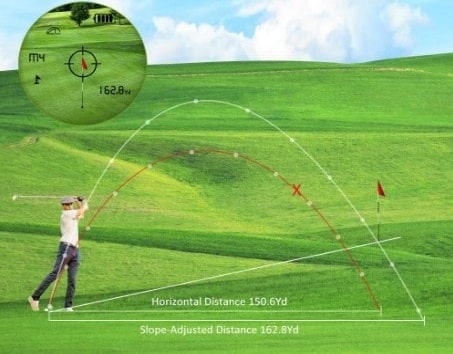 If you are looking for a great quality Rangefinder for golf under 200, you have to keep this Rinkmo Golf Rangefinder into your list. Because even though it has been priced modestly, the features it comes with are no less than any costlier range finders.
It has got a wide yard range of 1100 yards quite is quite exceptional in this price range. Its readings are quite precise due to the slope compensation technology and distance correction function it comes with. So you will get an accurate reading of ±1 yard.
Alternative Option
Though it is one of the best budget rangefinder… but if you wish to use a lower price rangefinder for golf and hunting than this, then Gogogo Sports Rangefinder is the best option for you. It is a very cheap but top quality rangefinder under $100. It has 3 measurement variations: 650y, 900y and 1200y.
If you don't believe it, then check out our Gogogo Rangefinder review and decide for yourself.
Final Verdict…
Not all of us are going to invest in professional-grade gadgets for our hobbies. I mean, we can do it and spend money on getting the highest quality of the rangefinder, but what's the point if you are not using it more than once in a year?
So why waste money on something that is way too costly when you can get something that has almost all the features you need at an affordable price?
I hope this Rinkmo Golf Rangefinder Review has cleared up any doubt you had on picking a budget rangefinder.
Read More
Amazon and the Amazon logo are trademarks of Amazon.com, Inc, or its affiliates.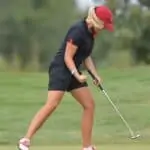 Daisy is the Founder and Editor in Chief of Golfs Hub. She is associated with Golf for more than 20 years. She got the inspiration from her father. She is a very private person & doesn't like to be photographed. She's worked in nearly every job in the golf industry from club fitting to instruction to writing and speaking. Now she is enjoying her retirement from day job... but not from Golf! Daisy lives in southeasternmost part of New York state with her family.