As an Amazon Associate, I earn from qualifying purchases. There is no extra cost to you. Thank you if you use our links; we appreciate it! Learn More.
Currently, in the overly saturated market of the laser range finder, the Leopold RX-950 is in an exception and is in very much demand for its latest features as it has 6X magnification and long range combined with a clear view. Here in this Leupold Rx-950 reviews, we are going to reveal to you that what makes the Leopold RX 950 unique and why you should get this one over other models.
For meeting the market demand of good quality but affordable device at the same time, the Leupold has brought the RX-950 Rangefinder with powerful features which are unimaginable in this price range.
Its accuracy and range it covers are perfect for the golfers who are looking for something that won't break their bank at the same tie delivers the result.  It is easy to carry and much affordable as well.
Let's dig in for more which other Leupold Rx-950 rangefinder reviews won't cover but essential for you to know before taking a decision nonetheless.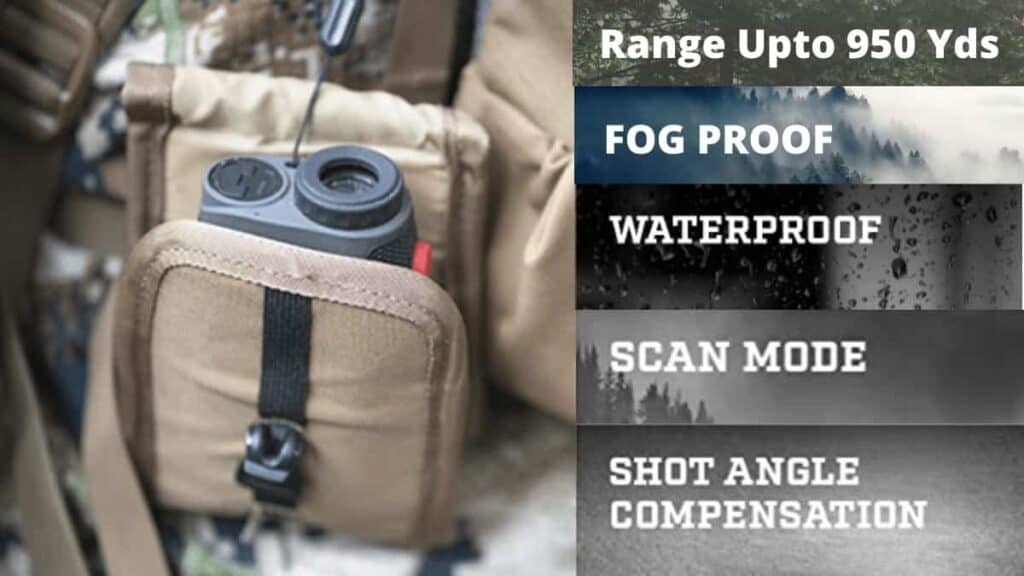 At the very first look, it seems simple, but you will also notice its also very portable. The built is durable and can be used in all weather conditions. The battery is under the eyepiece which can be changed easily. It contains a battery and a conduit case and can easily be stuck in your pocket. It has high contrast LCD Display. Its accuracy allows shooting confidently ranging on up to 950 yards. Overall this unit is lightweight and compact.
Key Features of Leupold RX-950 Laser Rangefinder
Size, Weight & Portability
It is completely covered with rubber all around its body and can be used at any weather conditions as it is both waterproof and fog proof (nevertheless it shouldn't be dropped in ponds or any watery places). The rangefinder is half a pound, so it is very lightweight and compact. 
The RX 950 gives the exact distance. Hence it makes the user able to decide while snapping a target. There are two sets of data to be found. One is the length which is
pointed above the graticule in the display's center and has the battery life indicator in the quadrant of the corner. The measurement of the distance can be dimensioned in meters or yards. With a 6X magnification, it can record the miles up to 950 to 800 yards which is pretty impressive. 
It precisely locks in a target in a much straighter line as It's infrared pulses bounce off from the target point back to the optical unit. Its range continuously updates in scan mode and involves the user or scan a specific location.
It can be handled easily and is a few inches smaller. It is so portable that it can be carried with a condura case around it or can be kept in your pocket as well. Leopold RX 950 gives accurate ranging on reflection targeting up to 950 yards. There is a single button to press only.
Once you fix it to your eyes, press the button and shoot at your targeted point; or you may hold it down and attack various targets and reach the scan mode. Thus, it is quite easy is for tracking a target which is already pretty far away.
It has multi-coated optics that give very clear images. It combines one eye-safe IR Laser with full coated monocular. It has a ranging accuracy of plus and minus of one yard out to 125 yards and with a full 360-degree field of view at 1000 yards providing spot or continuous light for sight ranging. It uses prism technology to use golf courses as it looks on to the prism and stiffens the distance. With one hand operation, it enables the user to operate actively and quickly with its high contrast LCD.
One user has reported being using the RX– 950 rangefinder continuously for over two years and mentioned in his Leupold Rx 950 rangefinder review that he didn't have to replace the battery within that time. Also in various Leupold Rx-950 laser rangefinder reviews, it is mentioned that to save the battery it gets shut off after about 30 seconds of inactivity
As we didn't find any slope feature in this Leupold RX 950 rangefinder, you can use it in pretty much every tournament approved by the USGA as the USGA set the rule about not permitting any use of rangefinder that has slope mode. So basically this is a blessing in disguise for the golfers.
Pros and Cons of Leopold RX 950
Does Leupold Rx-950 Rangefinder Worth Your Money?
It is affordable and well within the budget. Many customers who bought it are so happy with the purchase that they said that they would love to purchase one more piece of it because of its price, simplicity of use and siz.e There are already a lot of positive feedbacks in its amazon.com page and reviews the feedback is positive enough almost in all Leupold Rx 950 , So it's certainly worth purchasing.
As we have written the review and all of the information for you from our own experience of handling and using this unit, we can assure you it is one of the best golf rangefinders within this price range and has an undoubtedly better edge over other golf rangefinders and other Leupold Rangefinders in quality and all other aspects. It has excellent portability, durability and is ease of operating. The best part of all, this rangefinder is swift and accurate and does a job for finding target over 500 yards pretty well.
Well, Leupold is a well-known brand since 1907, for its state of the art military products which are quite famous and very high quality. They are a leading company in the industry for rangefinders, binoculars, rifle shooting and so on.
Does it has a slope mode?
No, it doesn't have the slope mode.
What battery does it have?
CR2 lithium camera battery.
Yes, it is fully waterproof and rainproof.
Yes, you can operate it pretty quickly and accurately in open yards, but it is a bit inaccurate to use in chaotic places which is full of trees and places like woods. It is very easy to use, and all you need to do is only press button aim at the target in the distance, just like that.
You will certainly enjoy using this Leupold Rx 950 rangefinders it under any circumstances, be it drastically rainy or foggy weather. You may not find any lacking at all in this rangefinder, but we have decided to give the most honest reviews among all the other Leupold Rx 950 reviews.
So be aware of the fact that this rangefinder is a bit lagging behind when it's used in a landscape where is too many obstacles in the background. But other than if you focus on its affordability weight, size, effectiveness, then this Leupold RX 950 is the best in this price range Period!
Amazon and the Amazon logo are trademarks of Amazon.com, Inc, or its affiliates.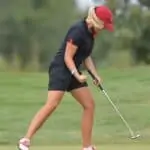 Daisy is the Founder and Editor in Chief of Golfs Hub. She is associated with Golf for more than 20 years. She got the inspiration from her father. She is a very private person & doesn't like to be photographed. She's worked in nearly every job in the golf industry from club fitting to instruction to writing and speaking. Now she is enjoying her retirement from day job... but not from Golf! Daisy lives in southeasternmost part of New York state with her family.