At its best, golf can be dramatic and filled with fun times for players and spectators. It is not surprising then that it has been featured on the silver screen many times. From thrillers to comedies, golf has been a subject of interest for many renowned directors. Read on to know about some great films that depict golf.
PG-13, Documentary
Director: John Paul Davidson
Seve Ballesteros brought golf to the masses in the 1970s and 80s. This critically-acclaimed movie takes you on a journey through the life of the winner of The Open and The Masters. "Seve: The Movie" does lean on dramatizations of events a little too much but the personality of Ballesteros shines through. The golfer was famous for playing trick shots and adding a sense of fun to each round he played. You will enjoy the golf skills and exuberant life of the golfer juxtaposed with his role as a caring husband and father. Ballesteros' life was cut short by a brain tumor in 2011.
Stream Seve: The Movie on Amazon Prime Video, Tubi, Peacock, and the Roku Channel.
R, Comedy
Starring: Chevy Chase, Bill Murray, Rodney Dangerfield
Director: Harold Ramis
"Caddyshack" is one of the great sports comedies and focuses on the lives of members at the Bushwood Country Club. Groundskeeper Carl Spackler chases an adorable gopher. Young caddie Danny Noonan tries to save enough money from tips to attend college. The arrival of a new member, real estate developer Al Cvervik startles the established community. The stage is set for a final round of golf featuring the members of the club as Spackler makes one last bid to exterminate the gopher.
Stream Caddyshack on YouTube TV and Apple TV.
PG, Thriller
Starring: Sean Connery, Honor Blackman, Shirley Eaton, Gert Frobe
Director: Guy Hamilton
The template for future movies in the James Bond franchise, "Goldfinger" uses golf as a metaphor. James Bond is trying to discover if Ernst Goldfinger has been depleting England's gold reserves and is the head of a smuggling ring. Bond plays a round of golf with Goldfinger during the pair's first meeting. The round shows us Goldfinger is a cheat and Bond is willing to play the long game to prove his criminality. Bond is taken prisoner as Goldfinger's diabolical plan comes to fruition.
Stream Goldfinger on Amazon Prime Video.
PG-13, Comedy
Starring: Adam Sandler, Julie Bowen, Carl Weathers
Director: Dennis Dugan
Happy Gilmore is an unsuccessful ice hockey player who discovers his grandmother is about to lose her home because of back taxes. Happy finds he has a talent for golf because of his unorthodox swing. After meeting a failed golf pro, Chubbs Peterson, who inspires him to join the PGA Tour. Gilmore strikes up a rivalry with Shooter McGavin and becomes his main rival.
Stream Happy Gilmore on Hulu + Live TV, TNT and TBS.
PG, Drama
Starring: Taraji P. Henson, Michael Clarke, Tom Felton
Director: Pierre Bagley
Based on the true story of Catana Starks, this inspiring movie is in the mold of "Coach Carter." Starks is a former swim coach who dreams of creating an African-American golf team at Tennessee State University. Starks uses the school's international student policy to put together a global team. The team must overcome its differences to find success.
Stream From the Rough on Vudu and Apple TV.
Unrated, Comedy
Starring: Dean Martin, Jerry Lewis
Director: Norman Taurog
The comedy partnership of Dean Martin and Jerry Lewis took the world by storm in the early 1950s. The fractious relationship between Martin and Lewis appears in the plot of "The Caddy." Lewis plays Harvey, a scratch golfer lacking the confidence to turn professional. Martin plays Harvey's sister's boyfriend, Joe, who becomes a student of Harvey. Joe becomes good enough to play in tournaments with Harvey as his caddie. The pair must decide whether their future stays on the course or the stage. "The Caddy" is best remembered for Dean Martin's first performance of "That's Amore."
Stream The Caddy on Vudu, Apple TV, Amazon Prime Video.
R, Comedy
Starring: Kevin Costner, Rene Russo
Director: Ron Shelton
Roy "Tin Cup" McAvoy is a washed-up golf prodigy living out his days as the owner of a dilapidated driving range. Roy is hired as a caddie by a former rival, David Simms for a local event. McAvoy and Simms get involved in an argument on the course in front of a live TV audience. The argument results in McAvoy attempting to qualify for the U.S. Open. The question becomes, can Tin Cup overcome his demons and his arch-rival to win the U.S. Open against all odds?
Stream Tin Cup on Hulu + Live TV, fuboTV, Paramount+, Showtime.
PG-13, Drama
Starring: Will Smith, Matt Damon, Charlize Theron
Director: Robert Redford
Based on the 1995 novel of the same name, "The Legend of Bagger Vance" is criticized for its representation of African-Americans. It has become a classic of the sporting drama genre. Hardy Greaves has a heart attack on the golf course and begins to recount the tale of Rannulph Junuh. Junuh was once the toast of high society and a rising golf star in Savannah, Georgia. Junuh is traumatized during World War I and turns to drinking. A mysterious caddie, Bagger Vance appears and helps Junuh compete against golf legends Walter Hagen and Bobby Jones. Young Hardy Greaves looks on as Vance leads Junuh on a journey to sporting and personal maturity.
Stream The Legend of Bagger Vance on Pluto TV and Amazon Prime Video.
PG, Drama
Starring: Shia LaBeouf, Stephen Dillane, Elias Koteas
Director: Bill Paxton
Based on the true story of an amateur golfer, Francis Ouimet, who was the first amateur to win the U.S. Open. Ouimet faced social problems on his rise to golf stardom. During the early 20th century his working-class immigrant background limited his chances. Ouimet's father refuses to support his dream of playing golf because of its links to the upper class. The President of the U.S. Golf Association invites him to play in the forthcoming U.S. Open. Ouimet faces a difficult choice about his future.
Stream The Greatest Game Ever Played on Disney+.
Not Rated, Comedy/Romance
Starring: Spencer Tracy, Katherine Hepburn, William Ching
Director: George Cukor
The pairing of Spencer Tracy and Katherine Hepburn is iconic in Hollywood movies. Katherine Hepburn brings her love of tennis and golf to the screen as an athlete with a chance of becoming a champion. Pat struggles to keep her emotions in check when her overbearing fiance, Collier, attends her games. Pat looks to a shady promoter Mike to help her overcome her fears and become a golf champion.
Stream Pat and Mike on Amazon Prime Video and Vudu.
PG-13, Drama
Starring: Mark Rylance, Sally Hawkins, Rhys Ifans
Director: Craig Roberts
Another true story of an amateur golfer, Maurice Flitcroft, who had never played golf before entering The Open. Flitcroft spent years pursuing his dream of playing The Open under different names. The movie follows his appearance at the 1976 qualifying event where he recorded a score of 121. The crane operator continued to follow his dream despite the golfing elite's unhappiness.
Stream The Phantom of the Open on Amazon Prime Video and Vudu.
Read: How to watch the Masters Golf Tournament online?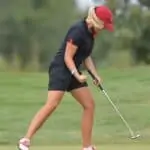 Daisy is the Founder and Editor in Chief of Golfs Hub. She is associated with Golf for more than 20 years. She got the inspiration from her father. She is a very private person & doesn't like to be photographed. She's worked in nearly every job in the golf industry from club fitting to instruction to writing and speaking. Now she is enjoying her retirement from day job... but not from Golf! Daisy lives in southeasternmost part of New York state with her family.