As an Amazon Associate, I earn from qualifying purchases. There is no extra cost to you. Thank you if you use our links; we appreciate it! Learn More.
Golf GPS watches have been the centerpiece for avid golfers for quite a few years now who can't go without tracking their game.
And why shouldn't they be? GPS-tracking can not only improve your distance, but it can significantly reduce the number of strokes per hole apart from numerous other related benefits.
Since you're seeking for a GPS watch, you might have come across TecTecTec's ULT-G, which has been a leading contender among budget golf watches for quite some time.
But is it the right match for your golfing demands? Hopefully, you'll get your answer through this Tectectec Ult-G Golf Gps Watch review.
Overview of Specifications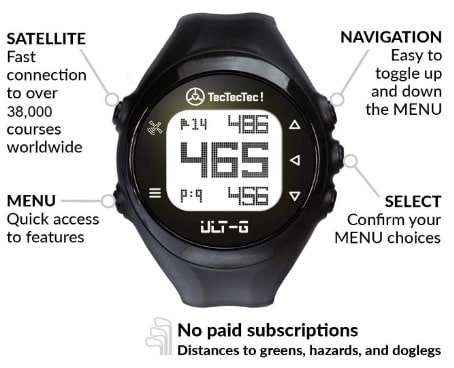 | | |
| --- | --- |
| | |
| | Battery-Operated Golf GPS Watch |
| | |
| | |
| Directions of Distance Measurement | Front/Back/Center of the greens, Distance to Hazards |
| Wireless Golf Course Access | Yes (Over 38000 courses throughout the globe) |
| | |
| Automatic Hole Progression | |
| | |
| | No (Bluetooth Update available) |
| | |
| | |
| | |
| | |
Why Should you Consider Using Ult-G GPS?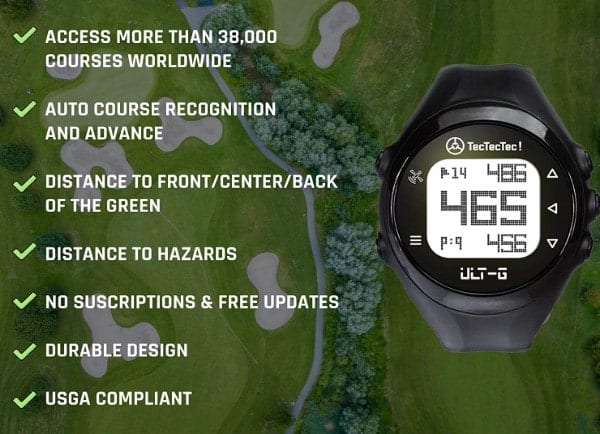 Why You'll Love It?
As per TecTecTec, "This watch has everything you need, and nothing that you don't." The watch has been designed to save your time, offering a fast and straightforward route for the improvement of your game. Here are the key attributes of the watch that deserves a big thumbs-up.
Simplistic yet Durable Design
"It's too simple to be classy"- that should be your first impression when you get your hands on the watch. The archaic monochromatic display might not be that appealing, but that's precisely what the manufacturer's primary goal is- keeping it simple yet fruitful. They've focused on keeping it boldly unsolemn and easy-to-use.
The straps might seem bulky, but it doesn't weigh down your hand since they've made it surprisingly lightweight yet highly durable. Besides, it will enable you to mount it on your caddy post or the pushcart handle more securely.
The watch opts to help you save your time by providing you with the necessary information as fast as you'd like. It's been freed of all kinds of complexities to make sure you comprehend the operations the moment you wrap it around your wrist for the first time. And with the swiftness of info delivery, you can make quicker choices of clubs and improve your game with the accuracy you can count on.
Ease of Use with Lots of Automations
For most of the potential suitors of the ULT-G, the main appeal has to be the incredible ease of use of the watch. When you've breezed through the initial setup, just push the little satellite button. It will immediately begin searching for courses, and within seconds, you'll be presented with the courses nearby, along with the one you're currently at.
Moreover, it will set you up at the very first tee. Meaning, you'll be guided to adjust the hole if you're starting off from the back nine. After that, you'll have no further actions to take except for playing your game. And even if you need to tweak a thing or two, the easy-to-navigate menu is there to cut the hassles.
The watch is programmed to follow you automatically throughout the course and track your moves to the following hole whenever it should. You may want to check on the spot yourself to ensure the accuracy with a laser finder, but the ULT-G won't leave any room for doubt when measuring the distance. It'll automatically show you the measurements and related info in no time.
Top-Notch Accuracy with Speedy Outputs
The accuracy of this GPS watch is absolutely spot-on. While it's an obvious requirement from a rangefinder to measure accurate distances throughout the course, the ULT-G takes the job as its own responsibility.
For most of the supported courses, it will show you if the pin is center, front, or back. Except for the golfers serious about seeking pins on each green, it's an absolute plus to have the three crucial distances covered for the rest of us who demands a perfect choice of clubs more than anything.
What's more? It'll read you the high-accuracy distance to the doglegs and hazard, so you can calculate your game quickly without requiring additional assistance throughout your game. And you're bound to be pleased with it all the more in terms of speed as well. It shows all these data as quick as a flash to keep up the rhythm of your game.
More than 38000 Worldwide Preloaded Courses
More than 38000 worldwide courses are preloaded within the ULT-G, and it lets you get access to them only with a simple button-press. It features an auto-recognition technology that allows you to choose your course without the assistance of any additional software.
So, not only can you identify the course you're currently in, but you can detect any golf course nearby with ease. And with the Bluetooth update feature, you even update the course list without paying a dime.
Low Maintenance
Maintenance of the ULT-G is a piece of cake. It boasts a reliable build that resists dust, water, and impacts. Besides, its highly-protective surface can even prevent the reactions between your sweat and UV that would otherwise fade out the appearance.
Great Value for the Money
The TecTecTec sells at under a hundred bucks, which is far cheaper than most of the GPS watches nowadays that cost no less than one-fifty. Besides, it's the only amount you'll have to pay since there are no additional costs on subscription fees or software upgrades. So, if you're short on budget, this can be one of the best GPS for golf under 100$ for you.
Potential Concerns
Despite the simplicity and so many convenient features, the GPS watch has some obvious drawbacks that you must be concerned about before making your purchase.
No App Support
The watch is all within itself, and it doesn't offer any app support. It's indeed can be a significant flaw for some users since it means you can't store your stats and neither your itineraries.
Unique USB Port
The watch can pretty much annoy you with its unique USB charger as well. Even though you won't have to worry about charging or the durability of charging (lasts up to 2.5 rounds), you'll have to sweat a lot if you lose the cable charger since finding a spare will be troublesome.
No Time Display in GPS Mode
Sadly, with this watch around your wrist, you can't track your time and distance simultaneously. You'll have to compromise one for the other. Undoubtedly, this can be irritating at times. However, you can expect to see this issue corrected shortly when they'll release a software update.
So, Who Is It for?
To cut a long story short, the watch is an excellent option for those with a tight budget. If you've been frequenting a few courses recently, and looking for a cheap yet convenient way to track your yardages, you can go for this watch.
The device, having crumbled up the rangefinder market lately with its accuracy and affordability, has received enormous positive feedbacks across various golfer cliques.
Yes, even though you get what you pay for, some explicit downsides will let you down at several aspects. Notably, the unique USB charging port that I'm not a massive fan of. I'd loved it more if it came with a universal output.
But this is the device for golfers who can't afford to spend much on more advanced a GPS watch, still feels the necessity of professional quality and reliability and top-notch accuracy for their distances without any distraction.
Conclusion…
So, there you have it, you have the TecTecTec ULT-G golf GPS watch reviews before you now. Hopefully, these key insights will help makeover your purchase options.
For me, at a price so low, the slight teething issues will hardly bother the primary demands of those on a shortage of budget. And if the concerns persist, which is unlikely, you can take to their highly customer-friendly refund policy.
Read More
Amazon and the Amazon logo are trademarks of Amazon.com, Inc, or its affiliates.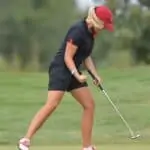 Daisy is the Founder and Editor in Chief of Golfs Hub. She is associated with Golf for more than 20 years. She got the inspiration from her father. She is a very private person & doesn't like to be photographed. She's worked in nearly every job in the golf industry from club fitting to instruction to writing and speaking. Now she is enjoying her retirement from day job... but not from Golf! Daisy lives in southeasternmost part of New York state with her family.