As an Amazon Associate, I earn from qualifying purchases. There is no extra cost to you. Thank you if you use our links; we appreciate it! Learn More.
From distance controls to shot enhancements, a yardage finder or a GPS device can aid you in lots of crucial aspects to help you improve your game. And that's why hitting the course without one is pretty much unthinkable for modern golfers nowadays.
Garmin, a pioneer in this field, has produced several top-notch GPS devices and rangefinders over the years. And that includes golf GPS watches, the most convenient and most accessible solution of all.
Here, we'll be comparing three of Garmin's mid-ranged golf GPS watches in quest of determining the fair winner in the contest of Garmin Approach S2 vs. S3 vs. S4.
Let's take a look at the comparative chart below, which shows the key differences between the three.
| | | | |
| --- | --- | --- | --- |
| | | | |
| | | | |
| | | | |
| | | | |
| | | | |
| | | | |
| | | | |
| | | | |
| Average Battery Life with GPS on | | | |
| | | | |
| | | | |
| | | | |
| | | | |
| | | | |
| | | | |
| | | | |
| | | | |
| PC Connectivity & Analysis | | | |
| Online Portal Access for Updates | | | |
| | | | |
| | | | |
| | | | |
| | | | |
| | | | |
| | | | |
| | | | |
| | | | |
| | | | |
The above chart is an accurate picture that shows how the feature-rich S4 keeps itself miles ahead of its predecessors. However, that doesn't diminish the other two's worth by any means, especially when you take a look at the price differences.
Both the S2 and the S3 have their share of good offerings that fairly consummate their price range, and therefore, can make good choices as per the user's budget and demands.
Who is The Garmin Approach S2 for?
If a complexity-free watch with easy navigations and setup that always reads accurately is what you prioritize most in the golf course, and the measurement of the distances to hazards doesn't hurt your game that much, the S2 can be good to go for you.
It's even a solid choice of a golf watch in terms of the durability of both the build and battery life. And the likes of digital scorecards, automatic course and hole setups, and shot pace measurements are some of the characteristics that make it one of the best GPS for golf at this price point.
Why should you consider S2 gps golf watch for?
How Worthy is the Garmin Approach S3?
As for the S3, it's a pretty well-measured an upgrade that offers battery life a week longer than the S2, better analytical capabilities, and several more useful in-game alerts. Better visibility of the display, along with the touchscreen operation, add some convenience as well.
While these added features do add some value to its raised price tag, it's not quite up to the mark when you think about the actual game-accelerating attributes.
Why should you consider S3 gps golf watch for?
What Factors Win it for the Approach S4?
The S4 takes it right from where the S3 has been deficient. Let's take a look at those key areas where the Garmin Approach S4 outclasses the S3.
Why should you consider S4 gps golf watch for?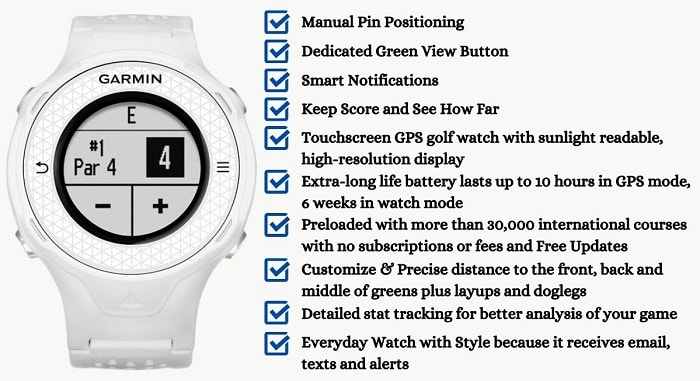 So, there you have it. You now have the comparative rundown of the Garmin Approach S2 vs. S3 vs. S4, and the key takes that'll hopefully help you decide among the three.
The S4 is the definite winner, hands down. Still, with the demand and budget in your consideration, the pick is yours to make.
Amazon and the Amazon logo are trademarks of Amazon.com, Inc, or its affiliates.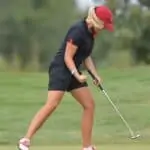 Daisy is the Founder and Editor in Chief of Golfs Hub. She is associated with Golf for more than 20 years. She got the inspiration from her father. She is a very private person & doesn't like to be photographed. She's worked in nearly every job in the golf industry from club fitting to instruction to writing and speaking. Now she is enjoying her retirement from day job... but not from Golf! Daisy lives in southeasternmost part of New York state with her family.