As an Amazon Associate, I earn from qualifying purchases. There is no extra cost to you. Thank you if you use our links; we appreciate it! Learn More.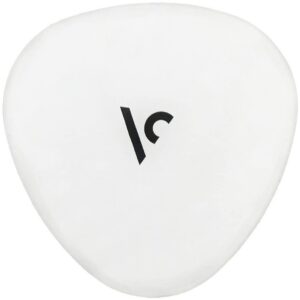 With the ever-increasing demand of golf GPS rangefinders, various tech companies have come forward with a wide variety of devices over the years. There've been different technologies, operational distinctions, and of course, numerous styles and choices of ergonomics.
However, there haven't been that many voice-directed devices, since the concept of hearing the distance is yet to be traditionalized in the golf courses. Voice Caddie was the first to introduce a screenless golf GPS a few years back, and that has paved the way for the VC300se-their latest addition of voice GPS rangefinder.
In this Voice Caddie VC300se review, we'll take a closer look at the simple voice golf GPS device to help you figure out whether it's worth your money or not.
Overview Of VC300se Golf Gps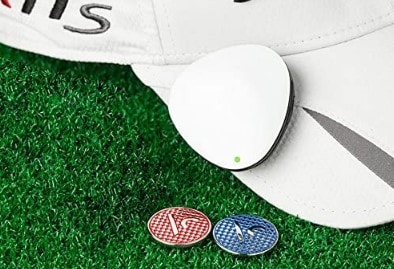 Brand– Voice Caddy
Product Type– Voice-Guided Golf GPS Rangefinder
Dimensions– 1.77 x 1.77 x 0.47 inches
Weight– 24g
Display– Not Available
Power Source– Li-ion battery (Rechargeable through USB)
Battery Backup– Up to 8 hours in GPS mode
Automatic Recognition– Courses and Holes
Distance to Green– Front/Center/Back
Distance to Hazards– Not Available
Wireless Golf Course Access– 30000 preloaded worldwide courses
Upgradeability– Updated through the VC Manager desktop app
Subscription Fees– No
Operating Language– Multilingual (English, German, Spanish, French, Korean, Japanese, Chinese)
Voice Caddie Vc300se Review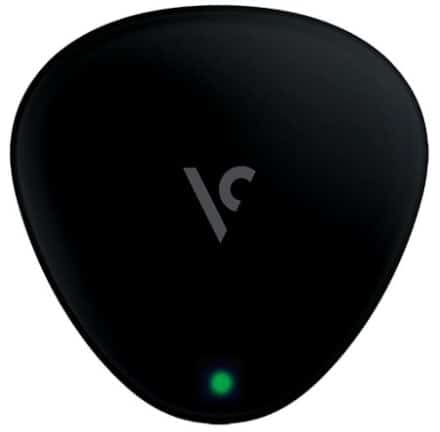 Appearance and Feel
"A GPS rangefinder without a screen? Really??"
Yes, that's what's inevitably going to strike you with, first thing, when you get your hands on the GPS unit. But the unboxing will surely appeal to you by presenting a sleek, compact, and classy profile of the device, with no cords or batteries within sight. In my case, the gimmicky look ostensibly gave the feel of an Apple product in a "Guitar-pick" shape.
With no screen and no buttons in plain sight, the device is perfect for sneaking into pockets while roaming onto the course. But don't worry, you'll soon find that the top part itself is the main button. There's a couple of small buttons on its sideways acting as volume keys, and one on its backside along the line with the support clip and the magnetic ball marker. The rubber lid over the charging port will add to your satisfaction too.
Many golfers will find the unit naturally pretty awkward. And it's perceptible since a compact device without a screen has yet to become the norm in the world of golf GPS. But there's undoubtedly no denying that such a combination of voice-directional technologies can reduce a lot of hassles for you on the course.
The compact, lightweight, clip-on GPS device allows you to place it anywhere you like. You can choose your belt or pocket, or more conveniently, the beak of your cap. With no need to peek at a screen and instant voice support, this hands-free unit can significantly add to your gameplay comfort.
How Does It Work?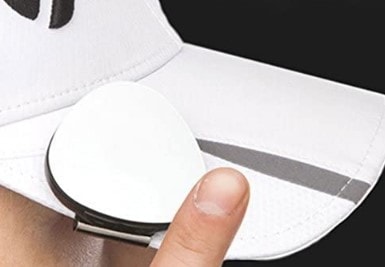 If you're wondering about how to get underway with the voice directives, here's what you need to keep in mind.
First off, it's not your typical GPS rangefinder that you can take out to the ground straight out of the box. You'll surely require some preparation before your game, and that's why it's recommended to go through the instruction manual beforehand. However, don't flinch just yet, as it's not a tough one to comprehend either.
Once you fully charge it (which may take up to two hours) and power it on, you'll hear a female voice saying- "Let's go, enjoy your game with Voice Caddie." She'll also read out the available battery life. Place it on your hat-beak or belt, and off you go for your first shot.
When powered on, it'll automatically detect the course you're at and voice out the details once it registers your location. This process may take up to 2-3 minutes, so you need to remember to turn it on according to your tee time.
The unit is also programmed to set you up for the tees. It's recommended to allow at least a couple of minutes before it locates your tee and hole numbers. And once you did, it'll read out something like this- "Hole number 1, center, 390 yeards." Eventually, it'll keep locating your next hole and guide you thereby.
You can also change the unit of measurement from yard to meter by pressing the negative volume button. And by pressing the positive one, you can reiterate the hole recognition process whenever you want. With the help of the desktop app, you can also conduct the Voice Caddie VC300se update, which is entirely free of charge.
Accuracy and Performance
The accuracy of a golf GPS device is undoubtedly the essential feature that should be paid attention to more than anything else. And when it came to determining the level of accuracy of the Voice Caddie VC300se golf GPS, here's what I found.
In terms of yardage, the VC300se kept close with the reading performances of some of the best GPS for golf, like the Garmin, SkyCaddie, or Bushnell. When tested simultaneously, there was hardly any distortion in the readings. It consistently managed to keep up within two yards of the laser rangefinder.
However, it still felt like it can make you struggle with keeping the tracks despite the accurate reading, since the distance, once readout, doesn't repeat itself. Meaning, you'll need to press the button repeatedly if you were abstracted when it voiced the range. Besides, with no app integration available, you can't expect it to keep the tracks for you.
Nonetheless, it can be a great asset when hitting a bling shot or attempting one from behind a tree, where not even a laser finder is much use. Besides, you're bound to love its shot distance measuring feature, which gives you the exact reading of the range between the ball and the position from where you hit it initially.
But again, although it gives you accurate ranges from the front, center, and rear, it doesn't read out the distance to hazards. It can prove to be a significant downside of the device, especially if you are looking for an inexpensive yet passable, all-covering rangefinder.
Is It a Fair Update to Its Predecessors?
Whether or not you came across the previous two models prior to this one, it's fair for you to weigh the potential cheaper options. But how fair is the device itself when the price and performance are compared? Here's my quick take.
Voice Caddie VC200 vs. VC 300se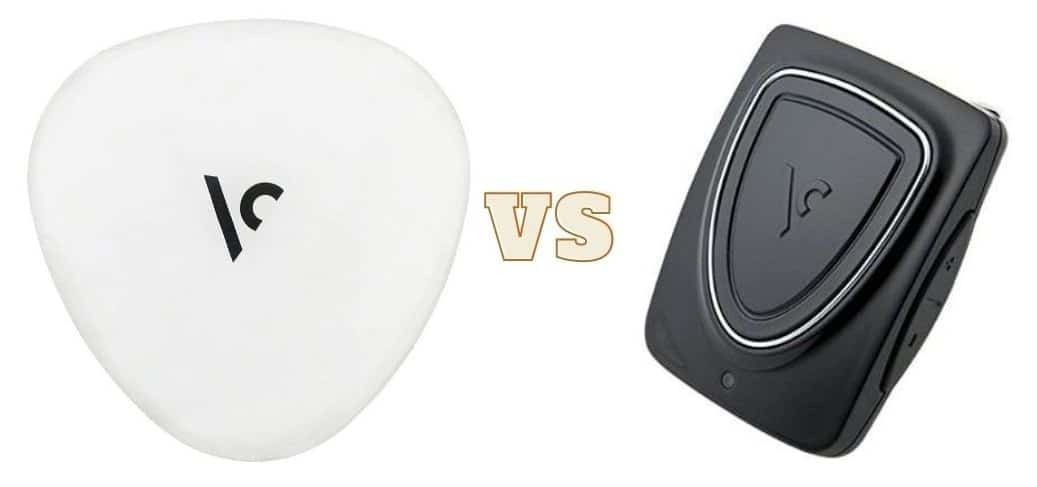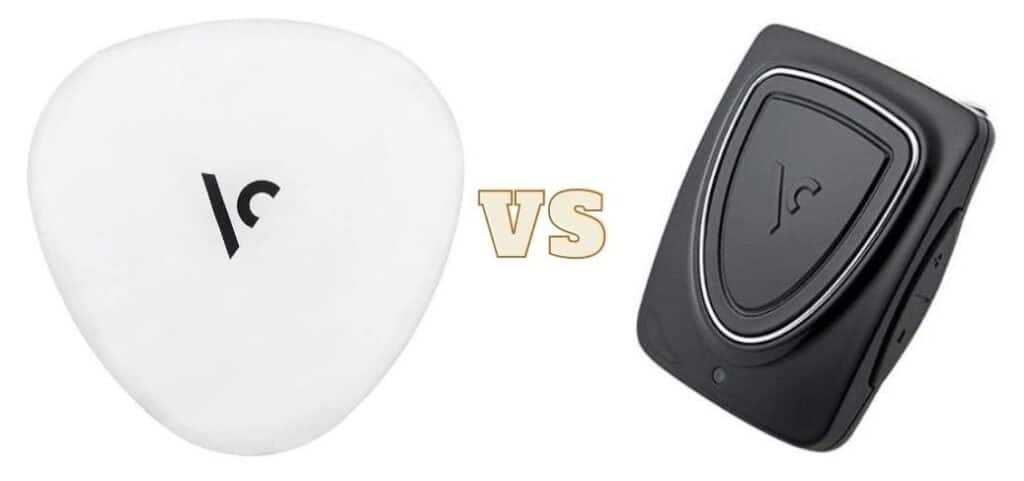 The VC200 was the first among voice-guided rangefinders. Despite being somewhat provisional a model, it came with pretty much the same functionalities of the VC300se. However, there were constant distortions in its distance measuring. It hardly managed to read within four or even five yards of our laser rangefinder.
Within two yards with the VC300se now, it's apparently not a significant upgrade, to be honest, only okay. But in terms of consistency in the reading, it can be considered a notable upgrade.
One major flaw in the VC200, though, was its limitation of reading the distance to the green, which only read from the center and not from the front or the rear. While they managed to cover this up in the later editions, the distance to hazard feature is still missing in all of them.
However, if you take the unbeatable price and the extended battery life of the VC200 into account, it was a lot better than most of its pricier alternatives in the market.
Voice Caddie VC300 vs. VC300se
To cut a long story short, a comparison between the VC300 and VC300se is on the whole worthless. Whatever you consider, the look, the feel, the usability, the accuracy, and even the price; they're all the same.
The firmware update in the VC300se has been the only enhancement, but that's not what makes it an upgraded model since you could do it yourself through the desktop app. A lot more could've been done, like mobile app integration, more accessible tweaking options, distance to hazard, quicker detections, and so on.
So, if you can opt for the VC300se, you can opt for the VC300 too.
Thoughts…
The VC300se is undeniably a fun device even though its aesthetics and feel top its overall performance on the course. The lack of swiftness in the detections and the complicated button operations make the screenless unit somewhat hard to use. So, naturally, you'll need some time to get it off the ground. Nevertheless, it's capable of delivering accurate yardages while looking snazzy on your hat beak.
And despite the much lesser price tag, it's not the best deal for regular use. The fanciness of the device is just okay if you play by yourself or with your buddies and want to look both distinctive and accurate therein.
Hopefully, from this Voice Caddie VC300se review, you now have the necessary insights into the funky golf GPS device. And now it's your turn to act accordingly.
Read More
Amazon and the Amazon logo are trademarks of Amazon.com, Inc, or its affiliates.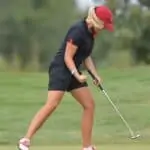 Daisy is the Founder and Editor in Chief of Golfs Hub. She is associated with Golf for more than 20 years. She got the inspiration from her father. She is a very private person & doesn't like to be photographed. She's worked in nearly every job in the golf industry from club fitting to instruction to writing and speaking. Now she is enjoying her retirement from day job... but not from Golf! Daisy lives in southeasternmost part of New York state with her family.