As an Amazon Associate, I earn from qualifying purchases. There is no extra cost to you. Thank you if you use our links; we appreciate it! Learn More.
How to stay cool on the golf course is a concern shared by every golfer in hot and moderate regions. Beyond doubt, when the summer sun is high in the mid sky, it burns everybody and everywhere with equal rage. So, the hazard of playing golf in the summer scares everybody. But the pro golfers do not and should not waste time whining. Instead, they stop worrying and learn the techniques of playing golf in the hot summer weather. We have come with the top 10 summer golf tips that will better help you stay cool on the golf in hot summer.
Are you ready to play golf around mid-July when the sun is scorching hot? Yes, you are ready and safe if you follow the 10 summer golf tips to stay cool in how weather golf season.
10 Pro Tips & Tricks on How To Stay Cool While Golfing
Be in the Good Company of an Ice Water Bottle
When you are out under the sun and doing any physical works, you will quite often feel thirsty. So, we keep a hydration bottle with us while out on a day trip. Now, a heavier activity like golfing will make you thirsty more often than normal requiring you to drink water frequently. And when you are on the course, there will be no edible water source other than your own supply. That is why you must keep an ice water bottle always with you and sip water from it whenever it is possible.
Read: How to stop nerves when playing golf?
Do not commit the blunder of waiting until you feel thirsty. You better try not to feel thirsty as feeling thirsty means your liquid level is too low and you shouldn't continue with the round. In this case, a portable water bottle in the side pocket of the golf bag is the most crucial company.
Battery-Powered Personal Fan
In hot summer weather, it is quite normal to stay cool. It becomes even imperative to keep cooler if you are on a golf course under a raging sun. A personal body fan may prove to be highly crucial in this circumstance that will fan you cool. You will have a battery-powered body fan in the stores that are small and compact enough not to create a carry-hassle.
Read: Playing golf in different weather conditions
If you invest a bit more time in shopping, you will find models featured with misters to keep you cool. Some experts even suggest for air cooler or portable AC. That sounds a bit crazier but given the urgency of the situation, it is not unlikely to avail an air cooler or air conditioner around the course. The cart is there to carry it along with you. After all, golf is not a non-essential pastime for you.
Weather-sensitive Dress
It's pretty important what you wear on hot weather golf. If you are not careful about the weather ahead to face at your round, you may easily fall victim to heatstroke or heat exhaustion. In this regard, light-colored clothes are there to come to your rescue thanks to the reflecting ability of such clothes. Dark-colored clothes, on the contrary, suck the heat resulting in a rapid rise of your body temperature. But you should know that only light color will merely do half and to complete the course you must go for the sportswear that is breathable and wick away sweat of the body.
That is how you can keep cool when your sweat is soaked; you are relieved of fatigue to play your normal self unaffected by the sun scorchers. Moreover, lighter clothes will make you feel comfortable to move at ease.
Read: How To Keep Your Hands Dry While Playing Golf?
Apply and Reapply Sunscreen
It's customary now to use sunscreen to keep your skin from sunburn on a hot summer day. And when you are out on a golf course under the burning sun, sunscreen is a critical element to include in your hot weather golf preparations. It's not unlikely that you encounter sunburn after a prolonged stay under scorching sun however cooling techniques you have followed. The sunscreen along with others is a must if you do not want to see sunburn across the skin when you get home.
Applying only once in the round will not suffice and you have to reapply it frequently. Therefore, take a sports sunscreen to prevent ravaged by the sun. Sunburns tend to remain and not only staying inactive, but they also radiate heat to deteriorate the condition. Obviously, it alone is not going to keep you cool but surely will save you from the onslaught of sunrays and its after-affect.
Arrange your Tee Time Earlier than Usual
In hot summer also, the morning sun is soft on the skin and not that scorching to suck your body liquid. You can avoid much of the hassle of fighting the hot summer sun by playing an early tee. Therefore, get prepared early and start for the golf ground early enough before the sun shines hotly overhead. When the sun is high in the middle sky, the onslaught is ravaging needing you to go for so many things digressing your focus from the match considerably.
Moreover, you will definitely enjoy the mild temperature in the morning and feel even more comfortable this time. Whereas in the afternoon when the sun scorches overhead, it is completely different and the situation becomes totally adverse. Therefore, it is imperative to start early and thus avoid the rage of the sun along with saving time and convenience.
Electrolytes Boost Up
When you are playing not against your opponent only, rather you are fighting a raging sun in the middle of the sky; you are losing liquid and energy with it. The frequent sip of water from your icy bottle only refills the liquid gap. But what about the energy loss? Yes, electrolytes can answer that concern. You can have them in either form – in the energy sports drinks and the tablets. Be warned, any sports drink contains loads of sugar in it and so can cause other health concerns.
To be on the safe side, take electrolyte tablets which are very easy to get in the stores. So, when you are active under the hot sun, your replenish preparation should include salts, potassium, and more electrolytes. Your body needs those the most when you are engaged in such activities making you sweat. The gel packs and tablets are carry-comfort whiles you are on the walk.
Avoid Carbo-rich food and Hard drinks
Foods enriched with carbohydrates will make you energetic but they keep you warm at the same time. That is a concern on hot weather golfing. But you must feel energetic in the round while making swing. Now, what is the way out?
Yes, the effective way is to nibble lighter foods that include fruits, nuts, veggies, and the likes. So, resist the temptation of scarfing down on a spaghetti dish before you are out for the golf course. Instead, gather energy from the said lighter alternatives. keeping cool on the golf course may need to avoid carb dishes.
Cover Up the Body
You may think that wearing lesser clothes will provide you cool on top of showing up the opportunity of the six-packs you have made visible working hard throughout the last winter. So, instead of covering up with breathable attires, you may commit the blunder of going out with close-fitting spandex for abs show-up.
Doing so will amount to cause sunburn all across the body surface. Therefore, find full-sleeve sportswear that is pure cotton and moisture-wicking fabrics.
Make Refreshment a Fashion Statement
When you are going through the busy round of golf daring the angry sun, you must release a sigh of relief at the sight or thought of a wet towel. You will desperately want to have it around your neck and you should have. You can re-soak it with water from the wholes. What if you avail a terry cloth and Icy-Cools neoprene to make a wet neck bandana out of them?
On its top, you can use the same bandana when dry to swing your club firmly affixed by the trendy accessory.
Let the Grass Grow High
Conserving energy is the prime trick when a golf game is closer. That is why health experts and veteran golfers suggest that you cut down on your outdoor pastimes and undertakings that involve physical labor. And the common outdoor undertakings include mowing the lawn grass not to let them grow high, weeding, and hose washing them. Besides getting injured, this may risk you losing energy pretty crucial for the next day's golf tournament.
Therefore, let the lawn grass grow higher by not mowing them. Instead, engage yourself in chores indispensable to golf which is to smack a little ball by a big clubhead. Retire from mowing, weeding, and watering the lawn or kitchen garden until the game is over.
Takeaway…
To retain the fun and relaxation of playing golf, you must stay cool on a humid day. And the tips and tricks above will not fail you in daring the hot summer sun and you can end up scoring you the best along with keeping hale and hearty. Whether you are a novice trying to master the golf techniques or a master golfer, these are the necessary precautions not to slip by. So, stay safe and happy after a hot weather golf match by following the 10 tips on how to stay cool on the golf course.
Read: How to watch the Masters Golf Tournament online?
Amazon and the Amazon logo are trademarks of Amazon.com, Inc, or its affiliates.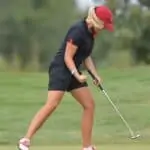 Daisy is the Founder and Editor in Chief of Golfs Hub. She is associated with Golf for more than 20 years. She got the inspiration from her father. She is a very private person & doesn't like to be photographed. She's worked in nearly every job in the golf industry from club fitting to instruction to writing and speaking. Now she is enjoying her retirement from day job... but not from Golf! Daisy lives in southeasternmost part of New York state with her family.