As an Amazon Associate, I earn from qualifying purchases. There is no extra cost to you. Thank you if you use our links; we appreciate it! Learn More.
Sweaty hands are never fun, whether you're golfing or not. As conditions worsen, especially during summer, the last thing you'll ever want is to re-focus on gripping your club every once in a while.
While making you lose your grip and your finesse, sweaty hands considerably lower your self-esteem as well. As a result, reaching your desired game tempo and improving your scores becomes a backbreaking task when you hit the course like this. So, no matter how your mates tackle or ignore this issue, you must find a way to keep your hands to get your game running in your flow.
And that's where we come in. Here, we'll share eight tips on how to keep hands dry during golf that will hopefully help you spare yourself of any potential embarrassments.
How to Keep Hands Dry During Golf?
Using a specialized golf glove made for humid weather or for rain will deal with sweaty hands, but not entirely. So, you need to follow some more tips for handling sweaty hands in golf!
Change Your Gloves Every Few Rounds
Changing gloves frequently is the easiest way to avoid sweaty hands. However, it may prove to be a bit expensive as well. Even so, nothing's too costly if you have the will and put your money to good use. So if possible, have several golf gloves by your side and rotate them in between the rounds, so each one (and your hand) gets enough drying time.
Use Rain Gloves
The next best way to keep hands dry while playing golf is using rain gloves. When it's rainy outside, a good pair of rain gloves will help you grip your club more conveniently. However, sweaty hands also benefit from them too. When you wear these rain gloves, you can continue to have a loose yet firm grip on your golf club rather than having white knuckles trying to maintain your grip.
Read: Choosing the best golf gloves for winter
FootJoy Men's RainGrip Golf Gloves are an ideal choice if you want a pair of golf gloves that will keep you dry on the course. These waterproof golf gloves are always tacky, whether it's summertime or the rainy season, making it easier to grip the club even if your hands are sweaty. Furthermore, they'll keep your hands warm in winter for good measure.
Read: What hand do you wear a golf glove on?
Get New Golf Grips
It's possible your grips are much too slippery, and they're causing the trouble. If that's the case, having the correct golf grip can make a huge difference. Golf grips help sweaty hands because they keep one's grip on the golf club firm while wearing them. While some golfers prefer soft rubber grips, others prefer corded ones.
Corded golf grips, however, get the upper hand when it comes to dealing with extraordinarily sweaty hands as they're usually tackier on your hand than their rubbered counterparts.
Carry Extra Towels
In summer, it's also a good idea to carry several towels once you've already managed the proper grips and gloves. You may want to have a stash of small towels handy (pun intended!), so you can wash and moisturize your hands right away.
Keeping one for your face, one for the clubs, and a few more for your hands is usually the best practice. Having wet towels nearby is also helpful for keeping you cool, hence reducing sweat on your hands. Having a towel tucked inside your pants pockets comes in handy as well, so you can wipe off your hands right before hitting the ball.
However, we suggest avoiding golf towels as they usually don't have the best absorbing capacity and are only good when removing dirt or grime from the clubs. For keeping your hands dry, purchase regular towels instead, preferably microfiber gym towels, since they are more sweat absorbent.
Try Dry Hands Products
Depending on your preferences, you can choose from a wide range of dry hands products to get rid of sweaty hands. Among golfers, some prefer completely dry hands products while others the sticky ones. Everyone can find something they enjoy, no matter what their preference may be. You can choose from the following:
Grip boost sprays work wonderfully, keeping your hands sticky enough to grip your golf club and take shots without slipping. Applying once is all it takes to make you stop using more than you should. Compared to other products, it tends to last longer too.
Dry hands gym chalk is another effective alternative. It might make your hands a bit chalky, but it keeps your sweat at bay.
Sticky towels, such as Gamma Tacky Towel Grip Enhancer, are also effective. Once you stick it around your hands, grip, or gloves, you'll be all set for the rest of your game.
Use Baby Powder
If you're wondering how to keep hands dry while golfing on a tight budget, opting for baby powder instead of all the above products can be a clever hack. It can surprisingly work nearly as well as gym chalk if you spread it a little over your hands.
Wear a Sweatband Around Your Wrists
Your golf swing can feel very different when you are wearing a sweatband around your wrist. However, it's up to you whether you like it.
It will undoubtedly keep some sweat from rolling down inside your gloves. However, if it compromises your golf swing, it isn't worth it. As a first step, we recommend checking out one of the products above, then adding this if needed.
Speed up Your Game
Want to know how to keep your hands dry while playing golf without spending a dime?
Just speed up your game.
Make your shots as fast as possible to prevent sweat from accumulating in your hands. Rather than spending 60 minutes drying your hands and hitting the golf ball, you should reduce the time to 10 to 15 minutes. That's why it's essential to have a golf towel tucked inside your pants, for you'll be able to take your shots more quickly and sweat-free.
Read: How to play golf in the heat?
Final Thoughts
As easy as it is to overlook something like sweaty hands when comparing it with everything else that goes into playing golf, take charge of what you can.
Take advantage of some of the techniques listed above, including wearing rain gloves, carrying extra towels, and having the proper grips. In fact, wearing a pair of top rated golf gloves for sweaty hands can contribute immensely to both improving your swings and increasing your comfort.
Hopefully, the above tactics will help you keep your hands dry while you golf during the summer and prevent sweaty hands from spoiling your fun!
Amazon and the Amazon logo are trademarks of Amazon.com, Inc, or its affiliates.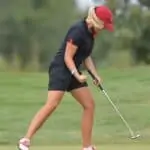 Daisy is the Founder and Editor in Chief of Golfs Hub. She is associated with Golf for more than 20 years. She got the inspiration from her father. She is a very private person & doesn't like to be photographed. She's worked in nearly every job in the golf industry from club fitting to instruction to writing and speaking. Now she is enjoying her retirement from day job... but not from Golf! Daisy lives in southeasternmost part of New York state with her family.