As an Amazon Associate, I earn from qualifying purchases. There is no extra cost to you. Thank you if you use our links; we appreciate it! Learn More.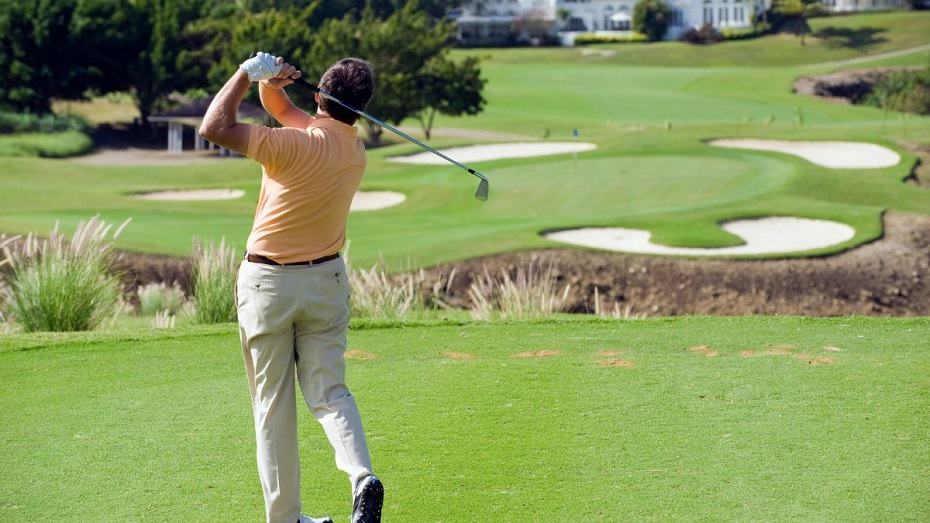 The temperature in the golf course is never too mild but sometimes it might be wild enough to reach the peak. Therefore, you must be ready to play hot and dry while playing summer golf when the temperature keeps most at or around the 80s.
But what will you do when there is a forecast that on a given day, the temperature may reach 100 degrees? You may decide to stay off and sacrifice the booking fee. However, smart planning and precaution can throw a tough challenge to the burning sun, and playing golf in 100 degree weather may provide you with ecstasy.
6 Secrets of Playing Golf in Extreme Heat
Below you go with 6 secrets to beat even the high temperature in the desert golf in September.
#1. Hydrate Yourself
When you are playing golf under the hot sun that is heating the earth at 100 degrees temperature or around, you cannot wait to get thirsty and then drink. Rather, you should keep your water intake on without getting too heavy in your belly so that you cannot move swiftly as golf requires.
To make clear, you should drink a few sips of water before you land on the course and keep drinking a considerable amount at regular intervals. Drinking no water until the front nine is done and drink as much as half a gallon when it is over will be too foolish to avoid dehydrating. What is even more crucial is to keep other liquid intakes at bay. It should be only water and no beer. The modern carts in the golf course tend to have water coolers in them.
#2. Sunscreen
It would be a wrong notion to keep focused only on physical strength and fitness while outdoor sports are involved. When you have to play staying exposed to scorching heat, sunburn is a common issue to invite if you are not careful to protect your skin. It's not about keeping the fairness of your skin; the matter is ever serious.
If you play under the raging sun for a longer period, you are under the constant threat of skin cancer. A top-quality sunscreen is an unavoidable recommendation here to prevent the onslaught of burning sun and its ultraviolet rays.
#3. Snack a lot
When the sun is raging at its top, frequent water intake may keep you hydrated to the highest but what will compensate for your calorie burn.
In this regard, there is no alternative to go proactive in energizing yourself to keep up with your normal performance level. And the best way to do this is to snack as much as you can.
Given the stress of the game and the heat, you cannot eat too much what you shouldn't do either but you should have your snacks so long your rounds are on.
#4. Do not miss the shade
You must not miss any opportunity to be under the shade even if it is for the shortest period. You will come across nobody standing under the scorching sun when he has a scope to be away from the tee box.
And if you cannot afford to be away from the tee time for long, get your small cotton towel soaked with cool water and wrap it around the neck. You can feel the magic instantly as it will bring you quickly back to your normal state.
#5. Put on a Hat
It is the head skull and face that receives the intense attack from the rising temperature and so you become affected immediately. There is a way out to keep the fierce heat blocked. A wide-brimmed hat will be a great help to keep the direct sun off your head and face.
On top of keeping you cooler, a hat will bar the angry sun from frying your forehead and heating up the neck.
#6. Conserve Energy
If you do not want your $30/40 to go in vain and plan to attend the rounds in the golf course, the first thought that comes to your mind is how to spend less energy or conserve your energy. To do so, you must take a lot more rest than you usually do and avoid everything that may cause overexerting yourself.
Veteran golfers opine that the two most important things to challenge 100 degrees of weather include conserving energy and staying hydrated.
Takeaway…
Now, you have learned how to face the raging sun in summer golf. But you should not risk certain health issues when the heat is too extreme. Otherwise, these are the secrets to succeed in playing golf in 100-degree weather and keeping your pro-level up.
Read More:
Amazon and the Amazon logo are trademarks of Amazon.com, Inc, or its affiliates.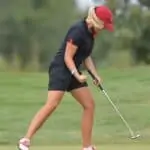 Daisy is the Founder and Editor in Chief of Golfs Hub. She is associated with Golf for more than 20 years. She got the inspiration from her father. She is a very private person & doesn't like to be photographed. She's worked in nearly every job in the golf industry from club fitting to instruction to writing and speaking. Now she is enjoying her retirement from day job... but not from Golf! Daisy lives in southeasternmost part of New York state with her family.