As an Amazon Associate, I earn from qualifying purchases. There is no extra cost to you. Thank you if you use our links; we appreciate it! Learn More.
If this is your first time playing golf, everything can be extremely daunting and overwhelming, especially when choosing what to wear and use. Wearing the proper attire and using the correct equipment will allow you to have a fun, comfortable, and hassle-free golfing experience. So when looking for golf equipment and uniform, you must consider different sizes, colors, styles, and types.
Also, it would be best to ask for advice and take suggestions from professional golfers. They can help you choose high-quality equipment without spending too much. With their help, you are sure that you won't be spending on things that you don't need.
Since you're a beginner, there's no need to invest in highly specialized tools, such as GPS trackers and the like. All you need is to learn the basics of golf, including the proper uniform and the use of every club, that may help you play golf better. But once your swing improves, you may consider investing in much better golf gear that best suits your style.
So to help you further, here's a beginner's guide about golfing essentials if you want to learn and discover more before swinging your club.
What Should You Wear When Playing Golf?
Similar to any other sport, golf has proper clothing decorum every player would need to follow. In that case, it's essential to check if the golf club you're planning to visit has specific dress codes. These rules are crucial to be familiar with as they help golf clubs maintain the sport's sacred tradition.
In addition, it's often difficult for most newbies to determine what is right. So, it's crucial to wear appropriate golf attire to avoid disrespecting and distressing the club. With that in mind, check out their website and call them if there's any confusion that needs clarification before you step out of your house.
On top of that, here are some golf wears you need to know and some tips that will help you dress properly:
Golf Shirts: Usually, golf shirts are collared shirts made with cotton or microfiber. You can also have it printed with a club or association logo. If you need someone to print colorful designs on your golf shirt, you may visit Printful or your local clothing printing services.
Golf Trousers: Just like golf shirts, golf trousers are usually cotton or polyester-made. Some golf clubs allow men to wear jeans, but it's very uncommon. Women golfers may wear short skirts or three-quarter trousers other than long trousers.
Golf Shoes: Golf shoes are essential for the game. The right pair of shoes will help you aim and swing correctly and provide a strong grip as you walk around the field. Usually, golf shoes have soft spikes that often come in plastic or metal.
Golf Gloves: These are optional, but you'll need this to improve your grip if you plan to play golf for a long time. However, only one glove should be used. For example, right-handed golfers wear left-handed gloves, and left-handed golfers wear right-handed gloves.
Read: How to stay cool while golfing?
What Are The Essential Golf Clubs You Need?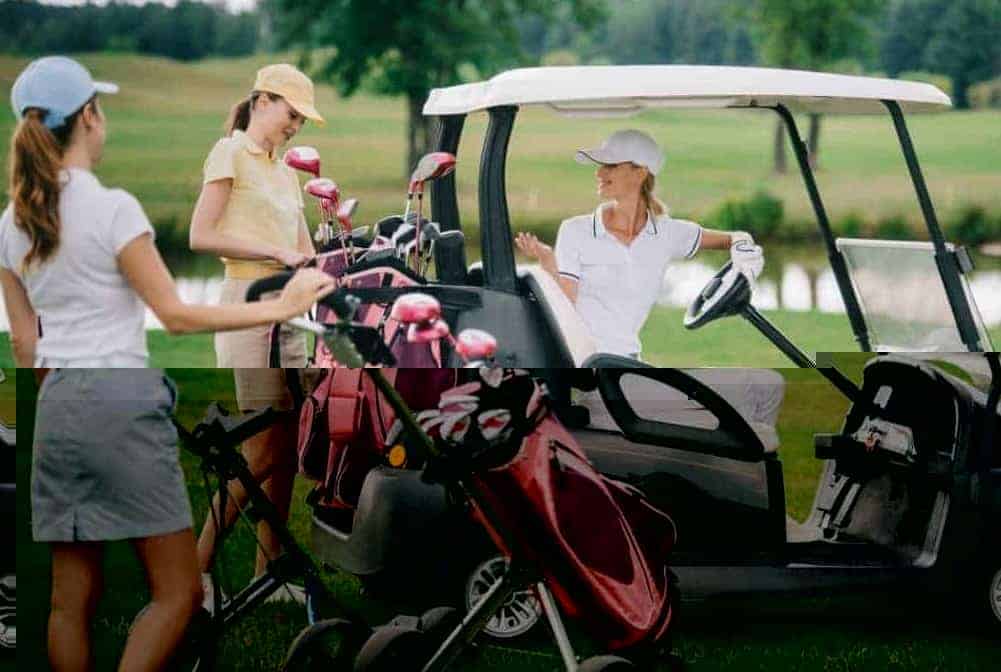 Golf clubs are the most important equipment to help put the ball in the right hole. Most people would assume that a top-of-the-line golf club is necessary to play golf in the best possible way. However, this is not always the case. You can also play golf well even if you use the cheapest club in its class. What matters the most is how you use it properly.
There are plenty of golf clubs you can choose from, so it can be hard to decide what to use in the green. Since you're a beginner, it would be best to go for package club sets. These allow you to achieve a perfect swing and shoot your first hole-in-one. Consider purchasing a 12-piece club set to let you experience the wide range of essential equipment available. Here is what an average golf set contains:
Read: How do I stop topping the golf ball with my driver?
In addition, it's important to know that a golfer is only allowed to carry 14 clubs around the golf course while playing a single golf round. However, many players would want to add another wedge to their collections, especially a hybrid or specialized wedge.
Read: Secrets of golfing in extreme heat
How To Pack A Golf Bag?
Knowing where you put everything in the bag is crucial to the game, especially for many beginners like you. As much as possible, you want to arrange everything in a way that will help you easily change clubs during the game.
Usually, a golf bag has four distinct areas: one in front, two in the middle, and one at the back. However, each golf bag may vary, so it's good to keep this in mind. In that way, you know what you'll need when you purchase your first-ever golf bag.
Furthermore, if you're playing in a country with unpredictable weather, you might need to consider having a waterproof golf bag to protect your essentials inside.
What Are The Things You Need To Know About Golf Balls?
You will never be able to play golf without a golf ball, even if you're only playing hole-in-one in your backyard. Also, it's the only thing that you will use in the entire game. So, it's vital to find the best one on the market to help you stay on top of your friends.
When choosing a golf ball, pick the one that fits your style. Here are some things you might need to consider:
Golf balls are usually made of Surlyn or polyurethane cover. A Surlyn ball evokes a more compact feel, while a polyurethane cover offers a soft and controllable grip.
Golf balls usually have dimples with different patterns that minimize the drag and increase the lift when being hit.
Golf balls come in different layers. Two-layer golf balls are best for long distances fit for beginners. Three-layer is best for a shorter distance but offers good control. Four-layer is best utilized by expert players with a powerful and controllable swing.
Using this guide, you'll be able to find the golf ball that is perfect for your current needs.
Final Words…
Golf is one of the games that will test your determination and drive you to win. However, playing golf can be daunting, especially for beginners like you. It may overwhelm you with different golf clubs, golf balls, and uniforms.
When choosing golf attire, it's best to communicate with the association you're planning to visit to avoid upsetting them. When looking for the best clubs and balls, always consider what best suits your style and comfort. It doesn't matter if they're expensive or not. What matters the most is how you play the game.
Amazon and the Amazon logo are trademarks of Amazon.com, Inc, or its affiliates.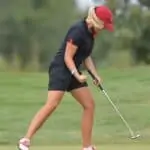 Daisy is the Founder and Editor in Chief of Golfs Hub. She is associated with Golf for more than 20 years. She got the inspiration from her father. She is a very private person & doesn't like to be photographed. She's worked in nearly every job in the golf industry from club fitting to instruction to writing and speaking. Now she is enjoying her retirement from day job... but not from Golf! Daisy lives in southeasternmost part of New York state with her family.