As an Amazon Associate, I earn from qualifying purchases. There is no extra cost to you. Thank you if you use our links; we appreciate it! Learn More.

Any golfer knows that the right equipment can make all the difference to your game.
The right kind of clubs, given that they fit your skills, features, and playing techniques, can uplift your play immensely. However, getting custom-made golf clubs, while really beneficial, can be daunting and expensive.
In this article, we're touching upon the topic of getting custom, fitted golf clubs and how expensive they can be, while telling you everything else you need to know for your personal set of clubs. For more tips and information on getting custom-fitted golf clubs, as well as high-quality golfing accessories and clubs, check out AdeptGolf.
Why Get Custom-Fitted Golf Clubs?
So, first things first, it is important to address the elephant in the room and tell you why getting custom-made golf clubs is a thing.
Like you might already know, golf clubs are crucial for the game. They're to a golfer, what gloves are to a boxer. On the green, clubs are your primary tool.
Now ready-made golf clubs are created with certain demographic averages, so a lot of the time they tend to be either too heavy, too bulky, don't fit your hand, or simply just don't feel comfortable. Getting custom-fitted clubs ensures that your tool doesn't give you any disadvantages, and instead becomes an extension of yourself. Perfectly attuned to you.
There is often the perception that only pros should get custom clubs but they can be great for beginners too. It can help you forgo a lot of the problems that most novices face at the beginning. Fitted golf clubs can make playing much more comfortable, and they're a great investment if you're in this for the long haul if you plan to go on playing golf.
For matching golf clubs you can also use BioMatch Technique.
What To Remember Before Getting Custom-Fit Golf Clubs?
While you are getting your golf clubs fitted, there are four things that you will have to address: shaft length, shaft flex, lie angles, and of course, the grip size.
Shaft Length
Shaft length is, of course, the length of the shaft of the club. Most people tend to think that shaft length is determined by your height, but that is only one of the factors. Other than taking into consideration how tall you are, arm length is also something to remember. If you want to get an understanding of how long the shaft should be, get yourself into the basic golf stance, and then measure the distance from the floor to your wrists. However, you may have to also consider your other playing habits, like how you swing.
Shaft Flex
Next comes shaft flex. In case you didn't know, shaft flex is basically the ability of the shaft to bend when you apply pressure or force to it. Now the kind of shaft flex you should look for depends on how fast you swing. If you're in the 70-90 mph range, a normal flex driver works fine. From the 90-105 mph is stiff, and anything more than that requires extra stiff shaft flex.
Read: How To Hit Your Driver Straight Every time?
Lie Angles
The third thing that needs to be considered is lie angles. This is a bit more technical so you might want to sit down and take your time to read this. So, in layman's terms, the lie angle is the angle that is between the shaft and the ground, and it involves the top of the shaft and the bottom of the club.
When you go to get your golf club fitted, they'll measure the lie angle by sticking some tape on the bottom of your club and ask you to hit golf balls that have been placed on a blackboard. Once you've done that, they'll measure where your clubhead comes through at impact. This will then determine the lie angle that would be best for you.
Grip Size
Last but not least, you need to evaluate the grip size. As you might have already known, a good grip is crucial for a strong swing. A proper grip is also what most people tend to struggle with, so it's worth getting your clubs fitted. Unlike the ones above, which are a tad bit more complicated, checking the right grip is easy.
All you need to do is hold a golf club and stand in a stance like you're about to swing and hit the ball. Now, check the positioning of your left hand. If your middle and ring fingers are just touching your palm, the fit is perfect. Too far apart and it's too big, whereas if it's too close, the grip is too small.
How Much Do Golf-Fittings Cost?
Coming down to brass tasks – how much will it cost to get your golf clubs fitted?
Now there is no mistaking that custom-fitted golf club sets are much more expensive than any ordinary, run-of-the-mill golf club set. Compared to a normal golf club set that ranges from $400 to over $2500, a custom-made and fitted golf club set will easily reach almost a couple of grand.
However, there are a ton of factors that go into how much your fitted golf set will cost. For instance, you can have only certain clubs customized and let the rest be, depending on what works for you. If you do choose to have the entire set fitted, the number of clubs you have will also determine the final price.
But, to give you a basic idea, it is safe to say a well-fitted set of custom golf clubs will set you back about $2000. Since the process will involve fitting sessions by professionals, you will also have to pay about $100-$200 per hour or per session.
Though custom-fit golf club sets are expensive, they can make your play much smoother and help you get your stance and your swings right. Even when you are just starting out. But having said that, it might not be possible for everyone to get one and if you aren't sure about whether you'll continue playing golf, a huge investment like this might go to waste. So take your time to consider the decision, and chart out the probable expenses before you get started.
Read More:
Amazon and the Amazon logo are trademarks of Amazon.com, Inc, or its affiliates.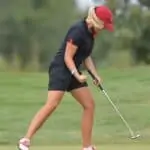 Daisy is the Founder and Editor in Chief of Golfs Hub. She is associated with Golf for more than 20 years. She got the inspiration from her father. She is a very private person & doesn't like to be photographed. She's worked in nearly every job in the golf industry from club fitting to instruction to writing and speaking. Now she is enjoying her retirement from day job... but not from Golf! Daisy lives in southeasternmost part of New York state with her family.