As an Amazon Associate, I earn from qualifying purchases. There is no extra cost to you. Thank you if you use our links; we appreciate it! Learn More.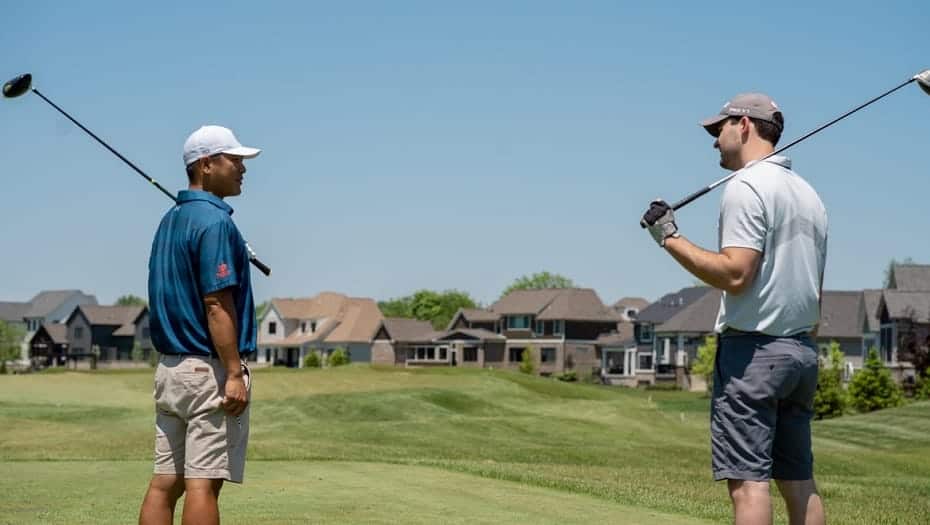 While putting is arguably the most important part of golf, there's no better feeling than piping a long drive right down the middle of the fairway! Unfortunately, the driver is the most difficult club in the bag to hit due to its long length. However, with a few lessons from the PGA teaching pros at Bird Golf Academy, anyone can hit it long and straight off the tee.
Want to learn how to hit your driver straight more consistently? Tired of losing golf balls due to errant tee shots that end up in the trees or water? Here are the five best tips for hitting straighter drives!
How To Hit Your Driver Straight Every Time?
1. Find the Correct Tee Height
A key element to hitting a straight drive is to tee the ball up correctly. Have you ever heard of the saying, "Tee it high and let it fly?" Well, that famous phrase is correct but only to a point.
Teeing the ball too high can lead to a drive that is hit too high in the air and will cost you some major distance. On the other hand, teeing the ball too low can result in those annoyingly low "worm burner" drives that your buddies love to laugh at.
For the ideal tee height, about half of the golf ball should sit above the driver's clubface. This will enable you to "hit up" on the ball, which will increase your chances of landing your drive in the short grass! There's nothing more beautiful than a long drive in the fairway!
2. Ball Placement in Your Stance
Too many times we see golfers who don't have the correct stance while hitting off the tee. Lots of folks prefer to play the ball more towards the middle of their stance because that's how they hit their other shots. However, this leads to shorter drives and wicked bouts of inaccuracy off the tee.
When you set up to hit your drive, make sure the ball is placed near your front foot. A good rule of thumb is to line in the ball just inside your left heel (for right-handed golfers). This will also allow you to "hit up" on the ball more easily and will lead to longer drives!
3. Use a Wide Stance with Knees Bent
A hidden key to hitting straight drives is having good balance throughout the golf swing. A wide, athletic stance will help keep you from moving your head during the swing. It will also help you generate more power and torque.
Also, remember to keep your knees slightly bent. This will engage more of your core and lower half for an even further drive. Make sure your weight is on the balls of your feet and not on your heels.
4. Check Your Grip
It has been said that the grip is one of the most important parts of the golf swing since it's the only link between you and the golf club. If you're constantly slicing the ball (hitting it too far right for a right-handed golfer), your grip may be too weak.
We aren't talking about grip pressure or how hard you're gripping the club. We're talking about hand placement on the golf club. Here's a quick grip check that you can do in only a matter of seconds.
Take your normal grip on the golf club.
If you can see one knuckle or less on your left hand, your grip may be too weak.
If that's the case, adjust your grip to where you can now see two knuckles.
This is the perfect neutral grip and will lead to straighter drives.
5. Take a Smooth Swing
We saved the most important driving tip for last. One of the main causes of wayward tee shots is overswinging! A common mistake when hitting the driver is having the all or nothing mentality.
How many times do you see a muscle-bound guy who is intent on trying to murder the golf ball? The majority of the time these poor guys end up playing from the wrong fairway (if they can even find their ball)! This happens because their hands are so tight that it makes it nearly impossible to close the clubface.
Golf is a counterintuitive game. Oftentimes the harder you swing the club, the worse the results. Practice taking smooth swings with your driver. This will allow you to square the clubface more easily which will result in straighter drives.
Having a hard time learning how to not overswing? Here's a quick tip that could help you immediately. Instead of thinking about driving the golf ball, have the mindset that you are simply wanting to clip the top of the tee. This simple change in your thought process could help you start to take smoother swings!
Until next time, hit 'em long and straight!
Read More:
Amazon and the Amazon logo are trademarks of Amazon.com, Inc, or its affiliates.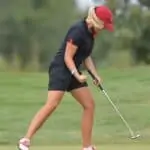 Daisy is the Founder and Editor in Chief of Golfs Hub. She is associated with Golf for more than 20 years. She got the inspiration from her father. She is a very private person & doesn't like to be photographed. She's worked in nearly every job in the golf industry from club fitting to instruction to writing and speaking. Now she is enjoying her retirement from day job... but not from Golf! Daisy lives in southeasternmost part of New York state with her family.