As an Amazon Associate, I earn from qualifying purchases. There is no extra cost to you. Thank you if you use our links; we appreciate it! Learn More.
The 3 wood is one of the clubs in a golfer's bag. It is also known as the "fairway wood" because it is designed to be used when the ball is sitting on the fairway. The 3 wood typically has a shorter shaft than the driver, and it also has a smaller head. The club is used to hit the ball a long distance, and it can also be used to get out of tough situations.
A 3 wood is a versatile and powerful club that can be used for a variety of shots, but it's important to know how to hit it correctly if you want to avoid common mistakes. In this blog post, we'll give you some tips on how to hit your 3 wood straight, including the key elements of a proper swing and some common mistakes to avoid.
Why you should use a 3 wood?
The benefits of using a 3 wood
A three wood can be an extremely versatile and effective club, especially when used correctly. Some of the main benefits of using a three wood include:
The ability to hit the ball further than with a driver or other clubs. This is due to the larger head size and longer shaft of the three wood.
The three wood is also more forgiving than other clubs, meaning that it is easier to hit straight shots with it. This is due to the fact that the sweet spot on the club face is larger than with other clubs.
The three wood can be used for a variety of different shot types, such as tee shots, fairway shots, or even approach shots into the green. It is a very versatile club that can be used in many different situations.
Read: Why can you hit your 3-wood straight but not your driver?
The key to hitting your 3 wood straight
The key to hitting your three wood straight is in the setup and swing mechanics. A proper setup will allow you to make a smooth swing that hits the ball squarely on the sweet spot of the club face, resulting in straighter and longer shots. Additionally, proper swing mechanics will help ensure that you are making consistent contact with the ball and not slicing or hooking it.
How to set up for your 3 wood shot?
The proper stance for hitting your 3 wood
When setting up to hit your 3 wood, you want to make sure that you have the correct stance. The best way to do this is to place your feet shoulder-width apart and parallel to the target line. You also want to make sure that your weight is evenly distributed on both feet.
How to grip your 3 wood?
The next thing you want to do is take a look at how you are gripping the club. For a 3 wood, you want to grip the club in your fingers, not in your palm. This will give you more control over the club and help you hit the ball straighter. You also want to make sure that you are gripping the club lightly; if you grip it too tightly, you will tend to slice the ball.
The 3 wood swing
The backswing
To start the backswing, take a step towards the target with your left foot if you are right handed. This will help shift your weight to the left side. Then, take your club back keeping your arms close to your body. At the top of the swing, your shoulders should be rotated 90 degrees and your wrists should be cocked.
The downswing
On the downswing, start by unlocking your wrists and then shifting your weight back to the right side. As you do this, keep your eyes on the ball and make sure not to over-rotate your hips. As you approach impact, make sure that the clubface is square to the ball and that you are hitting it in the sweet spot.
The follow through
After impact, follow through by continuing to rotate your hips and letting your arms extend out towards the target. Your head should also stay down until after the club has finished its swing arc.
Common 3 wood mistakes and how to avoid them
Mistake #1: Incorrect club selection
One of the most common mistakes made with the 3 wood is using the wrong club. Many golfers think they can just grab any old 3 wood and it will do the job, but that's not the case. The loft, shaft length, and weight of the club all play a role in how well you hit the ball. If you're unsure which club to use, ask a professional or take a few practice swings with different clubs to find one that feels comfortable.
Mistake #2: Poor swing mechanics
Another mistake that leads to poor 3 wood shots is incorrect swing mechanics. A lot of golfers try to hit the ball too hard with their 3 wood, resulting in a slice or hook. Instead of swinging for the fences, focus on making a smooth, controlled swing. The speed will come naturally if you have good form.
Mistake #3: Not practicing
As with anything in life, practice makes perfect when it comes to your 3 wood swing. Take some time to hit balls at the driving range or even in your backyard before heading out to the course. The more you swings you take, the better muscle memory you'll develop and the straighter your shots will become.
Frequently Asked Questions
Why do I struggle hitting 3 wood?
There are a few reasons you may be struggling to hit your 3 wood. The first is that the club may be too long for you. The second is that the clubface may be open, meaning the sweet spot is not in line with the center of the clubface. Finally, you may be gripping the club too tightly. Try these tips to see if they help you hit your 3 wood better:
Use a shorter shaft: If you are using a standard length shaft, try using a shorter one. This will help you control the club better.
Check the clubface: Make sure the clubface is square to your target. An open clubface will make it harder to hit the sweet spot.
Relax your grip: A tight grip will cause the club to twist in your hands and make it difficult to hit the ball squarely. Try relaxing your grip and see if that helps.
Where should a 3 wood be in your stance?
There are a few different opinions on where a 3 wood should be in your stance, but the most common answer is that it should be in the middle. This is because a 3 wood is designed to have a lower loft than a driver, which means that it will hit the ball further and with more accuracy if it's in the middle of your stance.
Another reason why the 3 wood should be in the middle of your stance is because it's easier to control. If you have the 3 wood too far forward in your stance, you might slice the ball. If you have it too far back, you might hook it. But if it's in the middle, you're more likely to hit the ball straight.
So if you're wondering where your 3 wood should go when you set up to your shot, remember that the middle of your stance is always the best place for it.
Do you hit a 3 wood like an iron?
Do you tee it up high and hit down on it? Or do you tee it low and hit up on it?
If you answered yes to either of those questions, then you're not hitting your 3 wood correctly.
You see, a 3 wood is designed to be hit off the ground, just like an iron. And just like an iron, you want to tee it up in the middle of the clubface.
From there, you want to make a normal golf swing. That means taking a nice, smooth backswing and making contact with the ball squarely in the middle of the clubface.
If you do that, you'll find that your 3 wood will go just as far as your driver. In fact, many times it will go even farther.
So next time you're out on the course, remember to tee your 3 wood up in the middle of the clubface and make a normal golf swing. You'll be surprised at how well it performs.
How far does the average man hit a 3 wood?
The average man hits a 3 wood 200 yards. The average driver hits a 3 wood 210 yards. The average professional golfer hits a 3 wood 240 yards.
How many yards should a 3 wood hit?
The answer to this question varies depending on a number of factors, such as the type of 3 wood you have, the loft of the club, your personal swing speed, and the conditions of the course.
That being said, a good general rule of thumb is that a 3 wood should hit anywhere from 160 to 210 yards.
Of course, there will always be exceptions to this rule, but if you can hit within this range consistently, you should be in good shape.
Is 3 wood the hardest club to hit?
It all depends on your skill level and how you swing the club. For novice golfers, 3 wood can be one of the hardest clubs to hit. But for more experienced golfers, it can be just as easy as hitting a driver.
The main reason why 3 wood is so difficult for beginners is because it has a much smaller sweet spot than a driver. The sweet spot is the part where you make contact with the ball on the clubface. When you hit the ball outside of the sweet spot, you will likely experience a mis-hit.
Is a 3 wood easy to hit?
The answer to this question is – it depends. If you are a beginner, then a 3 wood may be difficult to hit. However, if you have been playing for a while and have developed a good swing, then hitting a 3 wood should be no problem.
Do you hit up or down on a 3 wood?
The answer to this question really depends on your personal playing style and preferences. Some golfers prefer to hit their 3 wood off the tee in order to get more distance, while others find that they are more accurate when hitting their 3 wood from the fairway. Ultimately, it is up to you to experiment with both options and see what works best for you.
Why do i hit my 3 wood so high?
There are a few reasons why you might be hitting your 3 wood too high. It could be that the loft on your club is too high, or it could be that your swing is too shallow. It could also be a combination of both of these things.
If the loft on your club is too high, then you will need to get a new club with a lower loft. If your swing is too shallow, then you will need to work on making a steeper swing. You can also try adjusting your tee height to see if that makes a difference.
It's important to remember that everyone's golf swing is different, so what works for one person might not work for another. Experiment with different techniques and find the best that works for you.
Conclusion
If you're looking for a powerful and accurate fairway wood, look no further than the trusty 3 wood. This club can be tough to hit straight, but if you follow the proper steps and avoid some common mistakes, you'll be hitting your 3 wood like a pro in no time.
When setting up for your shot, make sure you adopt the proper stance and grip. From there, focus on making a smooth backswing and downswing, and finish with a strong follow through. Remember to practice frequently so you can master the mechanics of the swing and learn how to control your shots.
By following these simple tips, you'll be hitting your 3 wood straight and long in no time!
Amazon and the Amazon logo are trademarks of Amazon.com, Inc, or its affiliates.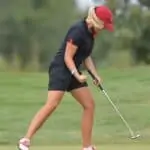 Daisy is the Founder and Editor in Chief of Golfs Hub. She is associated with Golf for more than 20 years. She got the inspiration from her father. She is a very private person & doesn't like to be photographed. She's worked in nearly every job in the golf industry from club fitting to instruction to writing and speaking. Now she is enjoying her retirement from day job... but not from Golf! Daisy lives in southeasternmost part of New York state with her family.