As an Amazon Associate, I earn from qualifying purchases. There is no extra cost to you. Thank you if you use our links; we appreciate it! Learn More.
Putting the ball on the tee is one of those routine things golfers do without even thinking a bit. They take it as the simple act of placing the tee in the ground, placing the ball on top thereof, and hitting it. However, it shouldn't always be that simple.
Setting the correct tee height can potentially increase your driving distance or reduce it as per necessity. Despite how it may sound, it isn't a gimmick.
Some golfers may choose to play from excessively high while a few others from too low tee heights. However, the truth is- there's no "right" tee height for everyone.
Does that sound puzzling?
No worries. Read ahead to find answers to "how does tee height affect driving distance?" and how you should fix yours accordingly.
Impacts of Golf Tee Height on Driver Distance and Flight
Your tee height determines how much loft you can use on your driver. With a slow swing, having more loft in the driver can help you a great deal. So if that's the case for you, maximizing your loft by teeing up the ball properly with the driver is critical.
Below are three essential scenarios involving tee height and how it affects driver distances.
Regular Tee Height
It is considered a ball's 'standard' or 'normal' tee height position when it has its equator on the same level as the golf club's crown.
Benefits
Positioned this way, the odds are significantly increased of landing a solid strike just in or near the club's sweet spot.
So ideally, this should be the height you are accustomed to since it can help you strike better more frequently. In addition, it should make you feel more comfortable at the address as you will see a set-up that is familiar to you.
Read: How do I stop topping the golf ball with my driver?
Drawbacks
By teeing the ball sub-optimally, you may lose some distance. The other cons could include more spin on your driver than needed.
When Is Regular Tee Height Necessary?
The regular tee height is ideal for those having difficulty with low ball flights. Teeing the ball slightly up can help you achieve improved ball heights and create better launch conditions.
Higher Tee Height
When you have positioned the ball high on the tee, the ball's center is higher from the ground than the clubface's top. Put simply, it's the one seeing over half of the ball above the clubface's crown. However, not all tee allows you to position the ball that high from the ground.
The immediate effect is that higher clubface contact creates more loft.
When the ball is positioned higher on a tee, it will allow it to hit the clubface's top half. Since drivers feature more rounded clubfaces, it'll generate more loft at impact than if it weren't.
Consequently, it leads to a higher than regular ball flight that can be helpful to use the strong tailwind effects.
Benefits
The benefits of a higher tee include low spin, and therefore, farther carry distances. Additionally, it may increase the smash factor, which measures ball speed due to the clubhead speed.
Drawback
Skying the ball is a possibility when you place the ball that high. The ball gets stuck by the club's top edge or even crown in this shot error instead of its actual clubface.
When Is a Higher Tee Height Necessary?
A higher tee height is proper whenever you need a higher ball flight. It can be particularly more helpful when riding a strong tailwind.
Since modern golf balls are designed to fly as far as they can, any golfer may consider teeing their ball a little higher and try to make the ball fly for a little longer.
Lower Tee Height
When you have positioned the ball low on the tee, the ball's center is against the clubface's bottom half. Put simply, it's the one where the ball and the clubface's lower half will be at the same level from the ground. It requires planting the tee deeply enough, keeping only a small portion visible above the ground.
The immediate effect is that lower clubface contact creates lesser loft.
When you position the ball low on the tee, it'll likely strike the clubface's lower half. The loft will be at its lowest because of the driver's slightly rounded clubface, sending the ball on a decreased ball flight.
Benefits
Low tee heights can help you narrow the angle of attack into the ball, creating low launch conditions, as well as reducing your driver's effective loft.
Getting this right will allow you to launch the ball low with a reduced spin, giving you a spectacular wind-busting trajectory. Having a lower tee also allows the ball to be shaped with sidespin.
Drawback
Without a narrow attack angle, chances are you'll add considerable backspin to the ball, which can stall the trajectory. A lower tee height can also lead to sidespins occurring more frequently.
When Is a Low Tee Height Necessary?
A lower tee is more beneficial to golfers who play links courses or rough grounds, allowing the ball to run low. In addition, it can be conducive if you consistently have difficulty with high flights.
Frequently Asked Questions
Does tee height affect driving distance?
Sure it does. And you must now have a clearer picture of how it affects your driving distance from our above discussion.
Read: Ways to get more distance in golf
How high should my tee be when driving?
Having half of the ball over the clubhead's top at the address is usually the optimal height for your driver.
Modern deep face drivers have 460 cubic centimeters, so you'll need a considerably larger golf tee height for 460cc driver.
Some of the best quality golf tees come in extra-large sizes. To find the perfect place for your driver, you will simply have to push them down. If you use a small driver with very short tees, you're going to lose plenty of yardages.
How does tee height affect ball flight?
Backspins notably affect ball flight, and how your club strikes the ball can significantly add to it. The tee height can also play a part in it, which your driver can help illustrate.
Teeing up your driver allows you to hit the ball higher with a low spin, which in turn causes a high ball flight.
Does tee height matter?
Yes, having consistency in the tee height you use for each club is crucial. It can profoundly affect the ball's spin rate on each shot execution. Using the correct tee height with the driver can even give you significant yardage gains.
Do you need different tee heights for different clubs?
When using irons and hybrids, you'll want to tee the ball shallow, just off the grass, while fairway woods will require teeing up a couple of centimeters more.
Some people prefer hitting fairway woods instead of a minimal tee, so this may vary based on personal preference.
A few may also like a lower tee for the driver. It's an excellent wind-beater that creates a sweeping swing path with lower launches and spins.
| Clubs | Loft (Degrees) | Recommended Tee Height(millimeters) |
| --- | --- | --- |
| 460cc Driver | 10 | 30.25 |
| 350cc Driver | 10 | 20.86 |
| 3-Wood | 16 | 11.65 |
| 3-Iron | 21 | 11.62 |
Does tee height affect slice?
The tee height can help in reducing the slice because it enhances the path you're taking into the ball. Focusing on hitting up will lessen your sidespin, consequently lowering your slice.
Thoughts…
In golf, too many variables come into play. While some parts of it make the game so fascinating, others make it so awful.
And the tee height is something of that sort you'll want to eliminate right away.
So, try to figure out what height works best for your driver and your swing across the areas you struggle most and make sure you practice it consistently.
Amazon and the Amazon logo are trademarks of Amazon.com, Inc, or its affiliates.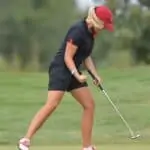 Daisy is the Founder and Editor in Chief of Golfs Hub. She is associated with Golf for more than 20 years. She got the inspiration from her father. She is a very private person & doesn't like to be photographed. She's worked in nearly every job in the golf industry from club fitting to instruction to writing and speaking. Now she is enjoying her retirement from day job... but not from Golf! Daisy lives in southeasternmost part of New York state with her family.