As an Amazon Associate, I earn from qualifying purchases. There is no extra cost to you. Thank you if you use our links; we appreciate it! Learn More.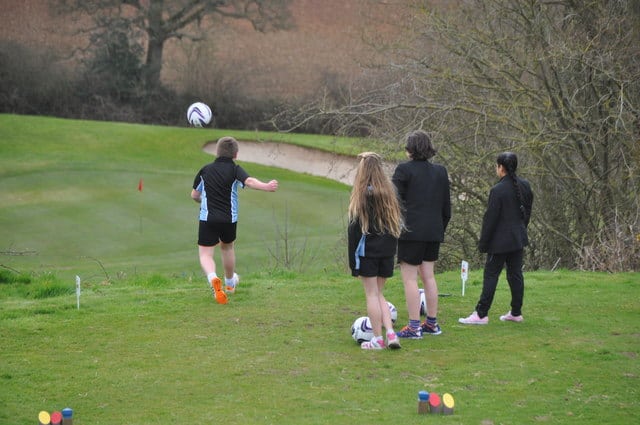 Like a perfect marriage between golf and soccer, Footgolf is gaining its foothold around the world quite rapidly. If you are into Las Vegas and have some free time you want to spend into great outdoors, Footgolf is a must-try. Playing footgolf is a great way to indulge in golf courses without actually playing golf and spending half of the day.
Footgolf is far better when it comes to saving time and having some fun time with your pals. You can finish it off quite rapidly and spend the rest of your day sightseeing. It will save time to do anything else you might have in your bucket list for Las Vegas. But you can still have the same excitement as sports like golf or soccer.
Footgolf is by no means any less challenging than any other regular sports.
So if you are genuinely interested in trying out this new game, let's find out more about the Footgolf Courses In Las Vegas, shall we?
Read: Best Golf Pushcarts
Top 3 Footgolf Courses In Las Vegas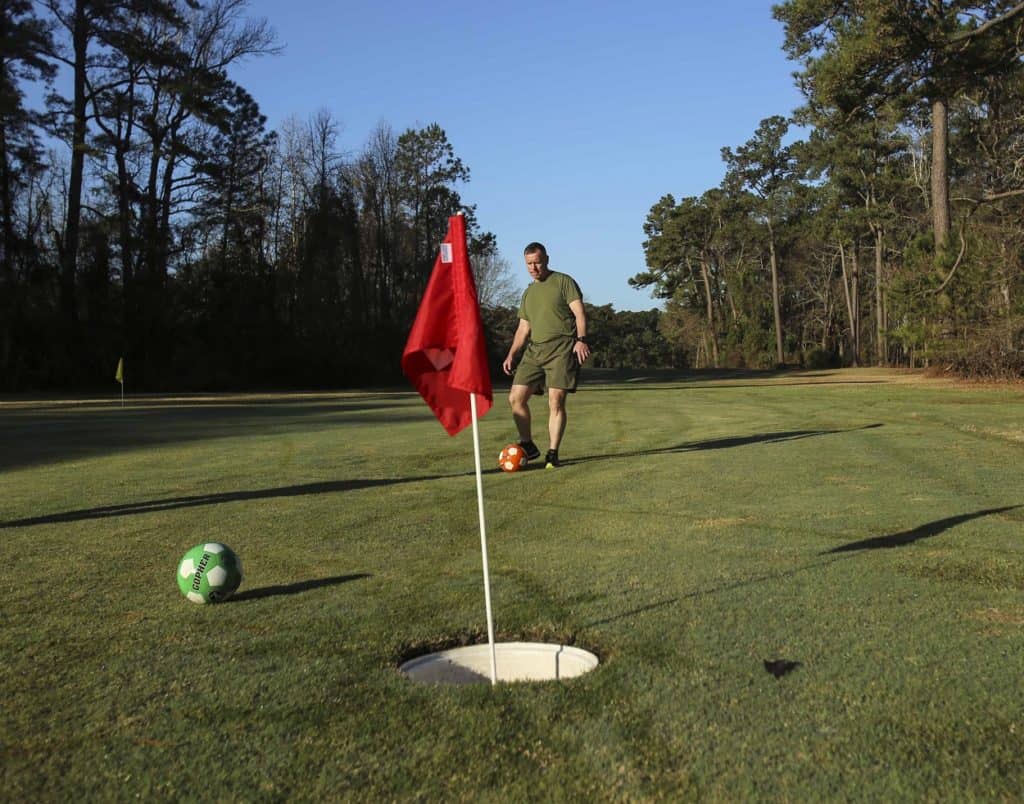 We will review the following 3 Footgolf courses here:
Chimera Golf Club
Mountain Falls Golf Course
Siena Golf Club
The Chimera Golf Club has to be on your list if you want to try out footgolf in Las Vegas for quite a few reasons. The Chimera Golf Club is one of the best footgolf courses you can introduce your child to footgolf. Once you are done with the game, you can roam around and see their shops and other facilities. Chimera Golf Club might seem like a new golf club in the Las Vegas area. It is quite old. Previously known as Tuscany Golf Club, it had repurposed its name to the Chimera Golf Club back in 2016. It has often been praised for its scenic beauty and lush greens.
What it has to offer?
Don't get fooled by such beautiful views of the Chimera Golf Club. The Chimera Golf Club has what is declared as the toughest to finish no 18 holes in the entire Las Vegas area. But do you want to go there to try out footgolf with your buddies? It is one of the most cost-effective Footgolf Courses to try out in Las Vegas.
When it comes to playing footgolf in the Chimera Golf Course, it is as good as it can get. You can play around casually with your family and let them strike the soccer balls into the holes with their feet. Their footgolf facility is shorter than their golf course; it is 4000 yards in size. You might not have to face their famous water hazards. But the footgolf holes are still quite daunting as they can measure up to 50 yards to 200 yards.
Read: Best Golf Travel Bags
Often quoted as the least known golf course in Las Vegas, Mountain Fall Golf Course is a delight if you decide to play footgolf in it. It will feel like a sport and nature lover's paradise right into the vast and wide deserts of Nevada. What is more stunning is that they have used real sands in it. There is plenty of scenic beauty for you to appreciate while playing footgolf in there.
What it has to offer?
Mountain Falls golf course is relatively least know golf and footgolf course in Las Vegas and Nevada area. But it lacks nothing. The golf course stands at a well-planned 7,100 yards laid out by the famous designer team of the legendary golfer Jack Nicklaus.
It won't take you any more than an hour's drive to reach the golf course. You may as well arrive at it within 45 minutes if you can avoid the rush hours. Be prepared to be welcomed by a host of friendly staff there who will be ready to be at your service at any need. Also, if you do not bring any equipment or balls of your own, no worries! You can always rent it from their shop.
If you instead plan to host a big meeting of friends or a family get-together in the Mountain Falls Golf Course, they have a pretty big banquet hall. It can host as many as 200 people at the same! And there are some delicious meals you can try out at their dining.
Read: Best Golf Sunglasses
Siena Golf Club has quickly become a go-to favorite for people who love golf when they are in Las Vegas. But did you know they also provide a footgolf facility as well? If you don't want to miss the opportunity to play the footgolf in the excellent view of Lake Siena's view, you must try the Siena Golf Club. Everything from its surroundings to the design of the course itself is one of the most elegant and picturesque you will ever come across. So whether you want to try footgolf or play golf as well, the Siena golf club is a must-try in Las Vegas!
What it has to offer?
It is situated among the Spring Mountains, Red Rock Canyon, and the Las Vegas strip. This golf course feels like it has been straight out of a Hollywood movie set. Only it is far more beautiful in reality. The mix of both water bodies and the desert is rare in most of the other golf courses. It has everything from banquet facilities, restaurant/bistro, and an outdoor patio as well! There is a shop where you can either buy some equipment or rent too.
Classical renaissance era designs inspire the design. Also, if you want to play footgolf or golf during a season when no other courses might be open, the Siena golf course is the place where you got to go!
Final words…
So this was all about the three best Courses In Las Vegas. All of them don't take that much time to reach, and they are quite affordable as well. You do not even need to bring your football to play the footgolf; you can just rent and play a round. So do you want to introduce a family member or challenge your pals with a game that you have recently mastered? These three footgolf courses are your best bet to impress them!
---
Similar Posts:
Amazon and the Amazon logo are trademarks of Amazon.com, Inc, or its affiliates.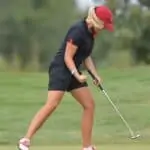 Daisy is the Founder and Editor in Chief of Golfs Hub. She is associated with Golf for more than 20 years. She got the inspiration from her father. She is a very private person & doesn't like to be photographed. She's worked in nearly every job in the golf industry from club fitting to instruction to writing and speaking. Now she is enjoying her retirement from day job... but not from Golf! Daisy lives in southeasternmost part of New York state with her family.