As an Amazon Associate, I earn from qualifying purchases. There is no extra cost to you. Thank you if you use our links; we appreciate it! Learn More.
Bridgestone E6 golf balls have been in the market for the last 15 years. And it has enjoyed some serious popularity which continues to moderate and improving golfers. Its soft feel and distance covering with the lowest swing speed make it ideal for beginner and intermediate golfers.
In our Bridgestone E6 golf balls review, we will look at its promising features and point out the pros and cons. Thus, your decision will be better and faster. Its softer and larger inner side helps in the distance going and durability.
But how does it stand out in real golfing sessions?
Our E6 golf balls review will exactly find the answer. Plus, we will compare it with some similar golf balls and see its worthiness.
Key Features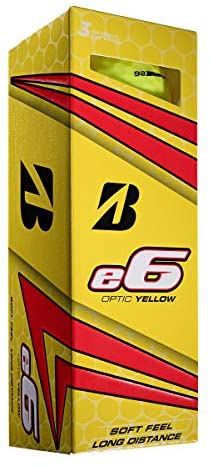 The ball has a 2-core design.
Each pack contain 12 balls.
It's available in white color.
Improved aerodynamics.
Redesign for better controls.
Bridgestone E6 Golf Balls Review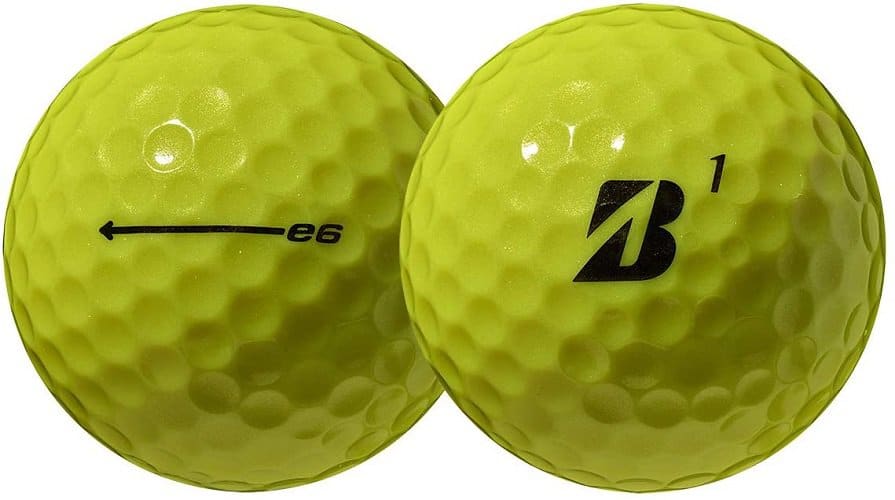 The E6 golf balls are on the market since 2005. The manufacturer has continuously updated and improved the design to meet the ever-changing demands of the golf world.
Least Drive Spin
Beginner golfers will often find it hard to control the drive spin of the golf balls. Thus, a golf ball with reduced drive spin will facilitate improved accuracy. The Bridgestone golf balls e6 serve exactly the same way.
Its 2-piece design ensures less spin than the 3 or 4-piece spin golf balls. Thus, you may control the hook and slices better with this ball.
Improved Lunch
Another incredible benefit of the E6 golf ball is its improved lunch. Beginners often fail to get the right launching. The Bridgestone E6 balls solve the problem easily. Its design makes sure you get an added launch and flight even without maximum swing speed.
It is a great help for learners since they lag launching speed. The improved launch means the ball will actually travel more distance than it would do in optimum conditions.
Softer Feel
The main selling point of the Bridgestone golf ball E6 is its softer feel. Yes, they're both advantages and disadvantages of softer balls. But with such an incredible feel on the green course make you confident. As the ball provides a soft feel with the club, it brings a different satisfaction.
Plus, you can control the distance traveling of the ball better with a soft feel. Hence, golfers will actually love its softcore and outer design for satisfaction and distance control ability.
Slow Swing Speed
The Bridgestone E6 reviews find it with a soft feel and the standard 2-piece construction. Since it has fewer layers, you will get supreme benefit from it. It facilitates less swing speed. In fact, you can quickly achieve the desired distance even with a below-average swing speed with E6 balls.
Compared to 4-piece golf balls, this 2-piece ball will travel more distance with the same swing speed. It happens because of the compressing ability, which is directly connected with the layers. Improving golfers will love such features without a doubt.
Excellent Pricing
Another excellent point of the E6 golf ball is its pricing. These are the best budget golf balls to use for practice sessions. It comes at a relatively low price, and thus, you can practice the tricky shots without thinking twice about the ball getting lost.
Also, inexpensive golf balls mean leaners will find the ball a good investment.
Familiar Dimple
The 330 golf ball dimple of E6 is pretty familiar. Such dimple design offers enhanced control around the greens. So, you will find better accuracy with E6 golf balls. Also, it ensures sufficient to carry in the wind for optimal distance coverage.
Pros
Best for average and beginner golfers.
Softer feel with added swing and spin control.
Can travel more distance with a slow swing speed.
Cheap golf balls ideal for beginners.
Familiar dimple design for added coverage.
Cons
2-piece design not ideal for competitions.
Professionals won't find E6 golf balls promising.
Why Should You Choose This Golf Ball?
When you begin your golf career, you may be reluctant to spend too much on it. Also, many golfers will be on a tight budget. The E6 golf balls will solve the issue with their cheaper pricing. Plus, average golfers will be benefitted from its improved distance coverage and control.
Targeted User
We recommend the Bridgestone E6 golf balls for learners and improving golfers mostly. It comes in a pack of 12 balls, and low-pricing means you can practice the tricky shorts worry-free. Also, 2-piece construction is durable enough for lasting several practice sessions.
Comparison with Other Products
In the following parts, we will compare the E6 ball with its different versions and similar golf balls. It would make your decision easier.
Bridgestone E6 2020 vs 2021 Version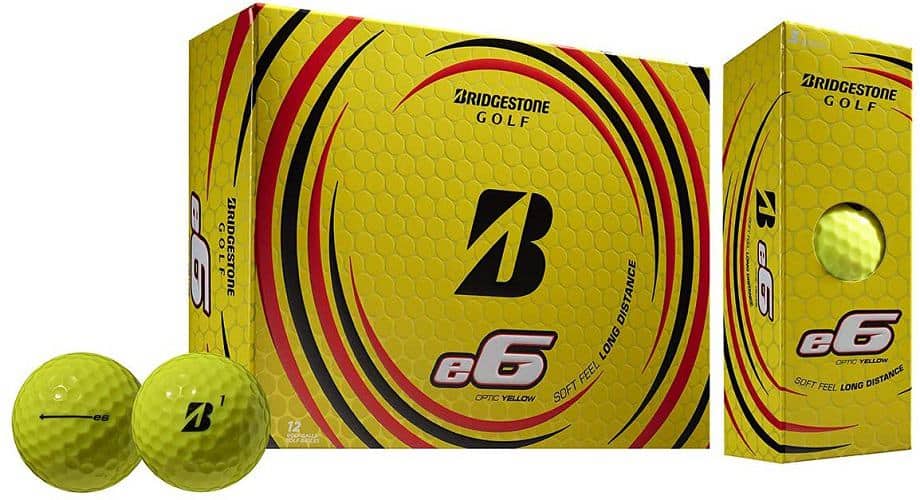 The 2021 version has been slightly redesigned for improved aerodynamics. Thus, you will find it is controlling easier and comfier. Also, improved accuracy means learners will go closer to the holes better than ever.
Bridgestone E6 vs E12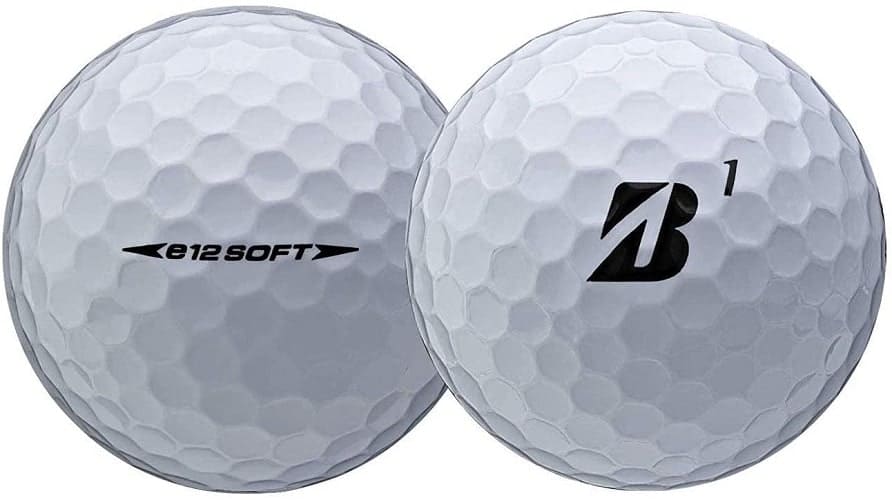 The E12 has 3-piece construction, whereas E6 has 2-piece construction. With a 3-piece design, E12 features less sidespin. Nonetheless, both balls are best for intermediate and beginner golfers. But the E12 is a bit pricey.
Bridgestone E6 vs E6 Soft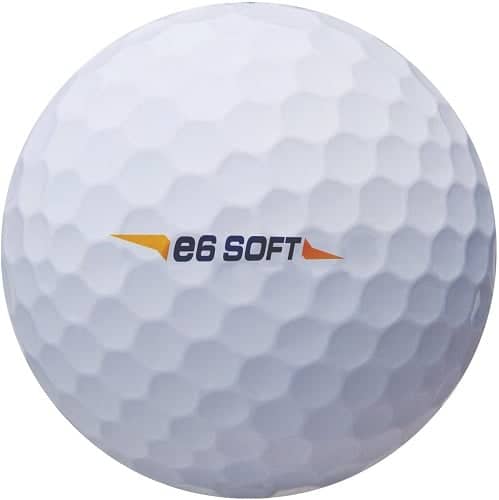 E6 soft has a higher launch than the standard E6. Also, it features a low driver spin for improved control. The E6 soft also features the softest feel on the green.
Bridgestone E6 vs E6 Speed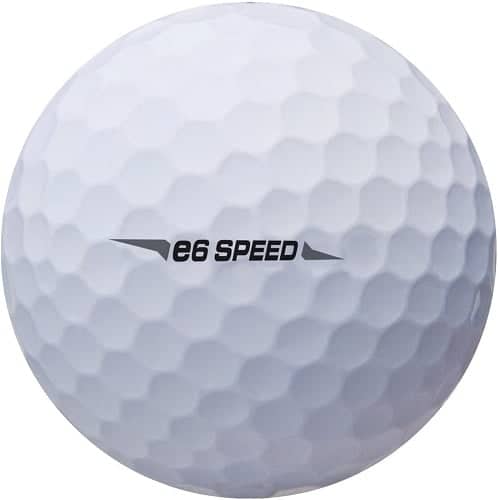 E6 is softer than the Bridgestone E6 speed. Thus, E6 speed will give you a firmer feel all the way. Its feedback on the golf club is pretty understandable. If you want more compression, an E6 ball will be a better option.
Frequently Asked Questions (FAQs)
1. Are Bridgestone e6 golf balls good?
E6 golf balls are a super impressive investment for average golfers. Its 2-piece design is durable and facilitates high-launch. Plus, cheap pricing ensures you can use them without breaking the bank account during the early golf days.
2. Does Bridgestone still make e6 golf balls?
Yes, Bridgestone still makes their popular golf ball line of E6. It has different versions, including standard, soft, and speed ones.
3. What is the compression of the Bridgestone e6 golf ball?
The E6 has about 50 compression ratings. It is one of the lowest compression for both 2-piece and 3-piece balls in the golf market.
4. Does Bridgestone e12 replace e6?
Although both E12 and E6 are made mainly for average and intermediate golfers, they aren't essentially replaceable. Both have different construction and serves different purposes.
Conclusion…
This review of the Bridgestone E6 golf balls found the ball truly remarkable for leaners. Its softer feel improved control, and less swing speed suits even the novice greatly. If you are on a tight budget and still want an unforgiving golf ball set, look no further than the Bridgestone E6 balls.
Also, its durability is promising. So, you can use them for multiple sessions.
Read More
Amazon and the Amazon logo are trademarks of Amazon.com, Inc, or its affiliates.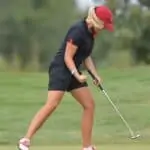 Daisy is the Founder and Editor in Chief of Golfs Hub. She is associated with Golf for more than 20 years. She got the inspiration from her father. She is a very private person & doesn't like to be photographed. She's worked in nearly every job in the golf industry from club fitting to instruction to writing and speaking. Now she is enjoying her retirement from day job... but not from Golf! Daisy lives in southeasternmost part of New York state with her family.