As an Amazon Associate, I earn from qualifying purchases. There is no extra cost to you. Thank you if you use our links; we appreciate it! Learn More.

You have stepped up on the golf course and ready to show your skills. But do you have a proper idea about the golf ball spinning, and did you calculate how much the ball needs to travel? Well, you will find these things difficult unless you have a top rated rangefinder for golf playing.
The Acegmet Golf Range Finder can be a true friend in this cause with its slope technology, long-range and reasonable price. But is it worth the investment?
We will look into the Acegmet golf rangefinder review and comment on its pros and cons. It should make your buying decision easy and quick. Also, we will compare it with the popular Bushnell golf rangefinder to help you know which product is right for your skills and purposes.
So, let's hit it.
And let's not forget that currently, you can avail of a 20% discount & get a $8 off coupon on the actual price of the Acegmet rangefinder. After all, it's always nice to save some money, isn't it?
It's simple! Just click the link and you will be redirected to the product price page. Below the Price, you will get the coupon option. For getting the discount you have to use the code 'K6ZRGQ5H'.
Key Features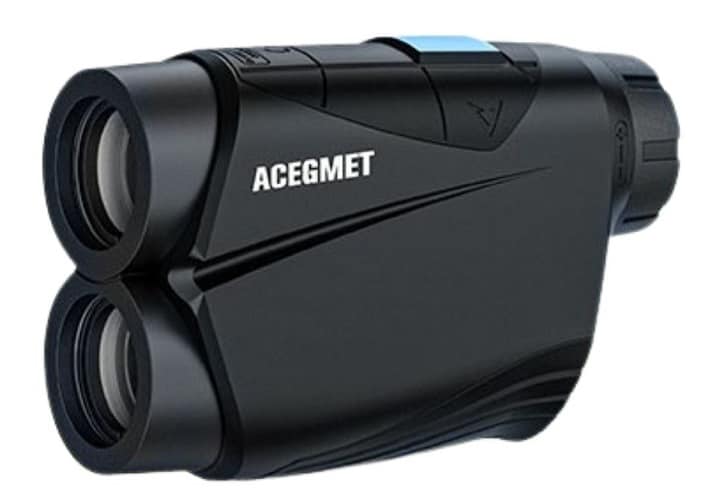 Range: 650 yards
Accuracy: +/-0.5m
Laser: 950NM
Magnification: 6X
Weight: 10.72 ounces
Why should you choose this one?
If you want good quality and reliable viewfinder for adjusting the swing speed and measure the distance from the hitting point, this rangefinder will be the best bet. Plus, it comes in reasonable pricing, which is suitable for beginners.
Acegmet Golf Rangefinder Review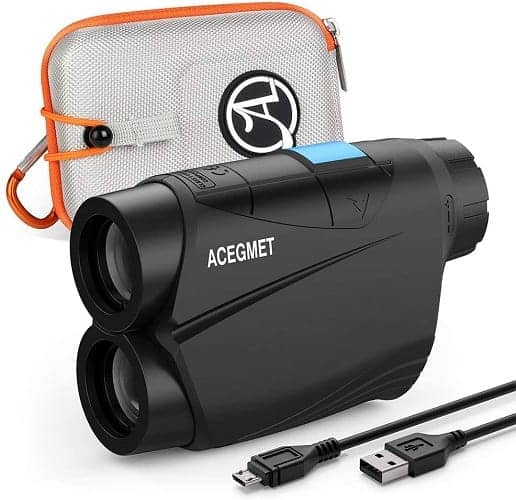 Acegmet rangefinder for golf is a popular choice among professionals and beginners alike. It has some pretty practical benefits too. In the following sections, we will look into the advantages of the Acegmet golf rangefinders and find its worthiness.
Long-Range with Accuracy
Acegmet is known for manufacturing some truly long-distance rangefinders, and the same goes for this product. It comes with 650yards of range and is suitable for tournaments too. The accuracy level is 0.5 yards which is emphatic too.
On top of it, you get 20° slope compensation for accurate measurements. It is handy for avid golfers as they have less expertise on the golf course slopes.
Top-Quality Rangefinder with Slope Technology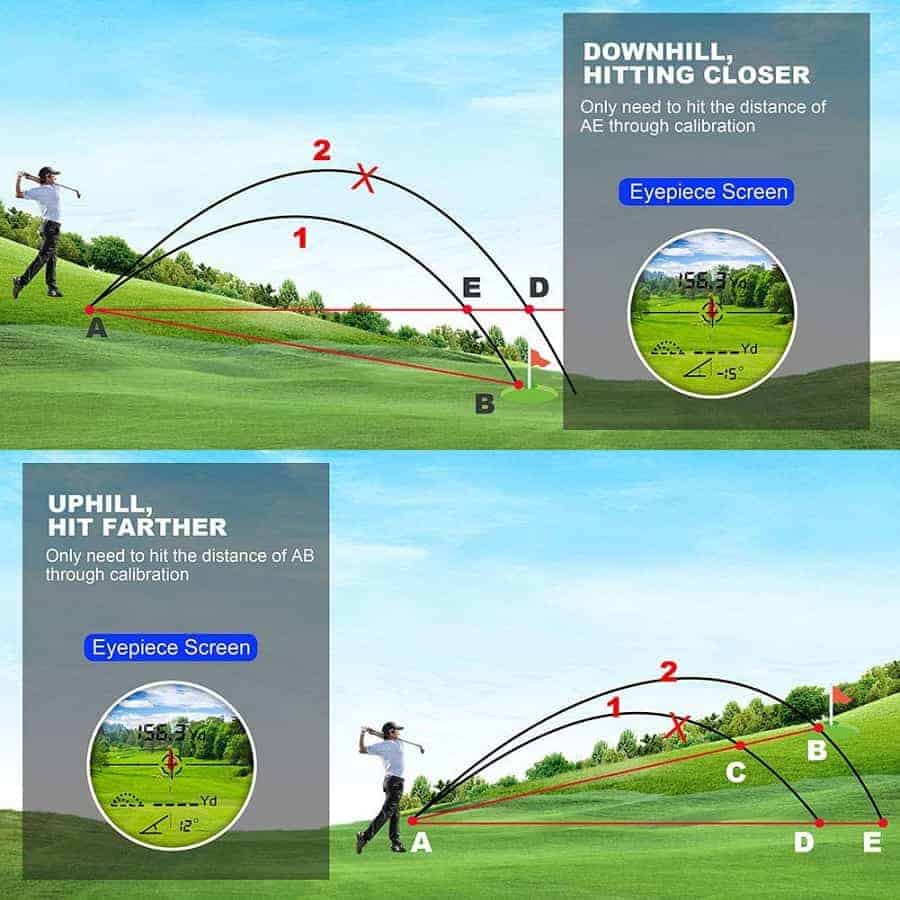 We have already mentioned that the rangefinder has a 20° slope adjustment. But did you know that it is one of the best in the industry?
The rangefinder uses a laser beam to measure the distance and slope. Hence, you can rely on its calculation for the best hitting experience with the ball. It will direct the ball in the right parabola for maximum distance coverage.
Also, it will help you to quickly select the right club and power you need behind the shot for best accuracy. It is a great help for beginners especially.
Lock-On Feature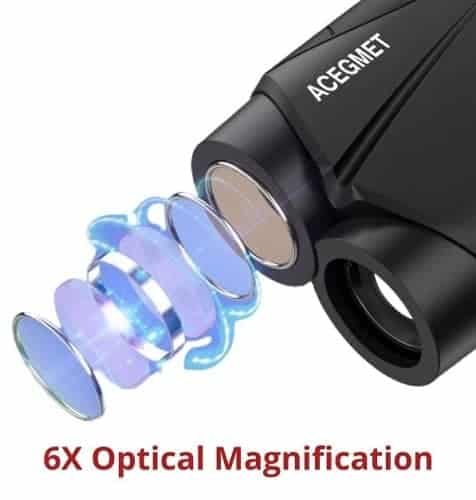 While many rangefinders have difficulty in locking the target, this isn't a problem with Acegmet. The rangefinder works on a flag locking mechanism to perfectly match the target with accurate measures. In fact, the Acegmet laser measure process makes the flag locking even more accurate and reliable.
It excludes the surrounding objects and precisely locks the target with laser detection. Also, its nearest locking system will help you lock the pin faster, negating any possible defects. So, you will truly know the actual distance to cover and which club to choose for it.
It just makes your golfing easy and fun.
User-Friendly Design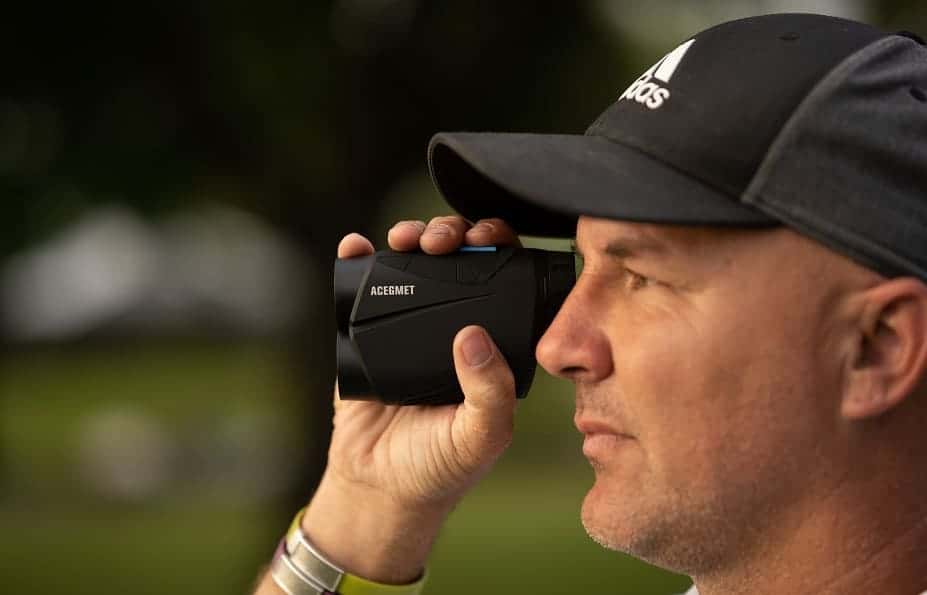 The best part about the Acegmet golf rangefinder is its user-friendliness. The Acegmet golf rangefinder meters to yards measurement transformation is fast and secure. You won't need to brainstorm anymore with it.
Also, it has only one button making it super easy to operate. The Acegmet rangefinder manual comes with detailed instructions for users. Whether you are a novice or a pro-level golfer, you will find the Acegmet golf rangefinder instructions super easy to understand. Furthermore, with a compact and light design, the device permits easy carrying to any place without any stress.
Reasonable Pricing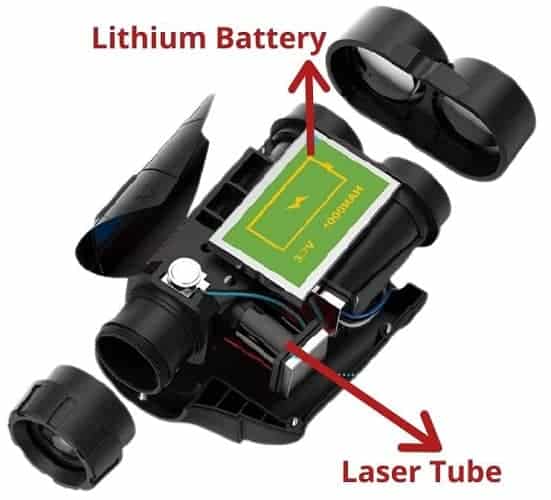 The golf rangefinder is made sturdy with composite material. It has accuracy and long-range that is hard to match by most rangefinders of its class. Yet, it comes at a bargain price. In fact, we found it the best cheap rangefinder under $100.
You will be glad about the features and durability it provides within such a cheap price range.
Pros
Quick and accurate measurement with slope adjustments.
Easy control with one button only for users.
Long-range with a quick pin-lock mechanism.
Pretty reasonable price compared with the high benefits.
Cons
The durability is a little questionable.
It doesn't come with any extra accessories.
Target Users
The beginners and intermediate golfers will find this viewfinder ideal for them. It comes with an easily understandable manual. It makes the device even more suitable for novice golfers. Plus, the device has great accuracy, which further helps the newbies.
Acegmet Golf Rangefinder VS Bushnell Golf Rangefinder
Bushnell is another popular brand for a golf rangefinder. It has a 5-1000 yards range. Also, it comes with a 400+ range near to a flag for accurate locking. Likewise, the Acegmet also comes with 6X magnification, so you can look at the hitting point closely.
It uses a Class 1 laser which is slightly better than the Acegmet golf rangefinder. The overall sturdiness of the rangefinder is pretty appreciable too.
Its features are quite similar to the Acegmet rangefinder but come with a higher price. So, you have to pour in more money to get the Bushnell viewfinder.
FAQs
1. Are cheap golf rangefinders any good?
Yes, golf rangefinders such as the Acegmet viewfinder comes with great features and highly accurate measurements. Also, it has pleasing magnification. Yet, it is priced cheaply, making it more than the worth of its pricing.
2. What types of battery does Acegmet use?
The rangefinder uses a rechargeable battery. It works on a 1000mA lithium battery, and it comes built-in with the device. It also has a battery indicator for the charger display.
Conclusion…
The Acegmet golf rangefinder review found it a worthy investment for beginners. Its 650 yards range and slope adjustment make it an indisputable king in the golf course. And when you add its low price with such outstanding benefits, there's hardly any second option for you to choose.
Once you get the rangefinder, you will feel how it makes a difference in the ball hitting and swing speed accuracy.
Read More
Amazon and the Amazon logo are trademarks of Amazon.com, Inc, or its affiliates.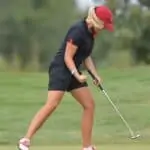 Daisy is the Founder and Editor in Chief of Golfs Hub. She is associated with Golf for more than 20 years. She got the inspiration from her father. She is a very private person & doesn't like to be photographed. She's worked in nearly every job in the golf industry from club fitting to instruction to writing and speaking. Now she is enjoying her retirement from day job... but not from Golf! Daisy lives in southeasternmost part of New York state with her family.