As an Amazon Associate, I earn from qualifying purchases. There is no extra cost to you. Thank you if you use our links; we appreciate it! Learn More.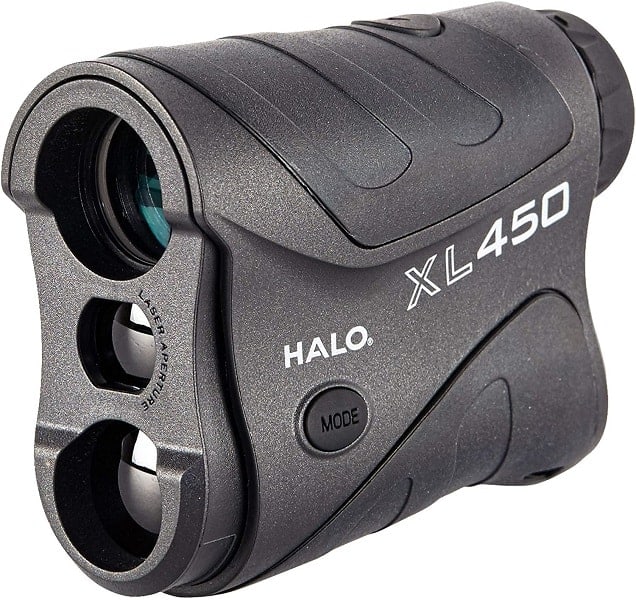 In this Halo xl450 Laser Rangefinder review Golfs Hub will show you all the mind-blowing features of one of the best golf rangefinders in the market.
As rangefinder has become an essential equipment to the bow hunter and golfer, the price hasn't really come down compared with the quality. There are various uses of them, most notably it's offering the golfer and hunter to look and target at a longer distance. Hunting and target shooting has become more comfortable with the rangefinder.
The Halo XL450 is a technologically advanced rangefinder that comes at very reasonable price. Much delight to its users, it is equipped to measure distances up to 450 yards from targets. Better magnification and Ai technology are some of the key factors for the popularity of this product.
If you are interested to know more, this Halo xl450 Rangefinder review is going to inform you all about this Halo xl450.
First Impression of Halo XL450 Rangefinder
The Halo XL450 laser rangefinder comes with a durable plastic body and robust design for giving a longtime service. Besides, it can be used in any kind of condition without having much of a trouble, and that's a plus point for any serious golf rangefinder user.
Alongside this, the overall performance of this rangefinder is pretty well. Most of the user is given extremely positive reviews about it only after using a few days.
Halo xl450 Laser Rangefinder Review
You can't rate any product as best without knowing what advantages it comes with. Every product has some distinctive features which made it stand out. In this regard, it must have some unique and extraordinary features. You will be amazed at how well this Halo rangefinder performs compared to the price.
Let's dig in for more.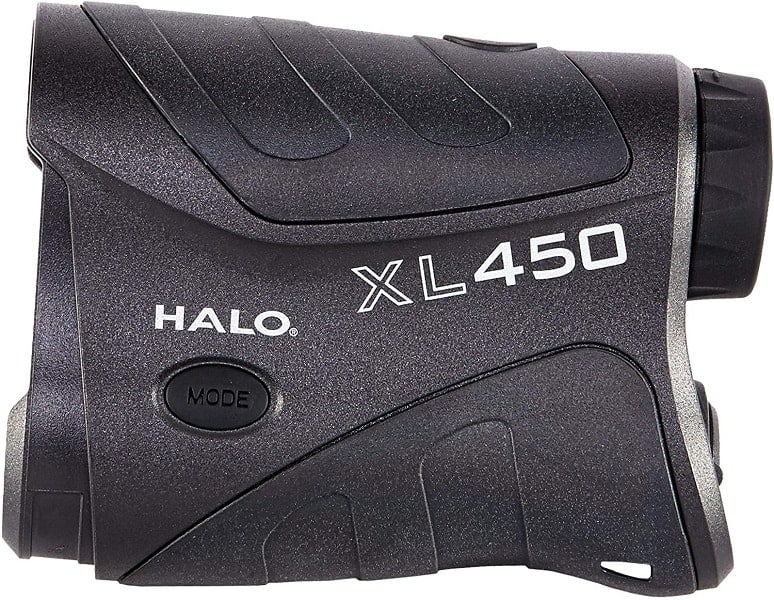 Size, Weight & Portability
The rangefinder size, weight, and portability are the first and foremost criteria when choosing a golf rangefinder. No matter whether you're a hunter or golfer, a rangefinder is a pretty necessary piece of equipment for you to get better performance when you are on the game because without measuring the distance accurately, you can't just have your expected performance.
A compact rangefinder will help you much to accomplish your goals when hunting or in the golfing range. Also, you can't just rely on other tools instead of a rangefinder for this.
The Halo rangefinder comes with a combination of 6 x 5 x 3-inch dimension. With 6x magnification, it provides a reading of targets up to a 450-yard range of distances.
Meanwhile, it's a lightweight rangefinder with around 7.2 ounces of shipping weight. That means you easily carry it out according to your needs. You won't likely to be tired after carrying miles to miles. So there is No problem regarding its portability. The most attractive feature of this product is easy portability. You can effortlessly do your work and carry it around everywhere in your pocket or elsewhere as it is highly portable in nature.
Durability
Durability is another important matter to a golfer when choosing a rangefinder because often times before purchasing, most of the buyers want to find out how long it likely to last. The Halo xl450 rangefinder is designed specifically to serve years after years at a stretch. Don't let the price fool you in thinking you need to replace it if you put any extreme pressure on it.
It will do just the fine as it comes with very good technologies which ensure its durability, so there is nothing to be a worry about its durability.
Optics
The overall performance of a rangefinder decided by the performance of its optics. If you're using a rangefinder to read the longer distance it does not provide excellent optics facility, how do you feel then? But don't worry at all; the Halo xl450 rangefinder is next to the best thing you can have in this price range as it comes with LCDs optics facility.
Also, it has low light reading options. Combined with six times magnification, you can look and read a distance up to long meters after meters. You won't likely to be disappointed with the optics performance but keep in mind that it's a little bit troublesome to use in the lousy weather.
Ease of Use
Who doesn't want to get an easy to use a rangefinder? Yes, it's waned by all but very few rangefinders within this price range can actually deliver it. Luckily the Halo rangefinder manual is designed with keeping their user in mind. Its lightweight and comfortable to hold in your hand. You won't feel anything at all while using it in any direction.
Accuracy & Angle Compensation of Halo Rangefinder xl450
As it equipped with intelligent technology for angles, you will get excellent accuracy and angle compensation. This rangefinder is also capable of measuring quite long distance accurately in any kind of conditions.
Besides helping to adjust you the angle for taking an intended shot and provide required data from the field. Most surprisingly, the Halo xl450 golf rangefinder has two modes that can be used in any instance.
Slope Mode
Its advance slope compensation function has made it into an insanely favorite brand to the user. It is capable of measuring decline and incline slopes and the slope mode will be adjusted accordingly. Whether you are a new or experienced golfer, you will find it its unique slope mode quite handy while playing golf on uphill or downhill.
Battery Life of Halo xl450
The Halo rangefinder battery is made for giving service for a longer period. It's powered by a CR2 battery so that you can continue with your game hour after hour without losing any momentum. It's highly durable battery offers over a year of nonstop service through a single charge.
Waterproof
The most important feature of all, it has a waterproof feature. Its coated with waterproof materials that protect it from any water leaking inside. As a result, you can use it without having much concern during the rainy season.
Approval by USGA
Most of the users who looking for purchasing a good rangefinder from online; always like and want to get a USGA approved product. And luckily, this Halo xl450 laser rangefinder is one of the classic rangefinders approved by USGA. But you need to turn off the slope mode for that. Also, check the local rules before participating.
Are Halo Rangefinders Any Good?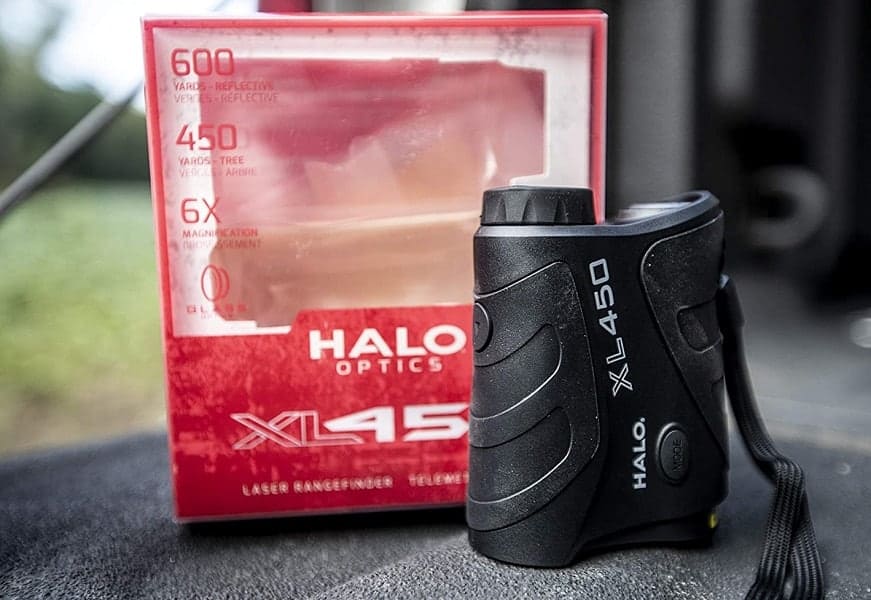 PROS
Around 450-yard reflective yard of range.
Ideal for both hunters and golfers.
Lightweight and easy to operate.
Comes with slope adjusting technology.
Class lll A laser and 6x magnification.
Powered by CR2 battery.
Water-resistant.
Extreme accuracy.
CONS
It has a limited range.
It takes a few times to learn to read the distance.
Personal Experience with the Halo 450 Rangefinder
I have brought and used this rangefinder a few days back. Though I'm not exactly much used to with reading distance with a rangefinder, I have managed to get readings pretty effortlessly. I think it's better and suitable for the new user to get an accurate reading the first time.
Besides, I'm impressed by the user convenience and features given to this tool. If you want to get a full range of distance reading and better magnification, I will recommend you to select this rangefinder without a doubt.
People also ask…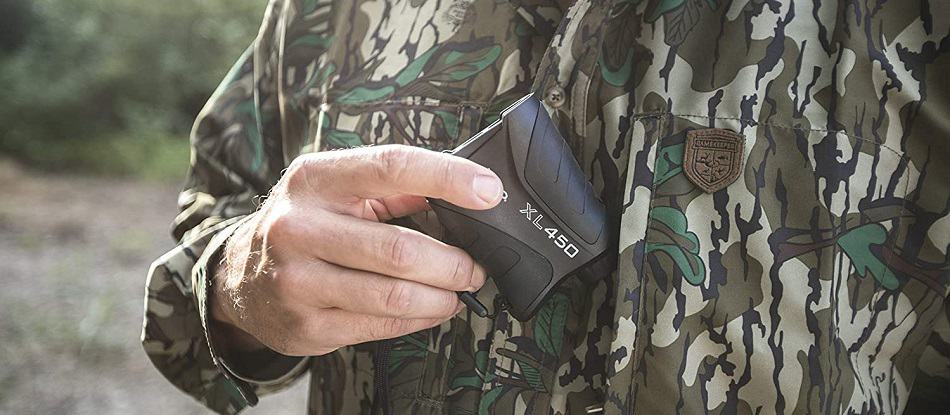 Who is the Target User of This Product?
The rangefinder made to deliver highly accurate results and delivers many conveniences while using it. And that's why all the golfers and hunters tend to go for it over other models. No matter what beginner, advanced, younger players able to use this Halo xl450 golf rangefinder without much effort.
Most importantly it can be often seen in other Halo xl450 reviews, even experienced users are recommending this to the new golfers to buy this one.
Is It User-friendly?
If you think about the features of the rangefinder that need to be considered, it's essential to be user-friendly because it's important to select a user-friendly golf rangefinder for getting the best out of it.
Is Halo Rangefinder Worth Your Money?
The price range is what decides the decision in the end because we all need to purchase a rangefinder according to our budget. If you consider features the Halo rangefinder comes with, it is supposed to be a little bit expensive. But surprisingly it's not so high in price. So it's definitely worth your money.
What is the Halo rangefinder's magnification?
This rangefinder comes with a 6x magnification.
Does this rangefinder have optical-logic?
Sorry, the Halo xl450 rangefinder doesn't have optical-logic. It contains glass quality and coating.
What is the actual ranging distance?
The maximum ranging distance of this rangefinder is 450 yards.
What is the dimension of Halo?
The dimension of this product is 6 × 5 × 3 inches.
Halo xl450 Reviews Final Verdict…
We hope that from this Halo xl450 laser rangefinder review you've got a pretty good idea about overall features and performance of this one of the best among all rangefinder brands available within this price range.
The Halo xl450 golf rangefinder is the most well known and popular brand to the golfers as well as the bow hunters. No other rangefinder can really replace this unit for getting the most accurate reading of the distance. So, if you think it's time to choose the perfect golf ranger within your budget, give it a try.
You can also read about the following golf rangefinders:
Amazon and the Amazon logo are trademarks of Amazon.com, Inc, or its affiliates.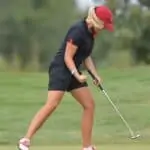 Daisy is the Founder and Editor in Chief of Golfs Hub. She is associated with Golf for more than 20 years. She got the inspiration from her father. She is a very private person & doesn't like to be photographed. She's worked in nearly every job in the golf industry from club fitting to instruction to writing and speaking. Now she is enjoying her retirement from day job... but not from Golf! Daisy lives in southeasternmost part of New York state with her family.