As an Amazon Associate, I earn from qualifying purchases. There is no extra cost to you. Thank you if you use our links; we appreciate it! Learn More.
The market is filled with a wide variety of pushcarts, but finding one that suits your needs can be challenging. So I've done some research and testing to bring you this list of the 5 best golf push carts under $200 available today.
When it comes to playing golf, one of the most important pieces of equipment that you will need is a good golf push cart. While you can certainly carry your own clubs and bag around the course, it can be very tiring and it can also take away from your game. A good golf push cart will make your life a lot easier and can help you to focus more on your game.
There are a lot of different golf push carts on the market, and it can be tough to know which one is the best for you. That's why we've put together this comprehensive. We'll help you to understand what to look for in a good golf push cart and we'll also give you our top picks for the best pushcarts under $200.
So, if you're looking for a good golf push cart that won't break the bank, read on to find out more.
The Best Golf Pushcarts under $200
1. Caddymatic Golf Quad 4-Wheel Folding Golf Push Cart
Caddymatic introduced their premium golf cart for those who want comfort, elegance, and convenience in their golf course. It comes with every feature you may wish in a high-end pushcart for carrying golf kits, including bags, golf sticks, and so on.
It comes with 4 wheels, and the wheels are made larger this time. So, you will find moving the cart easier than ever. The wheels are sturdy too to move easily over any bumpy ground. Besides the comfortable maneuverability, this golf cart also holds up to its durability pretty well. It has a strong aluminum body with rust and corrosion-proof facility.
Although the golf cart is larger, it has a quick and compact folding mechanism. So, you can easily transport it in your vehicle to the ground. Also, its straps with the nylon bag and locking buckles come in handy for transportation and holding the golf accessories at ease.
Finally, it will amaze you with multiple holders for different items. It includes holders for beverage, umbrella, scorecard, ball, tee, and anything else you want.
Read about 6 other Caddymatic Push carts here.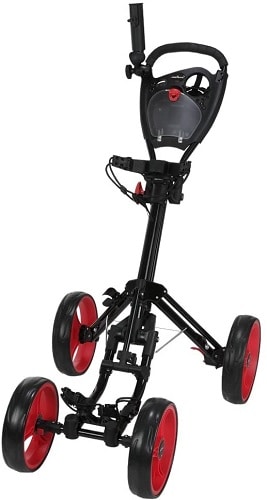 PROS
Increased wheel size adds stability on rough terrains
Compact folding for quick and easy transportation
Several points to hold different golf items easily
Locking buckles keep everything securely on the cart
CONS
The pushcart is a little on the heavier side, forcing you to feel fatigued
Read: The review of Caddymatic Golf Xtreme 3-wheel Pushcart
2. Founders Club Swerve 3 Wheel Push Pull Golf Cart
The Swerve 3-Wheel Golf Cart is the product you want if you're looking for a no-fuss, straight-to-the-point golf cart.
I loved how easily this cart folded up and came back out. The Qwik Fold feature made putting away my equipment quick and easy, so I could focus on what was important: the game.
The spacious storage area is also something I must mention; there's even a spot for a beverage holder. I had no problem fitting all of my drinks, balls, tees, scorecard, and umbrellas in this cart.
Swerve's large wheels made getting around the course a breeze, no matter what kind of terrain I had to go through. I especially liked using the hand brake when going downhill—it really helped me stay in control of my speed and not have to worry about losing control of the cart.
Get some suitable bag for this cart here.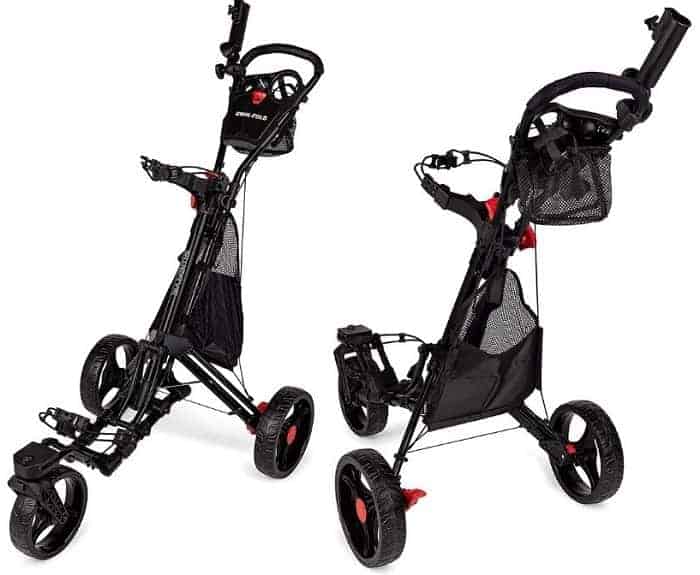 PROS
Easily folds up and pops out
Spacious storage area
Large wheels make getting around the course easy
Super-fast and handy hand brakes
CONS
Limited handle adjustability, making taller users slouch when pushing
The Swerve 3-Wheel Golf Cart is perfect for those who want a quick and easy golf cart that doesn't skimp on storage space. If you're looking for an attractive, durable, and reliable cart to take on the course, this is for you. However, this might not be the perfect fit if you're taller than average or have back problems.
Read: The 9 best Push Cart from Bag Boy
3. Spin It Easy Drive Golf Push Cart
Spin It Easy Drive Golf Push Cart has a perfect blend of feature and class. The first thing about this golf push cart is it looks ah-mazing. The whole black body with red interior on the tires makes it look elegant. It goes easier on your back since it's a three-wheel golf cart.
This golf cart has a super convenient folding capability. The front wheel is smaller than the two back wheels. This design enables swivel and so, moving forward is effortlessly simple. The airless wheels are maintenance-free and can endure heavyweight. No deflating of wheels will ever take place.
It offers a scorecard holder along with holders for umbrella, cups or bottles. There is a huge storage for holding golf bags. The brackets keep the bag safe and secure and the bungee cords can stretch to store them more conveniently.
The cart weighs only 16 pounds but it can carry heavy bags and accessories without any trouble. It is a travel-friendly push cart that is highly portable. You'll be able to carry it in the back of your car or even in your hands comfortably.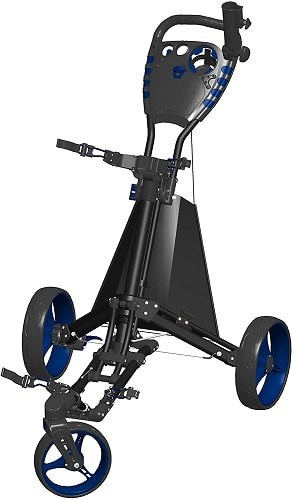 PROS
Easy to assemble and the instruction manual is clear to follow.
The folding/unfolding is quick.
Lasts for a long period of time.
The tires are airless and maintenance free.
Includes extra holders for storing gears.
CONS
The front wheel is fixed, so you'll have to lift it up when you need to make sharp corners.
This is a simple and lightweight golf push cart that will serve you for a long time. To check out the latest price on Amazon, click below.
Read: The 10 best electric push carts for golf
4. KVV 3 Wheel Foldable Golf Push Cart
This all-black golf cart has the smallest pushcart design that is its main attraction. When you plan to go on golf grounds or return home, it quickly folds in a small pack for the easy carrying experience. Also, it is unfolding only needs a few seconds.
The cart comes with a TPE handle. It has quick height adjustment and great ergonomics. So, you can set the height right where you feel comfortable. Also, its ergonomics will ensure that you don't feel fatigued to move the cart easily on large grounds.
It has three wheels for easy mobility on any ground. Also, the wheel and frame feature a sturdy design adding to its overall durability. What's more, the maintenance and minor repairs of the frame and other parts are easy too. So, you will find it a highly convenient golf cart for your purpose.
Finally, its multiple storage and kit holder positions confidently put it in the list of the best golf pushcart for the money presently.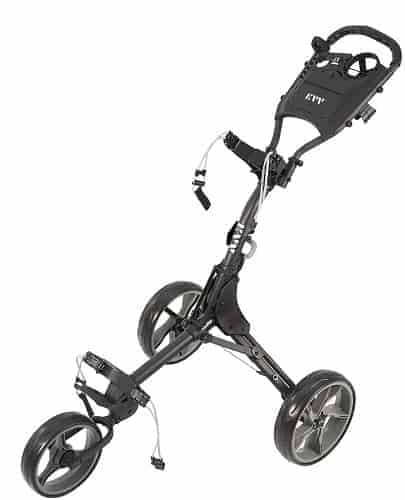 PROS
Smallest folded shape for smooth portability and storage.
Easy maintenance and repair without much skill for golfers.
Ergonomic TPE handle with height adjustment for easy mobility.
CONS
The golf cart is a touch on the heavier side.
Read: Factors to consider before choosing the best pushcarts for your kids
5. Callaway Trek 4-Wheel Golf Push Cart
While three-wheeled golf carts are the norm, four-wheelers offer unparalleled stability for golfers of all levels. And that's what sets this Callaway Trek Golf Pushcart apart from the rest on our list.
As I walked the course, the four wheels worked fantastically on uneven terrains for me, especially in places where I had to go off the beaten path. It barely left me a chance to tip over. The Trek also folds up into a tiny package for easy transport and storage, and it didn't take up much room in my garage.
At 18.5 lbs, the cart didn't seem to be lightweight, but it felt remarkably sturdy. I loved the rust-proof aluminum frame designed to be comfortably used by golfers of any height, with an adjustable foam-covered handle.
As far as accessories go, this golf push cart comes with an umbrella and drink holder, scorecard holder, mesh storage bag, and foot brake—all of which come in handy when you're out on the course for hours at a time.
Get some suitable bags for this cart here.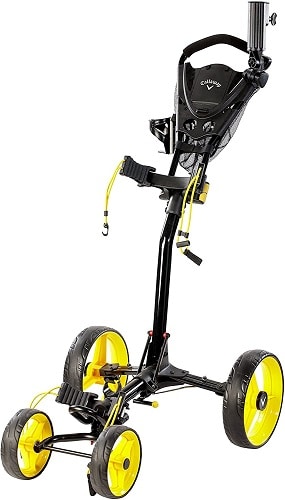 PROS
Unmatched stability on the course
Compact design for easy transport and storage
Durable, robust construction
Comfy gripped, adjustable handle height
The Callaway Trek Golf Pushcart is ideal for golfers of any skill level who want unmatched stability on the course. If you have any issues with tipping your three-wheeled cart over, or if you want the extra support of a fourth wheel, this is the cart for you.
FAQs
1. What is the best golf push cart under $200?
There are a few great golf push carts under $200. The Caddytek Superlite Deluxe 4-Wheel Push Cart is a great option. It is made of lightweight aluminum and has a sturdy frame. It also has a easy-to-use handle that can be adjusted to your height. Another great option is the Bag Boy Quad XL 4-Wheel Push Cart. It has a large storage area and a built-in cooler to keep your drinks cold. It also has a adjustable handle and four large wheels for easy maneuverability.
2. What are the features of the best quality push cart under $200?
The best one under $200 should have a variety of features that make it easy to use and convenient for golfers. Some of the most important features to look for include:
A sturdy frame that can support the weight of your golf bag and clubs
Large wheels that make it easy to maneuver the cart over different types of terrain
An adjustable handle that allows you to customize the height for your comfort
A storage compartment for holding your personal belongings while you play
A beverage holder to keep your drinks close at hand
A scorecard holder so you can keep track of your progress
An umbrella holder in case of inclement weather
When choosing a golf push cart, it is important to consider what features are most important to you. If you frequently play on hilly courses, for example, you might want a cart with larger wheels for better maneuverability. Or, if you like to have all of your gear within easy reach, you might want a cart with multiple storage compartments. Ultimately, the best golf push cart for you is the one that has the features you need to make your game more enjoyable.
3. What are the benefits of using golf push carts under $200?
The cheap golf push cart under $200 can offer a number of benefits for users.
First, it can help to save time by allowing golfers to avoid having to walk back and forth between their golf ball and their golf bag. This can be a particular benefit on larger courses where the distance between the two can be significant.
Second, using a golf push cart can help to reduce the risk of injury by reducing the amount of weight that a golfer has to carry. This is particularly important for those with back or shoulder problems.
Third, golf push carts can help to improve a golfer's game by ensuring that they have all of their clubs with them at all times. This can be a valuable asset when trying to make a difficult shot.
Finally, golf push carts can simply make the game more enjoyable by allowing golfers to focus on their game rather than on carrying their clubs.
4. How does the push carts under $200 improve my game?
Golf push cart under $200 can help to improve your game by making it easier to transport your golf clubs and accessories around the course. This can help to save time and energy, as well as keep you organized. Additionally, using a push cart can help to reduce wear and tear on your clubs, as well as improve your swing by keeping your clubs in a consistent position.
5. How can I get a golf push cart under $200?
There are a few things to consider when purchasing a golf push cart under $200.
First, consider the features that are most important to you and your game. Do you need a cart that is easy to fold and store? Do you need a cart with a lot of storage space? Do you need a cart that is easy to maneuver on the golf course? Once you have considered the features that are most important to you, research the different brands and models of golf push carts that are available.
Read reviews from other golfers to get an idea of which models are the most durable and easy to use.
Finally, compare the prices of the different models to find the best golf push cart under $200 for your budget.
6. Should you buy a golf push cart under $200?
There is no definitive answer to this question, as it depends on a number of factors including budget, personal preference, and what type of golfing you plan to do. However, in general, a golf push cart under $200 can be a great option for those looking for a quality product without spending a lot of money. Some things to consider when making your decision include the features offered, the durability of the product, and the reviews from other users.
Conclusion…
After carefully considering all of the products on the market, we have come to the conclusion that the Founders Club Swerve 3-Wheel Golf Push Cart is the best option for those shopping for a quality push cart on a budget. This cart is easy to fold and unfold, and it has a sturdy build that will withstand years of use. Additionally, the large wheels make it easy to maneuver on any type of terrain, and the storage compartment is the perfect size for holding all of your golfing essentials.
Overall, we believe that the Founders Club Swerve 3 Wheel Golf Push Cart is the best option for those shopping for a quality push cart on a budget.
Read:
Amazon and the Amazon logo are trademarks of Amazon.com, Inc, or its affiliates.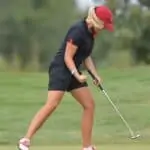 Daisy is the Founder and Editor in Chief of Golfs Hub. She is associated with Golf for more than 20 years. She got the inspiration from her father. She is a very private person & doesn't like to be photographed. She's worked in nearly every job in the golf industry from club fitting to instruction to writing and speaking. Now she is enjoying her retirement from day job... but not from Golf! Daisy lives in southeasternmost part of New York state with her family.