As an Amazon Associate, I earn from qualifying purchases. There is no extra cost to you. Thank you if you use our links; we appreciate it! Learn More.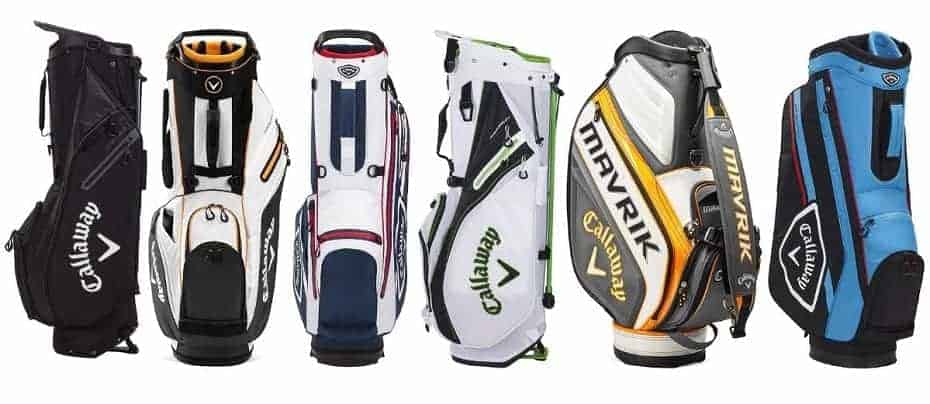 Callaway is a popular golf club manufacturer for all golfers, from beginners to professionals. But, little did people know that the company also manufacturers top-class and premium golf bags. If you, therefore, need a new golf bag, this best Callaway golf bags reviews will bring seven classy yet affordable bags for you.
Maybe your old bag is damaged or worn out, and you want a new bag to accommodate your golf gear, including golf clubs, balls, gloves, and what now! Help yourself out with the Callaway golf bags that promise to bring the best golfer out of you with their unique design, durability, convenient portability, and practical features that you mustn't miss by any means.
Why Use Callaway Golf Bags
From your tees to golf clubs and personal gear, Callaway bags are committed to offering you 100% protection of everything you use in golf grounds. They craft their bags masterfully and keep every golfer in mind.
So, you will soon find the right golf bags, including the cheap Callaway golf bags for all. It doesn't discriminate between the skill levels of golfers.
Plus, masterfully crafted and built with premium materials, these bags are meant for durable performance. The bags have multiple pockets to offer unrivalled carrying capacity. Some even have the automatic cooling capability to keep your beverages and drinks cool and tasty.
Once you own the Callaway golf bag, you will truly find its worth and never shift your brands'. That's a promise.
Reviews of the 7 Best Callaway Golf Bags of 2022
Callaway manufactures and upgrades its golf bag designs every year. Hence, you would want the latest bags for the most convenience. Here, we present you the seven top 2022 Callaway golf bags that you should never miss out on for extreme golfing.
1. Callaway Golf Mavrik Golf Bag
The Mavrik golf bag was introduced in 2020 in the industry. Thanks to its 14 full-length dividers, improved design, multiple storages, and a stylish look, the Mavrik remains the top choice in 2022, and it will remain the same for the next few years.
Thus, you won't have to worry about the bag going out of the trend soon. The bag is made of water-resistant nylon and weighs only 5.4 pounds. Thus, it offers great protection to everything and is easy to transport anywhere.
Not to mention that you get 14 full-length driver spaces with a padded strap. So, organizing the drivers is easy and brisk. There're multiple pockets with sleeves for a smartphone. It also has an insulated pocket to keep your beverage cool.
The stands are quick to fold and unfold. So, you can keep the bag in a standing position as you play golf. It also allows easy access to everything inside. For a convenient carrying facility, it comes with an X-Act strap. You can adjust it to fit you.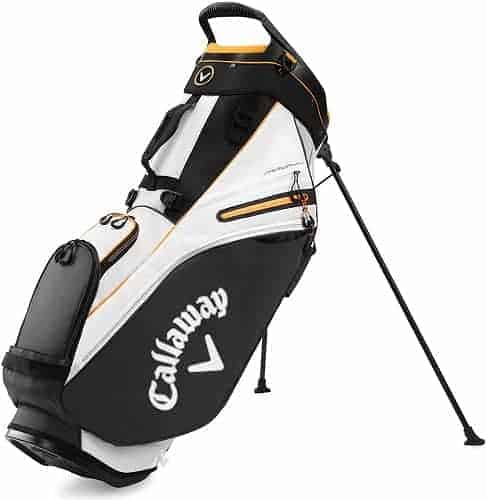 PROS
It has insulation for beverage.
Great spacing with multiple pockets.
The water-resistant design ensures safety.
CONS
The seam stitching is poor.
Target Users
The Mavrik will best fit those who want easy and quick access to their golf drivers. It keeps everything well-organized and accessible.
2. Callaway Golf 2021 Hyperlite Zero Stand Bag
Are you on the lookout for the best Callaway Golf bags 2022? Well, we couldn't help but recommending you the Hyperlite Zero stand bag. It is feature stacked that you make other golfers envious of you.
You will get a 4-way top along with the divers for a full-length storage facility. Also, it comes with n7 water-resistant pockets. So, all your valuables are well-protected and safe. You will also get space for a beverage with insulation to keep it cool.
The comfort strap is available in single or double mode to meet your comfort zone. It is easily adjustable too. On top of it, at less than 3 pounds weight, it is the lightest Callaway golf bag strap on the list.
The legs are sturdy, and carbon-fiber made. So, it will easily stand the abuses and deliver a great performance.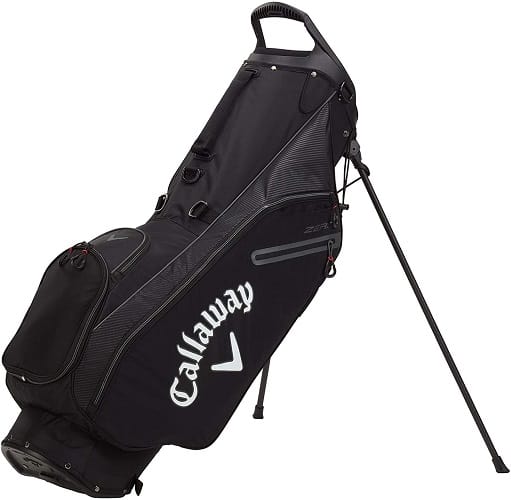 PROS
Lightweight and portable design.
Comfortable strapping for carriage.
Sturdy legs for durable uses on bumpy grounds.
CONS
The pockets are improperly sewn.
Target Users
The Hyperlite Zero is a truly amazing bag with 7 water-resistant pockets. You won't have to worry about your valuables getting wet or damaged anymore.
3. Callaway Golf 2021 Fairway 14 Stand Bag
This time in our Callaway golf bag reviews, we include the Fairway 14 stand bag that not only meets the golfer's needs but also exceeds them at ease. You will get 14 full-size drivers for the quick organization of your clubs.
You get nine pockets to keep everything secure and accessible. The zippers are waterproof, which makes sure the interior remains dry and cool. Plus, you also have a velour-lined pocket. It is fully waterproof to keep all of your valuables. You even get smartphone sleeves.
The bag features a sturdier design. You may love its legs that keep the bag standalone on any golfing surface. It would be a great addition to your golf gear, particularly for hilly regions. The overall design is dependable and comfy, with double straps for an adjustable fit and ripstop fabric for the bag construction.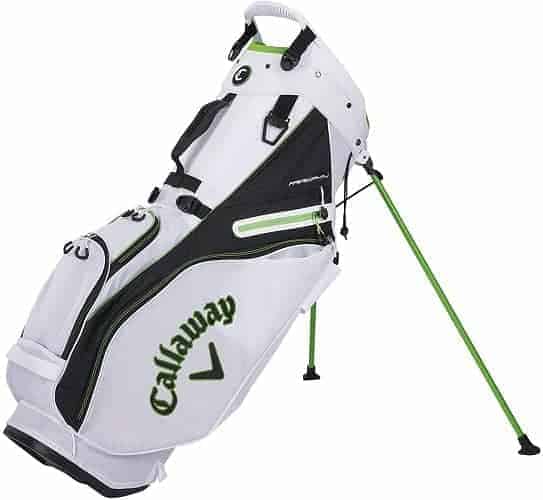 PROS
Space for towel and gloves attachment.
Excellent and user-friendly design.
14 full-length dividers with top for golfers.
CONS
Two square holes at the back limits clubs portability.
Target Users
The Callaway Farway bag is good-looking and well-constructed. It will fit the budget of most golfers and offer convenient use for all.
4. Callaway Golf 2021 ORG 14 Cart Bag
The Callaway 14 cart bag is for those who seriously want to upgrade their golf skills and thus, need a premium golf cart for the purpose. Our Callaway cart bag review found the bag worthy of your recommendation for three unique reasons.
Firstly, the bag features a 14-way arched top. It accommodates 14 full-sized drivers. Whether you need all the clubs or only the essential ones, it can hold all. You will also love its accessibility, thanks to the brilliant arched top.
Secondly, it has a TPE overmold which protects the shape from damage. It is a rare feat for most golf carts of its class. You will also admire its multiple pockets that permit you to keep anything secure and organized.
Lastly, its Stowable padding on the straps ensures your shoulders don't feel fatigued. The Callaway golf bag with a cooler has space for one standard bottle with a couple of hours cooling facility.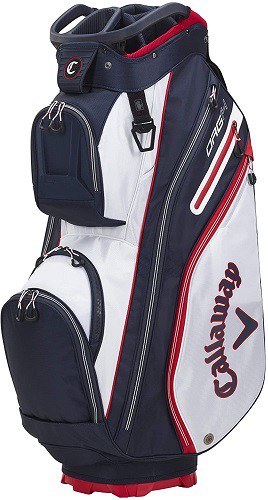 PROS
Protects shafts from damage and worn out.
Quick and easy access to all stored items.
Cooler to keep beverage insulated and cold.
Target Users
The ORG 14 cart bag serves professionals and intermediate golfers alike. If you tour a lot, this pushcart bag will come in handy with great storage and lightweight design.
5. Callaway Golf Chev Dry Stand Bag 2021
Cooler pocket, towel rope, and composite material make the Callaway Dry Stand bag a unique selection for review. The bag is made with ripstop nylon material, which is water-resistant for the most part.
You get a cooler pocket with the ability to keep your drinks cold for at least a couple of hours. It is enough for you. On top of it, you will also love its multiple storage pockets with a sleeve for storing a smartphone. The pockets include both large and smaller ones for storage options to all possible golf gears and valuables.
Another amazing benefit of the dry bag is its base. You can use it on any ground, including hills and mud. It won't fall off at all. Plus, the bag has 4-way driver space to allow you to carry the essential drivers. However, compared to our other Callaway golf bag, this item is seriously expensive. So, keep an eye on it.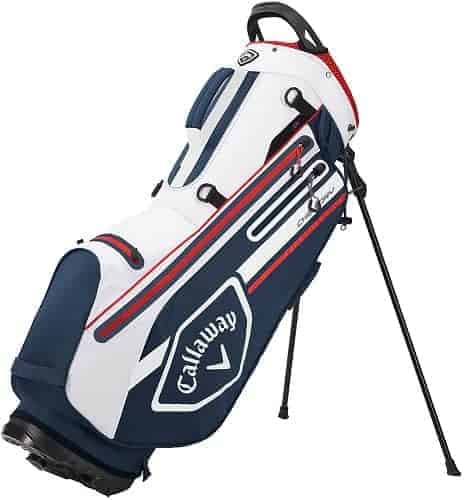 PROS
Super-durable design for lasting performance.
Quickly accessible storage pockets.
Smart and stylish design for all types of golfers.
CONS
Excessively expensive.
It may not be a good choice for beginners.
Target Users
We recommend the Callaway dry Chev bag for those who aren't afraid of investing hugely in their golf kits. It will, however, elevate your golfing tremendously.
6. Callaway Golf 2021 Chev 14 Cart Bag
The Chev dry stand bag is a tricky recommendation for golfers for its decisive look. At first glance, the bag looks pretty simple. But, in reality, the dry stand bag is as good as any of our listed bags for Callaway stand bag review.
The bag features a 14-way top with space for full-sized dividers. So, it should be enough to carry all of your essential clubs for any competition or weekend fun lovers. There's nothing fancy about it, but it does the job brilliantly.
Multiple pockets mean you can easily keep all golf gears and valuables in it. The pocket has water-resistant fabric to keep everything protected. The last but most effective benefit of the bag is its all-terrain base system. It allows you to use the bag in even, bumpy, muddy, and hilly ground at ease.
PROS
All-terrain usability with a unique base.
Affordable for golfers, including beginners.
Water-resistant storage for valuables and phones.
CONS
Its fabric needs careful handling for durable use.
Target Users
Our golf experts suggest the bag for beginner and intermediate golfers who love getting a bag at a reasonable price. And it also supports usability on all terrains.
7. Callaway Golf 2020 Mavrik Staff Bag
Mavrik is one of the top-of-the-line golf bags from Callaway that blends all the features a golfer wants in a quality golf bag. From velour-wrapped storage for dividers to 4-way top and non-slip pads on the bottom, this bag includes everything a golfer may dream about their carrying kit on any greens.
The dividers are valor-wrapped to protect your favorite clubs from damage and wearing out with friction. Also, we found the bag's handle quite remarkable that will truly elevate your carrying experience with the bag.
You get seven pockets for storage, one of which is velour-wrapped. You can use it to keep your valuables such as wallet, cards, and even smartphone, although it has separate sleeves for the phone.
The overall experience with this bag is convenient, and its full-grain leather construction deserves accolades.
PROS
Leather fabric for durability and style.
Non-slip pads stop sinking and slips.
The handle is ergonomic and sturdy.
CONS
The bag is weighty at 12 pounds.
It is the costliest bag on our list.
Target Users
The bag is made mainly for professionals. Indeed, Callaway Mavrik has been long associated with competitive golfers.
Callaway Vs. Other Brands
The main difference between Callaway and other brands is that Callaway makes a complete set of golf kits, including golf clubs, balls, and bags. So, you can quickly get a game of uniform golf set from Callaway.
Other popular brands for golf bags include TaylorMade, Datrek, Ping, Bag Boy, Sun Mountain etc. But, none of them offers a wider range of golf bags than Callaway. You can get the cheapest and the costliest bags from Callaway.
FAQs
How do I organize my Callaway golf bag?
You should start organizing the clubs first. Start from the left and then move to the right-sided drivers for the clubs. The longest golf club should be placed near the rear since it is the longest driver.
On the front, store the smaller golf clubs. Also, once you are done with the clubs organize your valuables and finally put the beverage on the insulated cooler pocket.
How much are Callaway golf bags?
Callaway offers a wide range of golf bags. Hence, the price varies significantly. You may get the Callaway golf bags at $175 as the lowest price. And for the high-end bags, you may even need to pay $750 or even more.
Final Words…
Callaway is one of the most popular golf bag and items manufacturers. They have presented numerous golf bags that have won the heart of every golfer's over the decade. Here, we have included the seven best Callaway golf bags reviews that will surely fit your golfing necessity and budget along with style.
These bags are durable, stylish, and ergonomic with a lightweight design. So, there's no way you will feel frustrated with these golf cart bags. You will love how the Callaway bags make your golf club and other items carrying a brisk task.
Read More:
Amazon and the Amazon logo are trademarks of Amazon.com, Inc, or its affiliates.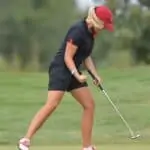 Daisy is the Founder and Editor in Chief of Golfs Hub. She is associated with Golf for more than 20 years. She got the inspiration from her father. She is a very private person & doesn't like to be photographed. She's worked in nearly every job in the golf industry from club fitting to instruction to writing and speaking. Now she is enjoying her retirement from day job... but not from Golf! Daisy lives in southeasternmost part of New York state with her family.