As an Amazon Associate, I earn from qualifying purchases. There is no extra cost to you. Thank you if you use our links; we appreciate it! Learn More.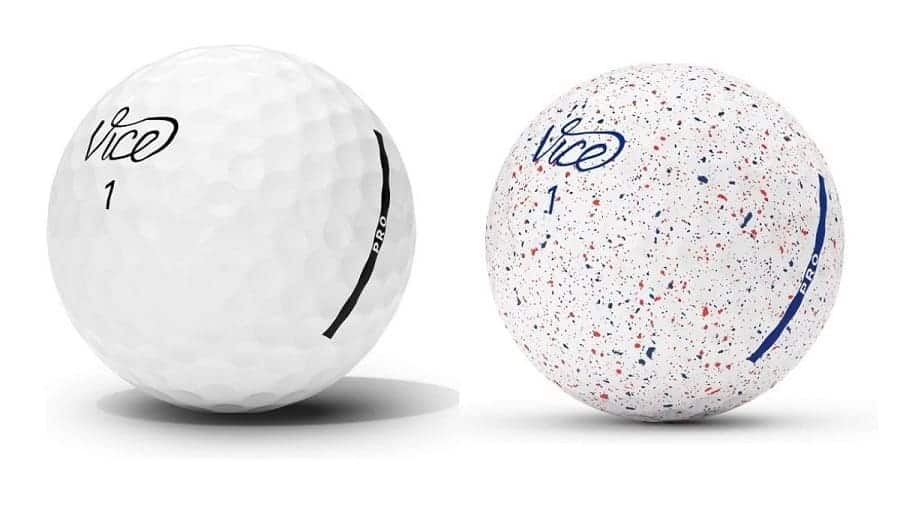 Vice has built one of a kind reputation for selling high-end golf balls in an attractive price range. Their golf ball list includes Pro, Soft, Drive, Plus, and Tour, each serving different swing speeds and flights for golfers.
I was lucky enough to play quite a few matches with Vice Pro and other top-rated golf balls from the manufacturer. But I was most impressed with the Pro version for its flight accuracy, the excellent hand feels, and amazing price-for-performance ratio.
In today's Vice Pro review, I will look at this great golf ball's features, pros, and cons to find out who should choose it. Also, I will compare it with the Soft, Drive, Tour, and Plus versions of the same company to help you fix your right golf ball shortly.
Let's go, golfers.
Vice Pro Review for Golfers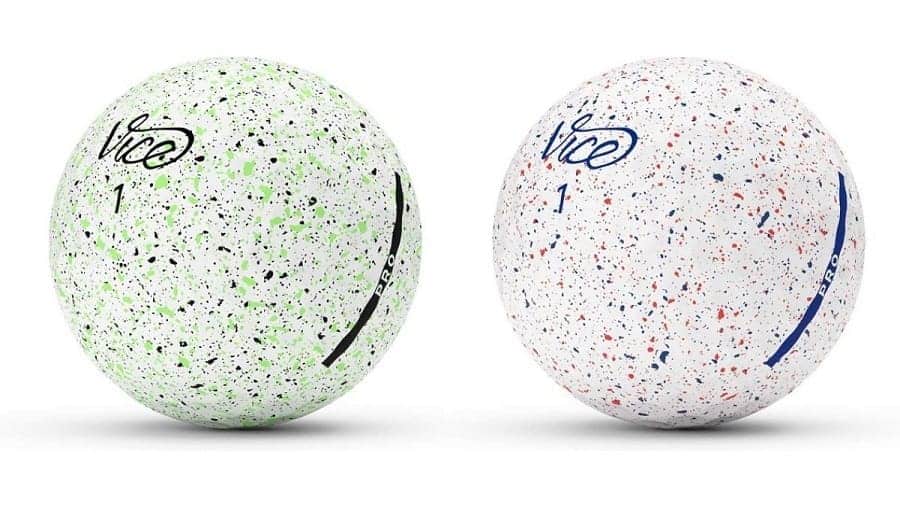 Coming well under $35 for a dozen golf balls, Vice Pro is a top choice for those with a tight budget. But does this ball perform as well as most players excited about it?
I was not so sure at the beginning. But as I hit the ball with my 3-iron, I must say, its solid spring feel gave me goosebumps. I wasn't expecting so great hand feel with the balls. However, it made me interested in probing deep into its features for this Vice golf ball Pro review.
Here I have enlisted the main benefits and features of Vice Pro golf balls. It would help you quickly get into your decision.
3-Piece Golf Ball Design: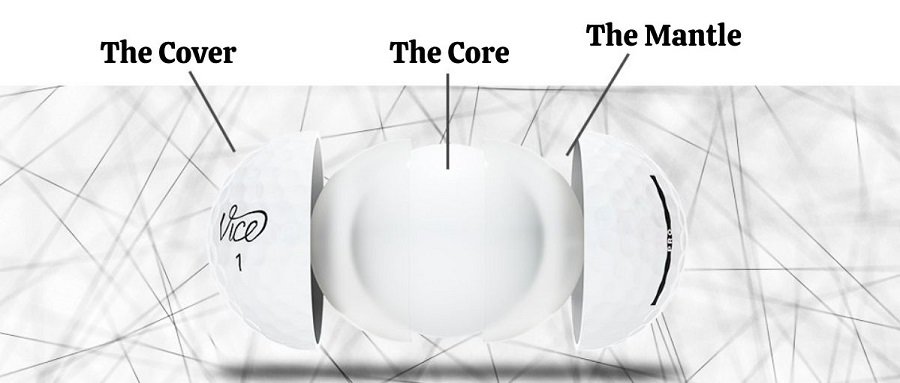 The Pro version comes with a 3-piece design. It includes 3 layers of cast urethane layers inside and an extra-thin cover on its top. Hence, you will truly get a 3-layer golf ball with it. It will help you in quickly optimizing the spin of the ball.
So, you will achieve a few extra yards of coverage right from the tee. It is ideal who have a hard swing and often find it difficult to keep their ball flight in the right orientation.
Great Spin Control:
I told you that this is a 3-layer golf ball. Plus, its design is flawless. So, you will get excellent control over its spin when you hit the ball from the tee. Also, better control over the spin means that it won't be derailed from the actual path after landing.
Advance golfers will love it since they often want a ball with good spin control for scoring high in the tournaments.
Increased Distance:
Do you have a medium swing speed? No problem.
During my review, I found its distance traveling ability quite useful even at medium swing speed. You will get a few yards of extra coverage with the Pro golf ball. While a few yards distance may not appear pretty distinctive, professional golfers can realize it. It could be the difference between your puts and failures in the golf course.
Incredible Pricing:
Although many people think (which is correct mostly) golf is an expensive sport and there's nothing cheap, one way to cut the cost is to get cheap golf balls. And in this regard, the Vice Pro golf balls are unmatched.
Compared to Taylormade TP5 and Titleist Pro V1, the Vice Pro is half the price. So, when you plan to invest in a golf ball to increase your skills for the next tournament, the Vice Pro could be an excellent fit for you.
Plus, despite being an affordable ball, it hasn't compromised with its design, durability, and hand feel; at least, I didn't find any issues.
Great For Expressing Style:
Golf is a fashionable sport. The Pro golf ball review addresses it and offers an outstanding DRIP pattern for the balls. You can choose from two models and three various styles to suit your style on the greens. It always lifts your confidence.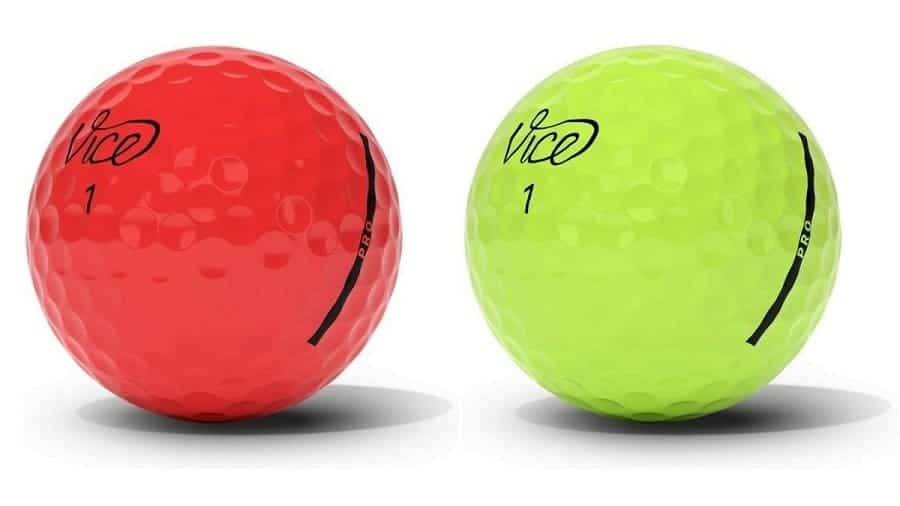 PROS
Ideal for both amateur and professionals.
Good spin control with a medium swing speed.
Hand feel is quite solid and impressive for all.
Pretty cheap pricing outperforms most balls.
Why Should You Choose This One?
The golf ball comes with a good feel and helps you control the spin. If you face problems in achieving the right shot distance and want improved spin control, the Vice Pro is your best choice. It has pretty limited spin distraction and helps you get a few yards of distance at ease.
Target Users
I found the golf ball ideal for amateurs, intermediates, and professionals alike. It has a higher ball speed at the medium swing, and the flight is pretty accurate. You won't have to guesswork where it will land. So, you can depend on its accuracy for scoring puts.
Handicap golfers will like its spin and swing control without any extraordinary skills.
My Experience & Performance of this Ball
I was impressed with its performance for most parts of my testing. I used a 3-iron club, and the feel was quite brilliant. The ball gave me 250 yards plus distance coverage. Also, it had a higher ball speed that was leverage for me.
Comparison with Others
Now it's your turn to compare the Pro version with other golf balls in this Vice golf balls review section. It will help you choose the right ball quickly for various purposes.
Vice Pro Vs. Vice Pro Soft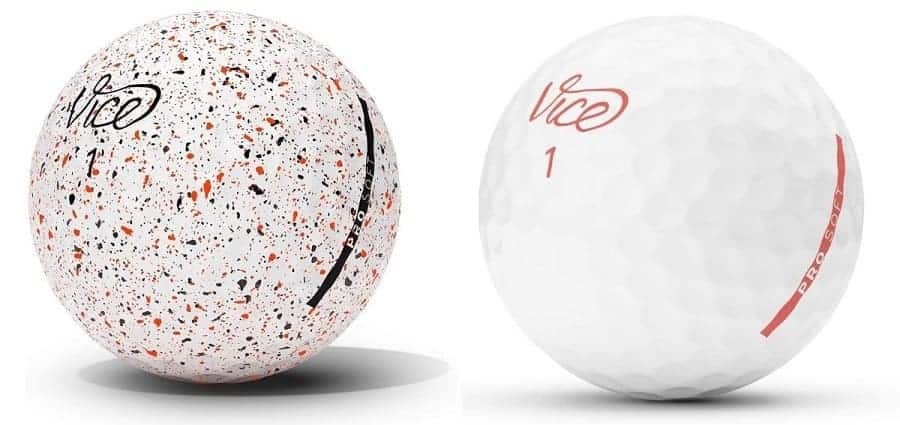 Both Vice Pro and Pro Soft feature a 3-piece design. But when it comes to golf ball dimples for better ball flight, the Pro version wins clearly with 336 dimples compared to 318 dimples for the Pro Soft model. Also, the Pro soft is suitable who like a low-compression feel. It has only a 35 compression rating, whereas the Pro version comes with a 95 compression rating.
Vice Pro Vs. Vice Pro Plus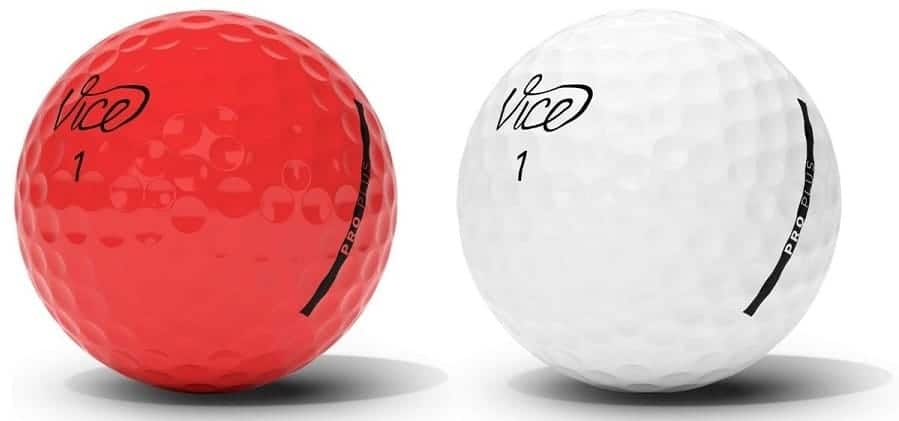 Pro Plus features 4-piece construction. So, it has low trajectory than the Pro model. At 85 compressions, it is a little slower than the Pro but still provides good results in medium swing speed. At moderate swing speed, the difference between the two models is nonexistent.
Plus, Pro Plus features low spin rates. So, you can expect it to travel more distance than the Pro version at a low stopping power.
Vice Pro Vs. Tour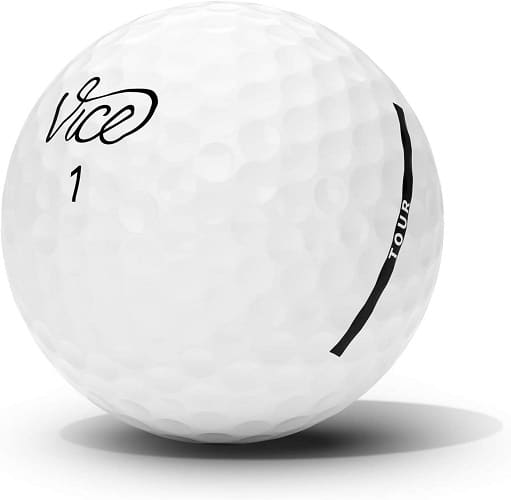 The Vice Tour is the first addition from the company that helps you break apart from the Pro series. It has slightly higher distance coverage even at a moderate swing speed. I found the Tour golf ball traveling 3 t0 5 yards more than the Pro model in my testing.
Plus, it has optimized dimple alignment for better flight control. On top of it, the Tour version is gettable slightly over $20 per dozen, and it is a great bang for your money.
Vice Pro Vs. Drive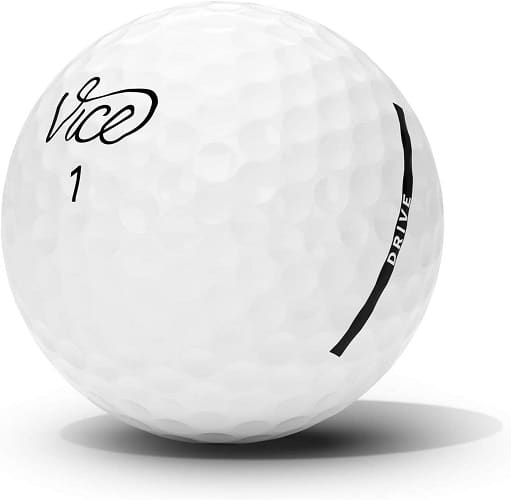 If you want absolute distance coverage, definitely Vice Drive is the right golf ball for you. It features a 2-piece design and 318 dimples construction.
So, it faces the lowest air resistance, which helps in getting better distance coverage. So, it will be a good fit for beginners and intermediate players compared to the Vice Pro balls. The Pro has higher dimples and is better for spin controls.
Frequently Asked Questions (FAQs):
Are Vice golf balls good?
Vice has five different series of golf balls to meet the various necessities of golfers with different skill levels. The pricing of their golf balls is lower than TaylorMade and Talliest, but these golf balls don't cut in their features. You will find the better than your first impression.
What is the best golf ball for Vice?
All the five golf ball series from Vice offer have unmatched performance in their category. If you, however, want to meet both affordability and performance, the Vice Pro is their best addition in the long line of golf balls. It has incredible ball speed, distance and professionals love its spin control too.
What Vice golf ball is similar to Pro V1?
When it comes to specifications, The Vice Pro Plus resembles Pro V1 better than any golf balls in the market. It serves with a firm feel and is suitable for 110MPH+ swing speed. Also, Vice Pro has many similarities with Pro V1.
Are Vice golf balls legal?
Yes, Vice golf balls are 100% tournament legal. Vice has introduced 5 series of golf balls, and all of them are legal. Both R&A and USGA have approved these golf balls for any tournaments. So, you won't need to worry about the ball legality at all.
Conclusion
As I am about to conclude the Vice Pro golf balls review, I cannot help but recommending the Pro series for those who want an extra lift in the ball speed and distance even at moderate swing speed. The 3-piece design with additional cover ensures durability as well.
Compared to many high-end golf balls, the Pro series is affordable and so, you get a great bang for your money. Thankfully, you can also use them for any tournaments due to their legal uses, which further speak of their outstanding performance in all conditions.
Read More:
Amazon and the Amazon logo are trademarks of Amazon.com, Inc, or its affiliates.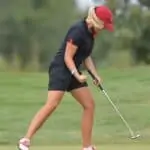 Daisy is the Founder and Editor in Chief of Golfs Hub. She is associated with Golf for more than 20 years. She got the inspiration from her father. She is a very private person & doesn't like to be photographed. She's worked in nearly every job in the golf industry from club fitting to instruction to writing and speaking. Now she is enjoying her retirement from day job... but not from Golf! Daisy lives in southeasternmost part of New York state with her family.