As an Amazon Associate, I earn from qualifying purchases. There is no extra cost to you. Thank you if you use our links; we appreciate it! Learn More.
Protected interiors and a sturdy outer structure: what do you think of this? A sturdy apartment? We think of MtHerman Golf Travel Bags. These bags haven't been around for years- but within a very short period, they have established their position as one that has been trusted by many when it comes to building and uniqueness.
In terms of the build, they have paid attention to the fabric, to the base tray, to the placement of the handles, and what not! In terms of uniqueness, they brought together the foldability and weight of the bag. It can be folded to half its size and is super light too. Talk about convenience and ease! Here you will find more details as to why we liked the bag.
If you are someone who frequently travels and needs to carry his golf clubs and accessories along with him, you will find that this bag serves as one of the best airline golf bags. What are the other reasons you should purchase it? Let's see!
MtHerman Golf Travel Bag Review
What is the point of using a golf bag if it doesn't have some stellar features? The MtHerman golf bag promises a couple of those. Let's check them out:
1680D Polyester, coated with PVC, makes the golf bag thick in the formation and high in quality. It makes sure that when you travel with the bag, all the movement is endured. These two also make up for the durability of the bag. This bag can also resist water, so you are good to go on rainy days.
The material is both sturdy and flexible. Now, compliant doesn't mean stretchy like gum, but it is impact-bearing. The flexibility helps the bag to resist inward scratches and bumps, moving with the clubs and all, and the toughness of the bag protects from outside wear and tear.
MtHerman makes an essential consideration as one of the best golf bags with wheels. It only pays attention to the base tray for strength but also gets credit for being very lightweight. The wheels make it easy to carry around without carrying all the weight from the clubs as well as the bag.
However, if you do want to carry the load, you will only have to take your clubs' weight. You don't need to sweat it out about the weight of the golf bag itself! The bag is also foldable, unlike most golf bags you come across. It folds into a decent dimension of 15″ x 13″ x 11.4 and is easy to pack in closets and bags. You can easily fold and keep it in your car trunk and carry it out whenever you need it.
And the fact that the bag is made of Polyester, you won't get a crumpled up bag afterward, even if you unfold it after very long.
We have already talked about this. The golf bag weighs under 6.5 pounds and is really light!
The bag also has excellent storage capacity at 1360mm x 1200mm space to hold all your clubs and accessories. On the outside, you get 3 large pockets to keep your essentials.
We hope you liked the MtHerman Golf Travel Bag! It is a value-worthy purchase given so many unique features and applications. It secures clubs easily and leaves your head free of worries when you travel along with it.
With a magnificent structure, accessory promotion, and overall size, many avid golf enthusiasts have liked the gold old travel bag. If you are still unsure about the bag, do your own research and see for yourself what the rave is all about. We bet you won't be disappointed and find it a trusted bag to grab!
Amazon and the Amazon logo are trademarks of Amazon.com, Inc, or its affiliates.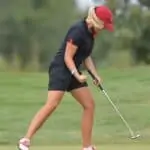 Daisy is the Founder and Editor in Chief of Golfs Hub. She is associated with Golf for more than 20 years. She got the inspiration from her father. She is a very private person & doesn't like to be photographed. She's worked in nearly every job in the golf industry from club fitting to instruction to writing and speaking. Now she is enjoying her retirement from day job... but not from Golf! Daisy lives in southeasternmost part of New York state with her family.