As an Amazon Associate, I earn from qualifying purchases. There is no extra cost to you. Thank you if you use our links; we appreciate it! Learn More.
Your instructing techniques and skills may be exceptional out on the golf course. However, to get hired, you need to present these skills in your resume as well.
A great golf instructor is someone who possesses an expert understanding of the game and the mechanics of achieving the perfect golf shot.
From organizing practice sessions to providing advice and motivation to the players, a golf instructor must be proficient in managing the team members and polishing their golfing skills.
So how can you portray your capabilities to meet these duties of a golf instructor in your resume to get hired?
How to Write a Killer Golf Instructor Resume?
Here's how you can do just that in 7 simple steps:
A Perfect Professional Experience Section
Use Power Verbs and Highlight Keywords
Talk in Numbers
Build a Cause and Effect Relation in Your Resume One-Liners
Read the job listing thoroughly
Make your golf instructor resume ATS-friendly
Ensure the perfect resume length
Let's enjoy the details…
A Perfect Professional Experience Section
In order to impress the recruiters with the experiences you have under your belt, you need to present them in a crisp and impressionable manner.
Make sure to follow the reverse chronological order to list your experiences to increase their relevance.
Now picture this, you are a recruiter who is going through hundreds of resumes for a single position. Would you spend more than a minute (at the most) on a single resume? Probably not.
That's why, to capture the recruiters' attention and impress them in a jiffy, you need to skip talking about your professional experiences in bulky paragraphs.
Your resume for coach should have bullet points proving a cause and effect explanation of your professional experiences.
Use Power Verbs and Highlight Keywords
To add value to your bullet points, always begin with the one-liners with a power verb.
Starting your bullet points and one-liners with power verbs like managed, coached, trained, organized, provided, and so on help demonstrate your strengths better.
It also jazzes up your golf instructor resume and avoids making it seem flat and average.
Another way of adding weight to your professional experience section is by highlighting the keywords in your one-liners.
Strategically highlight the keywords where you want to draw the attention of the recruiters.
For instance, writing:
"Conducted 5 weekly sessions to improve golfing skills of a team of 20+ new golfers"
Is more impressionable than writing:
"I improved the golfing skills of amateur golfers by conducting weekly sessions"
Read: How is golf different from other sports?
Talk in Numbers
Providing a vague explanation of your achievements will not make a substantial difference in impressing the recruiters.
For that reason, you need to include numbers and percentages while talking about your past roles.
Try including the number of players you have coached and trained, the number of sessions you organized for practices, and so on.
Also, provide an improvement percentage and quantify the changes you brought about by providing coaching to the players.
You can also highlight these numbers in your bullet points to draw more attention to them.
Build a Cause and Effect Relation in Your Resume One-Liners
To elaborate on the previously mentioned cause and effect relation while writing one lined bullet points in your golf instructor resume, take a look at this example:
"Devised strategic and personalized training programs for 30+ players and boosted their performance by 20%"
In the above example, the one-liner provides a clear and precise picture of your role and the effects or the outcome of your efforts.
And that's exactly how you must follow the cause and effect approach while talking about your experiences so that the recruiters are clear about your role, your efforts, and the results of your hard work.
Read the job listing thoroughly
Most candidates miss out on reading the job listing and scanning the description and requirements listed by the recruiters.
Thereby, reducing their chances of getting shortlisted for the position of a golf instructor.
How so? Well, the job listing is where the recruiters define their perfect candidate and it's crucial to include the skills and other requirements listed by the recruiters in your resume.
The whole point of writing a good resume is to show that you are fit for the job and that you can meet the demands of the role.
Therefore, by reading the job listing properly, you can figure out what exactly they are looking for in a candidate and then you can include the keywords and skills to your resume if it stands true to you.
Make your golf instructor resume ATS-friendly
So ATS is an Application Tracking Software used by 70% of all the large scale companies to filter out the most relevant resume.
The AI in the ATS system scans for keywords in your resume, especially the key skills and professional experience section to figure out your level of relevance for the role.
To identify the major keywords, simply read the job listing thoroughly and do your share of research about the various roles of a golf instructor.
You must add the keywords which are common to the job profile of golf instructors.
Some of the common key skills of a golf instructor include:
Physical training
Game rules
Sports injury prevention
Fitness assessments
Diet planning
Motivation seminars
Stamina building
Ensure the perfect resume length
The most preferred length of a resume which is universally accepted is only a page long.
Given the limited amount of time recruiters spend on reading a resume, keeping the resume to the point and crisp is very important.
Make sure your golf instructor resume is only a page long unless you have 10+ years of experience to boast.
Follow these steps to get shortlisted for the position of golf instructor by your desired club or organizations.
Amazon and the Amazon logo are trademarks of Amazon.com, Inc, or its affiliates.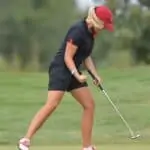 Daisy is the Founder and Editor in Chief of Golfs Hub. She is associated with Golf for more than 20 years. She got the inspiration from her father. She is a very private person & doesn't like to be photographed. She's worked in nearly every job in the golf industry from club fitting to instruction to writing and speaking. Now she is enjoying her retirement from day job... but not from Golf! Daisy lives in southeasternmost part of New York state with her family.