As an Amazon Associate, I earn from qualifying purchases. There is no extra cost to you. Thank you if you use our links; we appreciate it! Learn More.
When you think of exercises that will help you generate more power and longer drives on the golf course, working on leg exercises probably isn't the first thing that comes to mind. However, your legs are a huge source of power in the golf swing, and having strong legs is crucial to gaining more distance off the tee (ask Phil Mickelson).
Why Leg Exercises for Golf?
When swinging a golf club, your legs provide stability, mobility, and power as you rotate around your hips. Doing leg exercises can also help you prevent injuries while playing, for example stronger hip abduction strength and stronger glutes help prevent knee injuries while playing.
Many amateur golfers lack stability over the golf ball and easily lose their balance when finishing their swing. If you compare a PGA Professional's finishing body position vs an amateur, it's easy to see the difference in stability and control while swinging the club.
Having a stable base allows you to keep your balance as you coil your upper body, and release the club through the ball effortlessly. Ultimately, a stronger base will help you achieve more power and longer drives off the tee.
Read More: Return To Golf After Lockdown
4 Leg Exercises for Golfers
1. Leg Swings: For Mobility and Pre Round Warm Ups
It's no secret that mobility is great for a golf swing, and this exercise gets your legs and hips loosened up and ready to play a round of golf. This is a great way to activate a few key muscles used in your golf swing and reduce your chances for getting injured.
How to Execute
Hold a golf club and brace it firmly against the ground.
Standing fully upright, brace the club against one hand with your legs shoulder width apart.
Swing the opposite leg forward and backward without swaying or moving your body.
Do about 10-20 swings in each direction, then repeat with your other leg.
Get back to the starting position, and do a side to side leg swing, and repeat with the other leg for optimal mobility.
Here's a quick video to visualize this easy movement:
2. Romanian Deadlifts: Complete Posterior Chain Workout
The Romanian Deadlift is one of the most complete full body exercises you can do, as it works your entire posterior chain. That means your hamstrings, glutes and back all get worked with this one exercise. The posterior chain includes most of the muscles used in golf, so this is a great leg exercise that helps hit all the important muscles for your game.
How to Execute
With a barbell or dumbbells in hand, stand tall with your feet hip width apart.
Keep your chest up and your shoulders back, in order to keep your spine completely flat throughout the exercise.
Bend at the hip and soften your knees, lowering your arms down toward your feet while keeping your spine flat. Keep the bar close to your legs throughout the movement.
From the bottom of your range, slowly bring the weights back to the starting position.
This is a full body exercise, so it's really important not to overdo it with the weight. You should feel challenged, but not overexerted. Aim to do 3 sets of 8-10, and slowly increase the weight you use as you improve.
Because this is a complex move, it's important to see it in action:
3. Swiss Ball Leg Lifts: Targets Your Core, Legs, Hip Flexors and Glutes
This is another compound exercise that promotes strength and mobility in your hips and glutes, while working your core. To perform this exercise you'll need a swiss ball and somewhere you're comfortable to lay on the ground.
How to Execute
Start by laying on the ground face up with a swiss ball braced firmly between your feet.
Keep your arms down at your sides, with your palms on the ground.
Squeezing the ball with your ankles and activating your thighs, lift the ball off the ground towards your upper body. The finishing position should be as close to a 90 degree angle as possible.
Return your legs to the starting position. That is one rep.
Do 3 sets of 8-15 reps.
4. Lunges with Rotation: Works Legs, Hamstrings, and Core
This works both leg strength and mobility at the same time. This is a great way to open the hips, mimicking the way your body turns through a golf swing.
How to Execute
Start by standing tall with your feet shoulder width apart.
Put your arms out in front of you, and step one foot onward into a lunge. Your onward leg should be bent at a 90 degree position, and your back leg should be extended with your knee bent.
Rotate your arms in one direction, then return to the starting position.
Repeat this movement with the opposite leg, and rotate in the opposite direction. That is one complete rep.
Do 3 sets of 8-12 reps for each leg.
For a visual representation of this move, check out the video below:
Final Thoughts…
Your legs are the foundation of your golf swing, and can provide both balance and power to your swing. By working these exercises into your routine you should be able to gain both mobility and strength, and start hitting longer drives off the tee. Try these yourself and see how it improves your game!
Amazon and the Amazon logo are trademarks of Amazon.com, Inc, or its affiliates.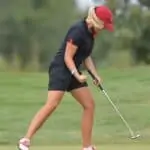 Daisy is the Founder and Editor in Chief of Golfs Hub. She is associated with Golf for more than 20 years. She got the inspiration from her father. She is a very private person & doesn't like to be photographed. She's worked in nearly every job in the golf industry from club fitting to instruction to writing and speaking. Now she is enjoying her retirement from day job... but not from Golf! Daisy lives in southeasternmost part of New York state with her family.