As an Amazon Associate, I earn from qualifying purchases. There is no extra cost to you. Thank you if you use our links; we appreciate it! Learn More.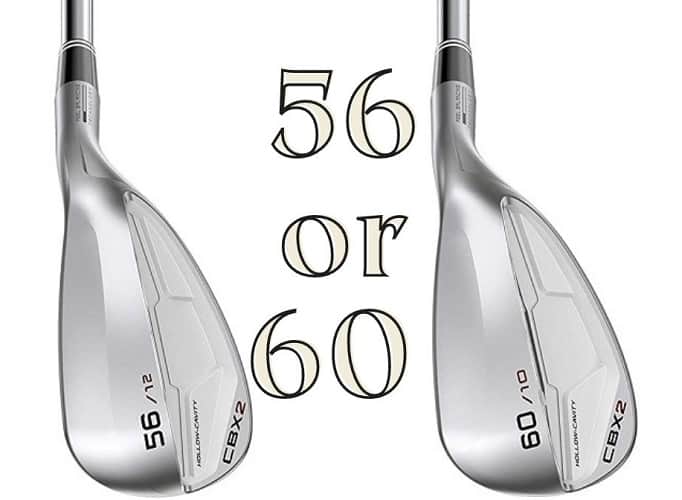 Should you use a 56 or 60 degree wedge? is a question that often comes up, irrespective of whether you're new to the game or an experienced, skilled golfer.
To be honest, the rule is pretty simple here. 56-degree wedges are best for sand bunkers and longer chips. As for 60-degree wedges, these are ideal for chips that require you to elevate the golf ball quickly and land it softly with the least amount of roll.
So the next time you think you can get away with carrying only a single wedge for your shots around the green, please reconsider that decision. Because every chip indeed is not the same, thus demands a different shot. Using various wedge lofts simplifies your short game, that's for sure.
Now let's get to the part where you find out all the possible differences between a 56-degree wedge and a 60-degree wedge.
What Is A 56 Degree Wedge Used For?
More commonly known as a sand wedge, the 56-degree wedge gets the ball up into the air only to land it softly, with some roll.
It's a commonly used wedge for getting out of sand bunkers and rough around the green. Many golfers replace the pitching wedge with a 56-degree wedge to hit approach shots as well. Also, a gap wedge is often used for filling the gap of loft between pitching wedge and sand wedge to further enhance short game performance.
So, as you can make it out to be, the sand wedge is a very important golf club that directly leads you to a scoring hole.
What Is A 60 Degree Wedge Used For?
The loft angle of a 60-degree wedge is higher than that of a sand wedge. 4 degrees higher of course. So what good is the extra loft? Well, the additional loft makes a huge difference as it gets the golf ball into the air only to stop it on the green.
Needless to say, a 60-degree wedge is perfect for those greenside bunker shots. After all, it is a comparatively easier golf club to hit. And that's precisely because of the higher loft – it's one of the most important golf equipment truths. So your goal of stopping the ball on the green immediately can finally be achieved.
It does have a very intimidating blade-style design. But don't let that dissuade you from including it in your golf club set. Just know that even though golfers carry a 56-degree wedge, they also use a higher-lofted wedge for situations where what's standing between them and that pin is just a little bit of green.
Read: How to hit a pitching wedge?
Do You Really Need A 56 or 60 Degree Wedge?
Would it matter if we told you that all pro-level golfers include a high-lofted 60-degree wedge? Some even carry a 62-degree or 64-degree wedge. So it's safe to say that 56-degrees isn't the highest loft in their golf bag.
And that's mainly because highly skilled players don't struggle with generating long distances. But when it comes to shorter distances, they require a higher loft. So if that sounds relatable, then it's only in your best interest to carry a 60-degree wedge.
Another reason here is that high-lofted golf clubs are perfect for escaping difficult bunkers or really thick rough. The additional loft here delivers just the performance boost you demand when around the greens, irrespective of whether you're a beginner or pro.
But don't underestimate the power of a 56-degree wedge. No doubt, this particular golf club is extremely versatile too. You may need it the most for playing low shots, flop shots, low-spin shots, and more. Many golfers also use it for their approach shots that are between 80 yards and 110 yards.
How Far Should A 56 Degree Wedge Go?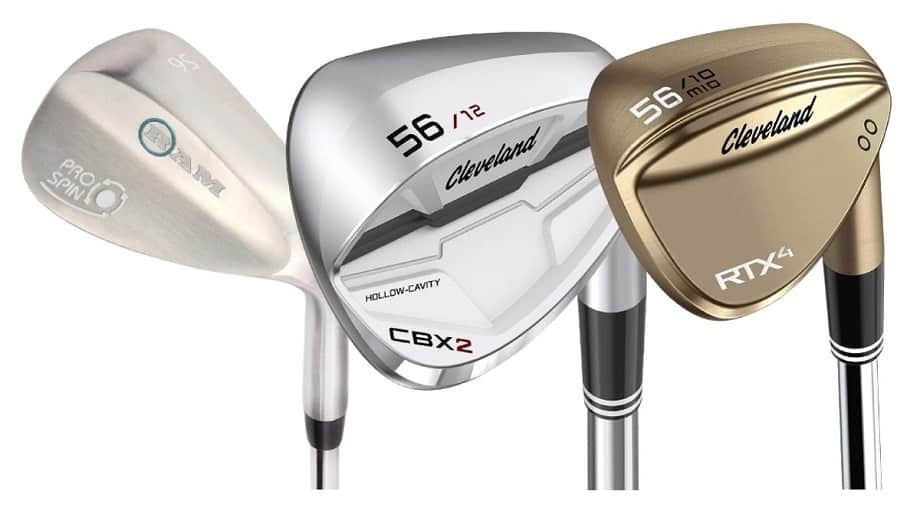 How far you hit any golf club is primarily based on your swing speed. This means that golfers who swing fast and hard can make the ball travel for more than 100 yards. An average clubhead speed, on the other hand, achieves around 125 yards. And if your swing speed is below average, then expect anywhere between 70 yards and 100 yards.
More often than not, players use a full golf swing for hitting the 56-degree wedge instead of using the same full swing to hit the 60-degree wedge. The former, no doubt, is the most suitable for hitting approach shots, which is why it's more commonly used.
How Far Does A 60 Degree Wedge Go?
Once again, in the case of a high clubhead speed, a 60-degree wedge carries the golf ball over 100 yards. But when the swing speed is slower, the distance travelled is reduced to just 50 yards, more or less. So you're not alone if you're an amateur who can't manage to produce a full golf swing with the 60-degree wedge.
But then worrying about maximum distance with a 60-degree wedge is baseless. Because, to be honest, it's easier for hitting the ball slightly lower to the ground in order to gain more consistency in your game.
What About Other Golf Clubs for Chipping?
Can you experiment with your other golf clubs for chip shots? Let's find out…
9-Iron or Pitching Wedge – These two clubs don't disappoint when it comes to keeping the golf ball low. It's also a very dependable choice when you have to cover a considerable amount of green.
Although many golfers use 9-irons or pitching wedges when they're almost off the green. The shot then is pretty much like a huge putt where the golf ball just pops up and rolls out closer to the hole.
6-Iron or 7-Iron – Shorter irons are indeed perfect for when you're 25 yards to 30 yards from the green. They boost your confidence levels, which are already in good spirits because of no sand traps or green elevation at this point. So you can use your putting stroke to keep the golf ball low yet make it roll closer to the hole, despite generating the ideal contact.
62-Degree or 64-Degree Wedge – These wedges may be difficult in terms of control, hence not so widely used, but they do make the ball jump up into air immediately with minimal to zero roll onto the green. Therefore, higher lofts are reserved for more skilled golfers or those that demand maximum versatility around the green.
What Wedges to Use for Different Green Speeds?
For fast greens…
Chip more using a 58-degree or 60-degree wedge. Because the extra loft here helps in creating more spin to make the golf ball stay onto the green.
For slow greens…
Lower-lofted golf clubs, such as pitching wedge and gap wedge, seem like a fitting choice. They keep the golf ball low and also generate a roll-out nearer to the hole.
For moderate greens…
Since the speed here is neither too fast nor too slow, you can use a combination of sand wedge and lob wedge shots.
Conclusion
It's necessary to know the differences between a 56-degree wedge and a 60-degree wedge. After all, what wedges you choose and how you use them have a direct impact on your short game.
Many golfers chip with a 60-degree wedge, but then that's only if inconsistency for long distances doesn't matter. But then you can always use a 56-degree wedge instead for shots that demand greater roll. And this might just transform your short game completely.
So now you see how important it is to understand which wedge loft is more suitable for what kind of situation!
Amazon and the Amazon logo are trademarks of Amazon.com, Inc, or its affiliates.
Carolyn Heller is an integral cog in the machine that is her golf blog, Golf Depends. She's a well-established, professional coach who has worked with some very talented golfers. It's easier to understand why her golf content is so invaluable; she simplifies the various golf techniques and equipment.